[Updated Guide] How to Sync iPhone to iPad in 5 Ways

Updated by
Lisa Ou
/ July 23, 2021 15:40
According to a recent survey, iPhone users are more likely to purchase an iPad, partly because that makes it easier to sync iPhone to iPadcompared to transfer data between iPhone and Android. It was not that long ago when the only way of data migration between iOS devices was through iTunes on your computer.
Now, the process is much easier and you have more options.
Let's look at how to achieve it.

Part 1. Sync Photos from iPhone to iPad via iCloud
Thanks to iCloud Photo Library, you can transfer pictures from iPhone to iPad without computer. Once you enabled iCloud Photo Library, it will back up every photo and video you have on your iPhone to iCloud. In addition, it transfers those files across all other iOS devices and has signed in to the same iCloud account.
Now, iCloud Photo Library is able to sync photos, videos, GIFs, Live Photos, and more.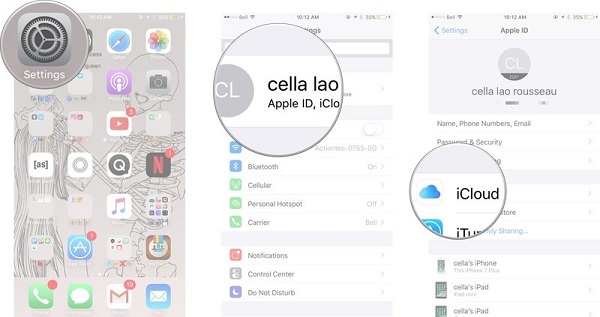 Step 1Open the source iOS device and run the Settings app from your home screen.
Step 2Tap on your name, go to iCloud > Photos, and turn on iCloud Photo Library and Upload to My Photo Stream.
Step 3Back to the Settings screen, enable Wi-Fi and connect your iPhone to your Wi-Fi network. Then all photos and videos in your Camera Roll will go to iCloud (pictures not uploading to iCloud?), if it has enough storage space.
Step 4Turn to the target iPad, go to Settings > iCloud, tap Sign Out and enter your password to sign out current iCloud account.
Step 5Then tap Sign In and enter the iCloud account associated to the source iPhone. Then you can access your photos across iPhone and iPad.
In addition to Photos, iCloud is able to sync Mail, Contacts, Reminders, Notes, Safari bookmarks, Game Center and more between iOS devices via your account.
You can follow below instruction to enable other data on iPhone to sync to iPad as below.
Step 1Tap Settings > [your name] > iCloud on iPhone.
Step 2Then you can see different section on the list, enable the items you want to sync to iPad.
Step 3Tap Settings > [your name] > iCloud on iPad.
Step 4Enable the items you have enabled on Step 2, follow the on-screen instruction to complete the procedure. After that, you can see what you want on your iPad.
Part 2. Sync iPhone to iPad Using iCloud Backup
However, if you want to sync entire iPhone to iPad including the third-party apps, you have to use iCloud backup.
This way is available to copy iPhone to a new iPad. For an old iPad, the iCloud backup will overwrite existing data.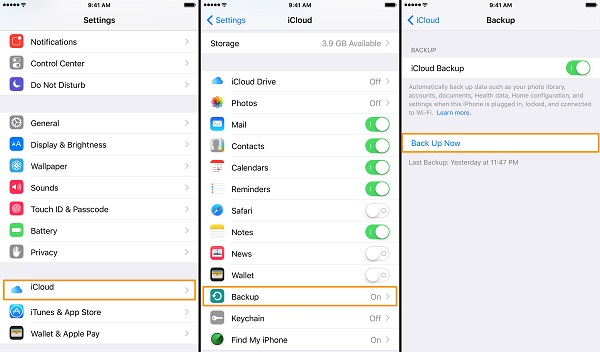 Step 1Make a backup for your iPad with iTunes or iCloud, if you have some files store on it.
Step 2Connect the source iPhone to a Wi-Fi network, run the Settings app, tap on your name, and head to iCloud.
Step 3Remember your iCloud account associated on iPhone, scroll down and tap Backup to go to the next screen.
Step 4Turn on iCloud Backup and touch Back Up Now to make a backup for your iPhone immediately. It takes at least half an hour to back up iPhone to iCloud.
Note: Actually the time of backing up to iCloud varies from different devices. Check it in details here.
Step 5When it is done, turn on your iPad and start set it up. If it is an old iPad, go to Settings -> General -> Reset and select Erase All Content and Settings.
Step 6Touch Restore from iCloud backup when you reach the Apps & Data screen. Then enter your iCloud account and select the latest backup file. When it finishes, all data on your iPhone will go to iPad.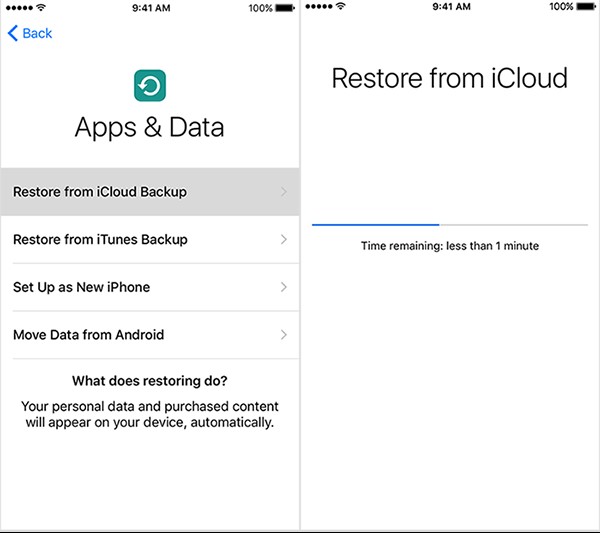 Note: iCloud backup contains app data, device settings, HomeKit configuration, home screen and app layout, iMessages, SMS and MMS, photos and videos, purchase history, ringtones, and voicemail password. Here are the details to see what data iCloud backs up.
If you lost data after that, you can restore iPhone data from iCloud backup easily.
Part 3. Sync iPhone to iPad with iTunes
iTunes is another utility that helps you to sync iPhone to iPad. The procedure of sync iOS device with iTunes backup is much like the iCloud backup. If you just want to transfer media files between iOS devices, the thing is pretty simple. We use music syncing as the example.

Step 1Connect the source iPhone to your computer with a Lightning cable and open the latest version of iTunes. (iPhone iPad is disabled to connect to iTunes? Here are the fixes.)
Step 2After iPhone is detected, click the Device icon at the upper left side.
Step 3Go to the Summary tab and locate the Options area. Uncheck Automatically sync when this iPhone is connected, and check Sync only checked songs and videos, and click Done button.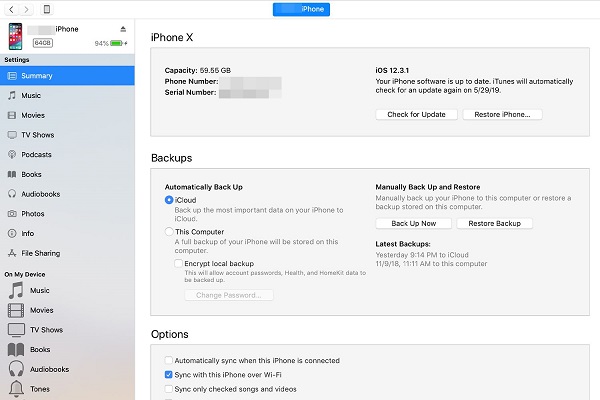 Step 4Then head to the Music tab, check the box next to Sync Music, and decide to sync Entire music library or Selected playlist, artists, albums, and genres.
Step 5Click the Apply button to sync iPhone music to iTunes library.
Step 6After that, disconnect your iPhone and connect the target iPad to iTunes. Then sync iTunes music library to your iPad.
Note: This way is available to albums, songs, playlists, movies, TV shows, podcasts, books, audiobooks, photos, videos, contacts, and calendars. When syncing iPhone music to iPad, other data will not be interrupted or overwritten.
Moreover, you can turn on iTunes Wi-Fi syncing feature to achieve it wirelessly.
Tips: You can restore iPhone data from iTunes backup. Please note that this option will replace all data on your iPad.
Step 1First of all, you need to backup iPhone to computer with iTunes.
Step 2Just click device icon after connection, then click Restore button in the above-mentioned step 3. Then follow the on-screen instruction to restore iPhone backup to iPad.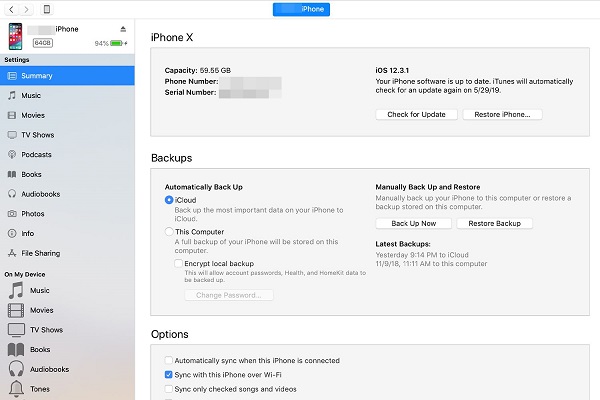 Part 4. Sync iPhone to iPad via Finder on Mac
You should know that iTunes is not available on macOS with Catalina and later versions. However, Finder can be its alternative to help you manage iOS data with ease.
Step 1Connect iPhone to Mac and open Finder.
Step 2Choose your device and choose Automatically sync when this iPhone is connected. And you can also select Show this iPhone when on Wi-Fi if you want to sync devices without USB connection, then click Apply.

Part 5. Sync iPhone to iPad with Automatic Setup
With iOS 11 and later, you can set up new device automatically. You don't need a computer or USB cable, but the stable internet connection only.
Step 1Turn on your iPad running iOS 11 or later, follow the instruction to choose language for your device.
Step 2Turn on the Bluetooth for your current iPhone, and place it near iPad.
Step 3The Quick Start screen appears on your iPhone and ask if you want to use your Apple ID to set up your new iPad. Tap Continue to begin.
Step 4Hold iPhone over the iPad when an animation to appear on your iPhone. Then you can see a pop-up message Finish on new iPad.
Step 5Enter your iPhone passcode when prompted and then set up your Face ID or Touch ID.
Step 6You will be required to enter the Apple ID passcode on iPad. Then follow the instruction to finish the restoring.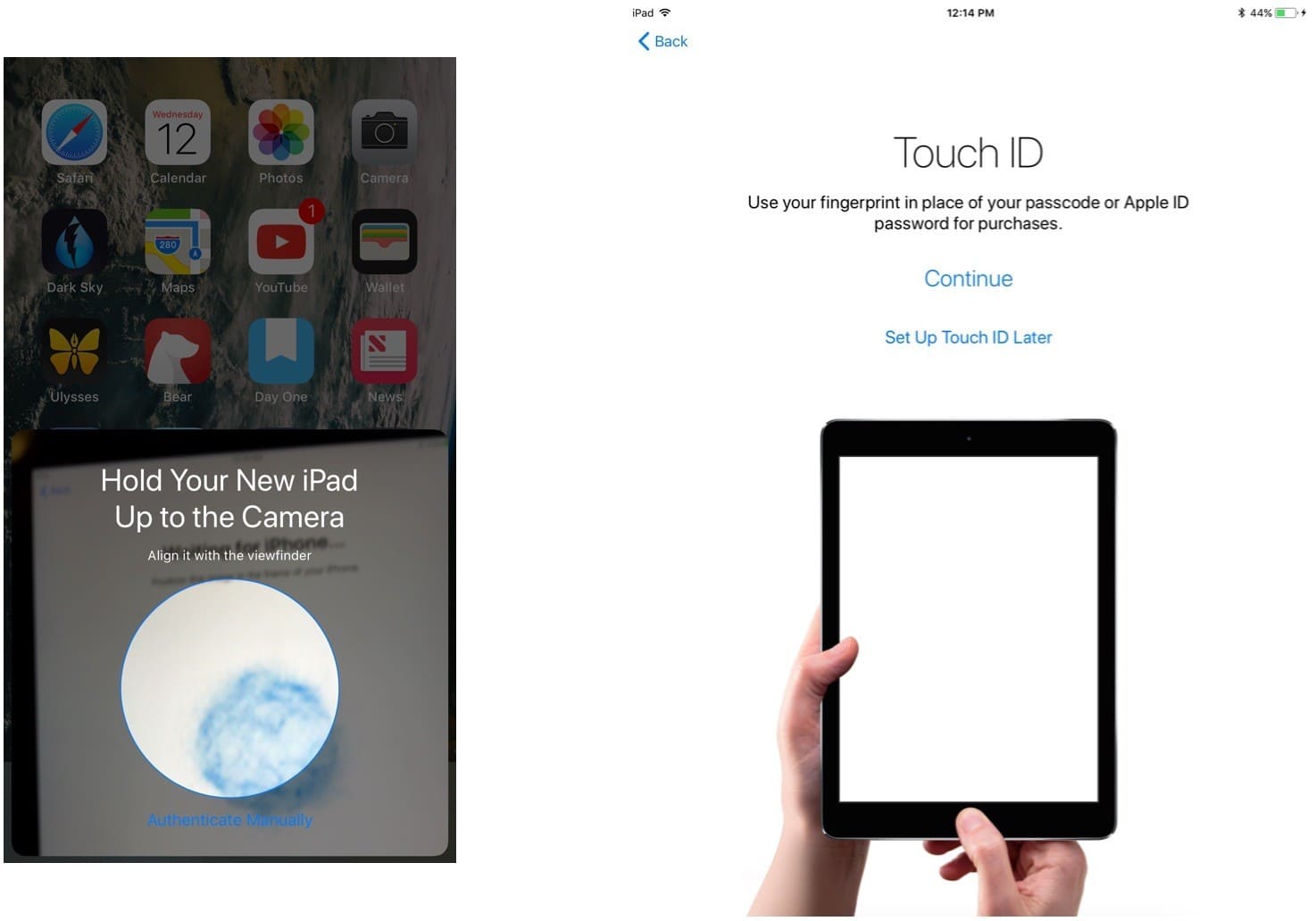 Part 6. Best Way to Sync iPhone to iPad: FoneTrans for iOS
No matter you sync iPhone to iPad with iCloud or iTunes, there are some downsides. iCloud backup, for example, will overwrite current data on the target device. If you mind it, try FoneTrans for iOS.
Sync iPhone to iPad, PC, or another iPhone directly.
Rely on physical connection and hardware acceleration.
Support a wide range of data types including contacts, SMS, etc.
Available to iPhone XR/XS/X/8/7 or earlier, iPad and iPod Touch.
In short, it is the best way to sync iPhone to iPad in various situations.
How to Sync iPhone to iPad without Data Loss
Step 1Connect iPhone to iPad
Download and install the best iOS syncing tool to your computer. There is another version for Mac computers.

FoneTrans for iOS
With FoneTrans for iOS, you will enjoy freedom to transfer your data from iPhone to computer. You can not only transfer iPhone text messages to computer, but also photos, videos and contacts can be moved to PC easily.
Transfer photos, videos, contacts, WhatsApp, and more data with ease.
Preview data before transferring.
iPhone, iPad and iPod touch are available.
Next, plug both iPhone and iPad to the computer with Lightning cables came with your devices. Once launch the program, it will detect your iOS devices.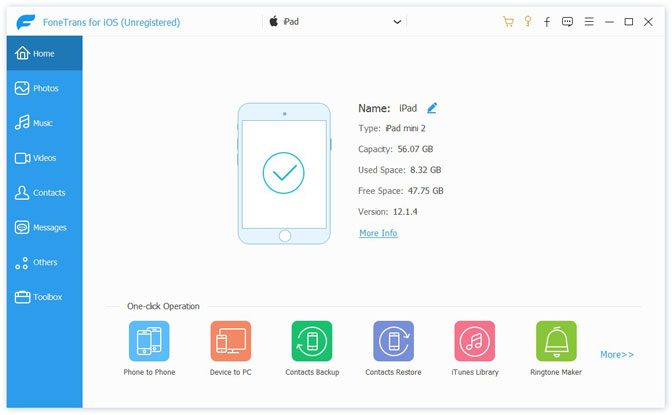 Step 2Preview data on iPhone
Select the source iPhone from the middle top of the window and the data types will display on the left side. Here you can preview and select all data on your iPhone. To look at your photos, for example, go to the Photos tab and check the thumbnails on the right panel.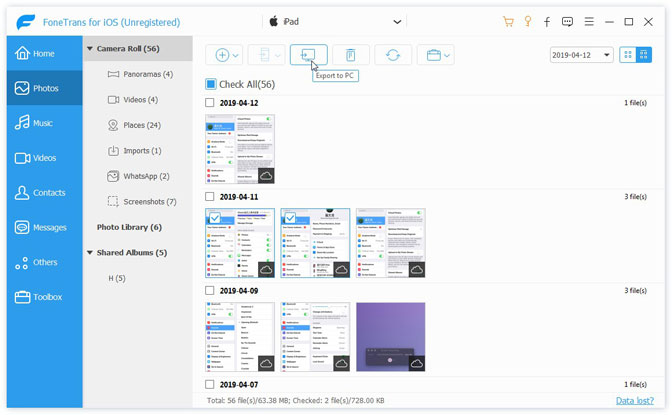 Step 3Selective sync iPhone to iPad
Make sure to check all files you want to sync from iPhone to iPad. Next, click the Device icon on the top of the window and select the target iPad to start data syncing. It may take a while to sync iPhone to iPad if you have a lot of files to transfer. When it is done, disconnect both your iPhone and iPad, and quit the program.
Now, you can access your data on any iOS device.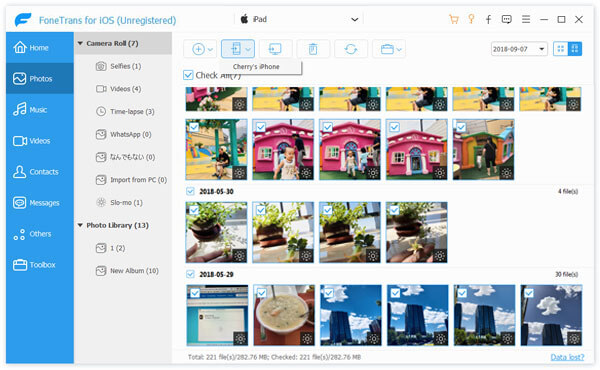 Note: The biggest advantage of FoneTrans is not overwriting current data on both source iPhone and target iPad. The shared files will merge to existing data automatically.
Conclusion
We have shared 5 ways to sync iPhone to iPad. The iCloud Photo Library is used to sync photos between iOS devices. The iCloud backup is suitable to migrate your iPhone data to a new iPad. If you do not have a wireless connection, iTunes can help you. FoneTrans for iOS is a flexible data transfer for iOS devices. It is not only easy to use, but also available to a variety of conditions.
More questions or suggestions? Leave your messages in the comment area below.