Transfer iOS Data Now
Transfer your data from iPhone to computer easily.
How to Export Contacts from iPhone to Gmail [2022 Updated]

Posted by
Boey Wong
/ March 09, 2021 09:00
I have an iPhone which is already synced with my Mac, but I am away on my trip and use a Windows 7. I need to send the contacts I have created on my iPhone to my Gmail account, because I am going to update my iPhone's operating system and want to be sure I do not lose any of my iPhone contacts. I know this will probably lose my music, but that's no problem. Anyone can tell me how to copy contacts from iPhone to Gmail? Thanks!
Contacts are considered as an extremely important part of the phone's software. So users will try all means to assure their contacts remaining safe and secure. But the biggest headache that the newly added contacts may disappear when upgrading the device.
Fortunately, you can sync your contacts to Gmail in order to make a backup. Transferring contacts from iPhone to Gmail can be done by three options. They are: sync your iPhone with Google on the device, import iCloud contacts to Gmail and backup iPhone contacts to Gmail with a third-party software.

The following quick guide will show you how to transfer iPhone contacts to Gmail in three ways. Let's get started.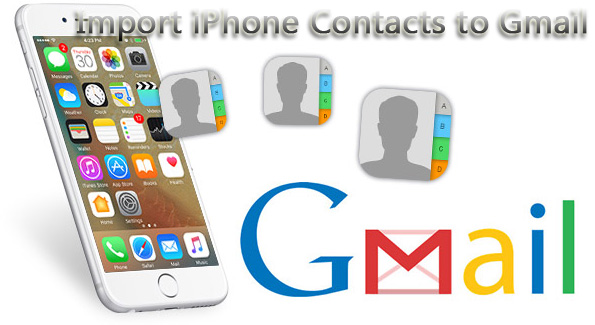 1. Transfer iPhone Contacts to Gmail on the iPhone
To sync your contacts with Gmail is quite simple on your iPhone. Check the below steps to learn how to do it.
Step 1Open your iPhone first, and then you will go to the Settings app. From there, scroll down untill you reach Mail, Contacts, Calendars.
Step 2Select Mail, Contacts, Calendars and tap Add Account. Then click Google and sign in with your Google account and password. Tap Next.
Step 3Once you are in, Gmail will ask if you like to have your Mail, Contacts, Calendars and Notes synced. Make sure that your Contacts is switched on. In that way, everything on your iPhone, your mails, contacts, calendars and notes will be synced to Google servers. Then tap Save at the top.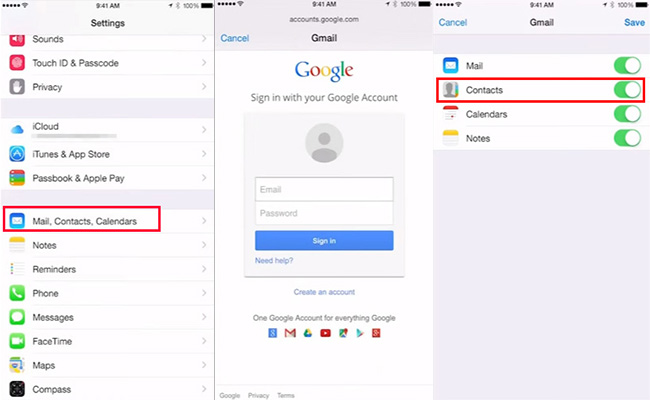 If you are not allowed to access this feature after updating, you need to move to the next solution.
2. Import iPhone Contacts to Gmail via iCloud
Using iCloud to sync your iPhone contacts to Gmail is quite easy too if you have backed up iPhone to iCloud. First of all, open your internet browers and type iCloud.com. Then follow the below steps:
Step 1Once there,you will be asked to log in to your iCloud with your Apple ID and password.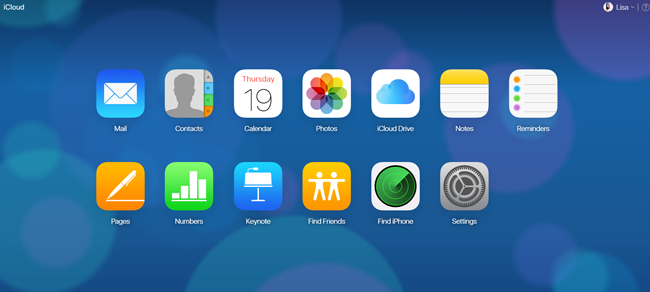 Step 2Click on Contacts when you are in. You will see all of your contacts that you have on the left-hand side. You can click single contact or multiple contacts by holding the Shift key.
Step 3To sync the desired contacts with Google, go to the bottom left and click on the call icon. From there, select Export vCard. The selected contacts will be saved as a .vcf file on the computer.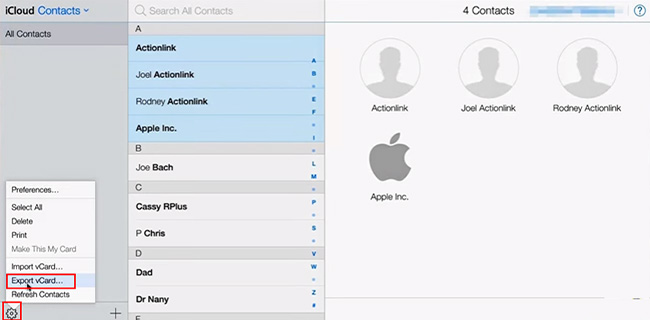 Step 4Now go to Gmail.com. On the left-hand side of the page, you will see Gmail with a small arrow pointing down. Click on the arrow and select Contacts from the drop-down menu.
Step 5Go down to More on the left and click Import after that. Choose Go To Old Contacts when the window pops up asking if you like to import from old Google contacts.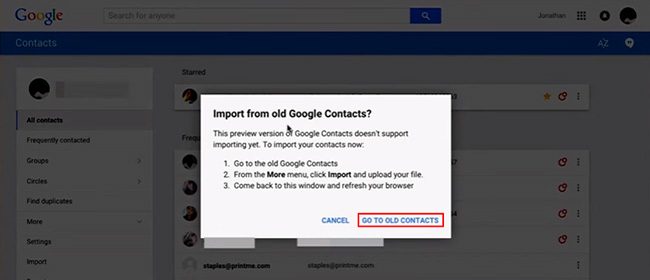 Step 6You will find a button called More on the top from there. Click on it and choose Import from the drop-down menu. Choose the file which you would like to import, then click Import.
3. Move iPhone Contacts to Gmail with FoneTrans
Fonetrans for iOS can not only help you import your iPhone contacts to Gmail and the other way round, but also export contacts from Outlook to iPhone. Apart from transferring contacts, the software is able to manage other files such as photos, videos, ringtones, iTunes U, Podcasts, SMS, and so on. Download it now for a free trial if you have any doubt.
Read this to learn about how to extract music from iPhone.

FoneTrans for iOS
With FoneTrans for iOS, you will enjoy freedom to transfer your data from iPhone to computer. You can not only transfer iPhone text messages to computer, but also photos, videos and contacts can be moved to PC easily.
Transfer photos, videos, contacts, WhatsApp, and more data with ease.
Preview data before transferring.
iPhone, iPad and iPod touch are available.
Step 1Choose the right link above, then download and install the software on your computer. When the installation is finished , it will automatically open. Connect your iPhone with the computer you will get: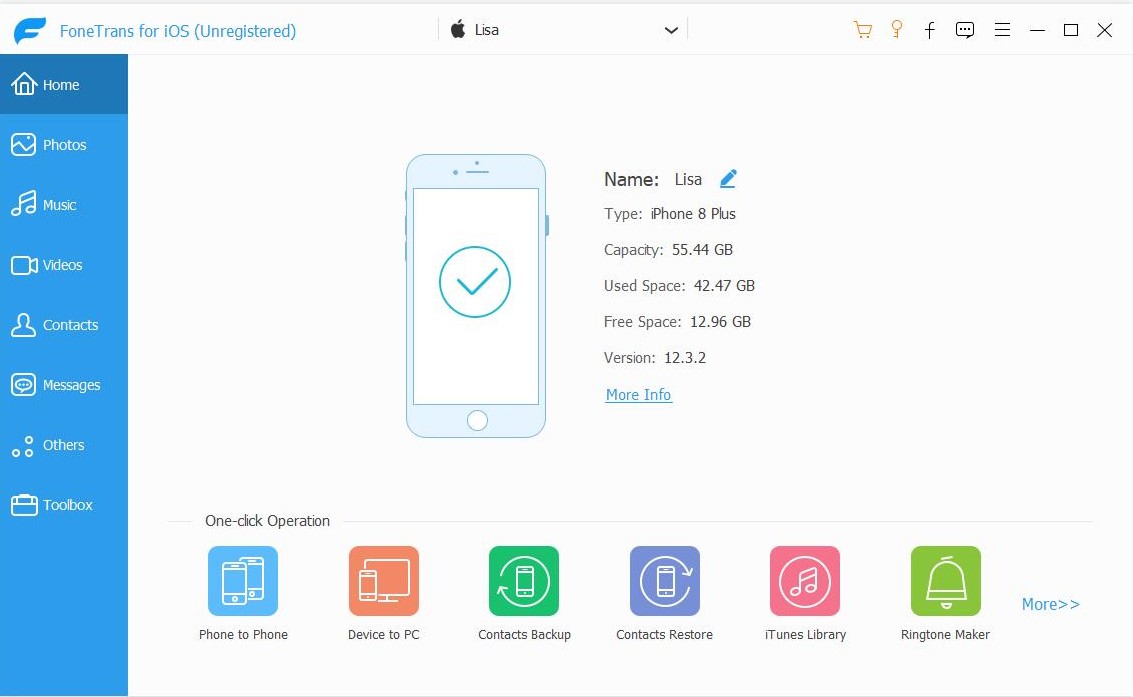 Step 2You will see contents likePhotos, Music, Videos, Contacts, Others, and Toolbox are displaying on the left column of the interface. Click Contacts from the list. You are allowed to add, delete, edit, backup and restore your contacts through the software. Click Import/Export, and select Export Selected Contacts or Export All Contacts as your need. And then choose to vCard file (Gmail), a format that compatible with Gmail.