Recover iOS Data Now
Recover your data from iPhone to computer easily.
iPhone Contacts Disappeared: 5 Easy Ways to Restore Deleted iPhone Contacts
You might think the contact app is a great innovation. It helps you to manage all phone numbers of your friends, families, colleagues and others so that you don't need to remember them one by one. It does play an important role in our daily life. You can make a phone call, send messages, receive email, and more between the contacts without remembering the exact phone numbers. It is quite convenient for contact app users.

But,
You might be familiar with the following description:
I lost contacts on iPhone! I don't know why my iPhone contacts missing. I can't remain my contacts on iPhone! I just want to restore contacts on iPhone. Is there any way to find contacts?
In fact, most iPhone users have encountered this situation:
Lost their contacts on iPhone for unknown reasons. They always ask why did their contacts disappear. And how to restore contacts on iPhone?
Below are the ultimate answers for you.
Before restoring iPhone contacts from backup files, please make sure that you have backed up iPhone data previously. Or else you can go ahead with the method without backups.
1. Recover Contacts on Your iPhone Settings App
Settings app is a fast and easy choice to restore contacts from iCloud backup. You can just finish the procedure in a few steps. All you need is your iPhone and log in the iCloud account which you have backed up before on.
Step 1Tap Settings on the home screen.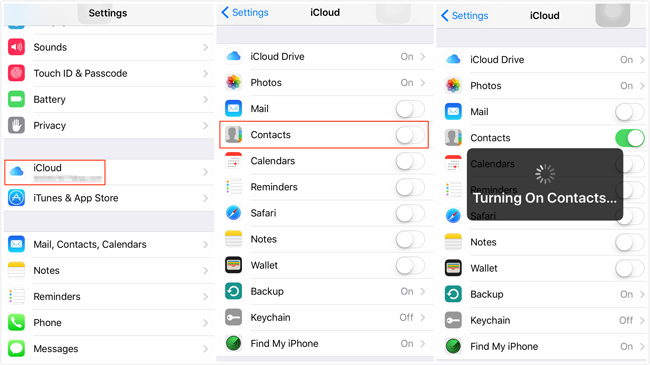 Step 2Choose your iCloud profile on the top and hit the iCloud if you are using iOS 10 and later. Elsewise, scroll down to find it.
Step 3Slide the toggle switch to ON next to Contacts. You can repeat this step to recover contacts from all of the preferred accounts.
However,
Because you are used to backup iPhone contacts with iTunes and iCloud two Apply ways, they might be the top 2 options which you will choose to restore deleted contacts from iCloud or iTunes.
So you are wondering:
How to recover deleted phone numbers from iCloud or iTunes?
Let's dive right in…
2. Restore Contacts from iCloud
iCloud is a cloud service which allows iPhone user to store their photos, files, contacts, bookmarks and more. Each user has 5 GB of iCloud storage. You can turn on the auto-sync button, then your data will be backed up to your iCloud account automatically. It also enables you to sync your iPhone, iPad or iPod device data at once through Settings > iCloud > Turn on iCloud Backup > Back Up Now. So you can choose the most convenient way according to your needs.
If backing up iPhone contacts with iCloud is one of your customs, here is a relative method to log in your iCloud account and recover deleted phone numbers.
Now:
Option 1. Recover iPhone Contacts Only from iCloud backup
Step 1Go to the icloud.com and log in your iCloud account.
Step 2Click Settings on the page.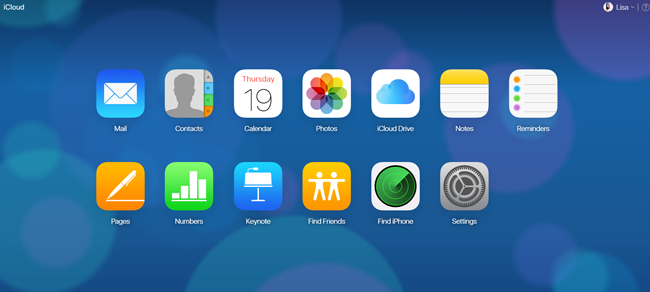 Step 3Click Restore Contacts in the bottom-left corner of the window. There are other different options, including Restore Files, Restore Calendars and Reminders, Restore Bookmarks. If you want to restore these iPhone data, you can choose them from the selections.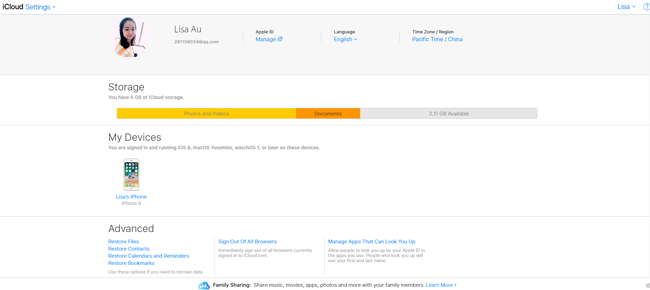 Step 4There are several options that you can choose from the pop-up window. Select one contact backup you want to restore from, click the Restore next to it.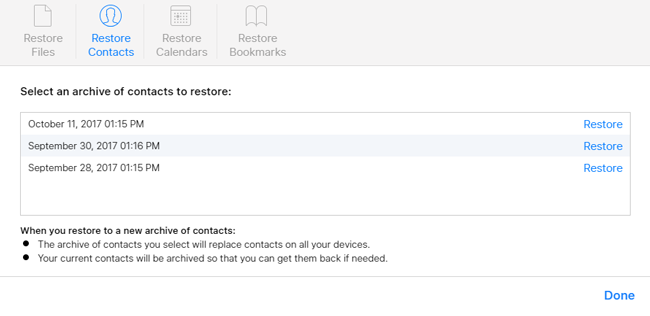 Step 5Click the Restore button to confirm again to continue.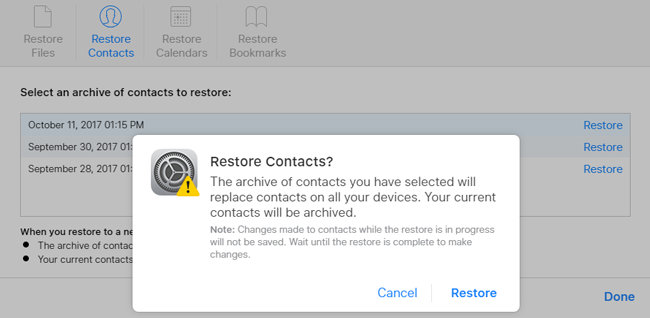 Step 6Restoring contacts will take some time, a window will pop up and inform when the restoration is done, click OK to finish.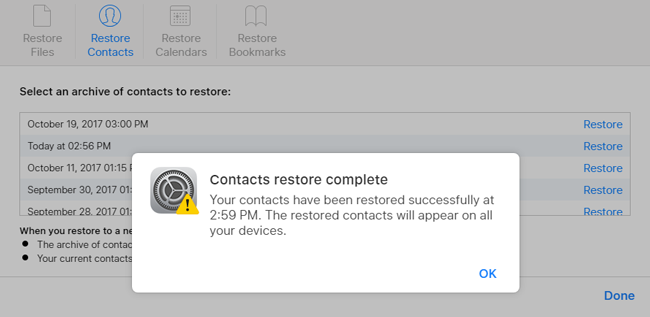 Too Complicated? Try the Easiest Way!
Option 2. Recover All Your iPhone Data from iCloud backup
Step 1Erase your iPhone by tapping Settings > General > Reset > Erase All Content and Settings.
Step 2Set up your iPhone by tapping Restore from iCloud backup once the erasing finishes.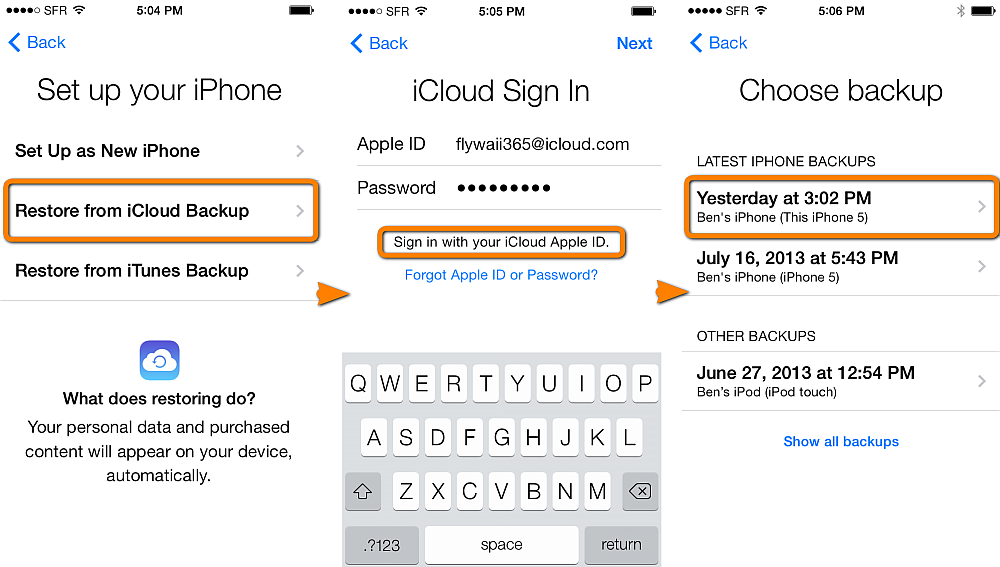 Step 3Choose the Backup file.
But,
If you think the cloud service is not safe and don't like iCloud, you must be a fan of iTunes rather than iTunes.
3. Find Contacts via iTunes
iTunes is an Apple tool which helps you to save your data on your own computer. So you just open iTunes on your computer, plug your iPhone into the computer, Go to File > Devices > Restore from Backup. As well as manage your data as you like.
What should you do?
Option 1. Recover All Your iPhone Data from iTunes backup
There is a tutorial on how to recover deleted contacts on iPhone. Then you can learn an easy way to get them back.
But firstly,
You need a computer with your iTunes backup files which contains your lost contacts and your iPhone.
Step 1Launch the iTunes program on your computer.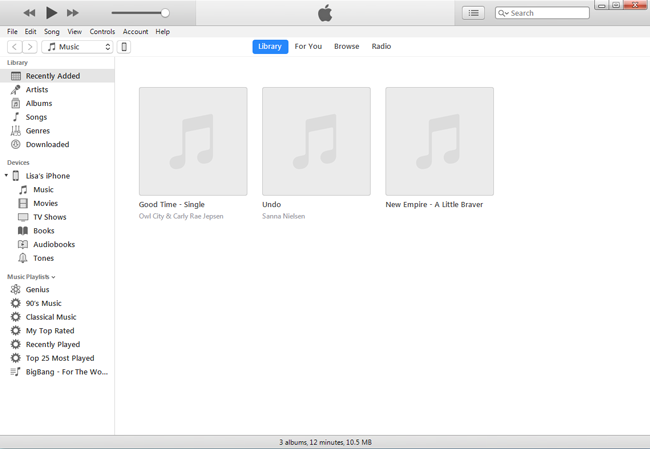 Step 2Click the small device icon on the top-left corner.
Step 3Click Summary on the left panel.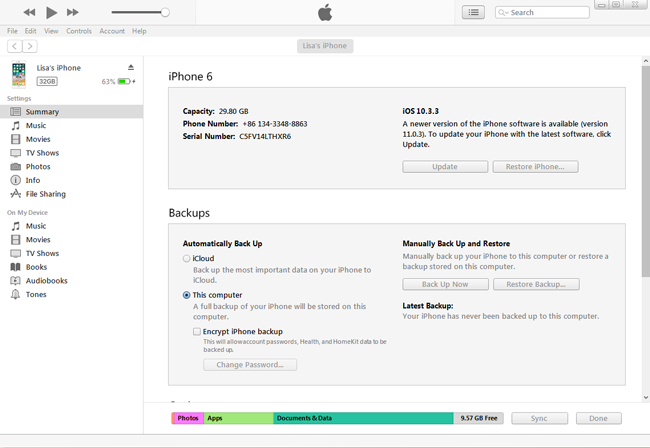 Step 4Go to Settings > iCloud on your iPhone to turn off Find My iPhone before restoring your iPhone.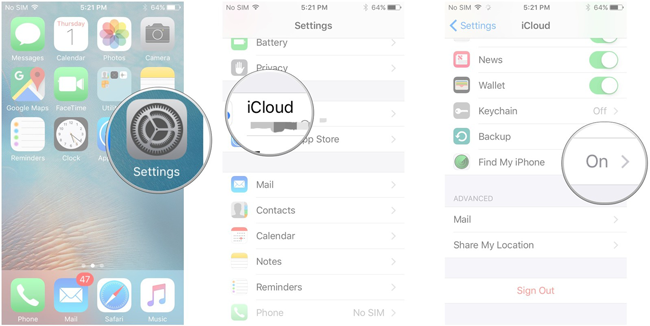 Step 5Hit Restore Backup. You are allowed to manually back up your iPhone to this computer or restore a backup stored on this computer.
Too Complicated? Try the Easiest Way!
Option 2. Recover Your iPhone Data from iTunes backup Selectively
But keep this in mind:
Your iPhone data will be overwritten by backup data after this iTunes recovering and the second method with iCloud. If you don't want to cause data loss, you can use FoneLab iPhone Data Recovery to extract data from iCloud selectively.
Use This 5-Step Process to Get Your iPhone Contacts back from Backup Files.
Step 1Download and install the software on your computer and install it.
Step 2Choose iPhone Data Recovery from the main interface, then Recover from iTunes Backup File or Recover from iCloud Backup File.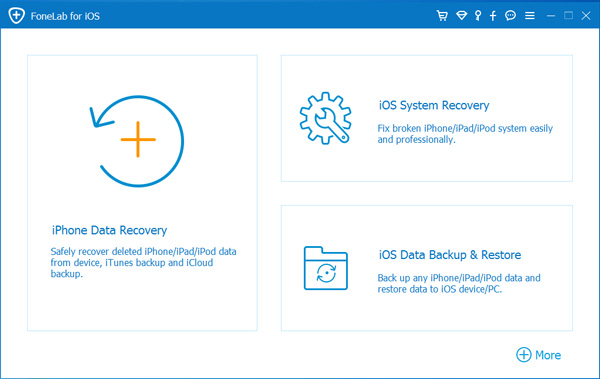 Step 3If you choose the second recovery mode, just select the iTunes Backup from the table, otherwise, log in your iCloud account and choose iCloud backup. Then click Start Scan to begin.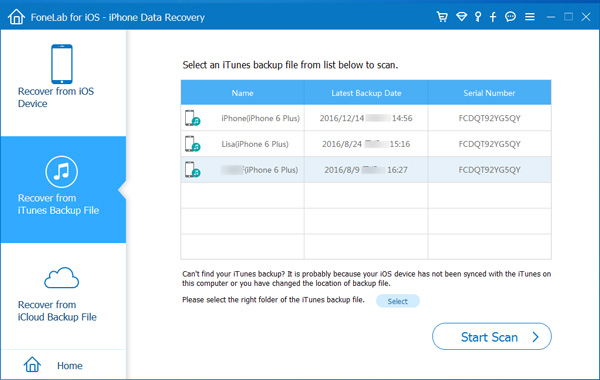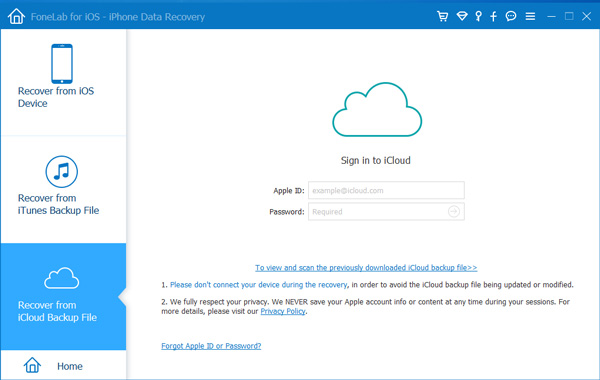 Step 4Go ahead to the Contacts and tick the contacts you want to recover from the right list. You are allowed to turn on the button of Only display the deleted items, then you can get the deleted items easier.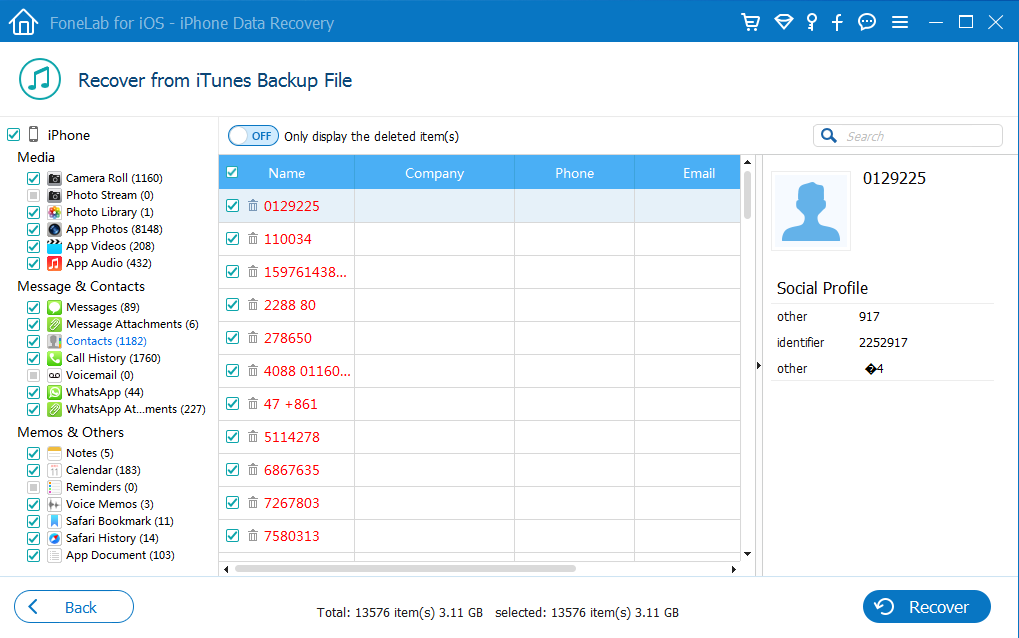 Step 5Click Recover, and then click to confirm again on the pop-up window.
Kindly note:
Your contacts will be saved as CSV, HTML and VCF format on your computer.
What are they?
CSV
CSV is a simple file format used to store tabular data, such as a spreadsheet or database. Files in the CSV format can be imported to and exported from programs that store data in tables, such as Microsoft Excel or OpenOffice Calc. CSV stands for "comma-separated values".
HTML
Hypertext Markup Language, a standardized system for tagging text files to achieve font, color, graphics, and hyperlink effects on World Wide Web pages. HTML is used to create electronic documents (called pages) that are displayed on the World Wide Web.
VCF
VCF is an acronym for Virtual Contact File. VCF files, also commonly referred to as vCards, are the standard file format that is used to store contact information for individuals and businesses in a digital file format. The VCF file format also allows for the support of images and other media content.
4. Recover Deleted Phone Numbers from Google Account
Certainly,
You must know Google. A single username and password get you into everything Google, including Gmail, Chrome, YouTube, Google Maps and more. It is a simple tool to save and restore your iPhone contacts.
Do you have a google account?
If you do, it will be a good news that you can restore iPhone contacts from your google account. How?
Here are what you want to know:
Step 1Find Add Account and Google under the Settings.
iOS 7-9: Settings > Mail, Contacts, Calendars > Add Account > Google
iOS 10: Settings > Mail > Accounts > Add Account > Google
iOS 11: Settings > Accounts & Passwords > Add Account > Google
Step 2Fill in the inquired information.
Step 3Switch on the Contact button.
5. How to Retrieve Contacts from SIM card
If you were an Android phone user and began to change your mobile device to iPhone, the first thing you might be considered is how to transfer your data from Android to iPhone. The most important item is your contacts. Some Android users are used to save their contact numbers on SIM card, so that they don't need to move these phone number time by time.
Because you are using iPhone, which is different Android phone now, everything changes…
Step 1Insert the SIM card which stored your phone numbers on your iPhone.
Step 2Go to Settings > Contacts.
Step 3Scroll down to find Import SIM Contacts and tap on it.
Do you think it is not necessary to be nervous about losing iPhone contacts after above-mentioned 6 ways? We have so many simple ways to recover them.
There was only one problem:
How can you recover lost iPhone contacts without backup?
6. Recover Contacts from iPhone with FoneLab iPhone Data Recovery
iPhone users might be overwhelmed by what they face up when they lose their contacts without any backup file. In their opinions, it is impossible to get these contacts back as they even have no idea about why they lose them.
Just calm down.
Actually, your deleted contacts are still stored on your iPhone storage but unvisitable for user. An iPhone Contact Recovery enables you to recover lost contact with the device directly.
First of all,
You need to stop using your iPhone. Or the old data will be overwritten by the new one.
Then,
What you need are:
A computer, a USB cable and the iPhone which might contain your lost contacts.
Step 1Finish the downloading and installing the program on your computer.
Step 2Connect your iPhone to the computer via USB cable. Tap Trust on your iPhone home screen if it pops up.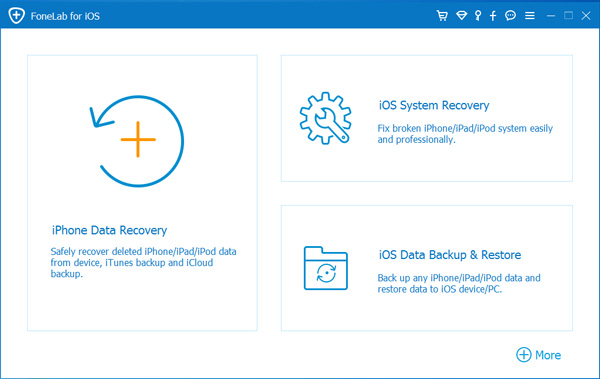 Step 3Click iPhone Data Recovery and then Recover from Device. And it will begin to scan your device automatically.
Step 4Choose Contacts from the left and then tick the box next to the contacts which you want to recover. You can also recover iPhone music by clicking App Audio.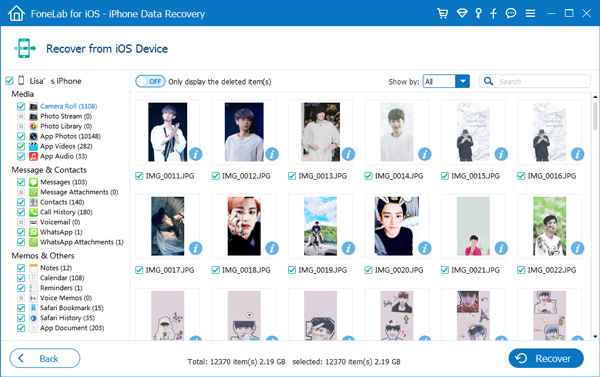 Step 5Click Recover.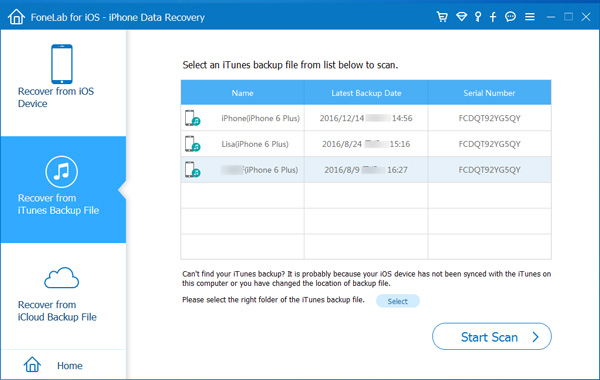 You can also learn more about how to recover contacts after factory reset iPhone.
The last question?
Where are my contacts stored on the computer?
Just go to the three-line button > Preferences, then you can check the Output and Backup folder from the pop-up window.
Why do people like FoneLab?
It is compatible with iPhone, iPad and iPod.
iOS 12 and iTunes 12.9 are fully supported.
It allows you to recover data from device and backup files.
Preview items before restoring are available.
Photo, contact, video, bookmark, file, music, message, note, call history, calendar, etc. are recoverable.
Fix the disabled system problems with the device.
FoneLab iPhone Data Recovery also can be used to back up your iPhone data. It is easy to use. Just connect your iPhone, go to iOS Data Backup & Restore, choose the backup way and confirm. It allows you to choose which data selectively and decide whether you encrypt your backup or not. Why not have a try now!