Recover iOS Data Now
Recover your data from iPhone to computer easily.
[Helpful Solutions]Detailed Guide to Recover iPad Contacts
I have been using iPad for more than 2 years. But the system has never been upgraded. That day, a prompt of iOS version updating appeared on the screen. And I accidentally clicked it. After the update, I noticed my text messages no longer identified the senders by name, only by phone number. Then I checked my contacts and they were gone. It is no use restarting the iPad. How to recover contacts on iPad? Please help!!!
Everyone needs to keep in touch with their family, friends or even clients. But no one is able to remember the all contact numbers and related information. Therefore, for iPad users, all data stored on their iPad are precious, especially contacts.
However,
It is a common occurrence to lose contacts on iPad. There are many reasons behind contacts loss such as version upgrade, sudden shutdown of the device, accidental deletion, and so on.

After you find yourself in such predicament, please wait for a while first and do nothing with your iPad. Maybe it's because the unstable network causes your data to disappear temporarily.
If the contacts still don't appear on your iPad, please try the below steps.
After each step, please see if the contacts come back.
Step 1Restart your iPad.
Step 2Check the setting on your iPad. See if the date and time settings on your iPad are correct.
Step 3Open Contacts and swipe down on the list to refresh your contacts.
Step 4Go to Settings. Tap iCloud > Turn Contacts off > Tap Keep on my iPad. Then reopen the Contacts option and click Merge. Wait for the contacts to re-sync.
Step 5Go to iCloud website. Login to your iCloud account and click the Contacts icon. Then you may find them.
Has your problem been solved? Maybe your answer is no.
At this point, it is particularly important to have a backup. Next, I'm going to detail the way to recover contacts from a backup.
1. How to Restore Contacts on iPad from iCloud Backup
There are two ways to restore contact from iCloud backup. One is to operate directly on the iPad, which is a fairly common way.
Way 1 Restoring Contacts from iCloud Backup on iPad
Step 1 Open Settings on your iPad. Tap General > Reset > Erase All Content and Setting.
Step 2If a message asks for your password, please go for it.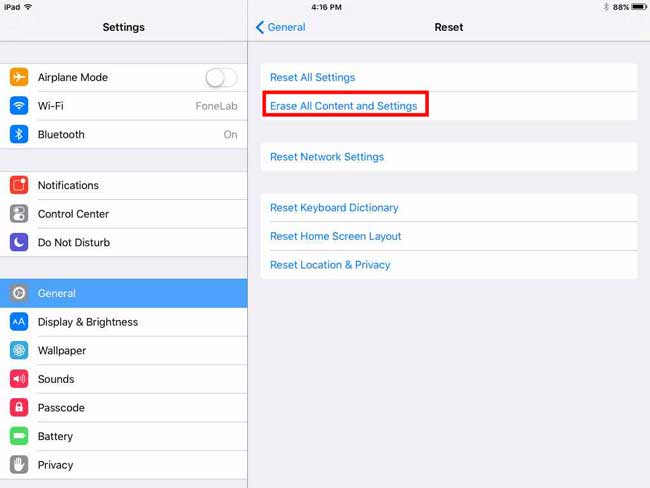 Step 3 A prompt dialog box will appear, just choose Erase.
Step 4 Then the iPad will restart automatically.
Step 5 Follow the onscreen steps to set language, region, location, network.
Step 6 After reaching the Apps & Data interface, choose Restore from iCloud backup.
Step 7 Login to your iCloud account.
Step 8 Depend on the date and size of each backup and choose the most relevant from the backup list to recover.
As an experienced user, you may be familiar with this way very much. And you probably already noticed that this will delete all media and data before recovery.
So consider whether this way is suitable for you. Or you can back up all the existing data on your iPad before you take these steps.
Another one is to recover contacts from iCloud.
Way 2 Restoring Contacts from iCloud Backup on iCloud Website
Before using this approach, you must make sure the Backup Automatically is open. Just enter Settings > iCloud and see if Backup switch is on.
Step 1 Go to the iCloud website.
Step 2 Login to your iCloud account.
Step 3 Find the Advanced section on the left bottom of the page.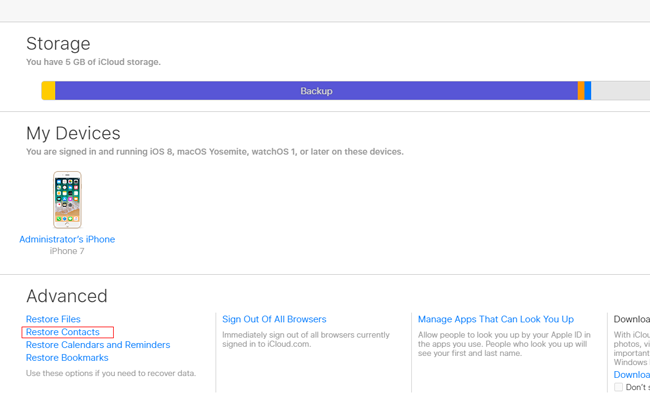 Step 4 Look at the four options and choose Restore Contacts.
Step 5 Choose the most likely one at the list of backup history and click Restore.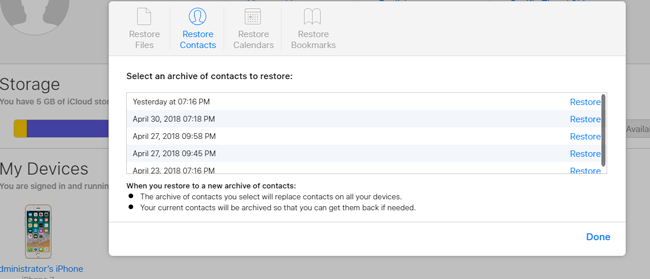 Step 6 Then the selected backup will replace contacts on all your iOS device with the same ID. And the current contacts will be archived.
As you see, this will also change your current contacts on your iPad, but just the contacts.
Of course, recovering contacts from an iTunes backup is also a good option, if you have backed up with iTunes. Before you use this way, please keep in mind that back up all your current data on iPad first. You know recovering from iTunes has the same defect that all current data on your iPad will be replaced by a backup. Here, I'm not going to into detail about iTunes anymore.
If you don't have any backup or you want to recover from iPad device directly, you can use the FoneLab iPhone Data Recovery helper.
2. How to Recover Contacts from iPad Device with FoneLab
Just follow the below easy steps
Step 1Free download the software on your computer. There are two versions available for you, Mac and PC.
Step 2 Install the software and the software will be automatically run.
Step 3 Connect your iPad to the computer via USB cable. Select iPhone Data Recovery > Recover from iOS Device > Start Scan. If you want to recover iPad notes or others from iClour or iTunes, you can select Recover from iTunes or iCloud here.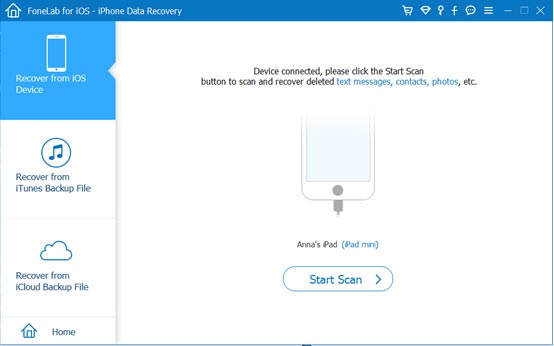 Step 4 After finishing the scanning process, the software will list the different type of files on the left sidebar.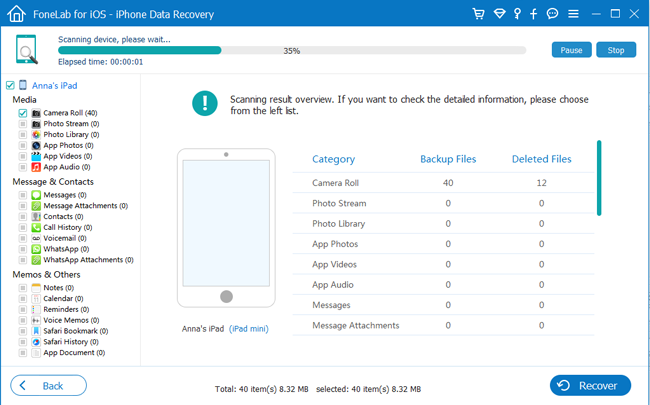 Step 5 Click Contacts to preview the content. Both the deleted and the existing are display at the right.
Step 6 Choose contacts you need to recover. What you recovered will be saved to your computer.
You can also use above-mentioned ways to recover iPhone contacts easily and safely.
It is easy to recover your deleted files on iPad with just a few clicks. Using this software, you can preview the content and choose your desired one to recover. It also supports recovery from backup without changing your current data on iPad. With FoneLab, you will never face such painful situation of data loss.