How to Reset iPhone
"My apps on iPhone run slowly and sometimes suddenly shut down. I don't know what happened. I checked these problems by surfing on the internet yesterday, they said I should reset my phone in time. So How to reset iPhone 6? Is it a piece of cake?"
If you have various of apps, files, settings on your iPhone and find it tending to slow down, sometimes suddenly shuts down, you can choose reset your iPhone to solve these problems for you.
Also, if you want to restore iPhone from iCloud, you need to reset iPhone first.
There is an efficient way to reset your iPhone, please read the steps below.
Step 1. Go to Settings.
Step 2. Find General.
Step 3. Scroll down to tap the Reset.
Step 4. You can find five options here and choose the suitable one according to your needs.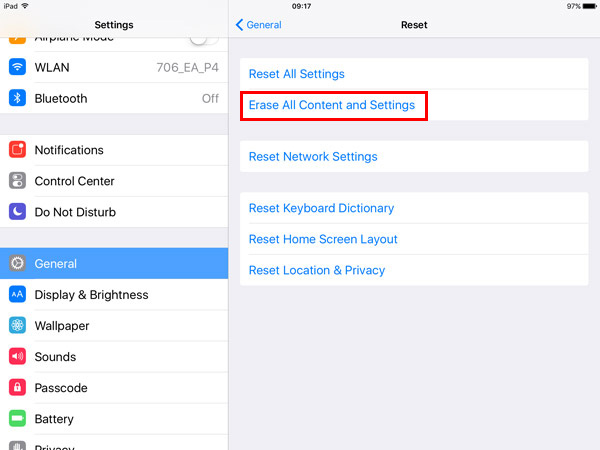 Before taking action, please note below tips about above mentioned five different choices.
You can also learn restore iPhone without updating.
Reset All Settings: Some of your settings will be reset to factory default settings, including General, Bluetooth, WLAN network, Notifications, and so on. And it will remove your data on iPhone or iPad.
Erase All Content and Settings: It will erase all settings and data on your iPhone.
Reset Network Settings: Wi-Fi networks and passwords, cellular settings, and VPN settings that you've used before will be removed.
Reset Keyboard Dictionary: Clear the keyboard dictionary cache of your iPhone or iPad.
Reset Home Screen Layout: All your apps on your home screen will be re-arranged.
Reset Location & Privacy: Restore the location and privacy settings to default.
Before erasing all content and settings on iPhone, it is better that backup all your important data on computer. You can use FoneTrans for iOS to move these files easily and safely.
Above mentioned way helps you reset iPhone content and settings, but it cannot ensure that the swiped data cannot be recovered. If you recycle or donate it, the data like personal information, privacy and more can be recovered with some professional third-party data recovery. If you want to reset your iPhone or iPad with a guarantee, here is a nice article to tell how to do it.
Although Apple doesn't provide a tool to reset iPhone for you, there is no need to worry about it, FoneEraser for iOS will be a good choice of iPhone Data Eraser for you according to this circumstance. It is a right program to remove all settings, cache files, apps, documents and more permanently and thoroughly.
Erase all text content, media files, apps, documents and settings from your device.
Supports iPhone, iPad and iPod touch.
Three erasing levels to erase iPhone or iPad data. High Level, Medium Level and Low Level all ensure the erased data are unrecovered.
Remove data within a few clicks.
Clear data thoroughly.
How to Reset iPhone to Factory Settings
Step 1: Download and install the program on your computer, and then it will be launched automatically.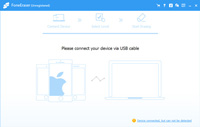 iPhone Data Eraser
FoneLab - iPhone Data Eraser - the best iOS data cleaner which can easily erase all contents and settings on iPhone, iPad or iPod completely and permanently.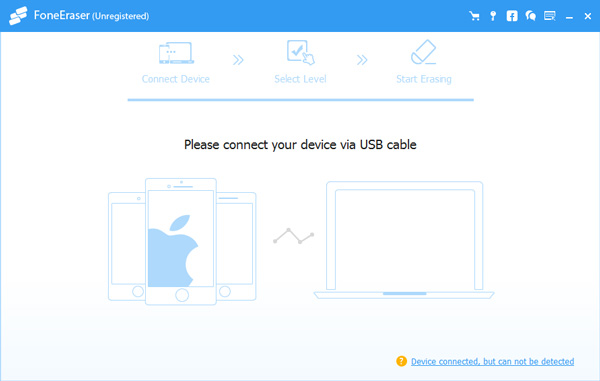 Step 2: Connect your computer and device with USB cable, and then tap Trust on the device screen.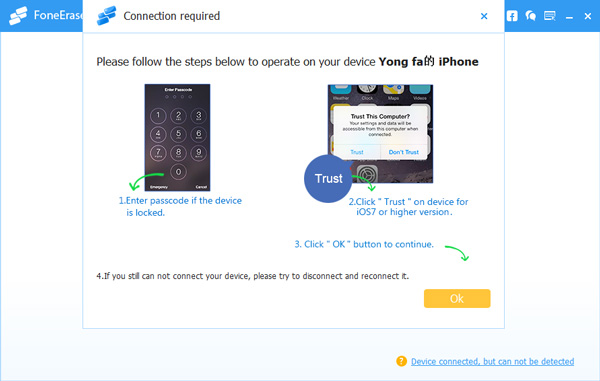 Step 3: Wait for the successful detection, tap the Retry icon if it is failed.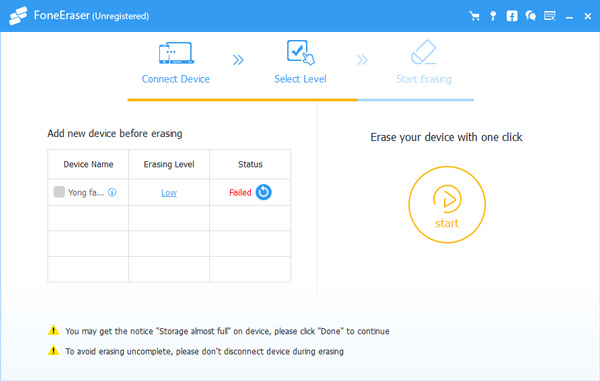 Step 4: Choose one from the three level options.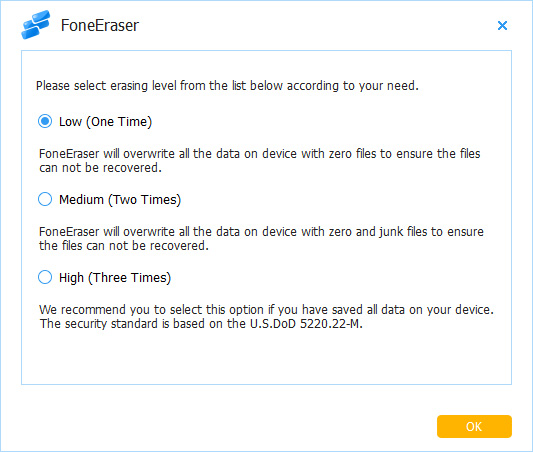 Step 5: Click Start on the right and click Yes to confirm again.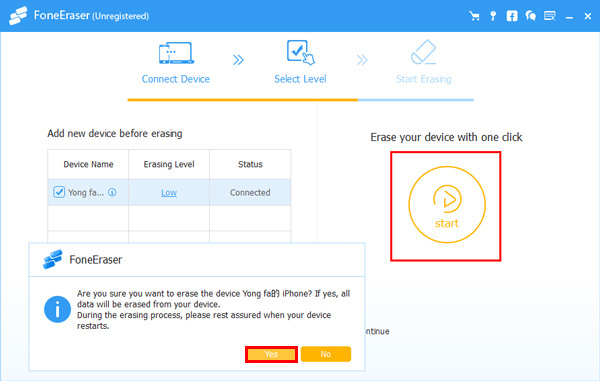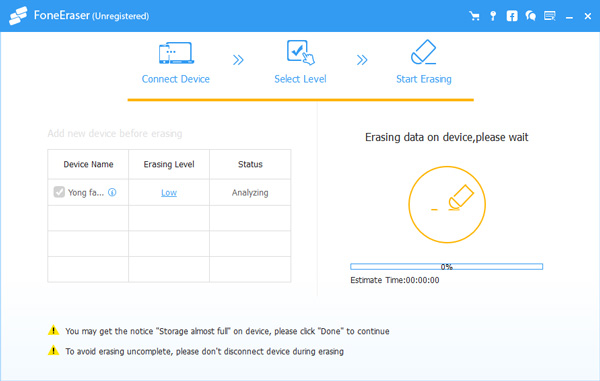 Peradventure on of the hard-to-solve and annoying issues with your iPhone is its data. Maybe your personal information or vital files of your work will be leaked without your permission.
The solution for this nagging problem is to try out the iOS Data Eraser. It helps you to erase all data on your iPhone without fear of an attack from the rear.
Related Articles: