Transfer iOS Data Now
Transfer your data from iPhone to computer easily.
The Ultimate Guide to Transfer Photos from iPhone to Computer

Posted by
Lisa Ou
/ Jan 18, 2021 09:00
There are 2,239 photos on my iPhone, they take too much storage of my iPhone, that's why my iPhone runs slowly. I don't know how to recover photos from iPhone, so I don't want to delete them at all. They are really important for me, I want to view them whenever I want. Anyone can help me to get photos off my iPhone and save them to my computer?
People take photos with their iPhone camera to record each of their precious moment when they are having a party, having a trip, or doing something else they think important for themselves.

On one hand, they arguably use camera more than they use the actual iPhone function, so that there are thousands of photos in their iPhone occupying most of their iPhone space. iPhone camera gets better with every new generation, which makes the device not running smoothly.
However, as the image quality quickly improves and resolution continue to climb, you have to learn how to transfer iPhone photos to external hard drive or backup iPhone photos to PC to free up your iPhone space.
On the other hand, iOS 11 was released to the public on September 19, 2017 and is now available for download on the iPhone 5s and later, the iPad mini 2 and later, the iPad Air and later, all iPad Pro models, and the sixth-generation iPod touch.
As you know, iOS 11 use HEIC as the default format for your new photos on this new iOS system. It is helpful to save iPhone storage.
Please move on if you want to learn more about how to transfer photos or HEIC format...
1. Transfer Photos from iPhone to PC
Option 1. Transfer Photos from iPhone to PC with iTunes
iTunes is the default tool, which allows users to manage data between computer and iOS devices with ease.
Step 1Download iTunes from Apple official website and install it. Please make sure that you have the latest version of iTunes.
Step 2Launch iTunes and connect your iPhone to computer via USB cable.
Step 3Click on the device icon in iTunes.

Step 4Click the box next to Sync Photos.
Step 5In the drop-down menu, choose the photos that you want to sync from.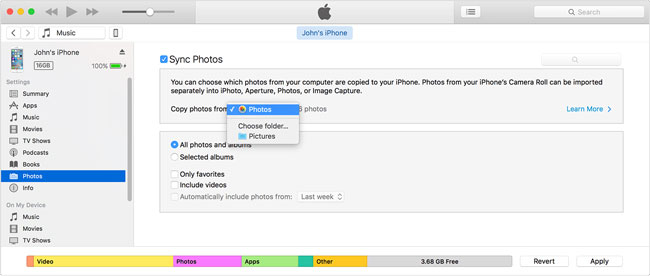 Step 6Choose to sync all photos or selected albums.
Step 7Click Apply.
Step 8Delete the photos to release your space. When the sync is done, you have saved photos from iPhone to computer already. You can delete these photos from your iPhone now.
Option 2. Transfer Photos from iPhone to PC with iCloud
iCloud is another Apple way you can use on computer to manage iPad data with ease.
Option 1. Download the iCloud on Computer
Step 1Download and install iCloud for Windows.
Step 2Open iCloud for Windows and Log in with your Apple ID.
Step 3Click Options next to Photos.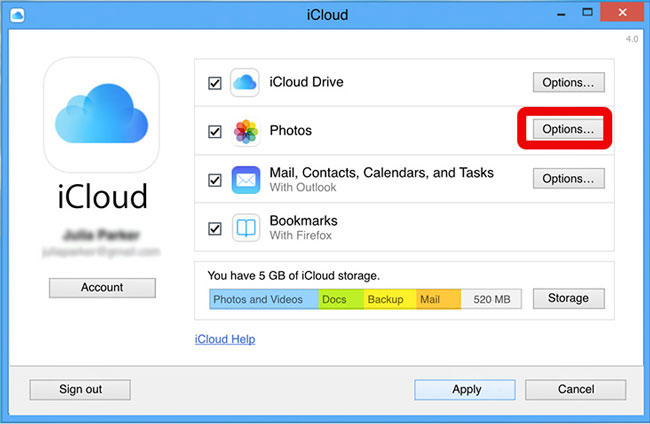 Step 4Select iCloud Photo Library and Download new photos and videos to my PC.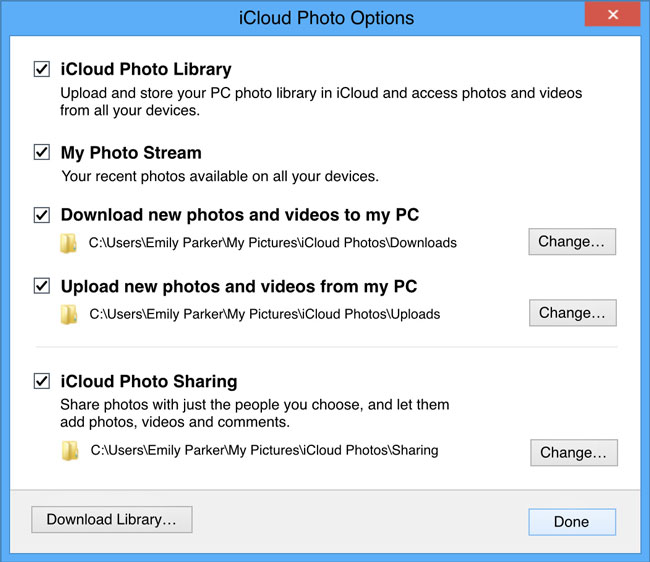 Step 5Click Done, and then click Apply.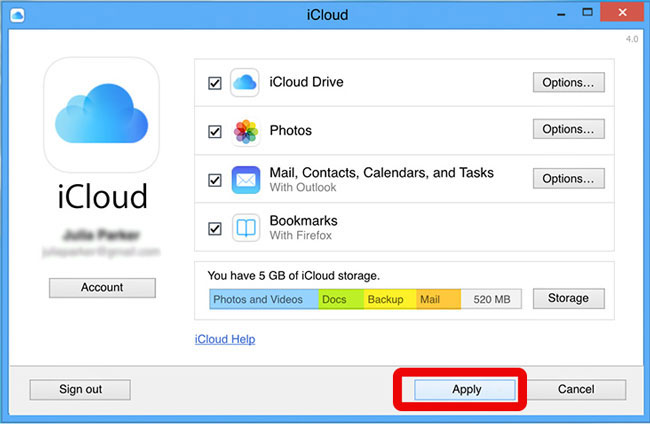 Step 6Turn on iCloud Photo Library on your iPhone. You can check your photos on computer via iCloud now.
Step 7Remove your photos from iPhone now. You have copied iPhone photos to PC already, you can remove photos from your iPhone now.
New photos and videos you take automatically download from iCloud Photo Library, photos on PC will not be modified even you delete photos on your iPhone.
Option 2. Go to iCloud Web Page
If you don't want to install the software on PC, iCloud web page is a good choice for you.
Step 1You will be required to enable iCloud Photos feature to upload and store all photos and videos on iCloud through Settings > [your name] > iCloud > Photos > iCloud Photos.
Step 2Just need to go to iCloud.com and log in your account. Choose Photos and find what you want, then click Download icon to save them to computer.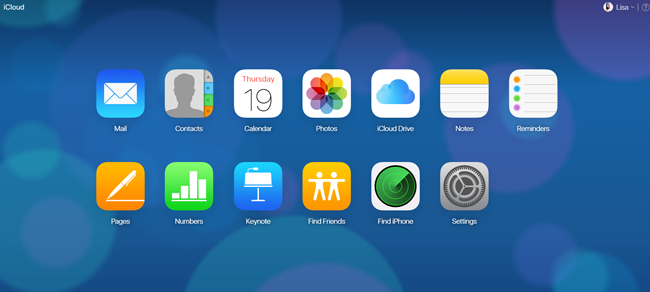 You will have questions about how to transfer pictures from iPhone to computer without iTunes or iCloud if you would like to sync your iPhone with neither of them after the above demonstrations.
In this case, you will need FoneTrans, an effective and safe third-party tool, to help you to download photos from iPhone without Apple's ways.
3. Download Photos from iPhone to PC with FoneTrans for iOS
Step 1Download and install FoneTrans for iOS from the below buttons. Both Windows and Mac versions for options. The program allows users to download and install with only five steps. Please make sure your iTunes is the latest version.

FoneTrans for iOS
With FoneTrans for iOS, you will enjoy freedom to transfer your data from iPhone to computer. You can not only transfer iPhone text messages to computer, but also photos, videos and contacts can be moved to PC easily.
Transfer photos, videos, contacts, WhatsApp, and more data with ease.
Preview data before transferring.
iPhone, iPad and iPod touch are available.
Step 2Launch the program, then plug and connect your iPhone to computer. After your iPhone is connected, please tag Trust on your iPhone screen, program will display your iPhone automatically.
Step 3Click Photos and preview them.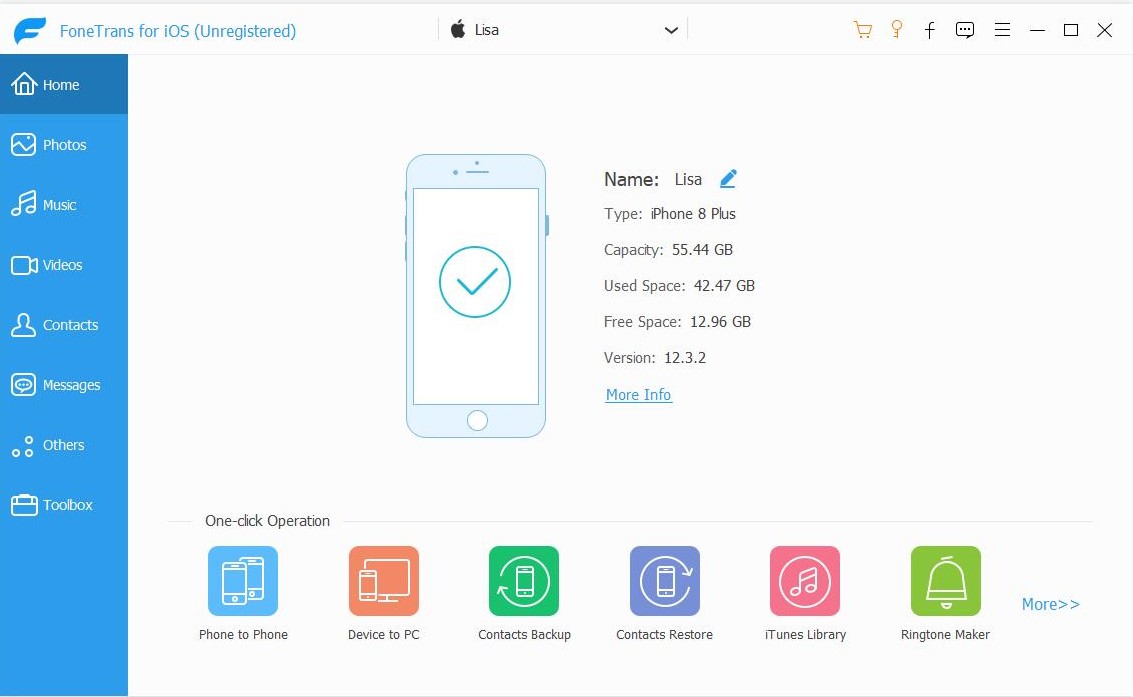 You can see all of your iPhone information on the interface after your device is detected. Click Photos from the left pane at this moment, then you can preview all your photos on the page before transfer these photos from iPhone to PC.
Please note that you can double-click the photos to enlarge and preview them.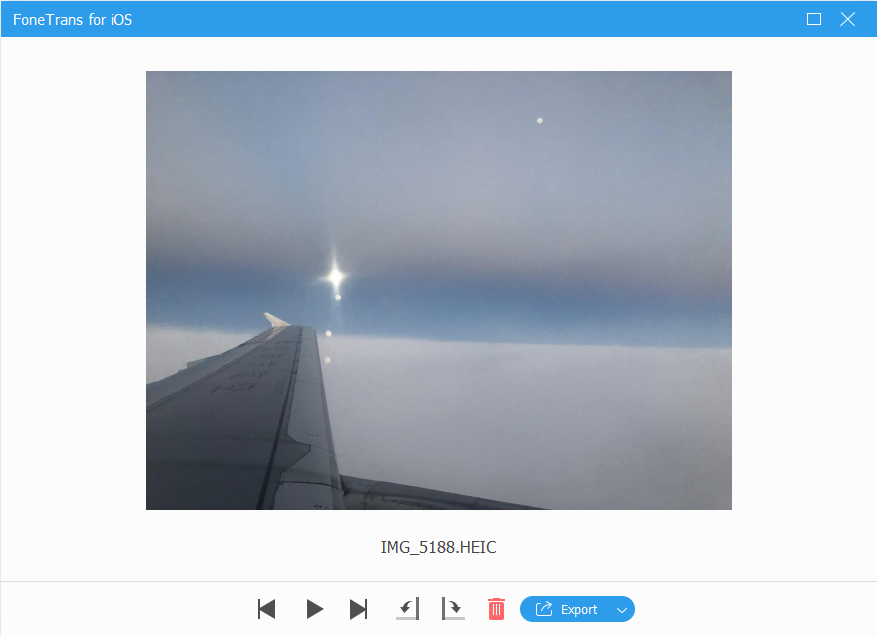 Step 4Select the photos. You can select one album or right-click to check all.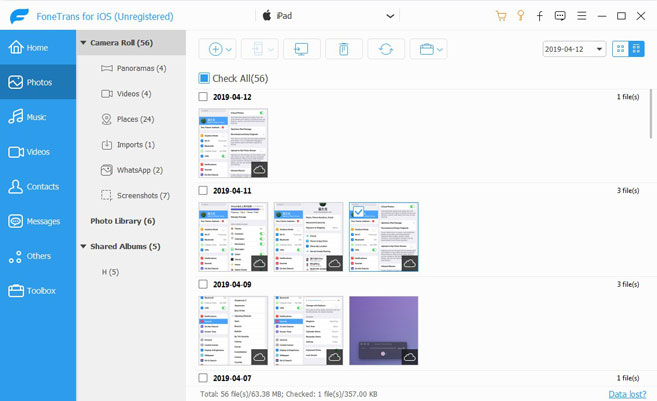 Step 5Click Export to and select folder. Click Export to and then choose a local path to save your photos, click OK.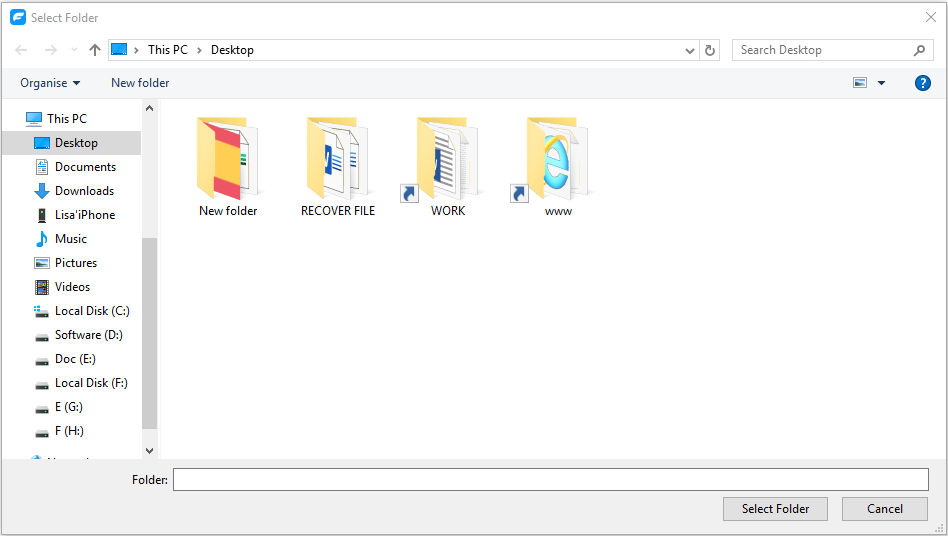 Step 6Get pictures off iPhone now. After moving pictures from iPhone to computer, you can delete the photos from iPhone to free up your iPhone space now.
If you want to save your photos from iPhone to computer as JPEG format only, you can go to Settings >Photos > Transfer to Mac or PC > Automatic to do it. If you set your iPhone or iPad to Keep Originals, the HEIC pictures will remain to be in the same image format.
4. Transfer Photos from iPhone to Computer with USB Cable
As an iPhone user, you might have notified that you can move photos between device and computer when you plug your iPhone to PC with a USB cable.
Simply drag and drop photos from the mobile phone folder to local folder on computer you want, then you can check the photos on computer.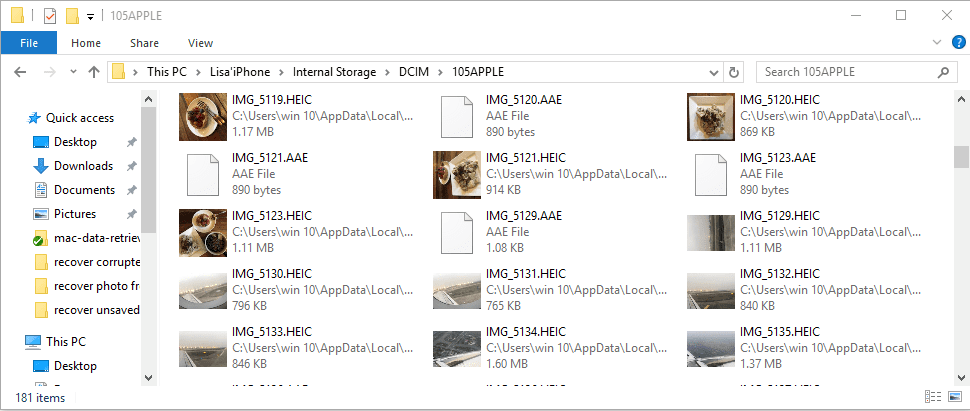 5. Transfer Photos from iPhone to Computer with Google Drive/Dropbox/OneDrive
Cloud service is an online storage to upload and save files without USB connection. It requires stable internet connection only. Below is an demonstration of Google Drive.
Step 1Open App Store on iPhone, search google drive and download it.
Step 2After the installation, open the google drive app and log in your google account.
Step 3Choose the photos you want to transfer and upload them.
Step 4After that, go to Google Drive web page and log in with the same account used to upload photos on iPhone.

Step 5Locate the photos you want, and save them to computer.
When all is done, you can view your photos on computer now. FoneTrans also can help you to manage your other iPhone data, such as import contacts VCF file to iPhone, transfer ringtone from iPhone to iPhone… Please don't hesitate to download FoneTrans and have a try now!
2. How to Convert HEIC Format
What is HEIC?
HEIC means High Efficiency Image File Format. It is a new image container format from the developers of MPEG. It makes your iPhone takes its photos in this new format rather than JPEG as we are used to in an effort to save a reported 50% in file size with no loss of quality. It is unfortunate that this new .heic files won't be so simple to view on your Windows computer.
So how can you convert iPhone photo to jpg?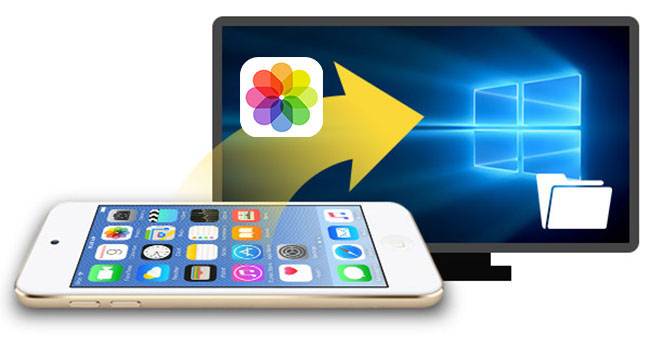 There are three ways to get photos off iPhone to computer, they are using iTunes, iCloud and Transfer for iOS. The first and second methods require that you sync your iPhone with iTunes or iCloud for backup.
About backup with iTunes or iCloud, please check how to backup your device using iTunes or iCloud. If you don't want to sync your iPhone using either of them, please go ahead to the third method, which is using FoneTrans, to transfer photos from iPhone to PC.
Plus, you are allowed to quit HEIC format if you want. Head to Settings > Camera > Formats > Most Compatible,then it will use JPEG for images.
In some cases, you think the HEIC format is so good to save the iPhone storage without loss of quality. So how can you convert these HEIC photos to JPG when you want to view iPhone photos on PC?
There are several ways to change the photo format, change HEIC to JPG via Dropbox, free online image converter, iCloud or email.
Option 1. Change HEIC to JPG via Dropbox
Step 1Open the app and tap person icon.
Step 2Tap the gear icon and Camera Uploads.
Step 3Choose Save HEIC photos as and JPG as upload format.
Option 2. Convert iPhone Photo to JPG with iCloud
Step 1Visit icloud.com and log in your account.
Step 2Upload your photo to your account with JPG format.
Option 3. Using Online Free Image Converter to Save Your Photos as JPG Format
Step 1Go to the official site which enables you to convert photo format.
Step 2Drag and drop HEIC photos to the interface and follow the on-screen instructions to finish the procedure.
Step 3Wait a while for the online converter to load original HEIC images and convert it to JPG.
Option 4. Convert HEIC to JPG by Email
Step 1Select HEIC images and send them to email box as an attachment.
Step 2Then you can get JPG images soon and save them on your computer.
Option 5. Convert HEIC to JPG using FoneLab HEIC Converter
Step 1Download and install HEIC Converter on computer, and then launch it.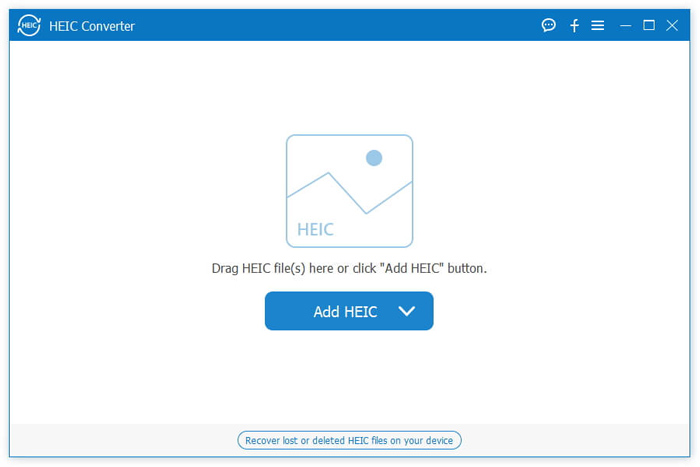 Step 2Then you can click Add HEIC button and choose items.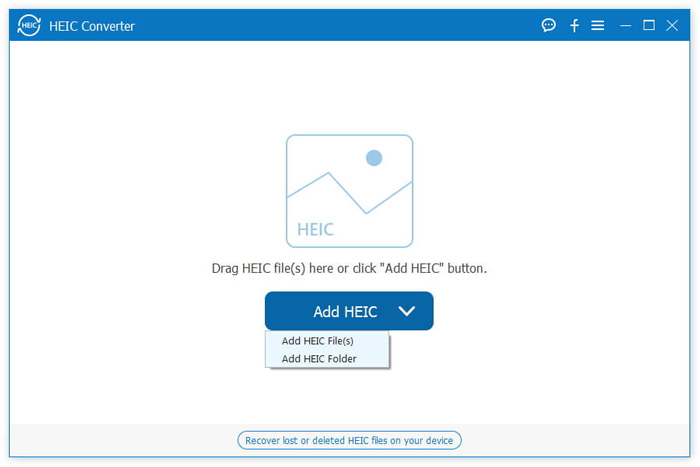 Step 3Finally, select conversion format and click Convert.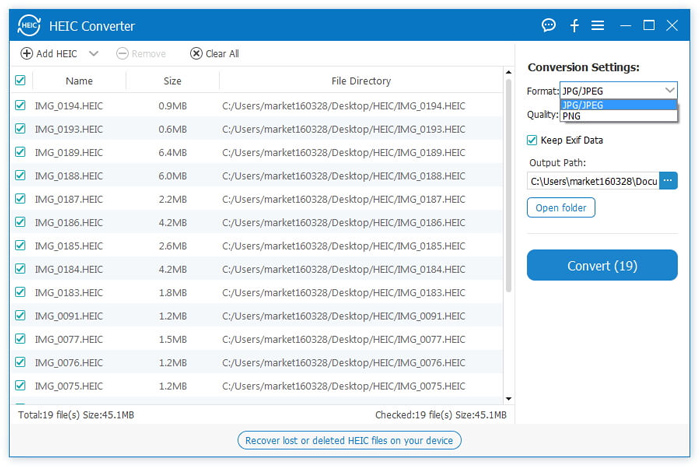 Above-mentioned methods help you to convert the HEIC images from iPhone to JPG format, but it doesn't allow you to change them conveniently. So you can choose an effective way to finish all items within a couple of clicks.