Transfer iOS Data Now
Transfer your data from iPhone to computer easily.
How to Transfer WhatsApp Messages from iPhone to iPhone
I want to continue with my WhatsApp chat history on my new iPhone Plus 7. So my question is how to transfer WhatsApp conversation from my old iPhone to the new one? Can anyone give me some suggestions? Thank you very much!
WhatsApp is a communication app for Smartphone which is currently available on iPhone, Android phone, Windows phone, and Symbian mobile phone. This app enables users to send and receive messages, pictures, audio files and videos for totally free making it very popular among smart phone users.
When you get a new iPhone, you may also want to keep the old WhatsApp chat history on your new phone. So you need to know how to transfer WhatsApp chat history from iPhone to iPhone.
I will show you three ways to transfer WhatsApp messages between iPhones in this post.

Solution 1: Transfer WhatsApp to New iPhone via iCloud Backup
Be aware that your data is not safe because it will be overwritten in this method. So if you mind move to next solution. Below is the step-by-step guide on how to transfer WhatsApp messages from iPhone to iPhone.
Step 1Connect your iPhones to a W-Fi network.
Step 2On your old phone, go to Settings – iCloud – Backup.
Step 3Toggle on iCloud Backup and tap on Back Up Now. Wait for the backup process to be finished.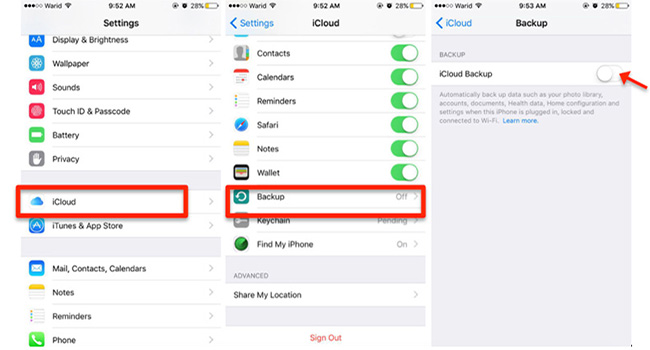 Step 4Make sure that you've backed up sucessfully by going to Settings – iCloud – Storage – Manage Storage. The backup you just created should appear with the correct date and size.
Step 5Grab your new iPhone, loging into your Apple account and start to restore the iCloud backup your have just made. Once it finished, you will find everything is transferred from the old iPhone to the new one including WhatsApp messages.
Solution 2: Transport WhatsApp to New iPhone by WhatsApp iCloud Backup
Step 1Make sure you have enabled iCloud backup function on both your phones.
Step 2Back up your WhatsApp chat history on your old iPhone by going to Settings – Chat Settings – Chat Backup – Tap on Backup Now.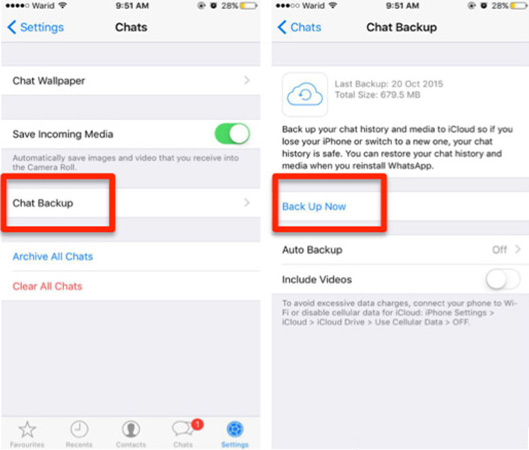 Step 3After backing up, turn to your new iPhone to install WhatsApp on it.
Step 4Login with your phone number and you will be promoted to restore your chat previous chats.
Step 5Click on OK then you can get access to all past conversations.
Solution 3: Export WhatsApp Messages with WhatsApp Transfer
The first option to transfer WhatsaApp chat is WhatsApp Transfer for iOS. It is a tool which is specialized in moving WhatsApp chat and data between iDevices and computer without hassle.
It is easy to use. You need to download and install the program from official site, then follow below demonstration to transfer WhatsApp data from iPhone to iPhone within 3 steps.
Step 1Run the program on computer, then choose WhatsApp Transfer on the interface.
Step 2Connect both iPhones to comptuer, select Device-to-device Transfer. Then click Start Transfer.
Step 3Transfer data from one iPhone to another.
If you want to transfer more data on iPhone, I strongly recommend a very useful WhatsApp transfer tool to all of you, FoneTrans for iOS. This is a professional iOS data transfer software which can help users to transfer data among iOS devices including messages. Let's see how it work.
Moreover, if you want to know how to transfer contacts from one iPhone to another, you can also try it on computer.
Step 1To start with, choose the right link according to what operating system you are using (Mac or Windows) to download and install the software on your computer. When the installation is finished , it will automatically launch. Plug both two iPhones into the computer, then you will get a window as below once the program detected your devices.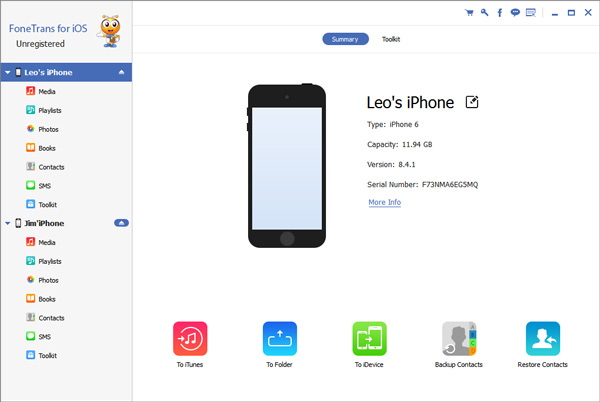 Step 2You will see contents like Media, Playlists, Photos, Books, Contacts and SMS for both iPhones are displaying in a column on the left-hand side. Click SMS from your old iPhone and now you can choose which conversations you want to transfer to another iPhone. After that, click Export to.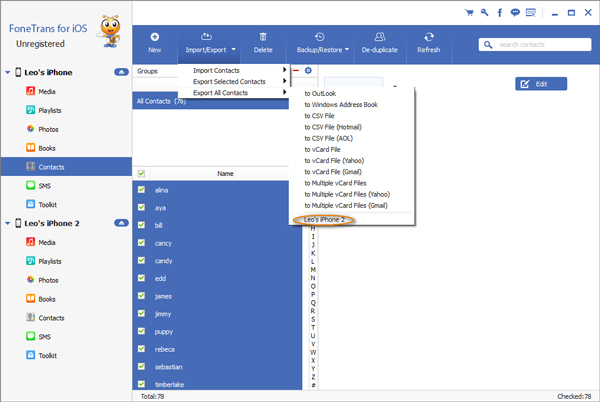 FoneTrans for iOS can do more things: manage all iOS data including photos, contacts, music, books, playlists, movies and so on. With it, you can add PDF to iPad, export contacts between iOS device and computer/Outlook/Gmail, etc.