Recover iOS Data Now
Recover your data from iPhone to computer easily.
[iOS 14 Supported] Best Way to Recover iPhone Notes
I took notes in a speech with the app on my iPhone, but a few days later when I checked the notes, they were not there anymore. I am sure they were on my phone before because I looked at them right after the speech. How to recover deleted notes on iPhone? Please help, thanks a lot!
Nowadays more and more iPhone users tend to use Notes app which is the tool for jotting things down without creating a paper trail. They use it for creating lists, recording ideas, taking notes, drafting articles and so on.

Keep Moving...
However, a lot of things can lead to data loss, such as upgrade iOS, factory reset device, iPhone bent or lost etc. So it is very common to lose data on our iPhone from time to time. When it comes to recovering deleted iPhone notes, the first method came to our mind is restoring an iTunes or iCloud backup to the device.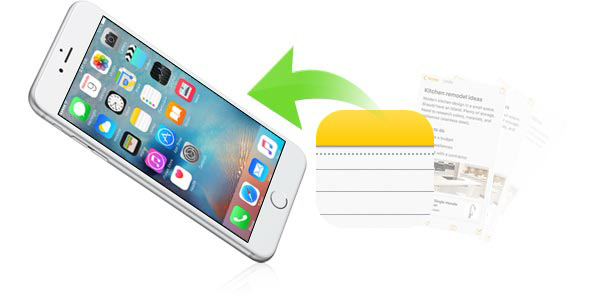 But just so you know:
Recovering data via iTunes or iCloud has its limits:
There are available iTunes or iCloud backup before data loss.
The iTunes or iCloud backup that you restore from must contains the notes you want to get back.
All the current things on your iPhone will be completely replaced by the contents in the backup.
Also Read: How to View Photos on iCloud
Here is a question:
What if you haven't created any backups before or you don't want to lose your current data while recovering iPhone note from a backup?
1. Shake Your iPhone to Retrieve Deleted Notes
If you replace the important notes by new ones or mess the important notes up, you just need to shake your iPhone. Shake the iPhone and you can undo the typing. It is a simple and useful tip to find the deleted notes back.
If you cannot find the deleted notes back by shaking your iPhone or the notes are not deleted by typing, please keep on reading.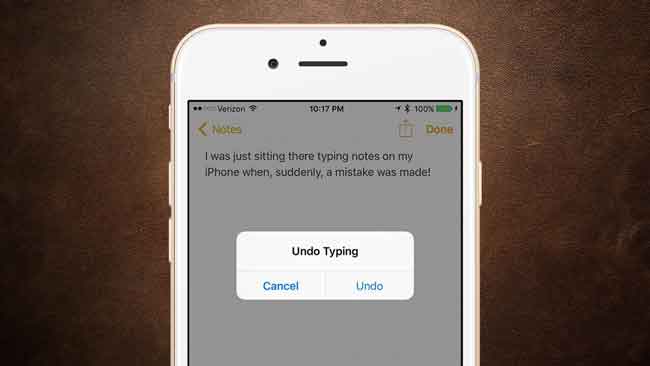 2. Recover Deleted iPhone Notes from Recently Deleted
The deleted iPhone notes may be available in the Recently deleted folder where all deleted Notes are stored for 30 days. So you can get these deleted notes from iPhone Note app easily with simple steps.
Step 1Go to Notes app, and then choose one note.
Step 2Tap the return button on the left top corner twice, then you can see Folders.
Step 3Go to the Recently Deleted folder.
Step 4Tap the Edit on the top right corner and choose the item you want to recover.
Step 5Tap Move to... on the bottom left.
Step 6Choose the folder to save your recovered note.

Please kindly note that...
The note which deleted 30days ago can not be found here and will be deleted permanently.
3. Recover Deleted Notes from iPhone through iCloud
iCloud might be the first idea pops up on your mind if you want to manage your iPhone data. You can download the program on your computer or go ahead to the icloud.com to log in your account and them transfer your data between the cloud service and your device. Mail, Contacts, Calendar, Photos, Reminders, etc., are available for iCloud.
Some people may wonder, whether iCloud backup notes or not? The answer is yes. So, how can you use iCloud to backup your iPhone notes?
2 Options:
Options 1: Use iCloud as your preferred backup solution
Step 1Go to Settings > [Your name] > iCloud.
Step 2Switch to turn on the Note button.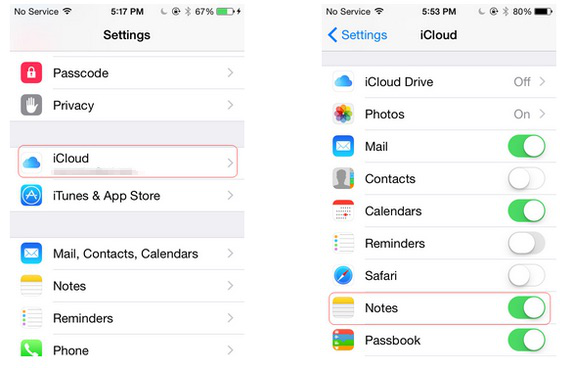 Option 2: Back up all iPhone data on iCloud at once
Step 1On your iPhone, Go to Settings > iCloud
Step 2Scroll down to find Backup and tap on it.
Step 3Enable the iCloud Backup selection and tap Back Up Now.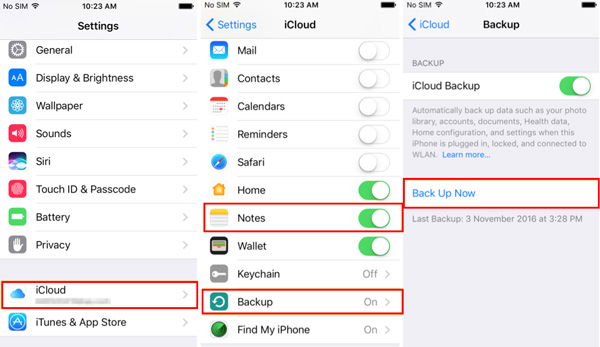 4. Recover Deleted Notes via iTunes
iTunes can be an alternative option to recover your iPhone note if you would like to use computer to manage your data. Just connect your device onto the computer which you have downloaded iTunes, then you can backup, transfer or restore your device data easily.
Here is the easiest tutorial:
Step 1Run the iTunes on your computer and connect your iPhone onto it with USB cable.
Step 2Click the device icon until it appears.
Step 3Click Summary on the left panel, then Restore Backup from the Backups section. If you have encrypted iTunes backups, you need to enter the password.
Step 4Choose which backup you want to restore from, then click Restore.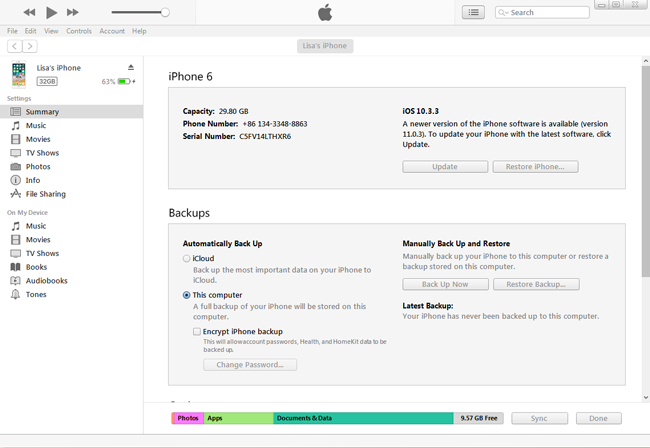 Simple, right?
With above-mentioned Apple ways, iCloud and iTunes, restoring iPhone notes from backup via iTunes will delete any media tracks currently existing on your iPhone and will overwrite contents on the iPhone with the contents from the iOS backup file.
Keep reading if you want to know other methods to recover iPhone data selectively.
5. Recover Deleted Notes from iPhone Using Email
Kindly know that it's a great idea to sync iPhone notes with Gmail account to avoid losing your important iPhone notes:
Step 1On your iPhone, Go to Settings and navigate to Notes app, tap over it.
Step 2Tap Account and select Add Account.
Step 3Then you can choose Google and enter your username and password.
Step 4Toggle on Notes afterward, so that every single note you make will be synchronized between iPhone and Gmail.
Step 5When you create a note, you should select the Gmail option first.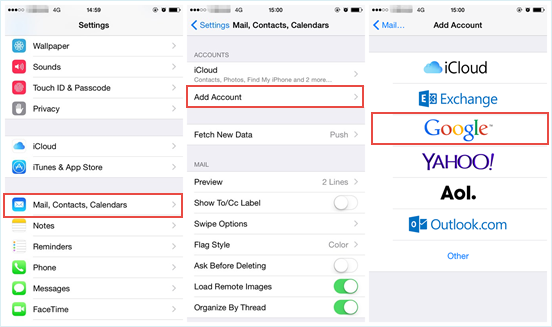 You are able to recover iPhone notes from Gmail after following above steps.
Then, you can recover deleted notes from Gmail with simple steps.
This method only works for those users who have associated in the Notes app with email account. Follow the below steps to sync with the email account.
Step 1Log in your email account and check whether the notes are accessible from the account's web interface.
Step 2If you can see your notes there, then go to your iPad Settings – Mail, Contacts, Calendars. Choose the exact email account, and then toggle the Notes switch on.
Step 3If the Notes is already on, turn it off and then turn it back on to re-sync the notes. Your deleted note should be back on your iPhone again.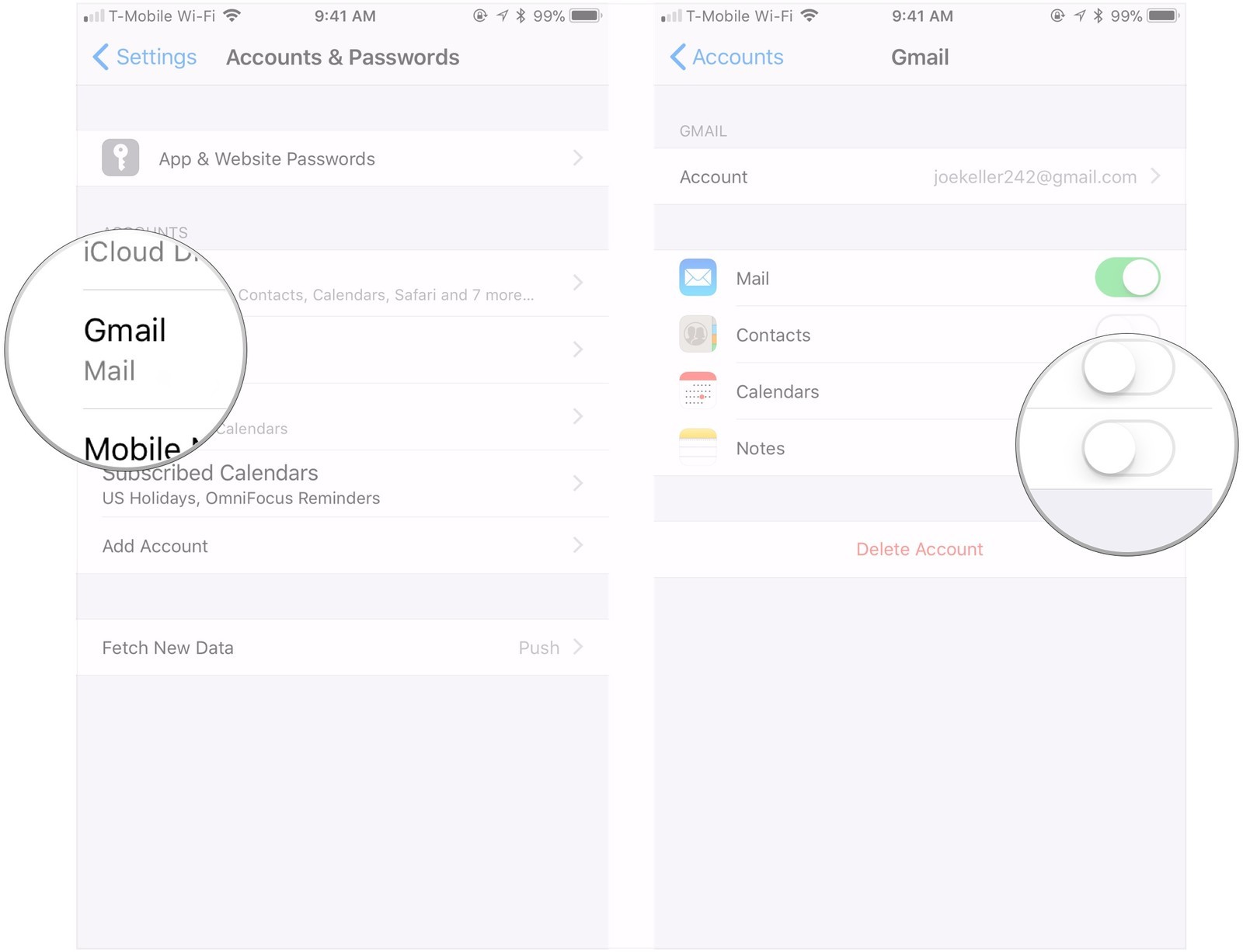 6. Recover Deleted Notes with FoneLab
Fortunately, there is an iPhone note recovery app can help you solve all above problems.
FoneLab iPhone Data Recovery is specially designed to recover iPhone WhatsApp, recover iPhone calendar, notes, photos, messages, videos, reminders, music and much more iOS data. Other Apple models like iPad and iPod are also supported. Both Mac and Windows versions are available, too. You can download the free trial version of this software to have a try.
You can also learn how to recover trimmed voice memo on iPhone.
Feature of FoneLab iPhone Data Recovery Software:
Retrieve your lost files while keeping current ones intact
Recover deleted files from 19 different types of data created on these devices - iPhone 4/3GS, iPad 1 or iPod touch 4
Retrieve and export eight types of lost data from any other iOS device, including the iPhone X, iPhone 8 and iPhone 8 Plus
Preview backup files before restoring them
Get back data from your iTunes backup
This software fully supports iOS 12 and iTunes 12.9
You are provided with three recovery modes by the recovery software: Recover for iOS Device, Recover from iTunes Backup File and Recover from iCloud Backup File. Follow the steps to recover deleted notes on iPhone.
Step-By-Step Guide for FoneLab iPhone Data Recovery Software
Way 1. Recover iPhone Notes without Backup
Step 1Download and install the software on your computer with the above link accordingly. The software will launch automatically once the process completes. Then connect your iPad to the computer with USB cable.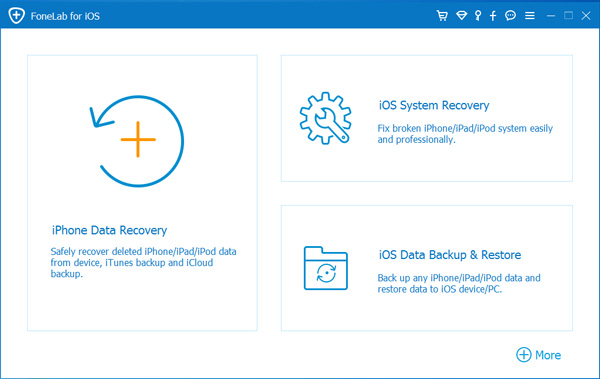 Step 2If you have no backup at all, you can choose Recover from iOS Device after your device is detected and then click Start Scan.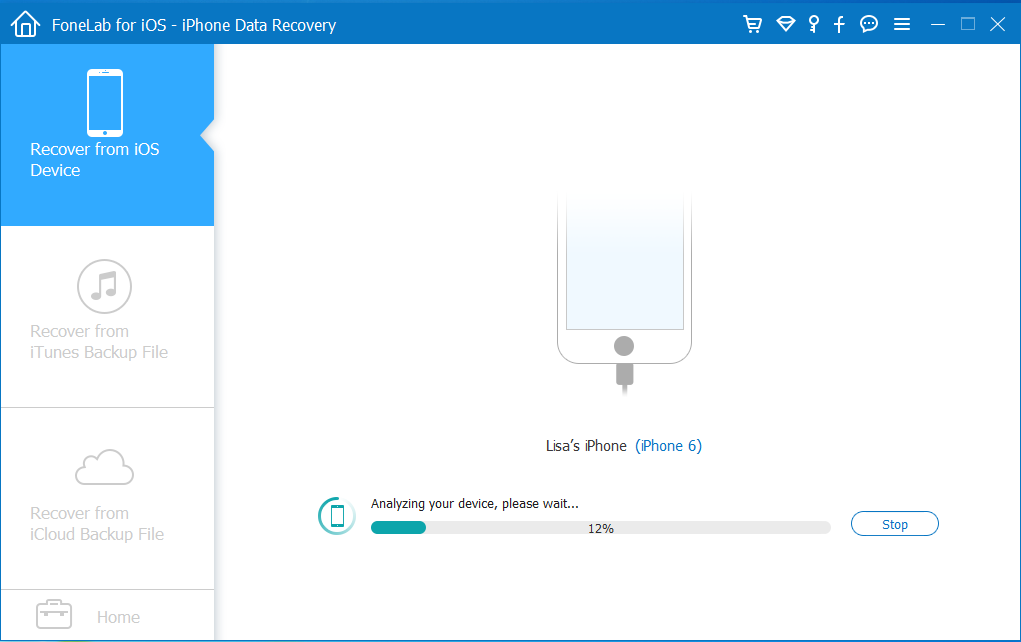 Step 3The scanning result will be listed in categories, click Notes on the left to preview details and then check those items you want to get back. Click Recover after that.
Way 2. Recover from iPhone Backup
Step 1Select Recover from iTunes Backup File then you will get multiple backup files if you have created. If you choose Recover from iCloud Backup File, you need to sign in iCloud account with Apple ID and password. Select one backup file from the list and click Start Scan.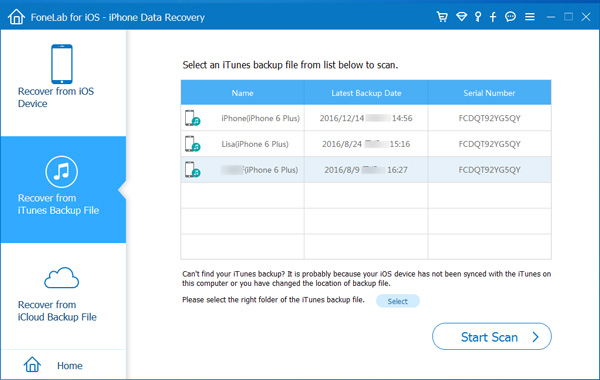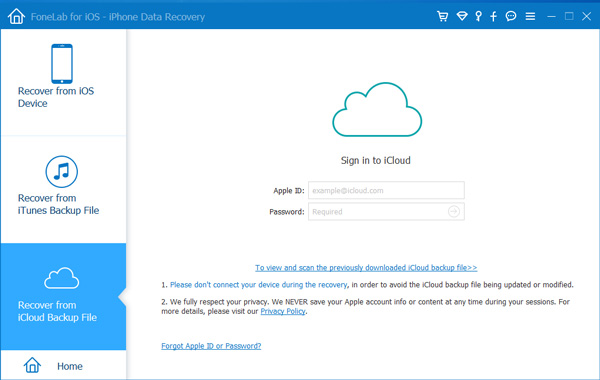 Step 2Preview contents in details. Then check the items that you need to backup or recover and click Recover. The retrieved files will be saved to your computer.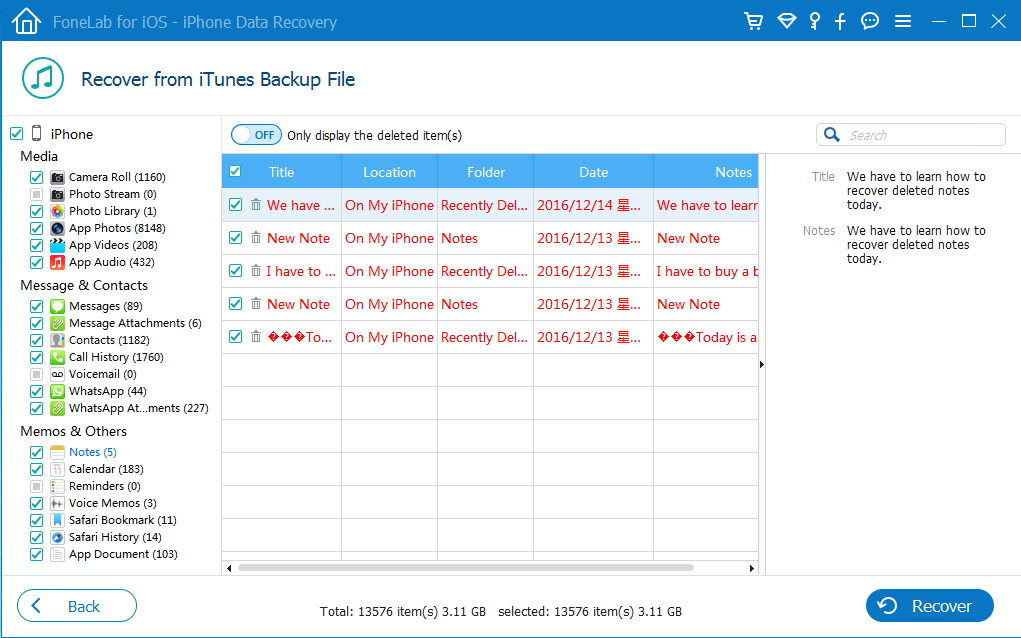 It is easy to use to recover iPhone notes from iCloud. You can also use above-mentioned ways to recover iPad notes easily and safely.
You may also interested in: How to save WhatsApp audio and recover deleted imessages from iPhone.
Well, that's all about how to recover permanently deleted notes on iPhone! Super easy, right?
The program is available at a reasonable price of 55.96 USD for Windows version and 63.96 USD for Mac version.
The Best Part Is:
You can easily download the software for 30-day free trial. I am sure you can find your lost iOS data back or extract data from iCloud after using the software. So don't hesitate to get the free trial version of FoneLab iPhone Data Recovery on your computer.