Recover iOS Data Now
Recover your data from iPhone to computer easily.
Outstanding Guide to Recover Deleted Photos on iPad
Do you need to bring back a deleted photo from iPad? You may have deleted some pictures you no longer need on your iPad to free up space and save more new ones. However, this deletion may bring you immediate regrets when you realize you still need them, especially if they're for something important. For instance, you took screenshots of your lessons at school to prepare for a quiz, and you erased them right after. But after a while, you realize you still need them to review for the finals. Another circumstance is when you erase the photos, but someone suddenly asks for a copy. Hence, you must learn iPad photo recovery methods.
That said, you no longer have to spend time searching and testing random methods you find on the internet. This article has already collected excellent tools and services for recovering erased photos on iPad, so just read ahead and pick the most practical method to process on your device. You will also find user-friendly steps in each part, making photo recovery more convenient, regardless of the technique to will choose. Please move along and try the following details to return your pictures on your iPad.

Part 1. Recover Deleted Photos on iPad Using FoneLab iPhone Data Recovery
FoneLab iPhone Data Recovery is a multi-faceted third-party tool that can retrieve data with several advantages on various iOS devices. Hence, you can anticipate its ability to recover erased photos on your iPad, iPhone, or iPod Touch. Also, this program doesn't retrieve your data in a typical way. Unlike other recovery tools, FoneLab iPhone Data Recovery lets you view the deleted pictures before recovering them, allowing you to double-check that the photos you select are correct. Aside from images, this recovery program can also retrieve lost or deleted contacts, videos, notes, reminders, audio, and more. You can use it on either Windows or Mac, accordingly.
View as an example the uncomplicated steps underneath to determine how to recover permanently deleted photos on iPad using FoneLab iPhone Data Recovery:
Step 1Access the FoneLab iPhone Data Recovery webpage, then locate and click the Free Download tab once you see it. Through this, you will save the installer file on your computer. Click it and abide by the permissions for the program window to display. From there, hit Install and stand by until the status bar at the bottom completes. Afterward, click the appearing button to launch the program on your computer.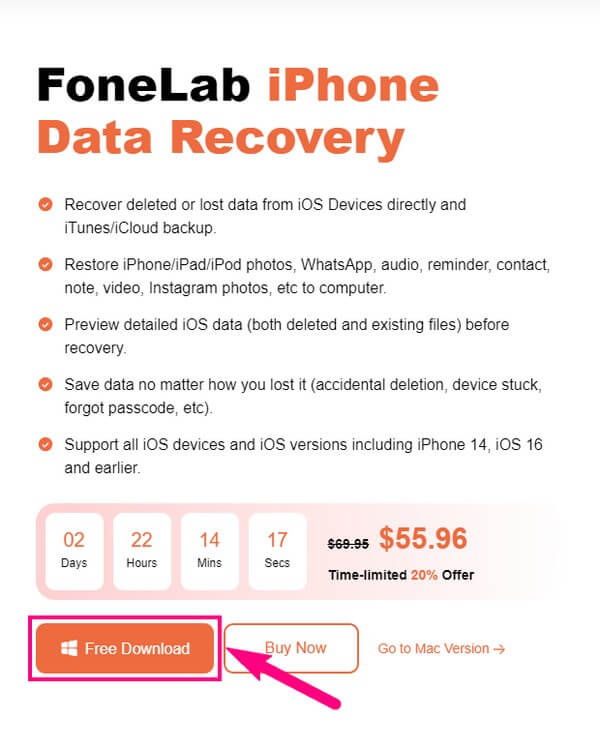 Step 2The featured box on the tool's primary interface contains the iPhone Data Recovery function. Hit it, and the following screen will require you to attach your iPad using a lightning cord to the computer. You must allow the requirements, like the Trust prompt on your iPad screen, for the program to recognize the connection. Afterward, click Start Scan when the tab appears at the bottom of the interface.
Step 3The scanning process will only last less than a minute, and the supported data types will display on the left pane. The screen will first view your iPad data information, containing the overview of the scanning results. Thus, you will know the number of backup and deleted files on your iPad.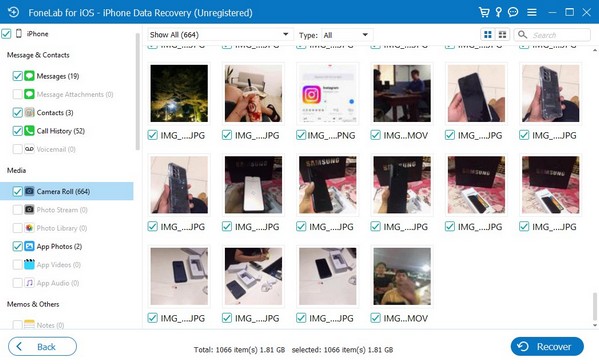 Step 4Navigate to the Media section on the left pane, then click the Camera Roll, Photo Stream, or Photo Library to view your iPad images. Then it's time to find the deleted photos you wish to recover. Once you select them, hit Recover to return the pictures to your iPad.
Part 2. Recover Deleted Photos on iPad Recently Deleted Folder
iPad and many other devices have a Recently Deleted folder consisting of the photos or videos you have recently erased from the device. It is one of the most basic methods you can operate since no other apps or programs are needed to restore your media files. But note that this technique won't work if 30 days have passed since the photos you hope to retrieve were deleted.
Act following the trouble-free directions below to recover recently deleted photos on iPad from the Recently Deleted folder:
Step 1Open your iPad's Photos app, then tap the Albums button on the screen's bottom right. This will show you various photo albums stored on your device.
Step 2From the Albums, you will see the Recently Deleted folder. Click it to view the media files you recently erased from your iPad. The pictures that still haven't reached 30 days after deletion will be displayed on the screen.
Step 3Tap the Select button on the top right and choose the deleted pictures you wish to retrieve. After that, hit the Recover All tab on the top left and confirm your decision. The photos will then return to their previous location on your iPad.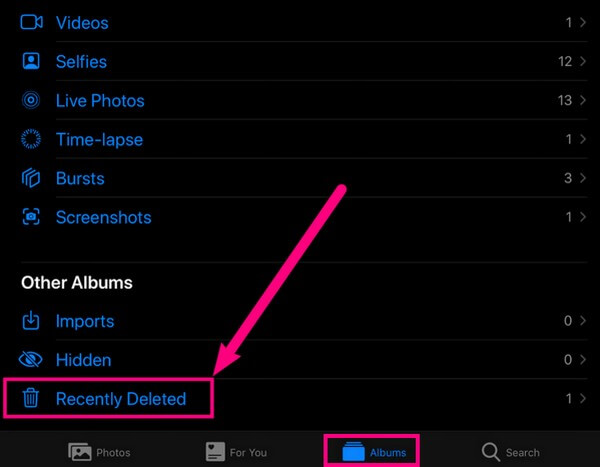 Part 3. Recover Deleted Photos on iPad with iCloud
iCloud is an official method to back up and restore data for Apple device users. With this service, you can conveniently keep your files in a backup. Thus, you can also recover them whenever. However, retrieving data, like photos on iCloud, requires resetting your device. So you must think well if you will proceed with this method.
Stick to the simple process underneath to learn how to recover deleted photos from iPad through iCloud:
Step 1Reset your iPad by heading to your device Settings and tapping General. Next, hit Transfer or Reset iPad near the following screen's bottom. The Erase All Content and Settings tab will then display. Tap it and proceed with the device deletion.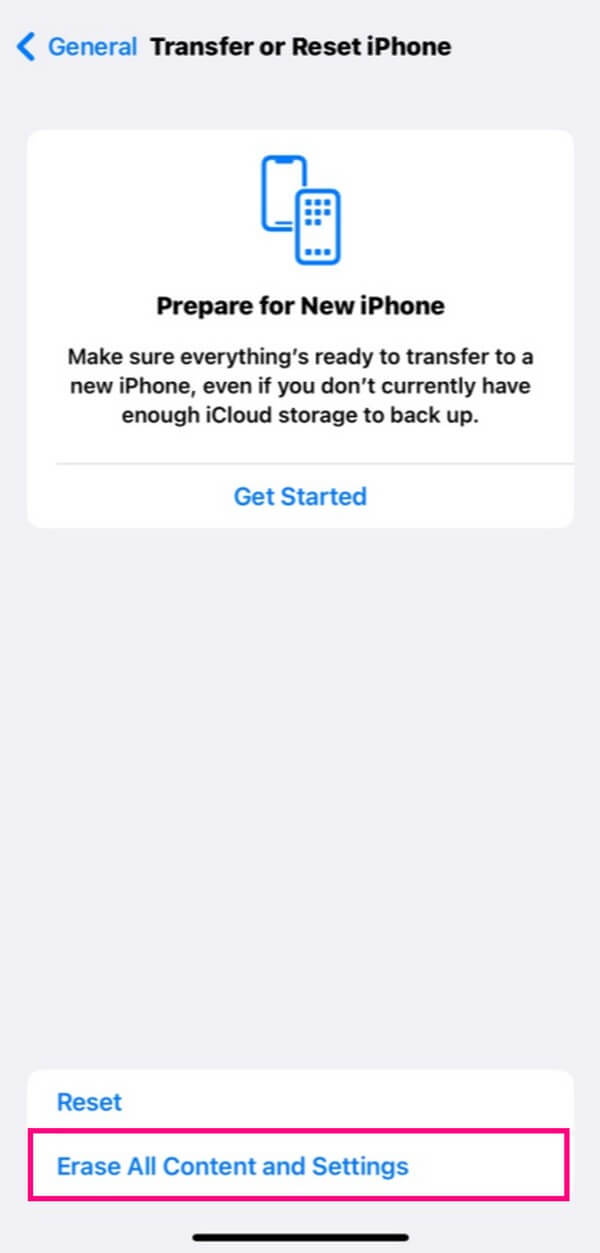 Step 2After the resetting process, your device will then startup. Set it up until the Apps & Data screen comes into view. Among the backup options you will see, pick the Restore from iCloud Backup tab to recover your backup files from iCloud, including the photos.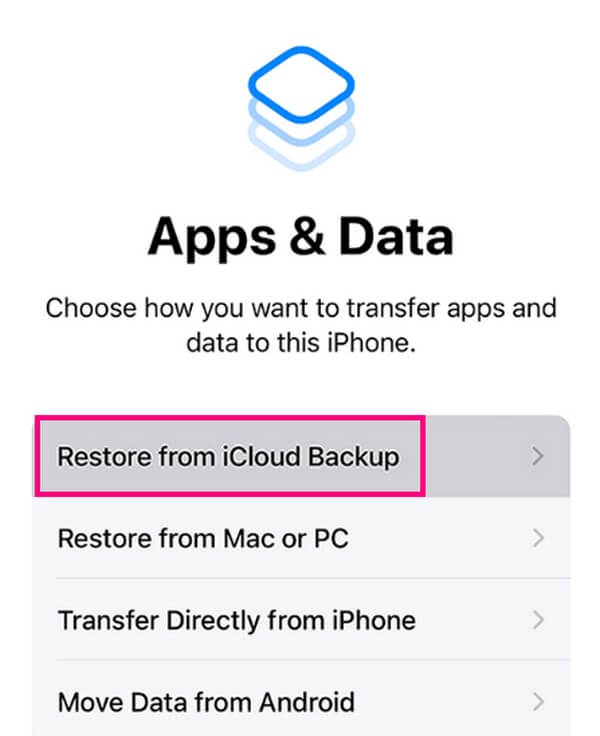 Part 4. Recover Deleted Photos on iPad with Google Photos
Google Photos has a Back up & sync feature that lets you sync your app pictures to your Google account. This way, the photos will stay on your account even if you delete them from your device. Then, you can restore the deleted images to your iPad once you log in to Google Photos.
Comply with the painless instructions below to recover photos from iPad with Google Photos:
Step 1Open Google Photos and ensure the Google account you log into is the one where the pictures you hope to recover are stored. Once logged in, your photos will display on the Google Photos interface.
Step 2From there, find the items you deleted from your device, then select them individually. Afterward, tap the Share icon at the top and hit the Save to device tab to restore the deleted images on your iPad.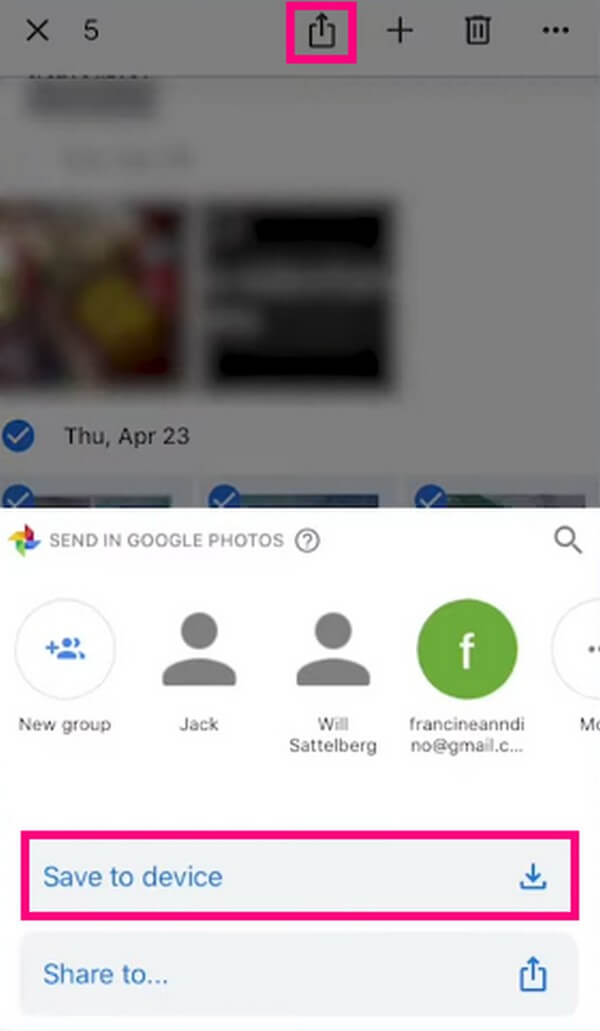 Part 5. Recover Deleted Photos on iPad with iTunes/Finder
iTunes is another official method for Apple users to back up and restore data on computer. If you have previously backed up your device on iTunes, you can quickly retrieve your data, including photos, on your computer. However, iTunes is no longer on the latest macOS versions. It is available only on Windows and previous macOS, but don't worry. Finder is its replacement, and they almost have the same process, so you can abide by the provided steps, whichever program you use.
Obey the manageable guidelines underneath to know how to recover deleted photos on iPad with iTunes/Finder:
Step 1Run the iTunes or Finder program on your computer, then attach your iPad using a USB cable. Once your iPad icon or device name displays on the program interface, click it to view your iPad information on the screen.
Step 2Get to the Summary section on iTunes and click Restore iPad under the iOS device information. Meanwhile, you will see the same tab under the General section on Finder. Click the tab and operate the following requirements to restore your backup.

Part 6. FAQs about Recovering Deleted Photos on iPad
Thanks for sharing your time with us by reading and trying the methods in this article. More solutions for device troubles are available on the FoneLab iPhone Data Recovery site, so please visit.