[iPad Recovery Strategy] How to Recover Deleted Notes on iPad?
" When I type something on my notes and come back to it later, somehow, the iPad notes disappeared for some strange reason. How to retrieve deleted notes from my iPad? Any help would be appreciated greatly. Thanks!"
The Notes app has always been great for jotting down your thoughts. You can make a to-do list or create a table in the Notes app. It also allows you to add a photo, map, or URL to a note and even draw a sketch with your finger. It also has a humanized function that allows you to lock notes to protect personal musings. It's definitely an awesome app.
However, the only problem is that Apple missed a very important function - Recover deleted Notes.
Have you ever experienced such a desperate situation: Your important notes have been accidentally deleted from your iPad and you are in urgent need of it.
You may be wondering: How to retrieve deleted notes on iPad?
If you encountered that same situation on iPhone, you can also recover notes on iPhone with the same ways.
Then you will get answers from the internet that you can recover notes from iTunes backup or iCloud backup.
In deed, no matter you have backed your iPad or not, it is achievable to recover lost notes on iPad.
1. How to Find iPad Notes from Files Synced Before
There are two types of folders on Note app. One is iCloud, another is On the iPad. Over Wi-Fi and cellular network, the notes saved in the iCloud folder will be synced automatically to iCloud.
After turning off the sync function or in the offline state, changing the notes in the iCloud folder on iPad will not update the notes on iCloud.
When your notes lose suddenly, whatever the reason, You can try this way first.
Enter the iCloud website

.
Login to your iCloud account.
On the homepage, click on the Notes icon.

In addition, deleted notes are still available for 30 days. You can find them in the Recently Deleted file.
Be warned: please don't re-sync on iPad device. This will result in that deleted notes cannot be recovered, even with third-party software, if you don't have a backup.
2. How to Restore Notes from iCloud Backup on iPad
Before the recovery begins, I suggest you back up your existing data on iPad. During the process of restoration, all the existing data will be replaced by backup.
Then you can begin to recover notes from iCloud.
Tap Settings > General > Reset > Erase All Content and Settings on your phone, please note that this step will delete all media and data, and reset all setting.
After the iPad restarts automatically, follow setup steps on the screen.
On the Apps & Data interface, Choose Restore from iCloud Backup.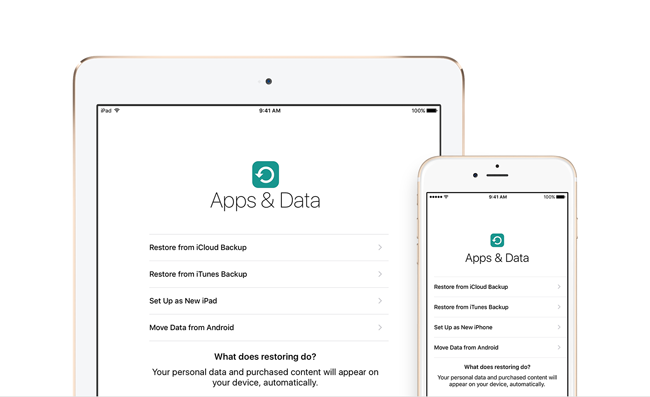 Login to your iCloud account. Then pick the most relevant from the backup list depending on the date and size of each backup.
Wait for recovery time to complete. If the network is disconnected, the progress will pause until you reconnect.
3. How to Restore Notes from iTunes Backup on iPad
Similarly, please back up your existing data on iPad first.
Double-click to open iTunes on the computer that you used to back up your iPad.
Connect your device to your computer with a USB cable.
Click on the iPad icon at the left top of the iTunes interface when it appears.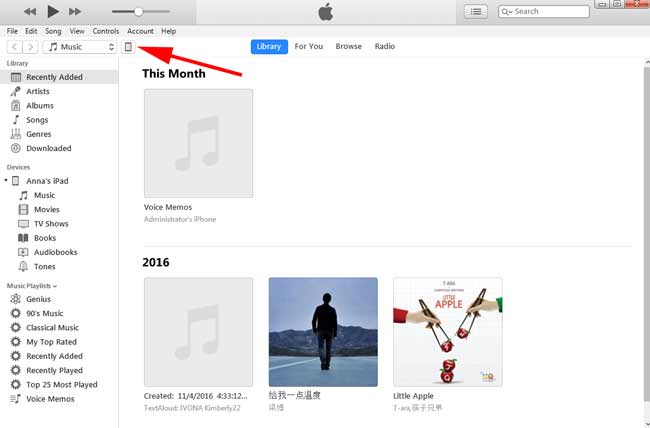 Select Summary from the left list. Then go to the Backup section and click This Computer and the Restore Backup button.
According to the date of each backup, pick the one to restore.
Wait for recovery to complete and your iPhone will restart automatically. You should not disconnect the device until the recovery finishes.
4. How to Retrieve Deleted Notes on iPad without Backup
What if you don't have a backup?
What if you just want to restore notes instead of all data on iPad?
What if you want to preview the content before recovery?
No worries.
FoneLab – iPhone Data Recovery can solve your problem. What you need are your iPad device and a USB cable. It is a powerful tool to recover calendar on iPhone, restore music from iCloud and more easily and safely.
Below is the user guide with detailed steps.
First of all, you need to download and install the software on your computer which has the latest version of iTunes.
Launch the program on your computer. Select iPhone Data Recovery > Recover from iOS Device.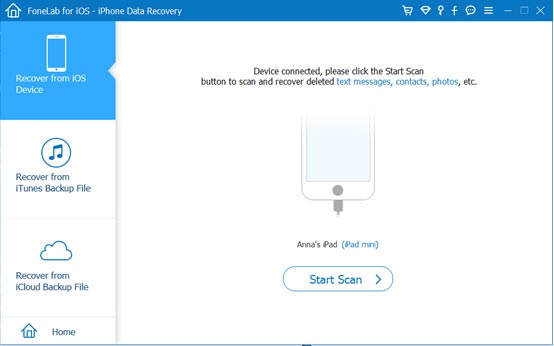 Connect your device to the computer with a USB cable.
Click the Start Scan button and the software will analyze all the data on your iPad.
Click Notes from the left list to preview contents. All deleted items (marked in red) and exiting items will be displayed on the right sidebar. Choose the desired items to recover.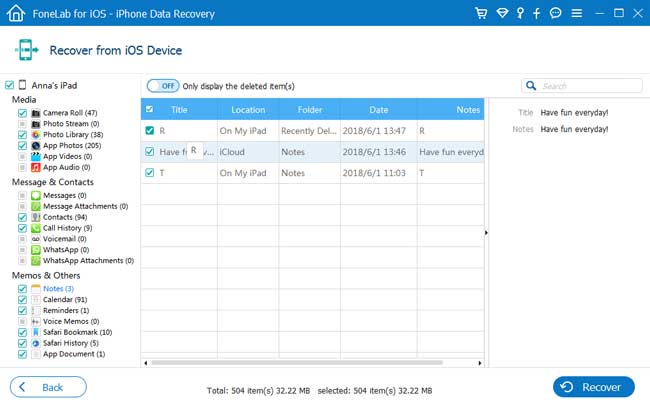 If your iPad can't work properly, you can restore iPad from backup with FoneLab. Furthermore, it is able to recover text messages and other data from iOS device.
Click on the below link to download the software and try for free.
Related Articles: