Backup iOS Data Now
Backup and restore iPhone/iPad/iPod without data loss.
HOW TO BACKUP IPHONE: The Denfinitive Guide
Why is so important to BACK UP IPHONE?
Nowadays, most people have been creating many precious photos, videos, contacts, documents and other different types of files via their iPhones. Some photos might be of once-in-a-lifetime event. Some contacts could be of great value of business. What would it cost to replace all that data if your iPhone was stolen, lost, severely damaged or just went kaput?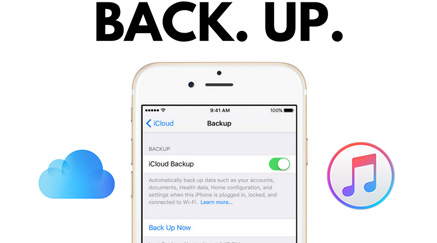 Therefore, iPhone backup is very necessary, it can keep your important data safe in case of those situations which can lead to data lost happens.
There is no reason for not backing up iPhone if you own one, because Apple offers you two very simple and free ways to store a copy of your information. One way is iCloud backup and the other is iTunes backup. They can make a backup of your data to the Cloud or a PC/Mac, you can use them later if you have to move them to a new iPhone or to the same device after a reset.
How do you back up your iPhone by using iCloud, iTunes or a third-party tool? First you need to decide which method is best for you.
iCloud
Stores backups in the cloud.
Apple offers 5GB free of storage, if you need more, you have to pay for it.
Always encrypts your backups.
Lets you make and use backups from anywhere with Wi-Fi.
iTunes
Stores backups on your PC or Mac.
Storage depends on your PC or Mac's available space.
Not encrypted backups automatically.
Lets you make and use your backups on your PC or Mac.
FoneLab
Backup and restore iOS data to your PC/Mac easily.
Preview data in detail before you restore data from backups.
Backup and restore iPhone, iPad and iPod touch data Selectively.

Backup and restore iOS data to your PC/Mac easily..
Preview data in detail before you restore data from backups.
Backup and restore iPhone, iPad and iPod touch data Selectively.
1. Backup iPhone with iCloud
Following simple steps will teach you how to back up your iPhone to iCloud.
Step 1Connect your iPhone to a Wi-Fi network.
Step 2If your device is running iOS 10 or later, tap Settings – iCloud – Backup. If you are using iOS 11 and later, please go to Settings > your name > iCloud.
Step 3Toggle iCloud Backup on, or tap Back Up Now to manually backup iPhone to iCloud immediately.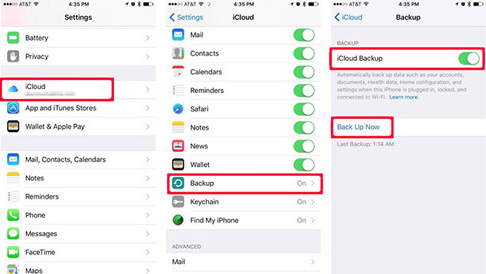 It will automatically back up data such as your photo library, accounts, documents, health data, home configuration and settings each day when this iPad is plugged in, locked, connected to Wi-Fi and have enough available space in iCloud. Tap Back Up Now to start backup immediately if you want to back up iPhone right away.
iCloud will only back up the data and setting that are not stored in iCloud before. Added music and videos from sources other than iTunes won't be backed up neither. Your app, music and movie purchased from iTunes will be restored automatically when you use your iPhone iCloud backup.
If your iCloud storage doesn't have enough space anymore, it will stop backing up iPhone since then. In this case, you can go to iCloud – Storage – Manage Storage for iOS 10 or above, or iCloud – Storage & Backup – Manage Storage for earlier version of iOS to manage your iCloud storage. Delete the backup that you don't need any longer so that to save storage space.
2. Backup iPhone with iTunes
Having a local backup is always a good idea.
Then how to back up iPhone to computer?
Please note that syncing your iPhone with iTunes does not mean making a backup. But when you turn off iCloud Backup on your iPhone, it will back up to your computer automatically when you sync with iTunes. View below tips to learn how to backup an iPhone to computer.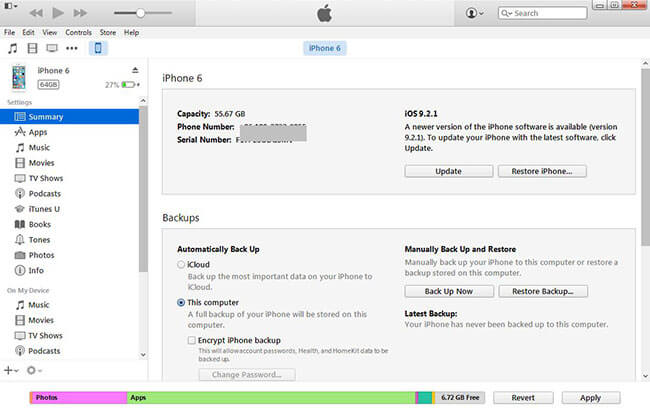 Step 1Connect your iPhone to your computer using the cable that came with the iPhone and open iTunes. You will see a little icon of a phone appears. Click over this and you will have three boxes in the main pane named iPhone, Backups and Options when Summary is selected in left-hand column.
Step 2Click This computer because the iPhone is usually set to automatically back up to iCloud. Then the computer will create a new, local backup immediately when you connect your iPhone to it.
Step 3Or you can make a backup manually. Click Back Up Now button right beside it. You also can restore iPhone from back up by clicking the next button Restore Backup.
Step 4If you have some sensitive information on your phone, or just want to keep your backup more private, you can encrypt your backup. Do it in the same way with the unencrypted one, either automatically or manually, only with the encrypt option get ticked and make a memorable password. Please better write down your password and store it safely, because there's no way to recover your iTunes backups without this password.
Step 5Head over to File – Devices – Back up can make an unencrypted iTunes backup as well if you are using Windows. (if you don't see a File menu, hold down the Control and B keys)
Step 6After backup process is finished, you can check if you have backed up iPhone to iTunes successfully. Go to the up left corner of iTunes screen and click the menu. Then click Preferences – d. You can see your iPhone's name and the date and time that you created the iTunes backup.
iTunes will backup settings, contacts, call logs, photos, messages and etc. It will not back up any synced music, videos, podcasts or apps from your iTunes library that are not locally residing on your iPhone.
Your iPhone backup files are saved to your iTunes media folder in computer. When you backups with iTunes or iCloud, you can extract iPhone data any time you want.
3. Backup iPhone with FoneLab
There is another option to make an iPhone backup in addition to above traditional methods. Use a tool to transfer data between computer and iPhone. FoneTrans for iOS is the one that you can choose. It's easy and efficient to manage your files.
Backing up files to your computer:
Step 1Download and install the software onto your computer with the above link accordingly. The software will launch automatically once the process completes. Choose iOS Data Backup & Restore from the interface.

Backup and restore iOS data to your PC/Mac easily..
Preview data in detail before you restore data from backups.
Backup and restore iPhone, iPad and iPod touch data Selectively.
Step 2Connect your iPhone to the computer. Then tap Trust on your device home screen if it pops up.
Step 3Choose iOS Data Backup in this section.
Step 4You can choose Encrypted backup if you want to protect your backup files with password. Or just select Standard backup to move on.
Step 5It allows you to select the type of data you want to backup. If you want to backup all data, just tick the box next to the Select All option on the bottom-left. To backup music, only tick the box in front of App Audios.