[Verified] 4 Actionable Ways to Recover Lost iPhone Photos (98.3% Recovery Rate)
I think you will nod your head in agreement when I say:
iPhone has changed our life in all aspects, like shopping, working, entertainment, education, etc. For example, People like to take photos with their iPhone recording some memorable moments and events. And for safe sake, they make backup for those precious pictures to iCloud or iTunes.

However:
There still are many iPhone users seeking for solutions on how to recover deleted photos from iPhone. As you can see below thread from one forum:
"I dropped my iPhone in water and it can't turn on since then. Can a water damaged iPhone be fixed? Every one tells me no chance to fix it. But all I need is the data on the phone, especially my photos.Please help, thanks in advance!"
You May Be Wondering:
What possible reasons that can cause data loss on iPhone. They are…
6%

come from cases of password lockout

7%

from software corruption

7%

related to damaged to the exterior of the device

23%

water or moisture damage

26%

electronics related

31%

physical damage
But here're the solutions:
Let's move on...
1. Restore Recently Deleted Photos on iPhone Itself
Actually, if the lost photos are taken no longer than 30 days, it's a piece of cake to pull them back.
Hit play button to learn how this simple tip works:
It gets worse:
If the lost pictures are longer than 30 days, they will be erased from the recently deleted folders as well. Smart if you have made backups of your iPhone data, so that you can absolutely retrieve your lost photos from the backup. But what if you don't have any available copy? Does this mean you have no chance to get them back?
Of course not! Let's move on.
2. Restore Deleted Photos from iTunes Backup
If you have created backups for your iPhone data through iTunes, then you have a local copy on your computer.
However, you will realize soon that the iTunes backup file cannot be read and reused even though you know where to find it. Since the iTunes backup location is mentioned, let me tell you the exact path on your Mac and PC.
For all versions of Mac OS X:
All iTunes backup files are stored in the same directory path as below:
~/Library/Application Support/MobileSync/Backup/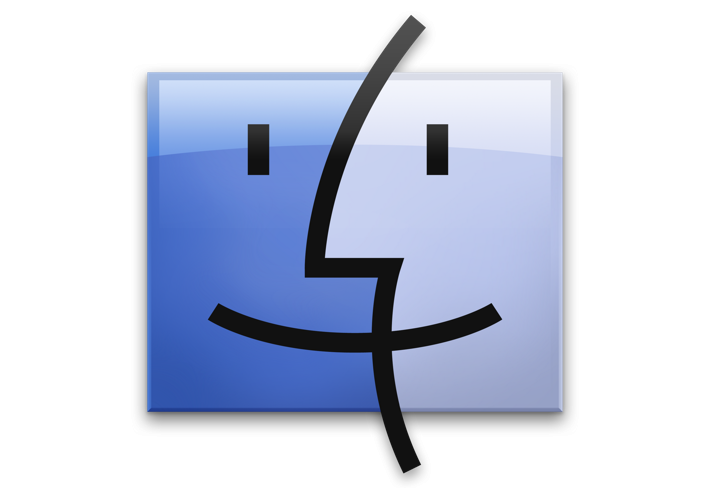 If you want to reach there on Mac fast, simply press Command + Shift + G on keyboard. Copy and paste above directory path in the blank beyond Go to the folder.

Unlike Mac OS X, iTunes backup location differs from what system of Windows you're using.
For Windows XP users:
C:\Documents and Settings\(username)\Application Data\Apple Computer\MobileSync\Backup\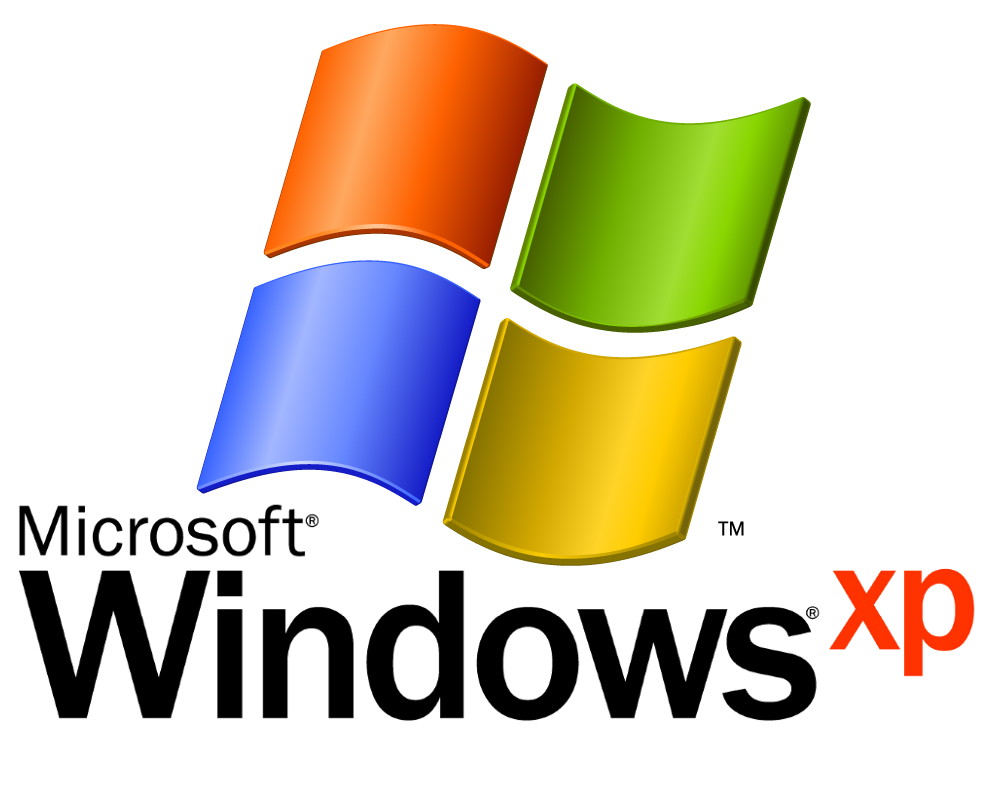 You can also find it like below:
Click Start, then choose Run on the menu.
Type "%appdata%" in the Open bar.
Click OK. Then double click these folders: Apple Computer – MobileSync – Backup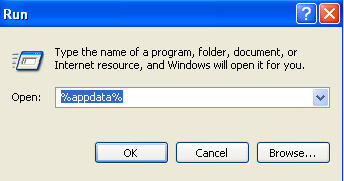 For Windows Vista, 7, 8, and 10 users:
C:\Users\(username)\AppData\Roaming\Apple Computer\MobileSync\Backup\




Or:
Locate the search bar first: For Windows Vista or Windows 7 users: Click Start in the lower-left corner. For Windows 8 users: Click the magnifying glass in the upper-right corner. For Windows 10 users: Click the search bar next to the Start button.
Type "%appdata%" in the search bar.
Press Return key.
Double click these folders: Apple Computer – MobileSync – Backup.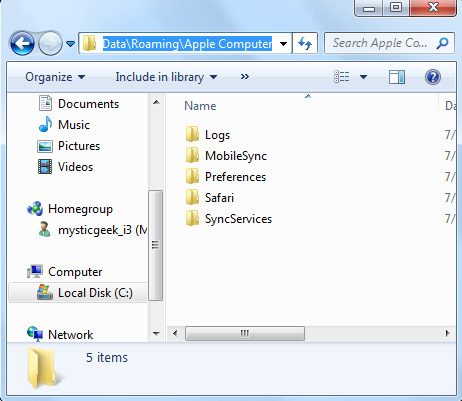 Now:
Let's begin to achieve the deleted photo recovery task through iTunes.
Plug your iPhone into the computer which you have synced with before.
Run iTunes by double clicking the quick icon if it doesn't open automatically. If it tells you to update a new version, go for it.
Click over your iPhone icon when it appears on iTunes. Then go to Summary section and click the Restore Backup… button.
Check the date and size of each backup and pick the most relevant one to restore from.
Click Restore and wait for the process to finish. Your iPhone will reboot and sync with your computer. Stay connected until the sync finishes.
If you are wondering how to reset iPhone with iTunes:
Choose Restore iPhone… instead of Restore Backup… in step c, then you are set.
3. Retrieve Deleted Pictures from iCloud Backup
Restoring an iPhone from an iCloud backup is not as straightforward as restoring from an iTunes backup because you can only do the restoration via Setup Assistant. So before restoring from an iCloud backup you have to factory reset iPhone first.
But You Probably Wondering:
How to reset iPad to factory settings?
You are able to do that with three ways: in home screen of your iPhone, using iTunes, or iCloud. Let me show you how to do it one by one.
Way 1 Reset in Home Screen
Tap Settings on iPhone.
Get to General menu. Tap it.
Scroll all the way to the bottom and tap Reset menu.
On this screen, you'll find several options, choose Erase All Content & Settings.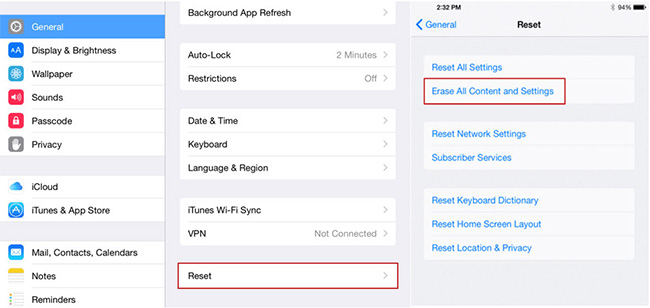 After confirming your selection, the process of erasing the data from your iPhone begins. It will take a couple of minutes. Once it is done, the iPhone will display a screen that reads" Hello" in multiple languages. Then you are in Setup Assistant, select an iCloud backup to restore.
Way 2 Reset an iPhone with iTunes
Connect your iPhone to your computer, then the iPhone icon appears instantly on the upper left corner of iTunes screen.
Click that icon, the screen would display several options. Click Summary, choose Restore iPhone… on the right.
Wait for the restore process to complete and choose Set up as new iPhone to factory reset your phone. Your iPhone will reboot, set up your phone with an iCloud backup.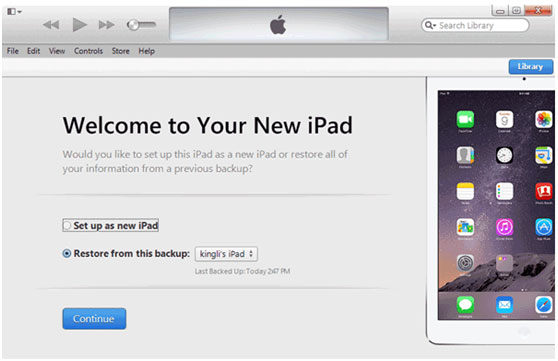 Way 3 Factory Reset iPhone via iCloud
Sign in your iCloud account on the computer.
Head over to Find My iPhone.
Select the device you want to erase and choose Erase iPhone.
Click OK to start the erase.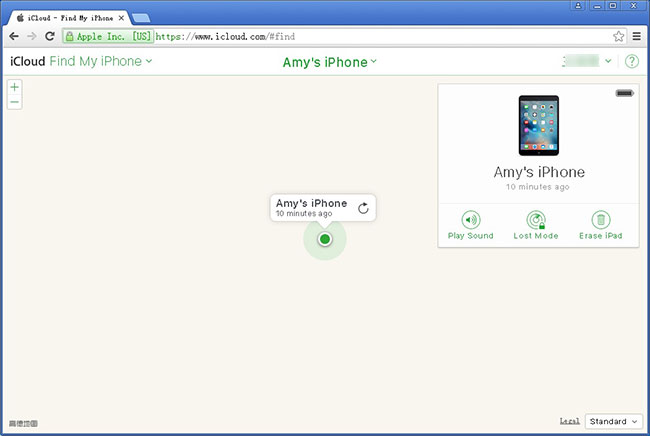 Then your iPhone will reboot and you will come to the Setup Assistant again. Continue to restore it with an iCloud backup if you want.
Obviously, restoring iPhone deleted photos from iTunes/iCloud backup requires your iPhone can be used and operated. Besides, it means all or nothing. You are forced to restore an entire backup file including all contents and settings.
I bet it's not the result you want to see, right?
Want to know the best part?
Keep following…
4. Use Recovery Tool to Find Deleted Photos For Free
You can look for free iPhone data recovery service on the internet. There are bunch of iPhone photo recovery apps out there. I would like to recommend a powerful program – FoneLab iPhone Data Recovery, which empowers users to restore Gallery photos, app photos, videos, messages and attachments, notes, reminders, voice memos, call history, and so on from iPhone, iPad or iPod and from iTunes backup or iCloud backup with just few clicks.
Besides, the software allows users to perform selective data recovery and preview files before recovery. Why not get it onto your computer and give it a shot?
Now:
Let's get to the simple tutorial. The software offers three recovery modes: Recover from iOS Device, Recover from iTunes Backup File and Recover from iCloud Backup File.
Way 1 Recover from iOS Device:
Download and install the software on your computer with the above link accordingly. The software will launch automatically once it completes. Then connect your iPhone to the computer with USB cable.
You have three sections, select the iPhone Data Recovery.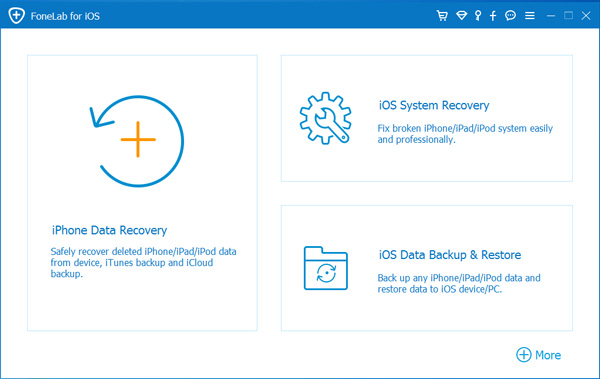 After the software recognizes your device, choose Recover from iOS Device on the FoneLab interface and click Start Scan.
The scanning result will list in categories on the left. Click Camera Roll, Photo Stream, and Photo Library respectively to preview images in thumbnail size. And then tick those photos you need, click Recover.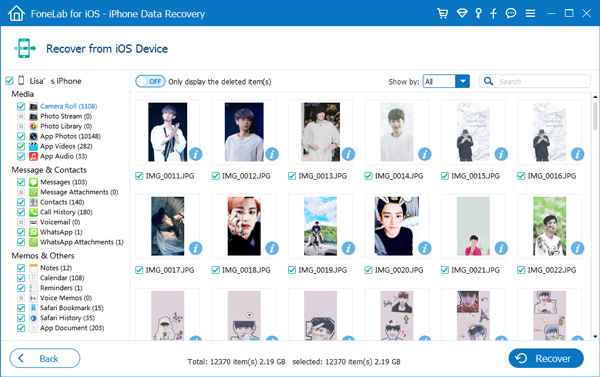 Way 2 Recover from iTunes Backup File:
Select Recover from iTunes Backup File instead. then you will get multiple backup files if you have created before. Select the one that you think may include your lost pictures and click Start Scan.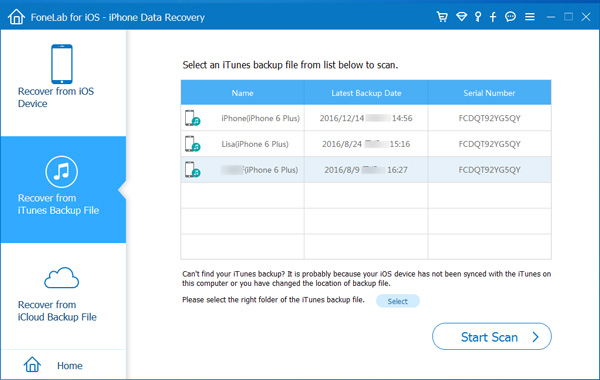 Preview contents in details. Then mark the items that you want and click the Recover button. The retrieved photos will be saved onto your computer afterwards.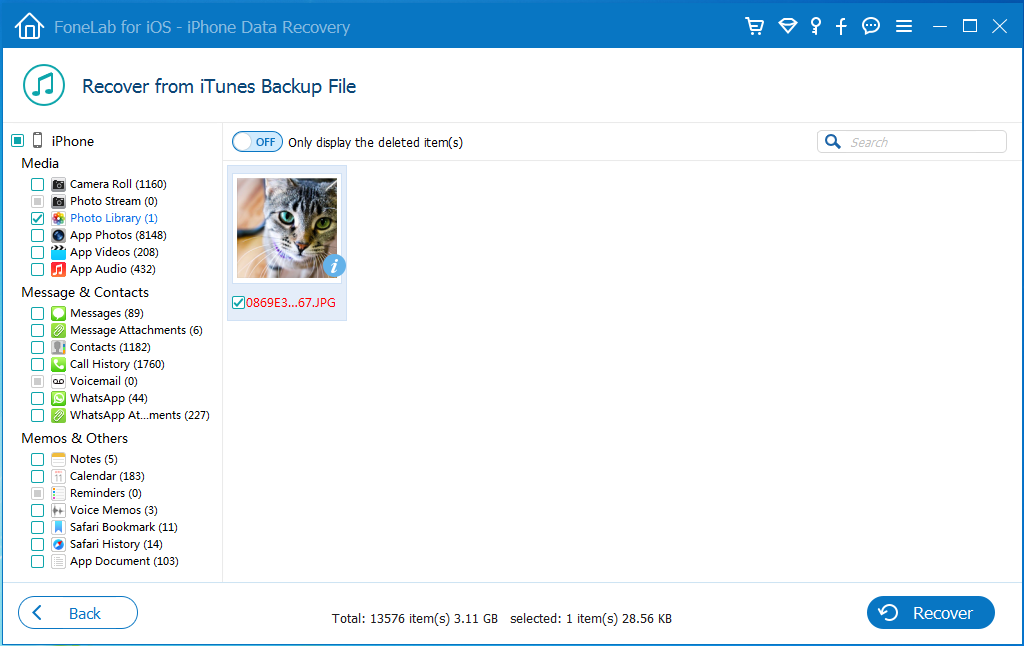 Way 3 Recover from iCloud Backup File:
Choose Recover from iCloud Backup File in the beginning. You will be asked to login to your iCloud account. All backup files are listed in a table after signing to iCloud. Download the related one and click on the Start Scan button to begin.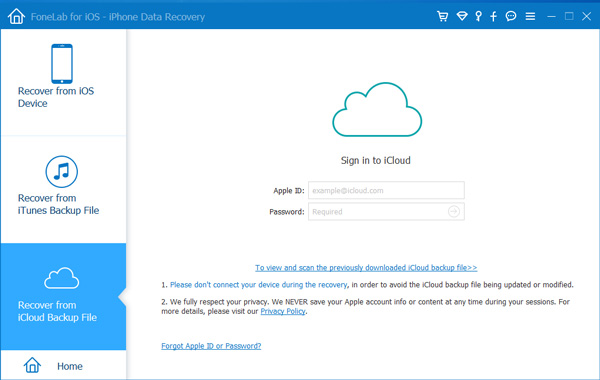 Preview contents before recovery.
Why you choose FoneLab iPhone Data Recovery?
Because with it, you can:
Retrieve your deleted or lost files while keeping current ones intact.
Selectively recover and export photos, messages, app photos, videos, notes, reminders, call history, contacts, etc. from iOS devices or backup files.
Recover iPhone data when your device is broken, water damaged, factory reset failed or even lost.
Preview backup files before restoring them.
This software fully supports iOS 12 and iTunes 12.7.
That's all! If you have any question or suggestion, please don't hesitate to drop us a word or email us. We will reply you as soon as possible.
Related Articles