How to Delete Gmail Account and Email on iPhone
"Sending photos, messages, videos with email became a common task in my daily life. There are so many privacy data in it and I don't want to anyone to see it. How to delete all emails? And I also want to delete my Gmail account from a device, how can I do it? Thanks!"
Email became more and more important in your life as time went on, you may use email to send files, messages, photos, videos and more. There is even some vital personal information in it. So how to delete the email account and all emails to prevent data disclosure?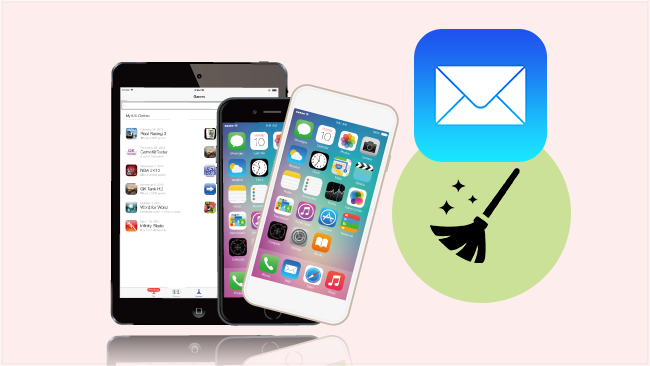 Here we will introduce how to delete your email individually, how to do if you want to delete all emails at once, how to delete email account on iPhone and how to complete above three tasks at once.
1. Delete Email One by One with The Default Mail App
The internet plays a very important role in modern life, and it will be used to send spam emails. So below steps will show you how to delete one email which you want to remove.
Go to the Mail App on iPhone.

Find the right email account from the options and tap it.

You can find the items you want to delete from the list.

Swipe to left simply to get the Delete option.

Tap the Delete on the right.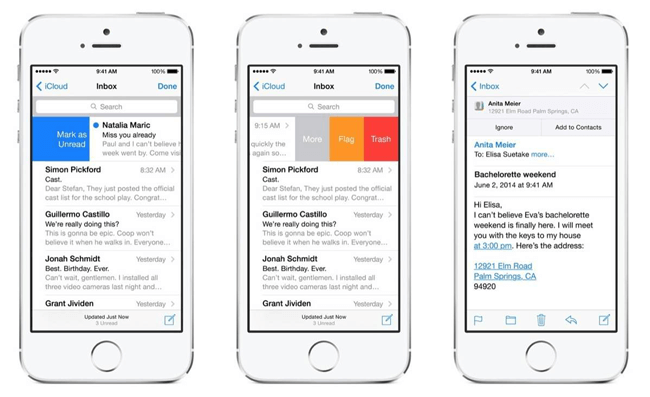 2. How to Do If You Want to Delete All Emails at Once
Launch the Mail App on iPhone.

Find the Gmail, Yahoo, Outlook or others from the list.

Tap the Edit on the upper-right corner.

Tick all emails you want to swipe from your iPhone.

Tap the Delete on the bottom-right corner.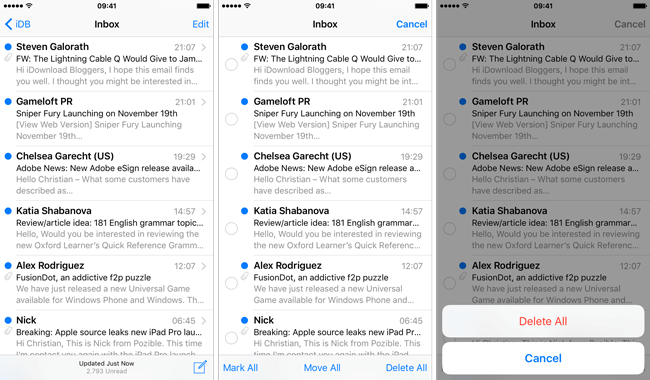 3. How to Delete Email Account from iPhone
If you bought a new iPhone and want to delete your email account on the old iPhone to end up your account associated with a device, you can remove your account from your old device easily by following steps.
Launch the Settings on iPhone.

Scroll down and find the Mail from the list.

Tap the Accounts and find the account you want to delete.

Tick all emails you want to swipe from your iPhone.

Tap the Delete on the bottom-right corner.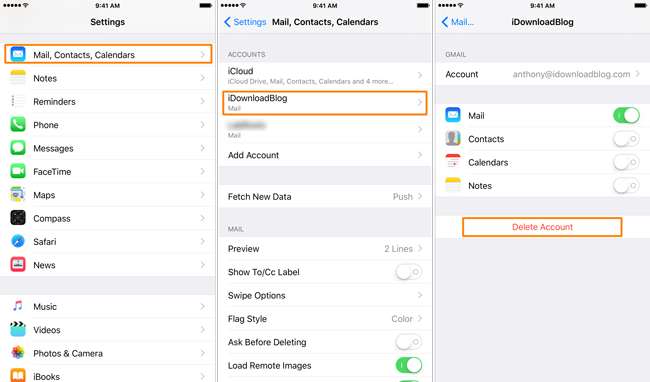 4. How to Clear All Emails on iPhone Using FoneEraser for iOS Thoroughly
Do you think your data is safe after deleting? Do you think no one can reach your data so it is safe now? Of course not. Some data recovery program recovers data from device although you have factory reset it before. You will need a professional iPhone eraser to help you swipe all iPhone data, including files, media files, personal information, settings and more completely and ensure they are unrecoverable.
FoneEraser for iOS, which is a simple and safe software is highly recommended to you. It has high efficiency to complete the whole erasing procedure in minutes and a few of clicks. There are three erasing levels you can choose from, High Level, Medium Level and Low Level all meet the security standard. Not only emails, but also other text content, media files, documents, apps, junk files, cache data and settings can be removed from iPhone, iPad and iPod touch. Please read below steps for how.
Step 1: Download the software on your computer and then install it. Launch it after the installation is done.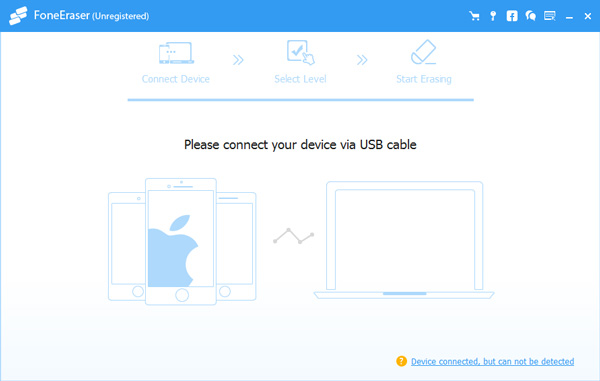 Plug your iPhone to the computer with USB cable and tap Trust on your iPhone or iPad screen if it pops up.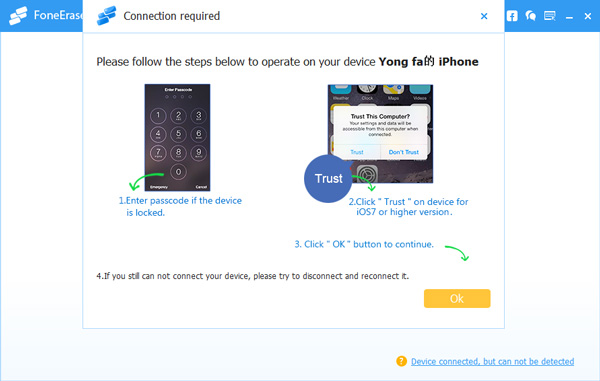 Choose one suitable erasing level from the three choices. Here we will recommend you to choose the High Level.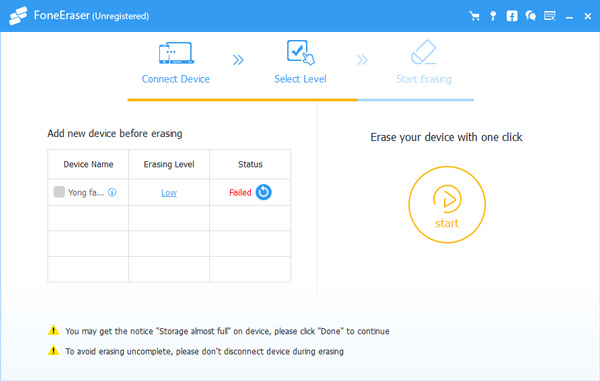 Click Start and then Yes to begin the procedure.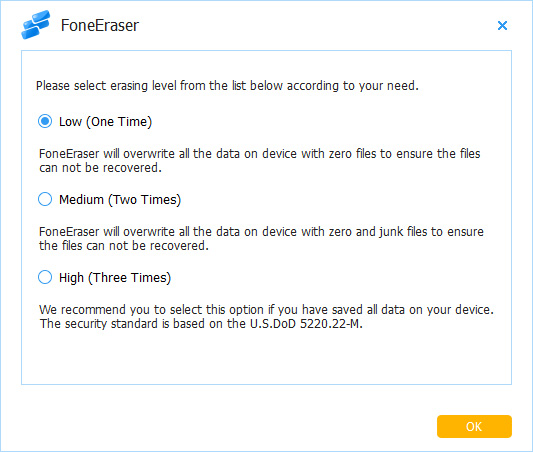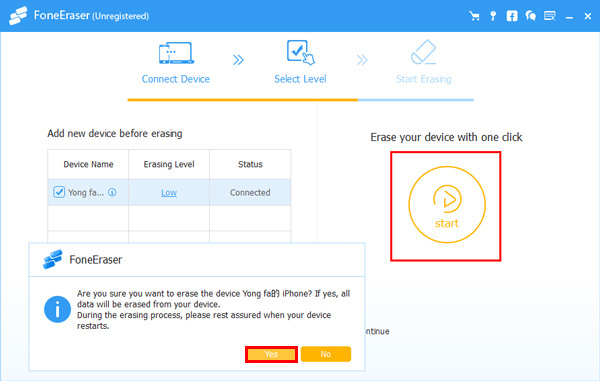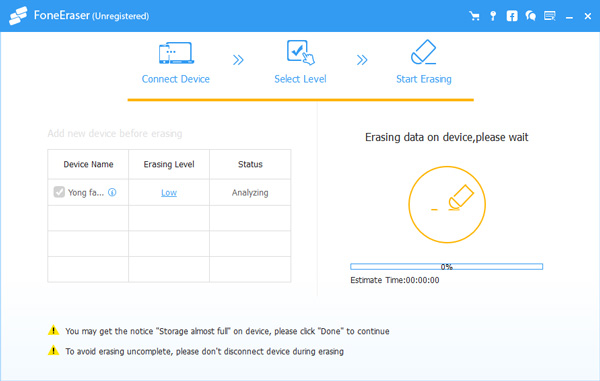 You can choose FoneEraser for iOS when you want to delete iPhone photos, clean messages, remove contact from Favorites, remove a credit card from iphone, clear facebook search history, even wipe all content and settings before donating or reselling your iPhone, it is guaranteed that you will be satisfied with this program.
Related Articles: