Erase iOS Data Now
Easily erase all contents and settings on iPhone, iPad or iPod completely and permanently.
How to Clear iCloud Storage

Updated by
Boey Wong
/ March 19, 2021 14:20
Does anyone know what to do when iCloud storage is full? I appreciate for any suggestions!
1. What is iCloud Storage?
Apple offers 5 GB of free iCloud storage after you set up iCloud. You can use that storage space for your iCloud backups. But you will run out against that storage limit much sooner than you would think, especially if you have multiple iOS devices sharing one iCloud account since that 5 GB of space is for per Apple ID and not per device. If you run out of iCloud space, your device won't back up to iCloud anymore. You can absolutely expand your iCloud storage plan for more space. But before shelling out some extra cash, you can do some tricks to free up space in your iCloud account.
You may also interest in how to backup iPhone to iCloud
2. Check Your iCloud Storage Space
On your iPhone, iPad, or iPod touch:
If you're using iOS 10.3 or later, go to Settings - [your name] - iCloud - iCloud Storage.
If you're using iOS 10.2 or earlier, go to Settings - iCloud - Storage.
On your Mac, go to Apple menu - System Preferences, click iCloud, then click Manage.
On your PC, open iCloud for Windows, then click Manage.
3. Manage iCloud Storage
Delete Old Useless Backups
You can delete old iCloud backup if you no longer need. Just go to Manage Storage, then you will see the list of your old backups in iCloud. Tap the name of the backup you don't need and hit Delete Backup. Tap Turn Off & Delete to confirm.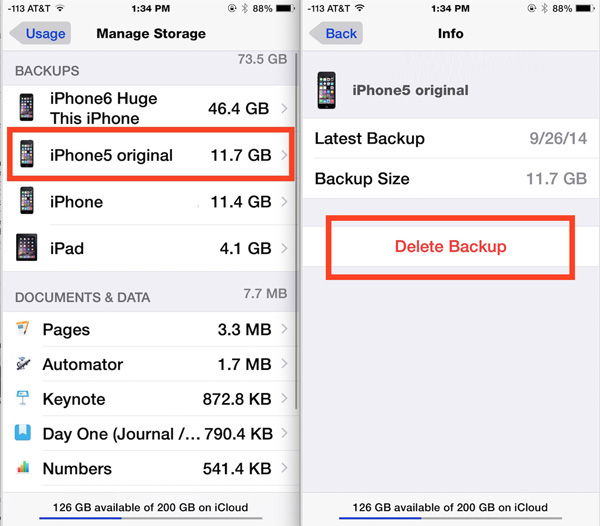 Delete Photos and Videos
iCloud Photo Library uses your iCloud storage to keep all of your photos and videos up to date across your devices. You can turn it off to stop the syncing to save iCloud space. Or you can make more space in iCloud by deleting photos and videos that you no longer need directly from the Photos app on any of your devices or use FoneTrans for iOS to export them to your computer for backup and then delete them from your iOS device.
One Click Guide to Clear iCloud Storage

FoneEraser for iOS
FoneEraser for iOS is the best iOS data cleaner which can easily erase all contents and settings on iPhone, iPad or iPod completely and permanently.
Clean unwanted data from iPhone, iPad or iPod touch.
Erase data quickly with one-time overwriting, which can save you time for plenty of data files.
It is safe and easy to use.
A more effective way to clear your iCloud storage and junk files is to use FoneEraser for iOS, which comes with three erasing modes to meet your need. Now download the free trial version to get a brand new iOS device.
Step 1Free download and install the program onto your computer and then it will launch automatically once it finished.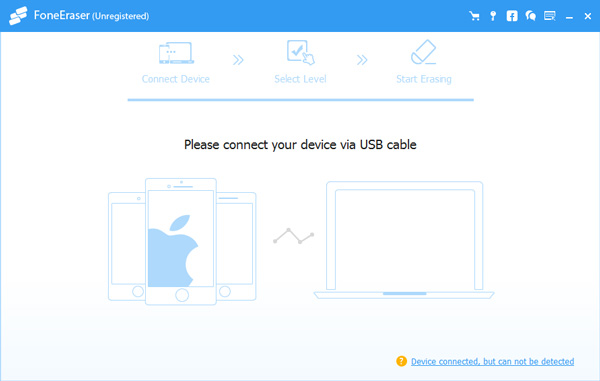 Step 2Plug your iPhone to the computer via USB cable, and enter passcode on your phone if it is locked. Tab Trust on device for iOS 7 or higher version.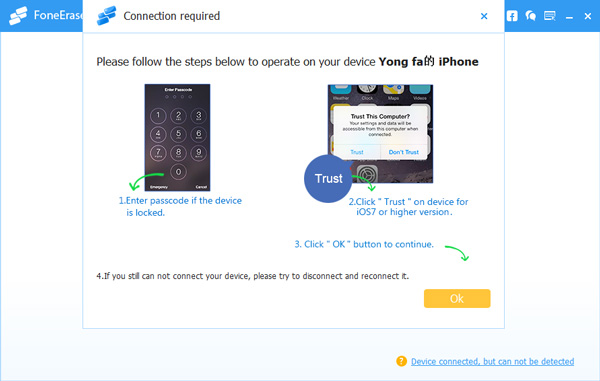 Step 3The software will soon detect your iPhone, if not, click the icon right behind Failed.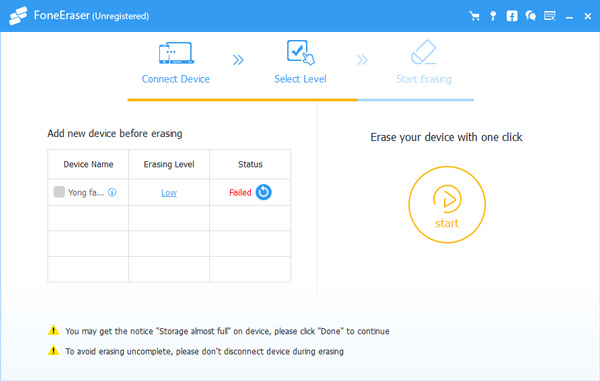 Step 4Select an erasing level (Low, Medium or High). High Level is recommended here.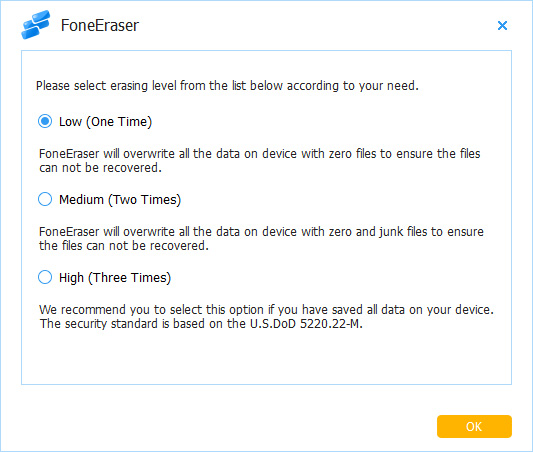 Step 5After your device is connected, click the Start button to begin erasing and then click Yes to confirm the procedure.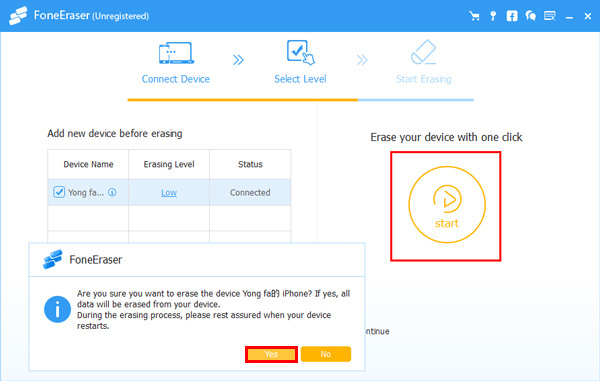 Step 6Wait for the erasing process to complete.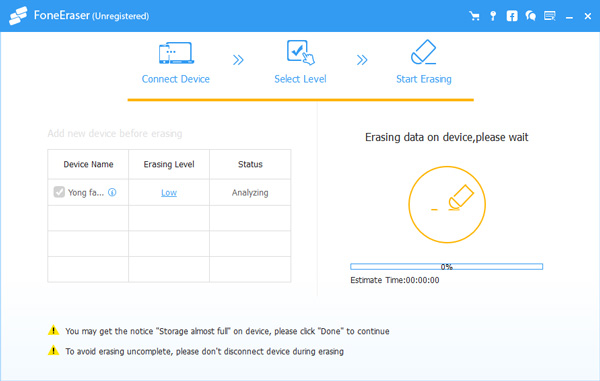 The reasons why you choose FoneEraser:
Wipe out all contents and settings on iPhone, iPad or iPod touch.
Erase text files including text messages, iMessages, contacts, call logs, calendar, notes, reminders, Safari bookmark and history completely.
Clean up Media files like photos, videos, audio, music, iBooks, iTunes U, Podcast, TV shows, ringtones, audio books, voice memos thoroughly.
Support erasing multiple iOS devices at the same time which can save you a lot time.
Offer three erasing levels to meet your needs.
Fully Support Windows 10 and iOS 5 to 10.