Erase iOS Data Now
Easily erase all contents and settings on iPhone, iPad or iPod completely and permanently.
Ways to Reset iPad to Factory Default

Updated by
Boey Wong
/ February 23, 2021 14:50
I want to restore my iPad to as though I'd never used it before. Which is the best way to do it? Erase content and settings through iPad itself, or do a restore through iTunes?
Whether you intend to give your iPad to one of your family members or friends or plan to sell it to a new owner, the first thing you should've done is to erase your iPad to factory settings, returning it to the exact state as when you first opened the box. Besides, restoring an iPad to factory settings is also a good troubleshooting option when the iPad is encountering problems. So how to wipe an iPad? Is there a quick way to wipe an iPad to factory settings? In this article, we will introduce several ways and the best way to erase an iPad to factory settings.
Method 1: How to Reset iPad to Factory Settings on the Device
If you remember your iCloud password, you are able to wipe an iPad from the device settings directly. Please backup your iPad in advance and then follow the below steps of how to reset iPad to factory default.
Step 1Go to Settings on your iPad, and tap General.
Step 2You will have several options, choose Erase All Content and Settings.
Step 3Tap on Erase iPad and confirm the erasing.
Step 4Enter your password to begin the process.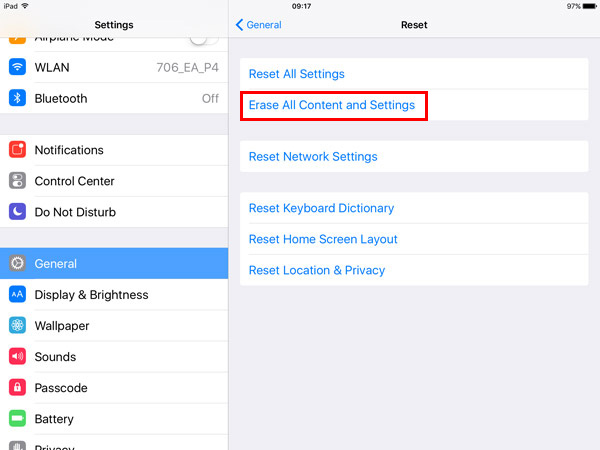 Method 2: How to Wipe Your iPad with iTunes
Restoring iPad with iTunes is also an option to factory reset iPad.
Step 1Connect your iPad to your computer via USB cable and launch the latest version of iTunes.
Step 2Click your iPad icon from iTunes after the connection, and click the Summary tab.
Step 3Click the Restore iPad button on the right, then your device will be wiped and you can restore it with a previous iTunes backup or set it as a new device.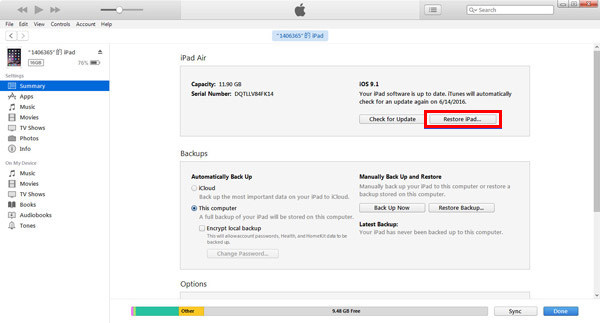 Method 3: How to Factory Reset iPad in Clicks
If your haven't used your Apple ID for a while, you may not remember the password. You can't do a restore without entering password on iPad. Here I recommend the best way to restore iPad to factory settings without Apple ID and password. Use a third party tool called FoneEraser for iOS, with just a few clicks, you can erase all content and settings thoroughly and permanently without worrying any data being recovered by data recovery tools. Let's take a look at below simple tutorial to wipe your iPad easily.

FoneEraser for iOS
FoneEraser for iOS is the best iOS data cleaner which can easily erase all contents and settings on iPhone, iPad or iPod completely and permanently.
Clean unwanted data from iPhone, iPad or iPod touch.
Erase data quickly with one-time overwriting, which can save you time for plenty of data files.
It is safe and easy to use.
Step 1Free download and install the program onto your computer and then it will launch automatically once it finished.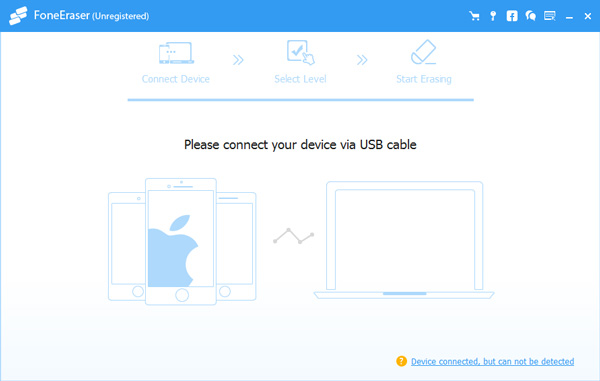 Step 2 Plug your iPhone to the computer via USB cable, and enter passcode on your phone if it is locked. Tab Trust on device for iOS 7 or higher version.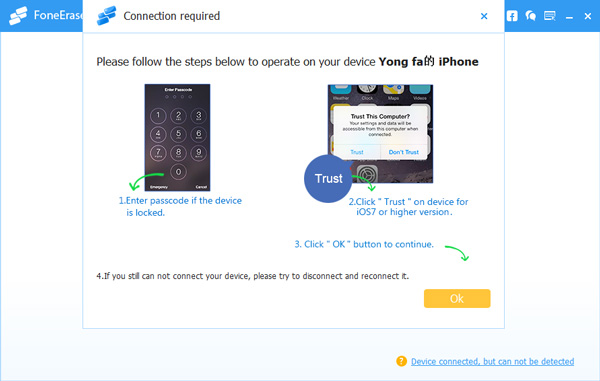 Step 3 The software will soon detect your iPhone, if not, click the icon right behind Failed.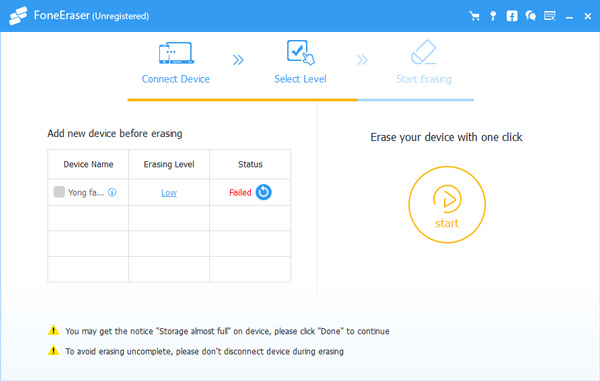 Step 4 Select an erasing level (Low, Medium or High). High Level is recommended here.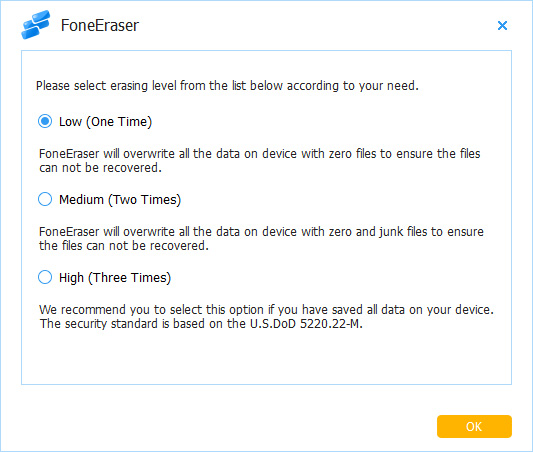 Step 5 After your device is connected, click the Start button to begin erasing and then click Yes to confirm the procedure.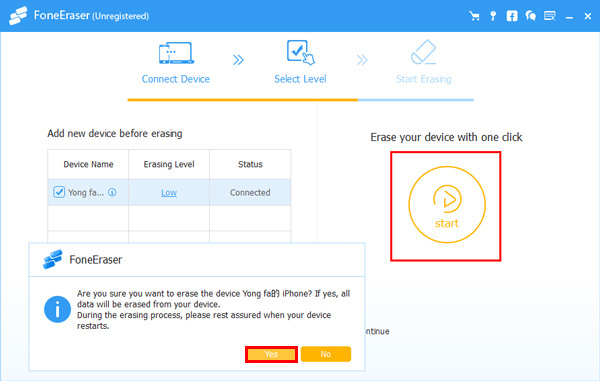 Step 6 Wait for the erasing process to complete.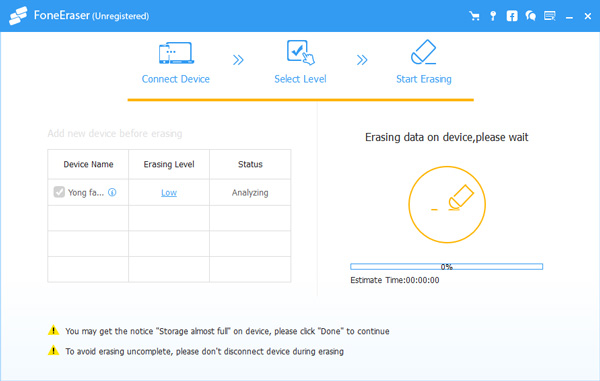 That's all, super easy, right? No technical knowledge required at all! Any of us can do it all on our own. Please do not hesitate to contact if you have any comments.