Erase iOS Data Now
Easily erase all contents and settings on iPhone, iPad or iPod completely and permanently.
How to Clear Cookies in Safari on iPhone

Updated by
Boey Wong
/ August 19, 2021 14:20
Clearing data such as cookies can be an useful tick to clean up iPhone storage as well as speed up your device.
What's more, it is also a good way to prevent privacy leakage since many hacker like to get your information to access bank account from the cookies.
So it's of great benefits to clear unwanted website cookies. Below are some ways in which you can easily delete cookies from your iOS device.
1. What Are iPhone Cookies
Cookies are small-encrypted text files which are stored on an user's computer or iPhone browser. They are designed to hold a modest amount of data specific to a particular client and website, and can be accessed either by the web server or the client computer.
Cookies can take up a lot of space if you collect more and more. And also for security sake, people would like to clear cookies on iPhone every now and then.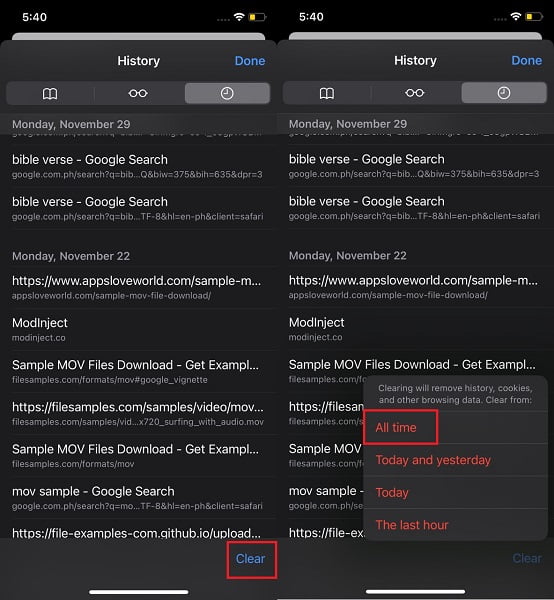 2. How to Clear History from iPhone
Clear History and Website Data on Settings App
To remove cookies, tap Settings > Safari > Clear History and Website Data > Clear History and Data. Clearing your history, cookies, and browsing data from Safari won't change your AutoFill information.
To delete other stored information, go to Settings > Safari > Advanced > Website Data > Remove All Website Data. Alternatively, tap Settings > General > iPhone Storage > Wesite Data > Remove All Website Data.
Remove Safari History on Safari App
Alternatively, you can open Safari, tap the bookmark icon on the bottom of the page. Tap the history icon on the right of the top menu, swipe it to left and tap Delete button.
If you prefer to remove all Safari history, you can tap Clear button on the bottom-right corner.
You are able to visit sites without leaving a history by turning off private browsing. On your iPhone, open Safari app and then tap the icon in the bottom right corner. Tap Private, then tap Done.
3. How to Block Cookies
You can choose whether Safari blocks cookies or not.
Step 1Go to Settings > Safari > Block Cookies.
Step 2Then you will have several options: Always Block, Allow from Current Website Only, Allow from Websites I Visit, Always Allow.
Step 3Please note that if you block cookies, some web pages may not work. For example, you may not be able to log into a site with your correct account and password, or cookies are required when you browse a web page, or some features are no longer work on a website.
4. How to Clear Browser Cache and All Other Data Quickly
Sure you can factory reset your iPhone to erase all contents and settings, but if you want to wipe your phone permanently, this would not help.
Option 1. Erase All Data
I suggest you can use FoneEraser for iOS, an iPhone Data Eraser, which can help you erase your iOS device thoroughly and permanently. Follow below simple guide to get started.

FoneEraser for iOS
FoneEraser for iOS is the best iOS data cleaner which can easily erase all contents and settings on iPhone, iPad or iPod completely and permanently.
Clean unwanted data from iPhone, iPad or iPod touch.
Erase data quickly with one-time overwriting, which can save you time for plenty of data files.
It is safe and easy to use.
Step 1Free download and install the program onto your computer and then it will launch automatically once it finished.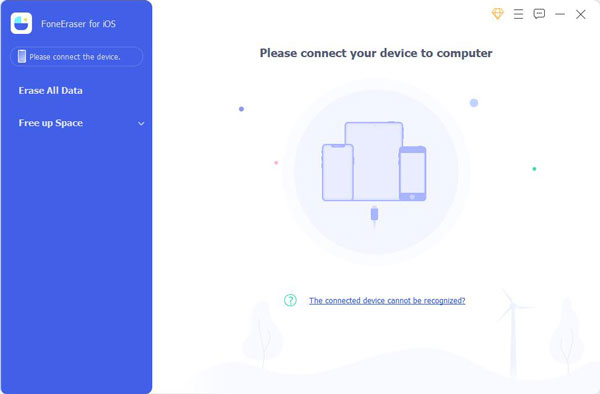 Step 2Plug your iPhone to the computer via USB cable, and enter passcode on your phone if it is locked. Tab Trust on device for iOS 7 or higher version.
Step 3The software will soon detect your iPhone, if not, click the icon right behind Failed.
Step 4Select Erase All Data then an erasing level (Low, Medium or High). High Level is recommended here.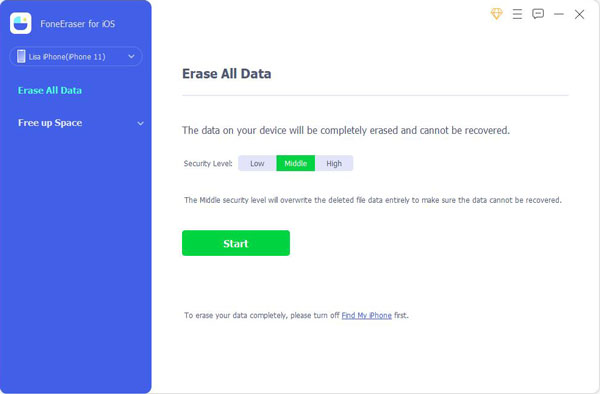 Step 5After your device is connected, click the Start button to begin erasing and then click Yes to confirm the procedure.
Step 6Wait for the erasing process to complete.
Option 2. Clear Junk Files
For people want to clear iPhone Safari cookies only, choose Free up Space > Clear Junk Files. It will remove image cache, iTunes cache, invalid files, downloaded temporary files or crash log files for your iPhon. Check items you want to remove and click Erase.