Erase iPhone Now
Easily erase all contents and settings on iPhone, iPad or iPod completely and permanently.
How to Delete WhatsApp Messages or Account on iPhone

Posted by
Lisa Ou
/ Jan 05, 2021 09:00
WhatsApp becomes a popular app in daily life for iPhone users. Most of them use it to send WhatsApp message, make WhatsApp call, receive WhatsApp video and more online activities. So you can find there are an amount of community text contents, images and videos stored on iPhone. You can delete WhatsApp messages on iPhone the free up the iPhone storage space.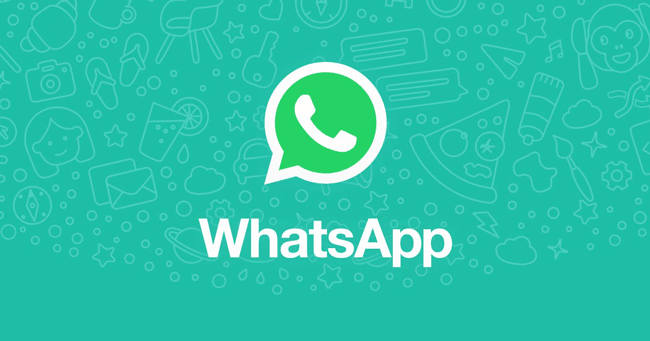 1. How to Remove WhatsApp Messages on iPhone
Sometimes you just send the wrong messages and don't want to keep it among your conversation list anymore, you can delete single or multiple messages from iPhone. You can follow below steps to remove it easily.
Step 1Launch WhatsApp app on your iPhone.
Step 2Go to Chats, then find the contact, conversation or the group which contains the messages you want to delete and tap it.
Step 3Hold the message you want to delete till the options pop up.
Step 4Tap Delete, then you can tick the boxes next to the messages you want to remove from the conversation.
Step 5Tap the Trash icon in the bottom left corner.
Step 6Confirm again by tapping Delete Message from the menu.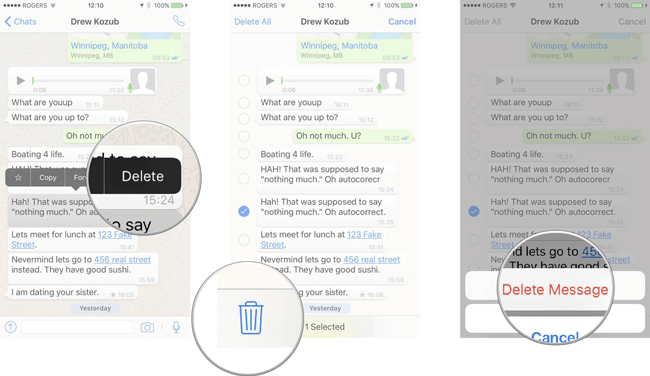 2. How to Delete WhatsApp Chats from a Contact
Check each message from the conversation is not a simple job to remove a whole conversation. So you can choose an easier way to do it within a few steps as below.
Option 1. Delete Single Conversation.
Step 1Open your WhatsApp and go to the Chats view.
Step 2Wipe it from right to left, then tap the three-dot icon.
Step 3Tap Delete Chat.
Option 2. Delete Multiple Conversations
Step 1Run WhatsApp app and tap Chats on the bottom.
Step 2Tap Edit in the top left corner and tick the conversations you want to delete from the list.
Step 3Tap Delete in the bottom right corner.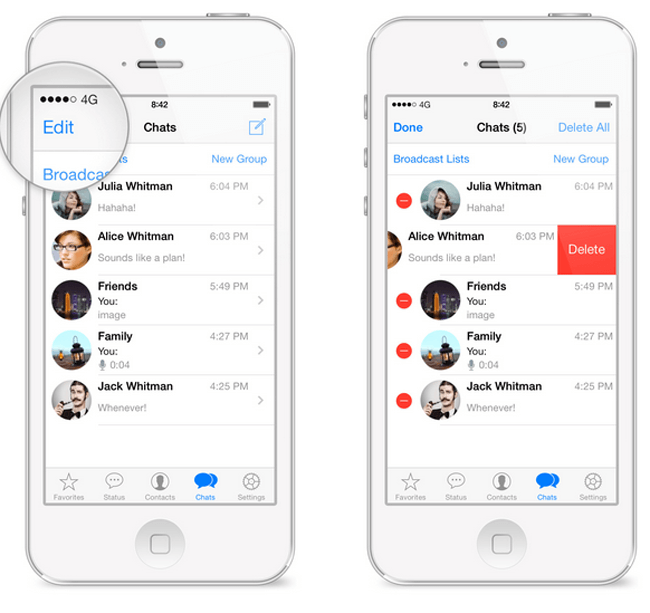 3. How to Clear All Chats from iPhone
Clearing all Whatsapp chats from iPhone is a good choice to free up your device storage and make it get rid of slowness. It can be finished in three steps.
Step 1Launch WhatsApp app and go to Settings.
Step 2Find Chats, then Clear All Chats.
Step 3Enter your phone number and tap Delete All Chats.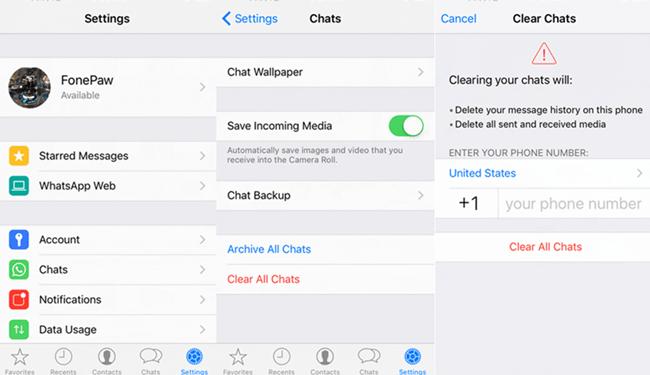 4. How to Delete WhatsApp Account on iPhone
If you are sick of WhatsApp and want to wipe all your information from this app, you can delete your account on iPhone. Then your account information, profile photo, all WhatsApp groups and message history on this phone will be removed permanently.
Step 1Go to Settings and Account.
Step 2Tap Delete My Account.
Step 3Accomplish your order by entering your phone number and tap Delete My Account again.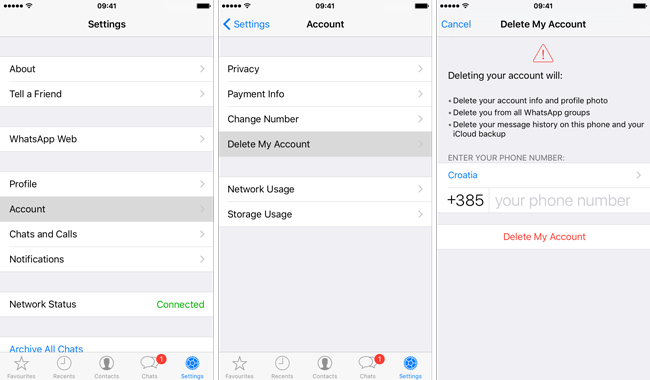 5. How to Wipe All WhatsApp Data on iPhone with FoneEraser for iOS
After all deletions on your iPhone, the invisible data which are stored on your iPhone still can be recovered by professional iPhone data recovery tool. So if you want to clear these data thoroughly and guarantee that they are uncoverable, you need a third-party tool called FoneEraser for iOS to help you.
There are three erasing levels for options, and each of them meets the security standard so you don't need to worried about data leaked out. It fully supports iPhone, iPad and iPod touch, which allows you to remove photos from iPhone or delete junk files from iPad. Below is a detailed tutorial.
Step 1Download and install the software on your computer and then it will be launched automatically.

FoneEraser for iOS
FoneEraser for iOS is the best iOS data cleaner which can easily erase all contents and settings on iPhone, iPad or iPod completely and permanently.
Clean unwanted data from iPhone, iPad or iPod touch.
Erase data quickly with one-time overwriting, which can save you time for plenty of data files.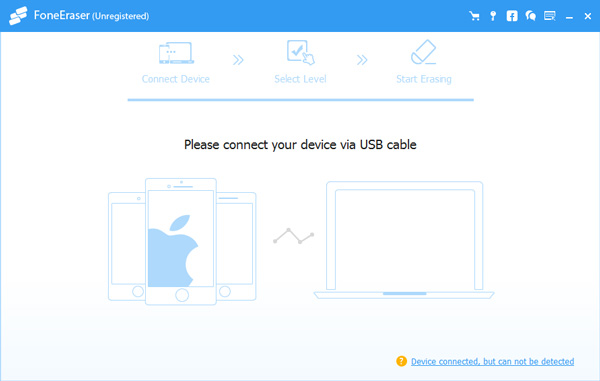 Step 2Plug your iPhone to connect it to your computer. Then tap Trust on your iPhone screen.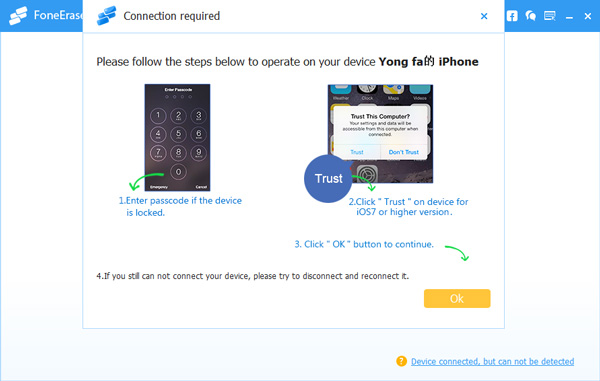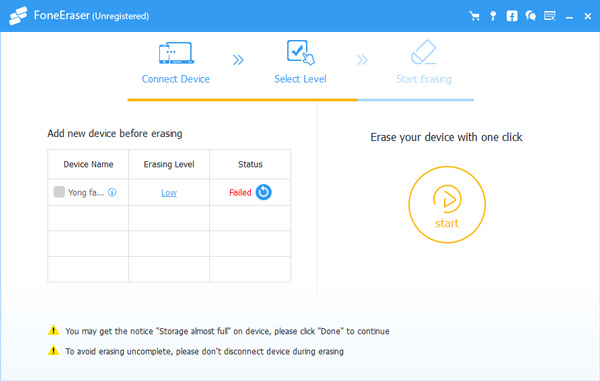 Step 3Choose the erasing level according to your needs. High Level is recommended to you.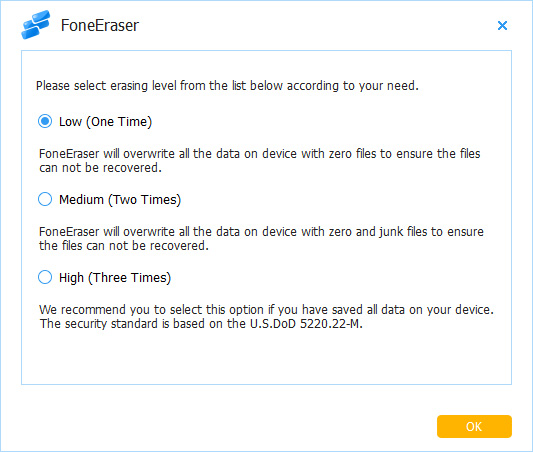 Step 4Click Start and then Yes to begin.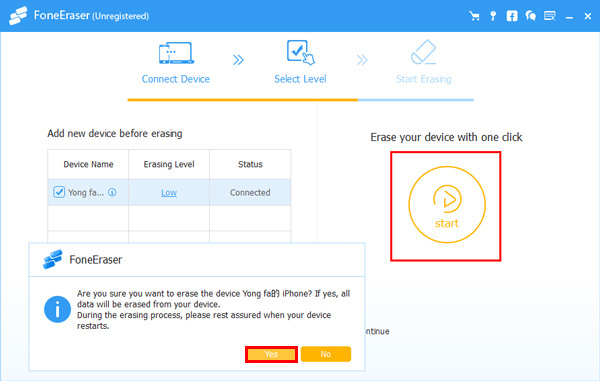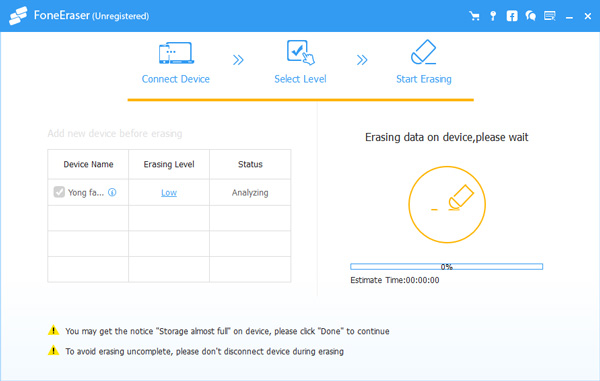 You can also read how to delete a tweet on iPhone.
As you see, there are different ways to delete WhatsApp messages on iPhone and you can select the suitable one from above-mentioned choices base on your circumstance. By the way, FoneEraser for iOS also allows you to delete iPhone junk files, wipe search history and more from iPhone easily and safely.