How to Delete Multiple Contacts on iPhone
"There are more than 1,000 contacts on my iPhone, and I don't know how to manage them anymore because it is in a mess and it is difficult to find my friend. I think I can delete all of them at once then import the new items to it. But it is too difficult to repeat the same thing over 1,000 times. Is there any easy way to clear all these contacts from iPhone? Thanks!"
It is painful to delete multiple contacts on iPhone or iPad, because you have to delete these contacts one by one. It takes a long time since there is no multi-delete option on iPhone, and it will waste so much of your energy as you have to repeat the same thing for hundreds of times. So, someone began to ask how to delete these contacts on iPhone with a simple way. If you can do this on your computer, it also can be an easy thing with iCloud or FoneEraser for iOS. We will introduce how to remove contacts from iPhone individually and what to do if you want to delete all contacts on iPhone at once.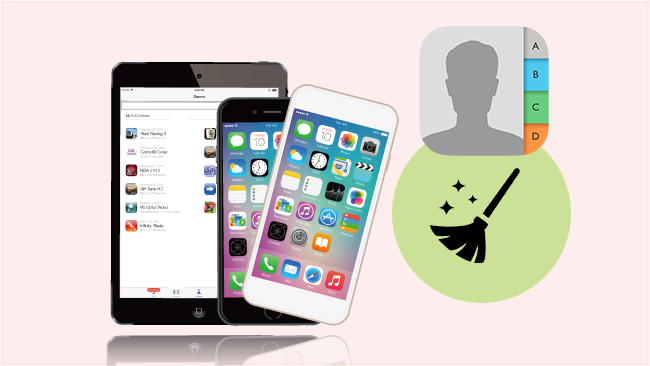 Remove Contacts from iPhone Individually
First of all, you should back up your important data on the computer to prevent the data lost forever after deleting the precious data accidentally.
Step 1. Go to the Contacts app.
Step 2. Tap on the contact to open the contact card which you want to delete.
Step 3. Tap Edit in the upper right corner.
Step 4. Scroll down to find the Delete Contact and tap it.
Step 5. Tap Delete Contact again to confirm and then tap Done.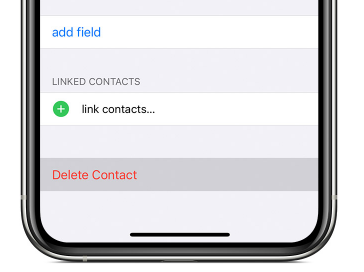 As you see, deleting contacts on iPhone or iPad one by one is no small feat, and it will waste too much time and energy. Kill a demon today, face the devil tomorrow. Therefore, we will introduce two simple ways to delete multiple contacts from your iPhone or iPad.
Delete Multiple Contacts from Your iPhone or iPad
1. Delete Multiple Contacts from Your iPhone or iPad with iCloud
Step 1. Open icloud.com

on your computer and sign in with the same Apple ID you're signed into iCloud with on your iPhone or iPad.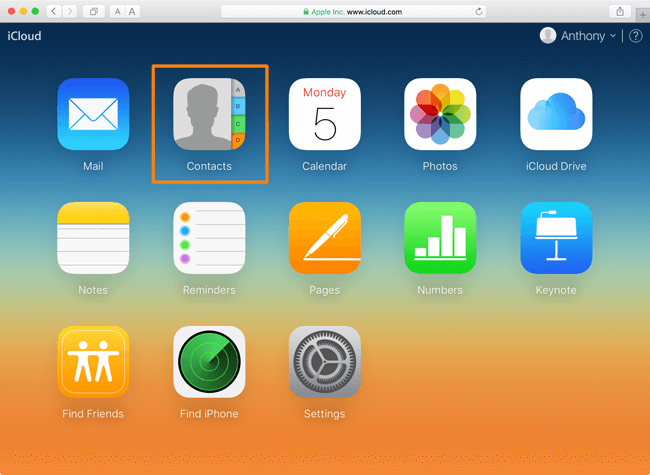 Step 2. Select Contacts.
Step 3. Hold Ctrl and click on the contacts you want to delete.
Step 4. Press the Delete key on your keyboard.
Step 5. Confirm Delete.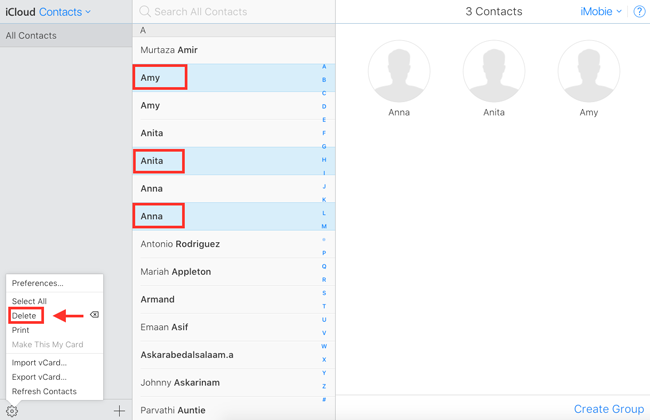 Above way to delete multiple contacts with iCloud helps you to remove contacts only, if you want to swipe other data, like photos, videos, documents, messages and more, please read below steps to learn how to remove multiple contacts from iPhone with FoneEraser for iOS, which is a powerful and efficient third-party tool.
2. Delete Multiple Contacts from Your iPhone or iPad by FoneEraser for iOS
If you don't want to remove multiple contacts on iPhone one by one difficultly, if you want to clean all cache data on your iPhone to free up your storage, if you want to swipe all the settings from your iPad, FoneEraser for iOS enables you to finish all these tasks with a few clicks.
FoneEraser for iOS removes text content, media files, documents, apps and settings permanently.
It supports iPhone, iPad and iPod touch.
There are three levels for options, including High Level, Medium Level and Low Level.
The three levels meet the security standard.
It is easy to use.
Step 1: Download the software and then install it on the computer. Double click to launch the program if it doesn't run automatically.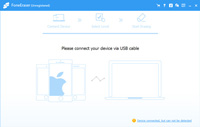 iPhone Data Eraser
FoneLab - iPhone Data Eraser - the best iOS data cleaner which can easily erase all contents and settings on iPhone, iPad or iPod completely and permanently.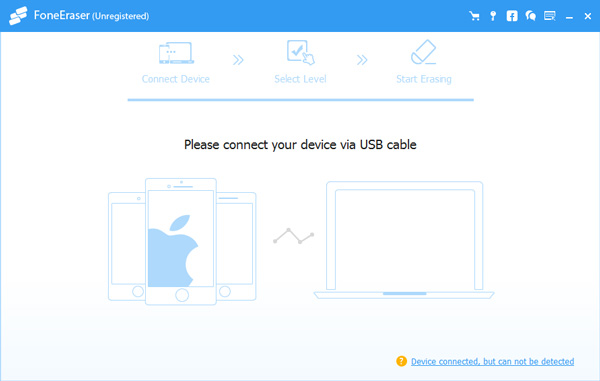 Step 2: Connect your iPhone or iPad to computer with USB cable. It will show you the status of connection, click retry if it is failed.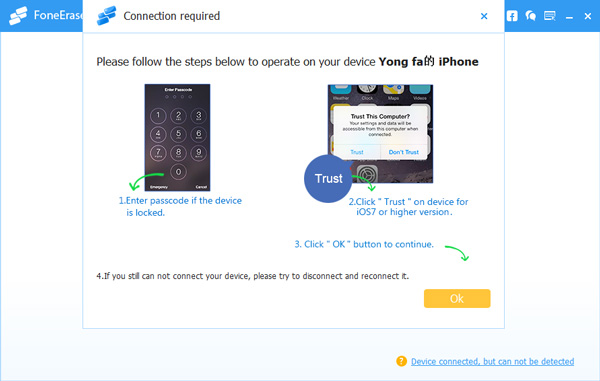 Step 3: Choose one from the three erasing levels. High Level is recommended to you here.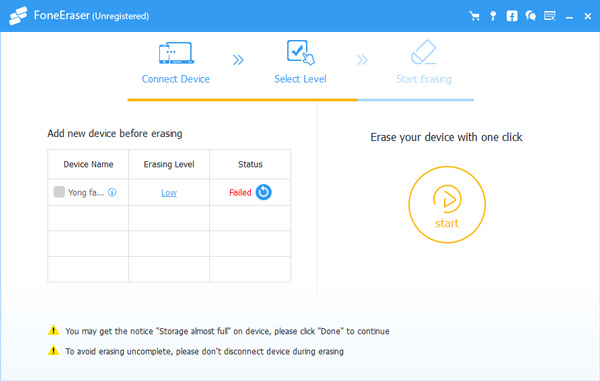 Step 4: Click Start on the right.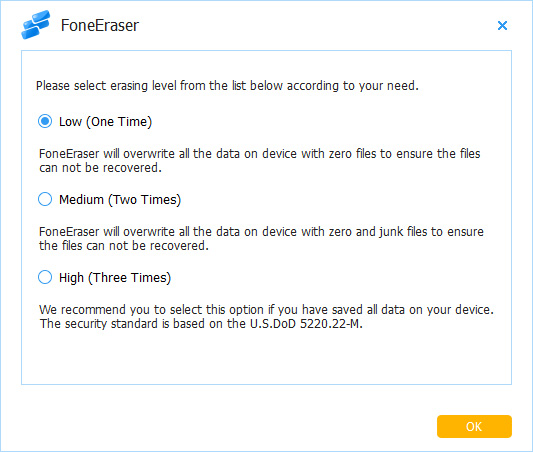 Step 5:Confirming again by clicking Yes.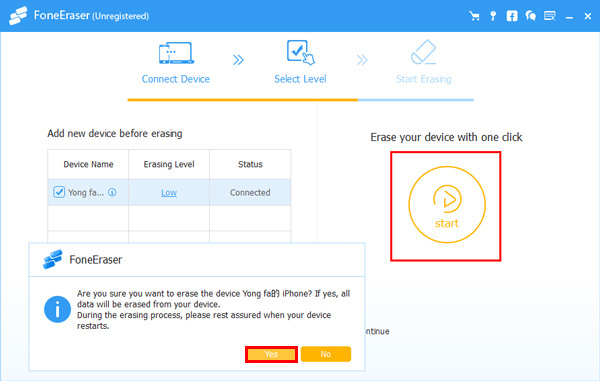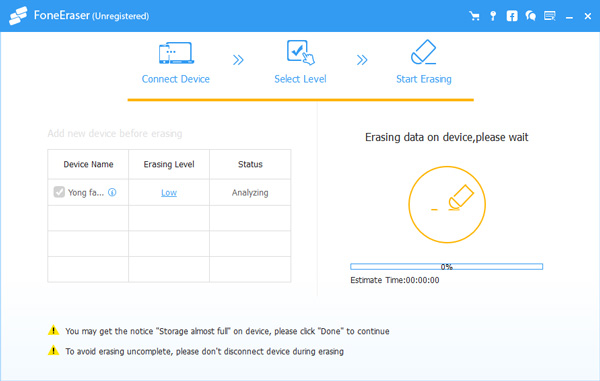 That's all. No matter that you want to clear junk files, remove apps, remove favorites, delete credit cards, clear facebook search history, swipe settings or something else, FoneEraser for iOS allows you to clean what you want permanently and thoroughly. Why not download and have a try now!
Related Articles: