How to Clear iPhone Cache
"I love the apps on iPhone so much and I have downloaded many different apps on my iPhone 7. Such as Facebook, Twitter, YouTube, WhatsApp, etc. But they take most space of my iPhone that makes my phone run slowly. Is there any easy way to release space for my phone?"
App has become a required part of people's life, bigger and bigger storage is needed for every iPhone user. They use their phones to listen to music, take photos, chat with friends, watch movies and more. All these apps take a lot of space and they will create lots of cache data.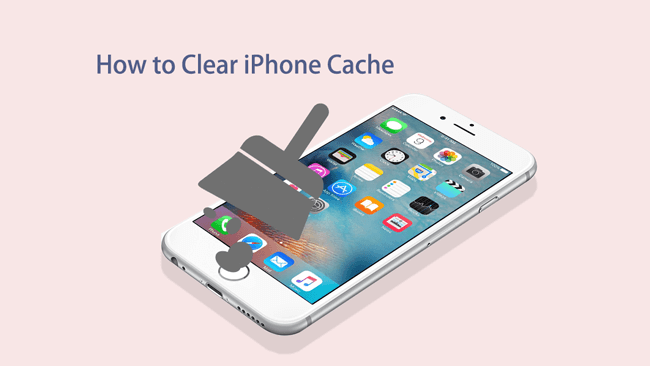 What is Cache?
Cache, which is stored in the form of cache in device memory to make the device access the same website or app easier and faster next time. App makes your life more convenient, meanwhile these entertainments bring your iPhone big junk files. So how to clear iPhone or iPad Storage and release your iPhone space?
1. Clear App Cache on iPhone Settings – Clear safari cache
Safari is of vital importance for iPhone users and collects large amount of junk files. People use it to check what they need, visit their favorite website, etc. It creates cookies and other junk files during the procedure, so you may need to clear cache in safari at certain times. But you don't need iphone cleaner to do it. You can clear cache safari on iPhone Settings.
Step 1: Tab Settings and then Safari on your iPhone.
Step 2: Scroll down and find out Clear History and Website Data to clear cache for safari.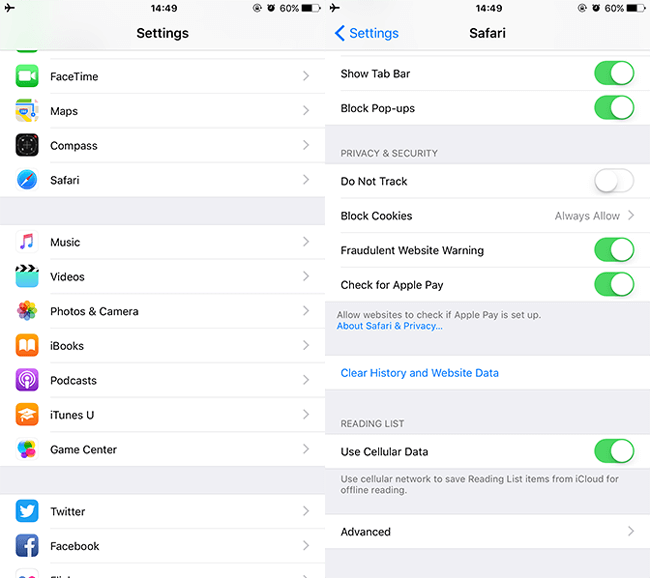 2. Manage Storage on iPhone – Erase App Data
People use lots of different social media apps to chat with friends, share photos, videos on iPhone, such as Line, WeChat, Vimeo, Instagram and more. If you want to remove these apps to release space for your iPhone, please follow below simple steps.
Step 1: Tap on Settings > General > Storage & iCloud Usage > Manage Storage to find the app Facebook.
Step 2: Hit Facebook > Delete App.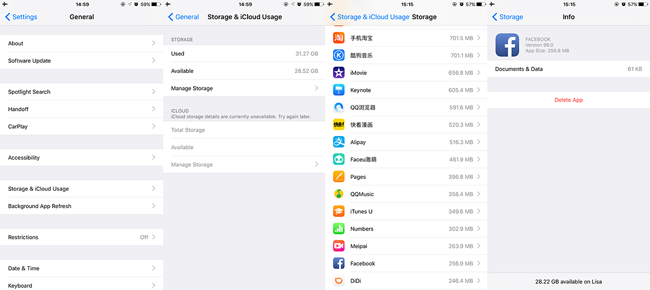 If you want to clear the app cache only, you can go to Facebook app settings.
Step 1: Tap on Facebook > Settings > Account Settings > Browser to find cache cleaner.
Step 2: Hit Clear Data.
With the same way, you can find the Settings in different apps to clear their own cache data on iPhone.
The above methods introduce how to clear app cache selectively according to what you want to remove from your iPhone. You have to remove them one by one. If you want to erase all your iPhone data with simple clicks, FoneEraser for iOS will be strongly recommended to you. It helps you to clean your iPhone, iPad or iPod touch data easily and completely. There are three levels for options, so that you can choose one to clear space on iPhone or erase all data.
3. How to Clear iPhone Cache with FoneEraser for iOS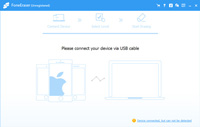 iPhone Data Eraser
FoneLab - iPhone Data Eraser - the best iOS data cleaner which can easily erase all contents and settings on iPhone, iPad or iPod completely and permanently.
Step 1: Download and install the software, the program will be launched automatically after finish. If not, please double-click the icon to run it.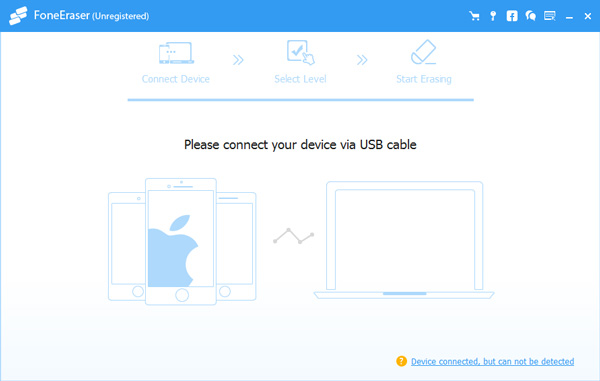 Step 2: Plug your iPhone to computer with USB cable. Unlock your iPhone and tab Trust on your phone screen if it is the first connection.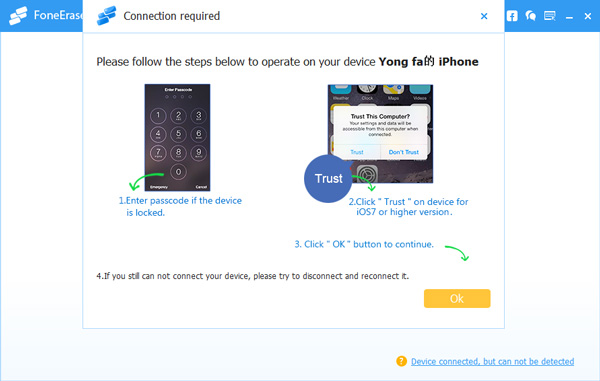 Step 3: Choose the level and click OK to erase your iPhone. If you want to resell, recycle or donate your iPhone, please choose High Level.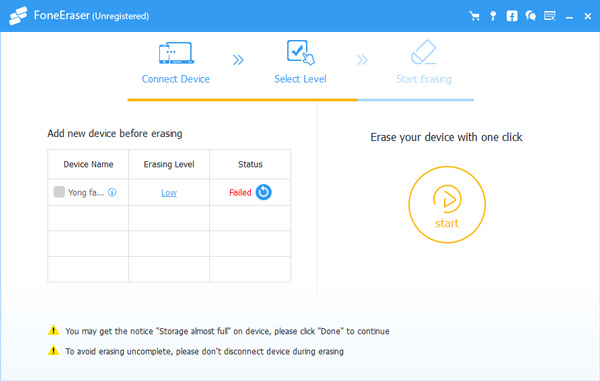 Step 4: The software will detect your device in minutes. If you get the notice Storage almost full, click Continue to move on.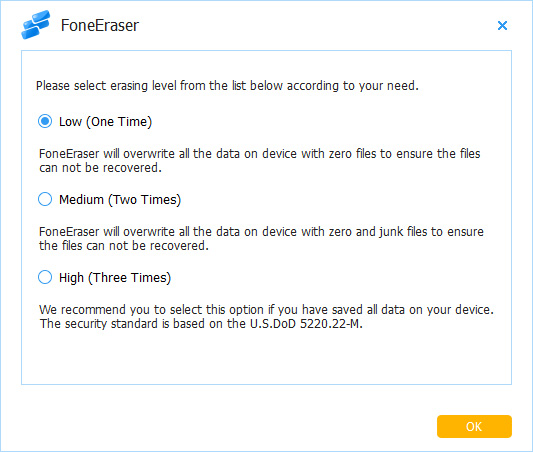 Step 5: Click Start on the right side after your device is connected, then click Yes to erase all data from your device.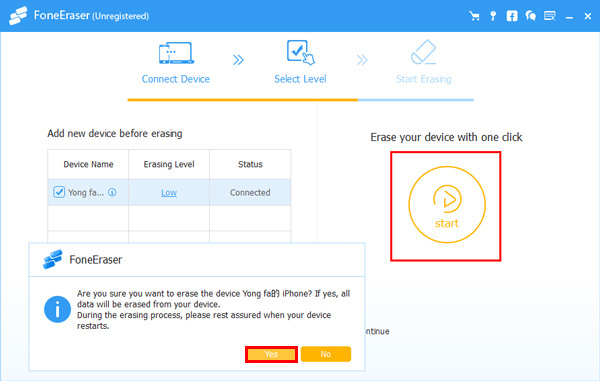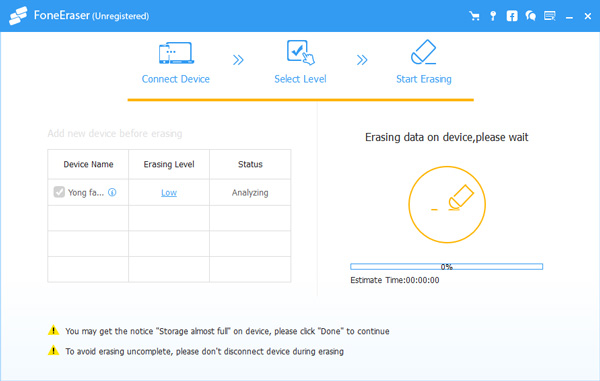 As you see, FoneEraser for iOS is easy and safe to use. No matter that you want to clear your iPhone storage or erase iPhone memory to make it as a new device, FoneEraser for iOS can help you clear your data on iPhone 7 or iPhone 7 Plus with iOS 10.3 thoroughly.
Related Articles: