Erase iPhone Now
Easily erase all contents and settings on iPhone, iPad or iPod completely and permanently.
How to Delete iCloud Backup (3 Effective Methods in 2021)

Posted by
Boey Wong
/ August 26, 2021 09:00
iCloud is Apple's cloud-based, content storage system for iOS devices, which will automatically back up all of the data on your iPhone, iPad or iPod every day as long as the device is connected to Wi-Fi, screen locked and plug into a power source.
However, Apple provides only 5GB of free storage for each iCloud ID. This is especially not enough for those users who use same iCloud account on multiple devices. Of course, you can purchase for more iCloud storage, but you surely don't want to use it for a ton of backups that you really don't need. So it's a good idea to free up wasted space before paying for more.

If you have multiple devices that linked to the same iCloud account, but some of them you no longer use, you can free up iCloud storage space by deleting the entire iCloud backup for an iOS device. Now we will introduce how to remove old iCloud backup on your iOS device, let's take iPhone for example.
Part 1. How to Clear iCloud Storage on iPhone
Below is how to clear iCloud storage to delete old iCloud backups on iPhone.
Step 1On your iPhone, go to Settings > [Your name] > iCloud > iCloud Backup > Manage Storage > Backups.
Step 2Choose the name of a device that you don't use anymore. Then tap Delete Backup.
Step 3Please note that after you delete the iCloud backup, iCloud will stop backing up your device automatically from then on.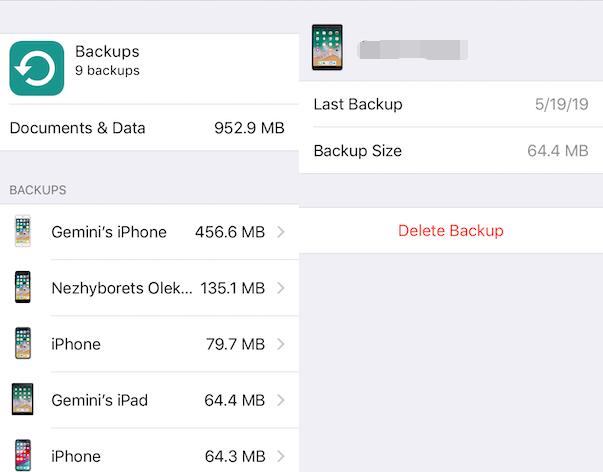 Part 2 .How to Delete iCloud Storage on Mac
If you have a Mac, you can read below steps about how to remove backup from iCloud.
For macOS Catalina 10.15 and later:
Step 1On your Mac, open Finder, then click General > Manage Backups.
Step 2Right-click the backup and click Delete button.
Step 3Click Delete Backup button in the pop-up window.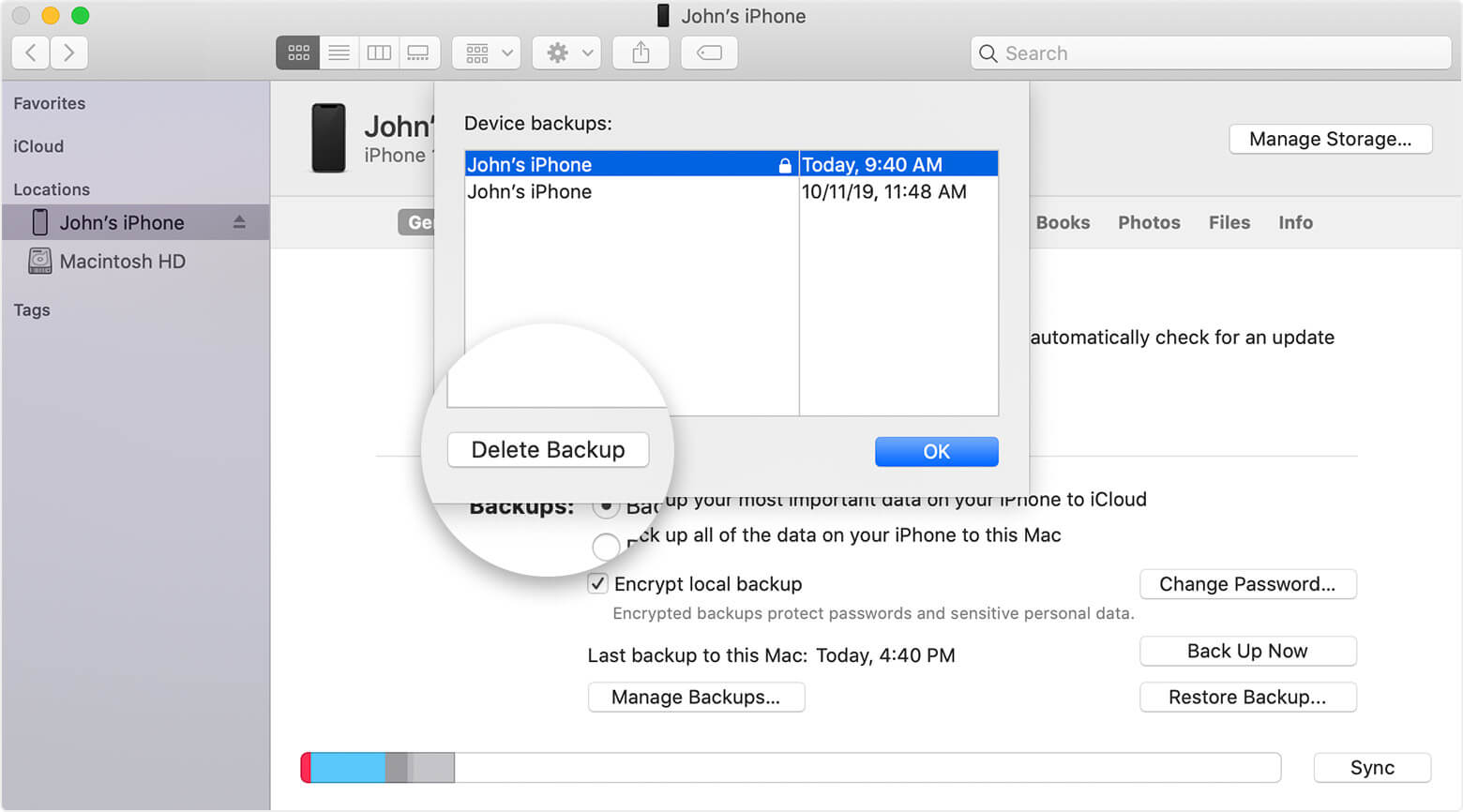 For macOS Mojave 1.0.14 or earlier:
Step 1On your Mac, open iTunes, select Preferences > Devices.
Step 2Right-click the backup file you want and choose Delete.
Step 3Click Delete Backup button in the pop-up window.
Part 3. How to Remove iCloud Backup on PC
Step 1Open iCloud control panel on your PC and find iCloud.
For Windows 10: Click Start menu - All apps - iCloud app.
For Windows 8.1: Choose Start screen, click the down arrow at the lower-left corner, and then choose iCloud app.
For Windows 8: Go to Start screen, and then click iCloud.
For Windows 7: Tab Start Menu - All Programs - iCloud folder - iCloud app.
Step 2Click Manage.
Step 3Choose Backups from the left list and select the iCloud backup on the right that you don't need.
Step 4Click Delete and confirm your choice.
Part 4. How to Remove iPhone/iPad Data with FoneLab
If you plan to sell the iOS devices, you should use FoneEraser for iOS, an iPhone data eraser, to help you clean up your device completely and permanently. Furthermore, it also helps you clear iPhone cache, large files or unistall apps without data loss.
In this part, we will show you detailed demonstrations about how to erase all data from iPhone or iPad.

FoneEraser for iOS
FoneEraser for iOS is the best iOS data cleaner which can easily erase all contents and settings on iPhone, iPad or iPod completely and permanently.
Clean unwanted data from iPhone, iPad or iPod touch.
Erase data quickly with one-time overwriting, which can save you time for plenty of data files.
Step 1Free download and install the program onto your computer and then it will launch automatically once it finished.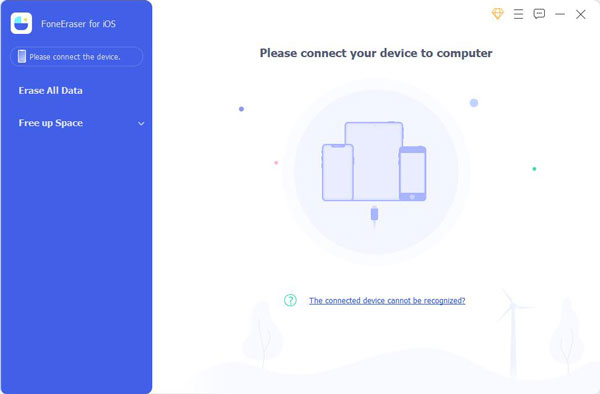 Step 2Plug your iPhone or iPad to the computer via USB cable, and enter passcode on your phone if it is locked. Tab Trust on device for iOS 7 or higher version.
Step 3The software will soon detect your iPhone, if not, click the icon right behind Failed.
Step 4Select Erase All Data then an erasing level (Low, Medium or High). High Level is recommended here.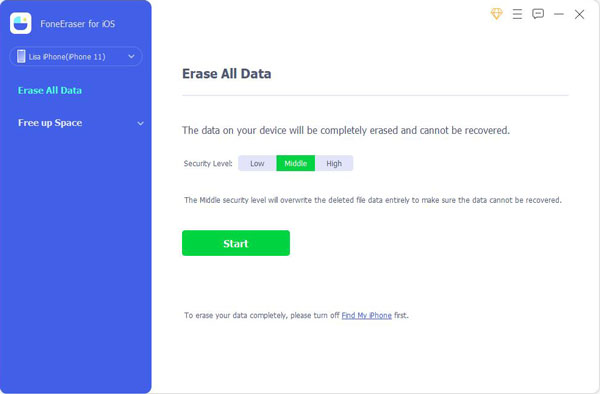 Step 5After your device is connected, click the Start button to begin erasing and then click Yes to confirm the procedure.
Except for iCloud, you can also back up your iOS device locally through iTunes. Better safe than sorry, right?