Erase iOS Data Now
Easily erase all contents and settings on iPhone, iPad or iPod completely and permanently.
How to Clean Junk Files on iPhone (Ultimate Guide in 2022)
Hi, I am new to iPhone before I had used HTC. I am quite curious how to remove junk files that are downloaded via mail, web browsing, Facebook etc., which can occupy some space and slow down my phone. I can't find any way how to do it. Thanks a lot for the answers.
iPhone junk files includes temporary and corrupted files, cookies, caches, crash logs produced by the third-party applications that we use frequently. With the increasing memory hogs and junk files, you will find your iOS device is running slower and slower. To clean up apps and speed up your device, you can delete the junk files from the application itself. Although not all apps are with the exactly same path, most of them are pretty similar.
Before we dive in, you should know you can check iPhone Storage through Settings > General > iPhone Storage. Detailed categories and their size will be shown on the page. Then you can decide what to do next.
Let's take Safari and YouTube apps for examples.

Part 1. Clear App Cache on iPhone
People who are prone to use many applications on iPhone would find that their devices are running out of storage. Such as Safari, YouTube, WhatsApp, Snapchat, etc. Expecially the social media platform app and media file players on iPhone take most of iPhone space. In order to get more spare space you can choose to remove their junk files one by one.
1. Clear Safari Cache on iPhone
To clean history and cookies from Safari, go to Settings > Safari > Clear History and Website Data. To delete other stored information, go to Settings > Safari > Advanced > Website Data > Remove All Website Data.
2. Clean Junk Files Generated by YouTube
Launch the YouTube app on your iPhone, tap on the Menu button, which is three-dots ranking vertically on the upper-right corner. Choose Settings from the expanded list, and then select Clear watch history and Clear search history respectively under Privacy option to erase all caches and histories.
Part 2. Reboot iPhone to Clean Junk Files
Restart iPhone can solve most of iPhone issues, stop unnecessary activities, remove junk files, etc, automatically. Go to Settings > General > Shut Down to reboot iPhone. Swipe the slider to right to power off iPhone.
After that, holding the power button until you see the Apple logo.
Part 3. Hidden Feature to Remove iPhone Junk Files
Apple said that their users don't need to clear device cache files as these data will be removed automatically if needed. However, there is a hidden feature to help you do this. You can check its detailed instructions as below.
For iPhone without Home Button
Step 1Fistly, enable iPhone responsive touch icon through Settings > Accessibility > Touch > AssistiveTouch.
Step 2Then go to General section in Settings app and tap Shut Down button.
Step 3You can see the power off screen now, tap the Assistive icon and holding Home button.
Step 4Enter the passcode and wait for seconds.
For iPhone with Home Button
Step 1Holding the power button until you see the slide to power off page.
Step 2Pressing the home button until it returns to home screen.
Part 4. Offload App to Clean iPhone Junk Files
Offload app is a new on later iPhone models through removing unwanted app data. However, the app documents and data will be kept and placed back when you reinstall it.
Step 1You can go to Settings > General > iPhone Storage. Scroll down to find the app you want to clean junk files, tap Offload App.
Step 2After it finished, you can see a Reinstall App appears, tap on it.
Part 5. Reinstall App to Clean Junk Files from iPhone
Step 1As you can see you can access your app through Settings > General > iPhone Storage and then tap Uninstall App instead to delete an app from iPhone. You can also holding its app icon on iPhone h one screen and tap the remove icon instead.
Step 2After that, open App Store and input the name of app in the search box and tap the install icon again.
Part 6. Clear iPhone Junk Files from PC with FoneEraser for iOS
You can delete junk files by this method, but it's very troublesome as you need to open each app and clear history on safari one by one. what's more, some hidden temporary files can't be cleaned completely in this way. So I would like to introduce a professional junk file cleaner – FoneEraser for iOS, which is your best choice with one-click cleaning function.
Feature 1. Erase Junk Files
Step 1Free download and install the program onto your computer and then it will launch automatically once it finished.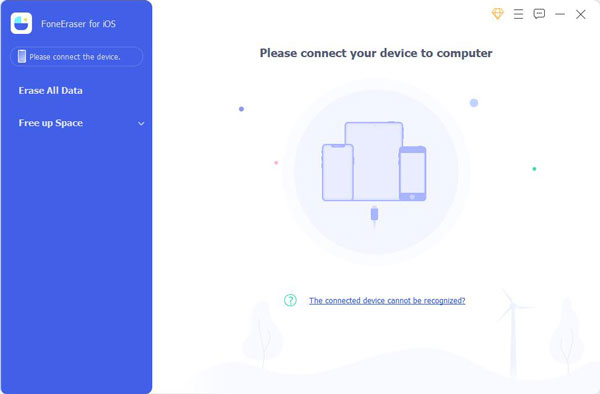 Step 2Plug your iPhone to the computer via USB cable, and enter passcode on your phone if it is locked. Tab Trust on device for iOS 7 or higher version.
Step 3The software will soon detect your iPhone, if not, click the icon right behind Failed.
Step 4Click Free up Space > Erase Junk Files.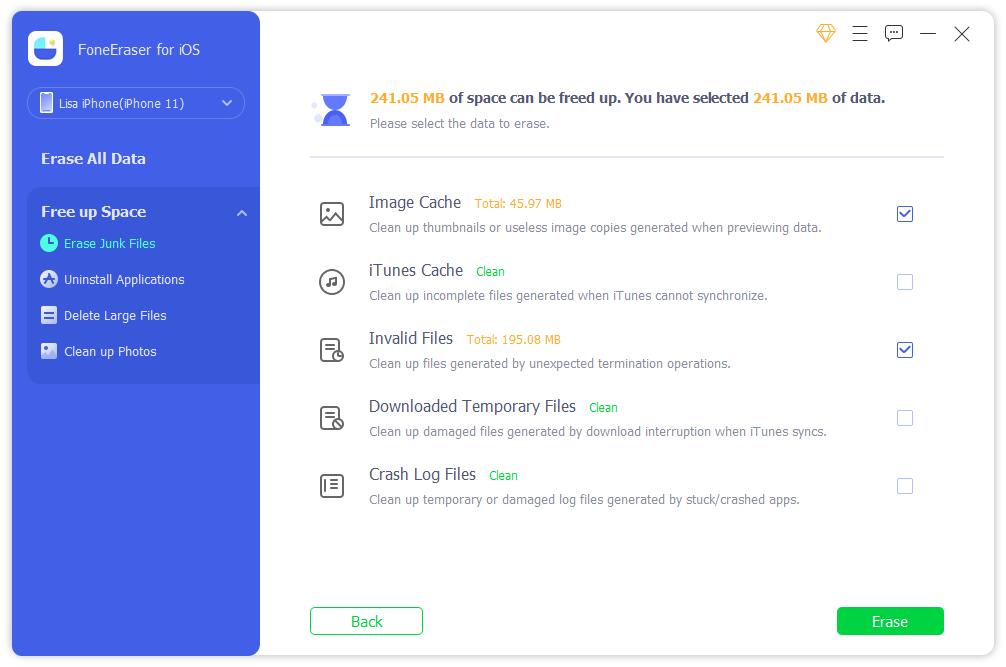 Step 5After Loading, all available junk files will be listed on the interface. Check the items and click Erase.
Feature 2. Erase All Data
Step 1Select Erase All Data then an erasing level (Low, Medium or High). High Level is recommended here.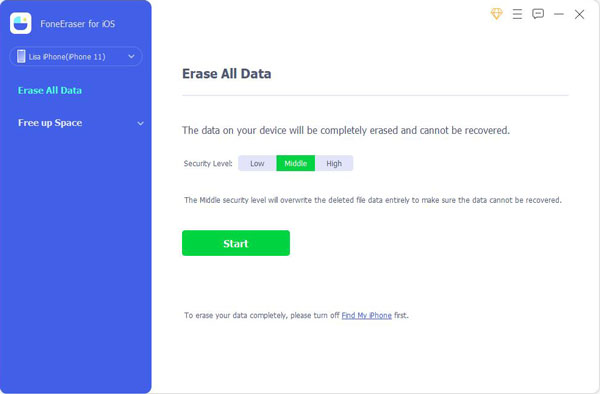 Step 2After your device is connected, click the Start button to begin erasing and then click Yes to confirm the procedure.
Feature 3. Uninstall Applications
Step 1Select Free up Space > Uninstall Applications.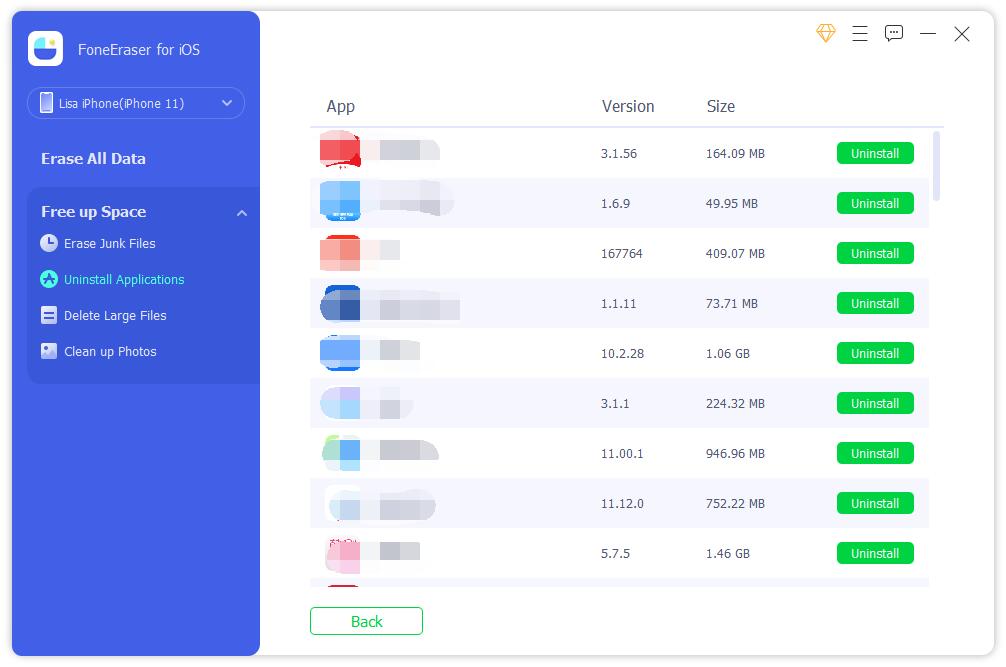 Step 2Aside from the built-in apps, all available applications can be removed will be shown on the interface, click the Uninstall button.
All content and settings will be wiped out thoroughly and permanently with this free iPhone cleaning app. So if you want to sell your iPhone, iPad or iPod, it's smart to erase your device with this software before selling it, because you don't need to worry about the deleted information will be recovered by some data recovery tools. Moreover, it is your best choice to clean up iPhone storage.
Part 7. Clear iPhone Junk Files through Resettings iPhone
The most common used method to reset iPhone is through Settings > General > Reset > Reset All Contents and Settings. It will automatically erase all data from iPhone, you will get a totally new device after that.
That's it. You can always find some alternative methods to fix the same problem, the point is that the suitable one will finally help you figure it out. Why not have a try now!