5 Ways to Unlock Apple ID with or without Password (Step by Step)
Why has your Apple ID been locked or disabled? It is because you or someone enter the wrong security questions and Apple ID account information in a row. To protect your security, your Apple ID will be locked automatically. Apple will notify you that your Apple ID is locked for security reasons. You are not allowed to sign in to any Apple device with this locked Apple ID or password.

What you can do to unlock Apple ID and regain your Apple account? There are complete Apple ID lock removal solutions. You can use the default Apple ID unlocking solutions to unlock Apple ID for free. Even though you fail, you can use a professional iOS unlocker tool to remove Apple ID from your iPhone, iPad, or iPod Touch successfully. To some degree, you can unlock and reset Apple ID and password with an almost 100% success rate. Just read and follow.
1. Can't Unlock Apple ID? Try This iOS Unlocker
Though you can use the default Apple unlocking support, you need to obey its Rules. If you haven't enabled Find My iPhone, or you forgot security questions and email, you can still use FoneLab iOS Unlocker to unlock Apple ID successfully. It is easy to bypass a locked Apple ID by yourself. Just connect your iOS device to the computer. Later, follow the on-screen clicks to fix a disabled and locked Apple ID with ease. Here're the main features of the Apple activation lock bypass tool.
Remove Apple ID without password, email, phone number, security questions, and other information.
Get into the locked iPhone, iPad, and iPod Touch without the forgotten Apple ID and password.
Unlock Apple ID and password on the latest iPhone 12 and iOS 14 devices.
Clear and easy-to-understand options on an intuitive interface.
Free download FoneLab iOS Unlocker. To unlock Apple ID without email and security question, choose Remove Apple ID in the main interface.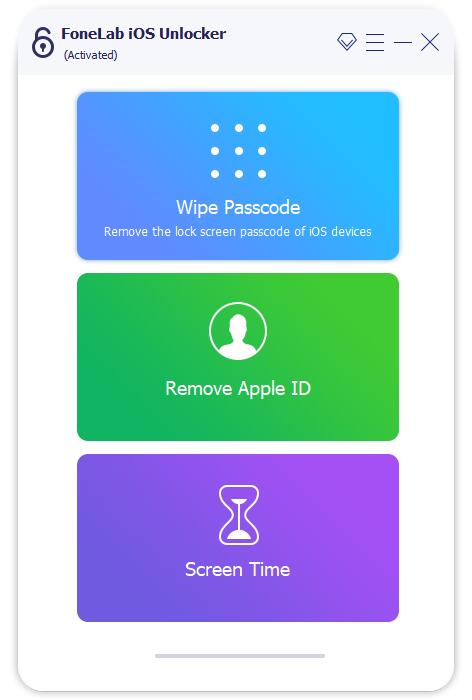 Connect your Apple ID locked iPhone to the computer with a USB cable. Tap Trust on your iPhone. Enter the screen passcode to unlock your iPhone.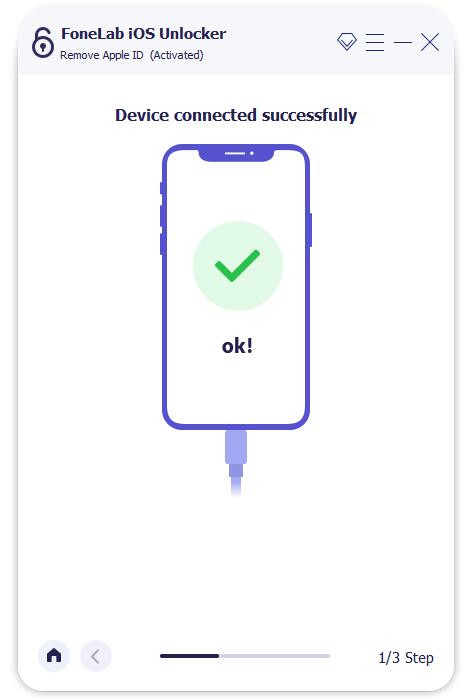 Click Start to remove Apple ID and iCloud account. If you have enabled Find My iPhone on your iOS device, you need to turn it off manually. Go to the Settings app. Choose iCloud and then Find My iPhone. For iOS 11 and earlier users, you need to choose General, Reset and Reset All Settings in the Settings app instead.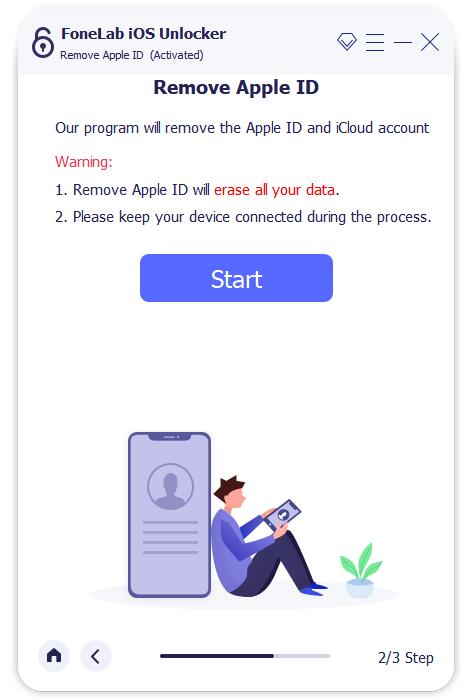 Wait for a while to complete the Apple ID unlocking process. Your iPhone will restart and then remove Apple ID automatically. At last, click OK when you see You have unlocked your device successfully on the screen. Now you can set a new Apple ID on your iOS device.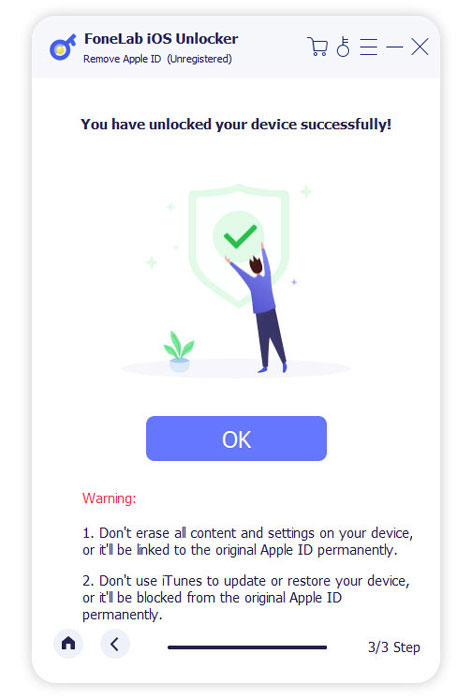 2. How to Unlock Apple ID
There are also other 4 Apple ID unlocking ways you can use. You can get back the account information by providing or answering some questions.
Way 1: Unlock Apple ID with Two-factor Authentication
By preparing a trusted device or trusted phone number, you can unlock Apple ID account via two-factor authentication. Moreover, you need to remember your Apple ID password and unlock screen passcode. This method works for iOS 9 and later iOS devices.
Sign in to your Apple ID and password on a new iOS device or browser.
Find a sign-in notification on your trusted device.
Tap Allow to confirm and receive the verification code.
Enter the verification code to complete the sign-in process.
If you don't have a trusted device around, you can send the verification code via a text message or phone call. Now you can sign in to your account.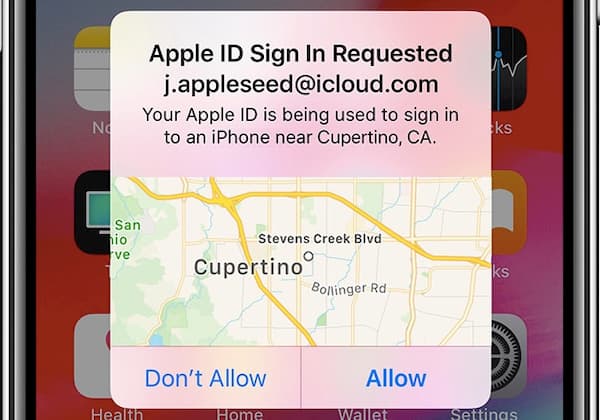 Way 2: Unlock Apple ID with Recovery Key (iForgot)
You can also use the recovery key to regain access to your Apple ID account. When your Apple ID gets locked, you can use the official Apple ID unlock service. Here are the detailed steps to unlock Apple ID for free via recovery key.
Open the iforgot.apple.com. Sign into the Apple ID account.
Choose one option to reset the Apple ID password.
To verify the ownership, enter your recovery key.
Choose a trusted device to receive the verification code.
Remove and reset the Apple ID with iForgot.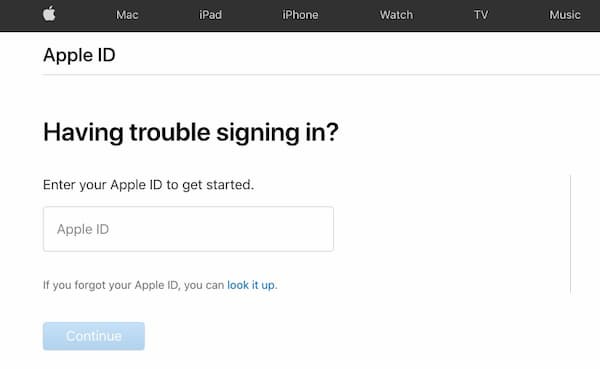 Way 3: Unlock Apple ID with iCloud Remotely
If you buy a second-hand iPhone, you can remove Apple ID locked by a previous user. To be more specific, you can ask the previous iPhone user to unlock Apple ID account with Find My iPhone. If it is your own iPhone, you can unlock Apple ID activation with iCloud as well.
Open the iCloud website. Sign in to iCloud with your current Apple ID and password.
Choose the Find iPhone or Find My iPhone option.
Unfold the All Devices list on the top. Find and select your iOS device.
Choose Remove from Account to unlock Apple ID on iPhone. Later, restart your iPhone and complete the setup process.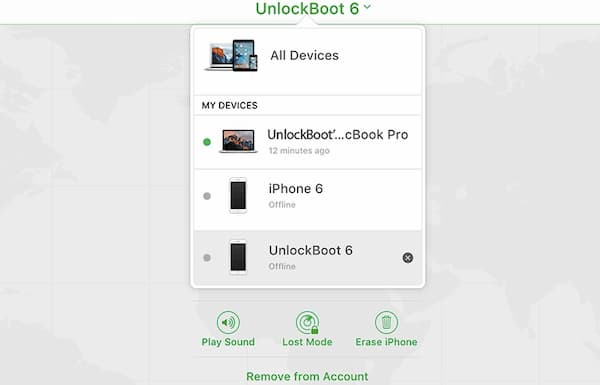 Way 4: Contact the Apple ID Support Team
If you see alerts like "This Apple ID has been disabled for security reasons.", "You can't sign in because your account was disabled for security reasons.", "This Apple ID has been locked for security reasons.", you can contact the Apple Support team for help. Before retrieving and unlocking Apple ID account, you need to answer some questions. Because Apple needs to make sure you are the real owner of this Apple ID account. If you pass the security protocols, you can unlock your Apple ID successfully.
3. FAQs of Apple ID Unlocking
Can Apple ID be unlocked after 24 hours?
Yes. But there is no need to wait for such a long time. You can use FoneLab iOS Unlocker to remove a locked Apple ID with ease.
How to fix this Apple ID is not valid or not supported error?
You can visit the official iforgot website to unlock your Apple ID with the existing password. Or you can use FoneLab iOS Unlocker to unlock Apple ID account without password.
Can you delete your Apple ID without a phone number?
Yes. You can remove the activation lock and Apple ID with Find My iPhone and FoneLab iOS Unlocker.
That's all to unlock Apple ID with these or those tools. If you don't want to consider the locked Apple ID problem, you can use FoneLab iOS Unlocker to solve the problem easily. It is the most recommended Apple ID and password unlocking tool. With the free updating service and email support, you can feel free to free download and have a try right now.
Related Articles:

Leave your comment and join our discussion