Erase iPhone Now
Easily erase all contents and settings on iPhone, iPad or iPod completely and permanently.
How to Delete Messages from iPhone (5 Methods in 2021)
Send Messages or iMesssges so convenient that you can use it to send text contents, photos, videos, location and other media files. There are amount of personal information and privacy in it. I want to donating it because I have bought a new iPhone 12 now. So how to delete iMessages or text messages on iPhone?
Messages always contains important personal information like passcode, privacy file and others. It is vital for iPhone users to erase all these information on device, not only messages, but also contacts, photos, account, cache, history, cookies, apps, etc.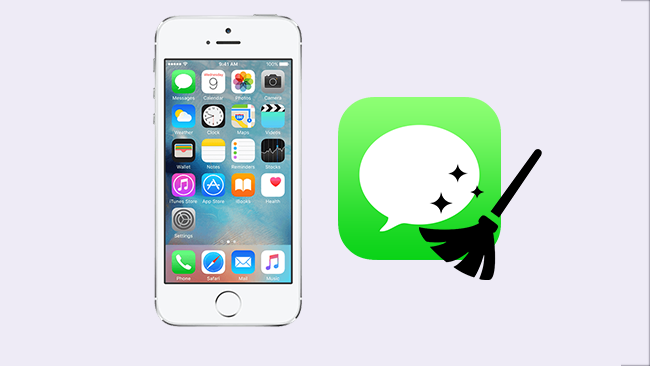 There are different ways to remove messages or iMessages from iPhone, iPad or iPod touch. You can choose below 4 ways about how to delete messages on iPhone according to your circumstance.
1. Get Messages off from your iPhone Message App
On your iPhone, you can access messages app to manage your texts with simple taps. Below is detailed steps to delete messages on iPhone.
Step 1Go to the Settings > Messages.
Step 2Tap the Edit on the top left corner.
Step 3Tick the items you want to delete.
Step 4Tap Delete to remove them,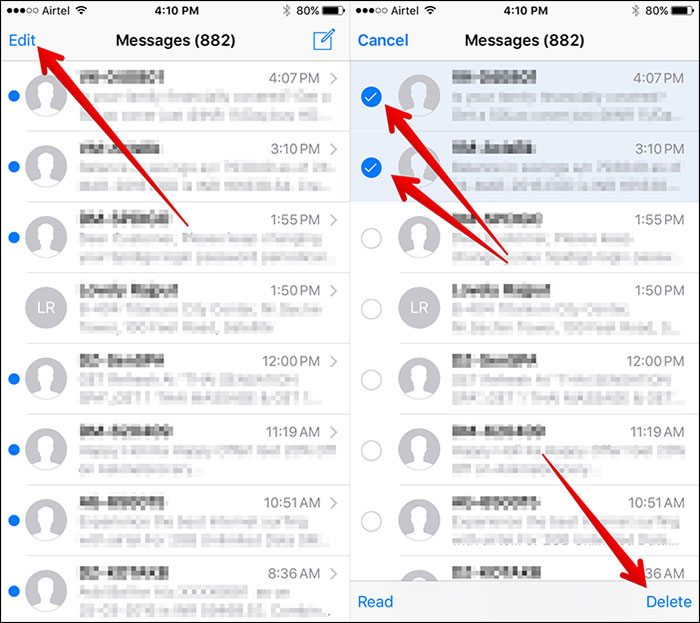 Tips: Do not want the received messages displayed on the locked screen? Learn how to turn off message preview on iPhone.
2. Clean Older Messages on iPhone with Settings
If you want to delete some messages to free up some iPhone storage space only, you can follow below tutorial to save space substantially and won't delete all messages.
Step 1Find Settings and then get the Messages item.
Step 2Tap Messages History > Keep Messages.
Step 3There are three options here, including 30 Days, 1 Year, and Forever. You'd better to choose the 30 Days to delete messages older than 30 days for more storage on iPhone.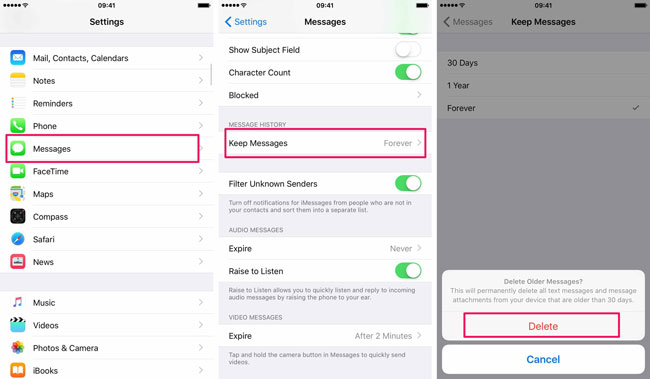 3. How to Delete Messages on iPhone from Both Sides
If you want to learn how to delete a message on iPhone from both side, you have come to the right part. As you might now, iCloud enables users to sync iPhone data including messages, photos, contacts, etc among different devices. Well, it can be one of the methods to help you detele iPhone texts.
Firstly, you should enable messages for iClous syncing through Settings > device name > iCloud > Messages.
Then delete unwanted messages on iPhone. After that, when your locked and charging iPhone is connecting to internet, messages will be deleted from both sides.
4. Reset iPhone to Remove All Data
If you don't mind to remove all data on iPhone, you can try to reset iPhone as a new device. You have 3 options as below.
Option 1. iPhone Settings
The first one should not miss is to access iPhone settings app, and choose resetting feature. Below is how to delete messages on iPhone 11, 12 and earlier verions.
Step 1Go to the Settings app and then tap General.
Step 2Scroll down to find the Reset.
Step 3Choose Erase All Contents and Settings, and then enter your passcode.
Step 4Tap Erase iPhone twice.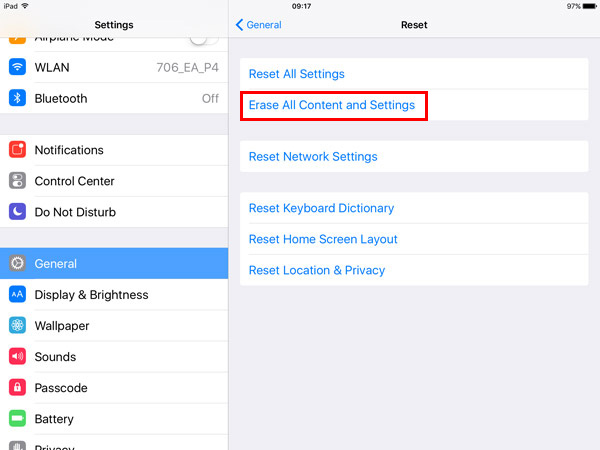 Option 2. Access iCloud Account
As one of the convenient Apple way, iCloud enables you to reset iPhone data without neither computer nor iTunes. Below is how to clear messages on iPhone.
Visit icloud.com on mobile phone browser webpage, log into your account. Then you click Find My > choose your device, choose Eraser This Device.
Option 3. Using iTunes
iTunes allows you to manage iPhone data with ease. And you can also restore iPhone with it on computer. Run iTunes and connect iPhone to computer. After detection, choose device icon > Summary > Restore iPhone.
Note: If you delete a message accidently, you can undo message delete iPhone via FoneLab iPhone Data Recovery.
Some people would ask "why can't I delete messages" on the internet, if you are one of them, please move to the next part of powerful method.
5. Delete iPhone iMessages or Messages with FoneEraser for iOS
Please note that this way will erase all contents and settings on your iPhone or iPad, make sure that you have backed your vital data up before you clear them completely. Actually, there is a concern probability that these deleted data can be recovered with professional iPhone data recover tool. So if you want to ensure your data are unrecoverable, FoneEraser for iOS is highly recommended to you to delete all data and files from device. Please read below steps to learn how to delete saved messages on iPhone.
Step 1Download and install the program on your computer. Then it will be launched automatically. If not, please run it manually.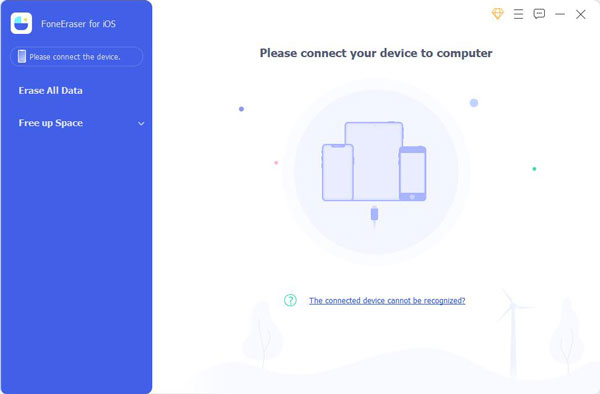 Step 2onnect your device to computer with USB cable. And tap Trust on the iPhone screen for detection if it pops up.
Step 3Choose Erase All Data. There are three erasing levels for options. High Level, Medium Level, Low Level are all protects your data can not be recovered, so you can choose one of them according to your needs.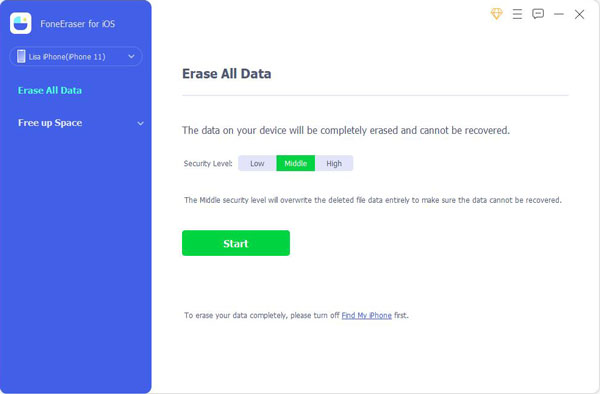 Step 4Click Start on the right if you are ready to remove all data on iPhone and then click Yes .
You can also use FoneEraser for iOS to delete emails on iPhone, remove photos from iPhone and more. If you want to clear all contents and data from iPhone, including cookies, junk files, personal information, Facebook, Twitter, settings and more, FoneEraser for iOS helps you to get all of them off your iPhone, iPad or iPod touch permanently, efficiently and thoroughly.