How to Fix iTunes Won't Sync Music to iPhone
"I backed up my iPhone before upgrading to iOS 10 and added more music onto iTunes to sync with my phone. but iTunes refuses to sync this new music after upgrading. I have no idea why iTunes not syncing music to iPhone anymore. What should I do to fix this problem?"
Since upgrading to iOS 10, many users have reported that they are facing issues when it comes to syncing music with iTunes. When they try to add a new song to a playlist, it doesn't appear on their device no matter how many times they try. But when they look at their device on iTunes, it actually shows up as on the device. Why will this happen? Actually, an old version of iTunes can cause iPhone not syncing music with it. So before you do more further actions, update iTunes version to 12.5.1 which supports the latest iOS 11 first. If this doesn't help, below tips may be workable for you somehow.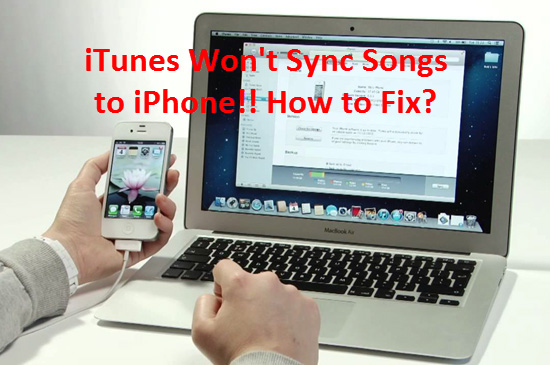 Change another USB cable.
Make sure you are in good internet connection..
Turn off iCloud Music Library and iTunes Match on iPhone: Go to Setting – Music to turn off it.
Turn off "Show Apple Music" on iPhone: Tap Settings – Music to turn off Apple Music.
Turn off "Show Apple Music" on iTunes (Computer): iTunes – Edit – Preferences – General – Turn off Show Apple Music – Click "OK".
If you are toubleshooting iTunes errors, read the linked guide.
If all above solutions won't fix the problem, turn to use iTunes alternative tool to manage your data. Check below step by step guide to do it.
How to Sync Music to iPhone without iTunes
I strongly recommend to use FoneTrans for iOS, a good iTunes alternative iOS management tool. With it, users can freely transfer music between iOS device and computer without no limitation. Other data like photos, videos, movies, contacts, messages, etc are all under your control too. The software supports almost all Apple models and works both on Windows and Mac computer. Let's see how it works.
Choose the above link accordingly in order to download the software on your computer. It will automatically open immediately once the installation is finished. Connect your iPhone to the computer, then you will get a window as below once the program detected your device.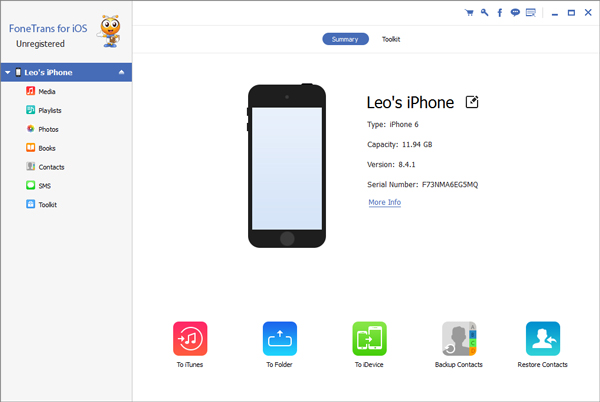 You will see contents like Media, Playlists, Photos, Books, Contacts and SMS displaying in the left column. Click Media and then you will have several options to select, such as Music, Movies, TV Shows, Music Videos, Podcasts, etc. Select Music and click on the Add button, then you can choose the music you want to copy to your iPod from the computer. Wait for the process to complete.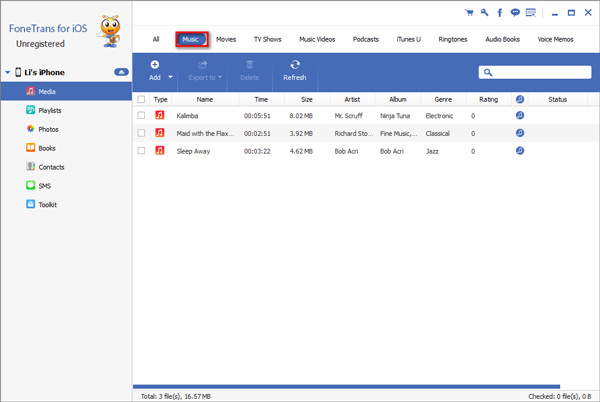 As you can see, it's very easy to manage files with this software. On the other hand, it's also a good way to fix iTunes not syncing with iPhone. If you have any workaround to solve the issue, please leave us a comment. We will appreciate for it.
<
Related Articles: