How to Put MP3 on iPod
"I have downloaded a variety of MP3 files on my computer. I want to copy them to my iPod so that I can listen to them anywhere and anytime. Is it possible to add MP3 to iPod from computer? How do I put music on my iPod? I appreciate for your advise."
iPod is an ideal portable device to store and play audio files encoded by MP3 and AAC. Uses love to listen to music with their iPod while on the road. Meanwhile, iTunes is the default and nice tool to play music and sync music to iPod. Before you can put these MP3 files onto your iPod, you have to manually add them to your iTunes library on the computer first. Fortunately, iTunes supports audio files in MP3, WAV, M4A and AIFF format, so you can absolutely add your MP3 music to the iPod through iTunes. However, some of the Apple users may have encountered a problem that "songs are not copied to iPod and cannot be played" There are also some users complaining that iTunes is too bulky, especially when using it to manage thousands of songs and videos. In this article, I am going to show you how to put music on iPod with and without iTunes.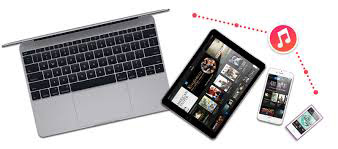 1. How to Add Songs to iPod with iTunes
Connect your iPod to computer and run iTunes if it doesn't open automatically.
Your iPod will automatically sync with iTunes by default. So change the settings by going to iTunes Preferences – Devices – check "Prevent iPods, iPhones, and iPad from syncing automatically".
Add your MP3 files to the iTunes library.
Click the icon of your iPod on iTunes. And then select the Music tab so as to tick your playlist under the Selected playlists.
Click Sync or Apply.
2. How to Put Music on iPod without iTunes
As we all know, syncing may erase all original files on your iPod especially when syncing with a different computer. To avoid this happen, the best option is stop using iTunes, but use another iOS data management software to manage iPod without iTunes. I highly recommend you to use FoneTrans for iOS which is more effcient and easier to manage files than iTunes does. what's more important is that you will not lose data because of it. Well, let's get started now.
Choose the above link accordingly in order to download the software on your computer. It will automatically open immediately once the installation is finished. Connect your iPod to the computer, then you will get a window as below once the program detected your device.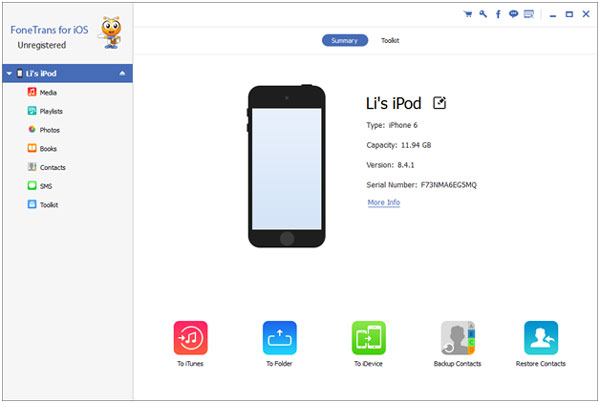 You will see contents like Media, Playlists, Photos, Books, Contacts and SMS listed in the left column. Click Media and then you will have several options to select, such as Music, Movies, TV Shows, Music Videos, Podcasts, etc. Select Music and click on the Add button, then you can choose the MP3 files from your local folder to transfer. Wait for the process to complete.

That' s it! Super simple operation to add songs to iPod without iTunes. Additionally, all music can be converted to MP3 format by FoneLab for iOS automatically. So you don't need to worry about your music are not in iTunes-compatible format. You can not only use this tool to transfer music without iTunes, but also do many more other things, for example, transfer photos from camera to iPad, add PDF to iOS device, backup your iPhone to external hard drive and so on.
Related Articles