Copy and Paste Text and Pictures - How to Copy and Paste on iPad
You can copy text or images from your Safari and paste them where you want to paste them, such as notes, email.
Pasting and copying on an iPad is not a very difficult task. You only need some operations to use the copy and paste on iPad.

1. How to copy and paste text on iPad
How to copy and paste text from Safari on an iPad
Open your Safari, and then touch a word on the web page in the area where you want to copy some content
When the magnifying glass appears and the word is highlighted, quit touching the word.
The iPad will now display your word in a Copy range. The range will have two blue dots, one in the upper-left corner, and the other in the lower-right corner. Drag these dots left and right, respectively, to select the range of words you want to copy.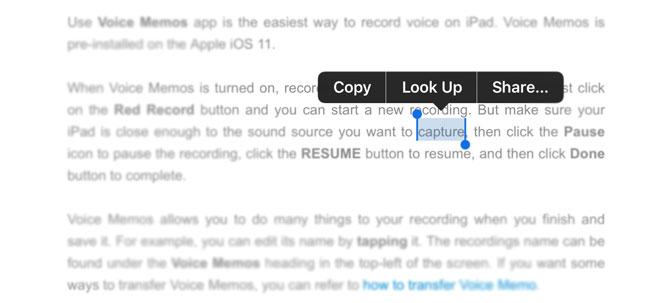 After you've selected the range of words to copy, press the Copy balloon text. It will briefly turn blue, indicating that the text has been copied to the clipboard.
That's all you have to do to copy iPad text. Now let's look at how to paste it somewhere else.
Now that you have copied iPad text to memory, you can paste the content somewhere else, such as into a note, follow these steps:
Open the iPhone Notes editor, and press the icon to compose a new note.
In the area where you want to paste the content from the clipboard, press and hold your finger down in the area where you want the content pasted.
In about a second the magnifying glass will appear, and you can stop pressing the display. At this point a widget will appear with three options: Select, Select All and Paste. Just press the Paste button in the widget, and your content will be pasted into your email message.
How to copy and paste text to conversation input box on an iPad
just like copy and paste text from safari, you should hold and tap the text you want. When the magnifying glass appears and the word is highlighted, quit touching the word, a flashing cursor will appear.
If you'd like the cursor in a different location, just drag your finger over the text until it's in the location you'd like it to be. Loosen your fingers, a menu of buttons will pop up, and blue left and right control points will appear on either side of the highlighted text.
Then you can tap Select or Select All, after that tap Copy. The buttons will disappear, and the highlighted text has been copied to your device's clipboard.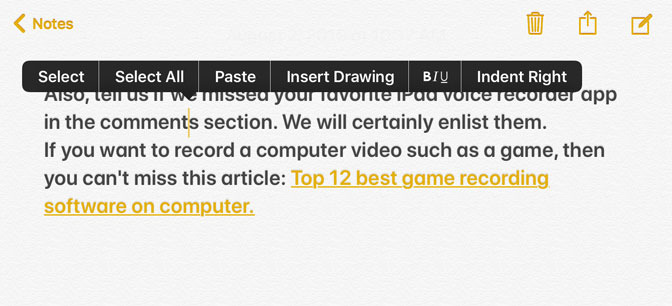 Go into your conversation input box, Hold down the input field and let go until Paste button appears. This Paste button will appear above the place where you tapped. Click it, the text you copied will be inserted.
Note: The Paste option will not appear unless there is something stored in your device's clipboard from a Copy or Cut command.
Tips: Pasting with iPad Virtual Keyboard
There's another great copy, cut, and paste feature that is unique to iPad, and it utilizes the onscreen virtual keyboard.
iPad users can also paste any data from the clipboard that has been copied or cut by using the keyboard paste tool, accessible by tapping on the little undo button and then choosing the square overlapping a clipboard icon.
This keyboard based paste function will use the exact same clipboard data as the contextual menu version.
2. How to copy and paste pictures on iPad
How to copy and paste pictures from safari on an iPad
When using Safari on your Apple iPhone, iPad or iPod Touch, many people don't know that there is a way to save the images that appear on web pages. Here's how it's done.
Touch and hold the image that you wish to save for about 2 seconds until a menu appears. Tap Copy.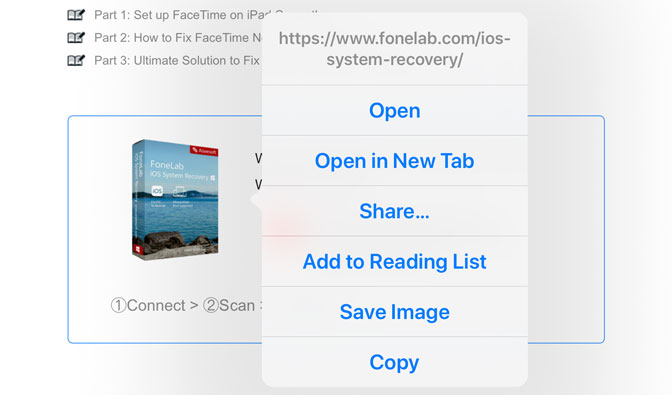 Once copied, you can paste the image into anything. In this example, we will paste image into a new note.
Tap once in the window, and choose Paste. The image will now appear.
As you can see, copy and paste is not a difficult process. But it is tucked away like a lot of other options. You just need to know where to look for it.
How to copy and paste pictures from Photos on an iPad
Images can also be copied and pasted from one app to another.
Open Photos. Select the photo you want to copy and hold it until it expands to fill the window.
Tap the Share button which is a blue, rectangular icon that contains an upward-pointing arrow.
Tap Copy which is a gray icon in the lower-left corner of the screen that looks like two overlapping rectangles.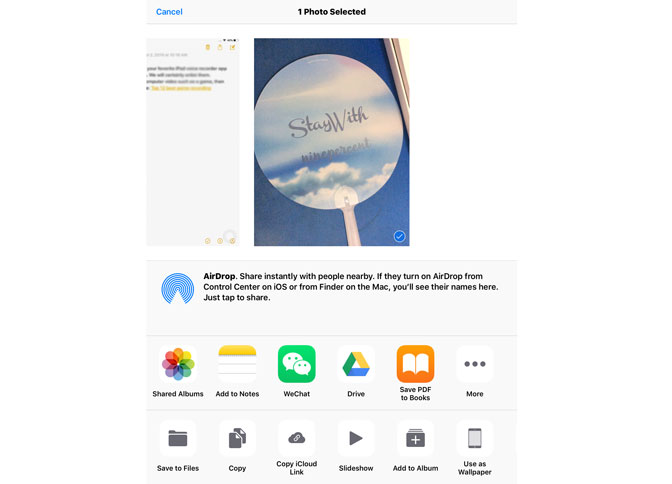 Tap and hold the location where you want to paste the image. Do so in an app that allows you to paste images, such as Messages, Mail, or Notes.
Tap Paste. Now you've pasted the copied image into the selected location.
Tips:
If you want to transfer your photos from iPad to PC, you can use FoneTrans for iOS.
FoneTrans for iOS is a professional iOS transfer tool. It could transfer photos between iOS devices and computer or between different iOS devices.
To know more about transfer pictures from iPad to computer, you can refer to this article: Transfer photos from iPad to PC.
Related Articles

Leave your comment and join our discussion