Backup Android Data Now
Backup and restore Android data to your computer easily.
SMS Backup & Restore – Backup Android Phone Text Messages
To get before the times, the function of sending and receiving text messages on mobile phone has become more and more multifunctional.
So,
Mobile phone users also can send and receive media files like photos, videos, audio and more with this SMS app.
If you are a fan of technology news, you might have known that Apple allows iPhone users to make the payment via SMS app.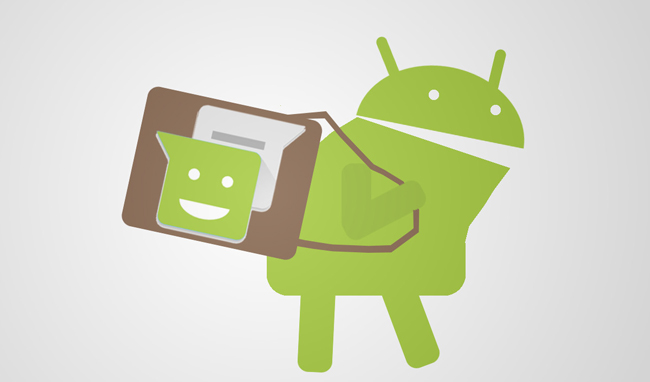 As you see, there are so many valued information on it, so you can't imagine that you lost the messages on your Android phone and you don't have 100% guaranteed to get them back with Android data recovery tool because the data might be overwritten by new data you created during the process of using it.
It will be a disaster if you lost your data on Android phone without backup file that you have stored initial document for your meeting or contract or photos and videos of your family's birthday party.
When you facing up this situation, stop using your Android phone as you can, and then download and try to scan and recover Android data from device directly with FoneLab.
The best bet to make sure that you won't lose your data is backing up Android phone regularly so that you can restore data from backup file.
It is common that Android phone users don't have to custom to backup Android data, even that they don't backup Android phone data at all.
How to Backup Android Phone Text Messages?
There are 2 different ways to backup SMS on Android.
For example, let's backup Android SMS with Gmail.
1. Backup Android SMS with Gmail
Cloud service backs up almost all data on Android but text messages. It is necessary to make a backup for these SMS because they contain some precious photos or heavy files in it.
There are different Android SMS backup tools to help mobile phone users backup SMS, but some of them save these messages as XML format to.
You might be interested in SMS Backup+ app, which is trusted to backup all messages, including text messages, media messages, etc.
Below is the operation steps to backup Android SMS manually.
Step 1Log in your Gmail on your computer, tap the Gear icon located in the upper right corner, and then go to Settings > Forwarding and POP/IMAP.
Step 2Fine the IMAP Acess, and then click the circle next to Enable IMAP.
Step 3Search SMS Backup+, and then download and install in on your Android phone.
Step 4Launch the app, tap Connect and then log in your Google Account you want to use for backing up your text messages on Android.
Step 5Tap Backup when you see the pop-up window on your phone screen.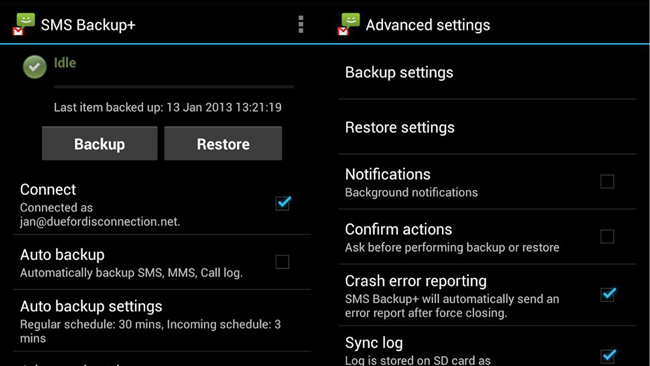 Then it will begin to backup messages on your Android phone depending on the amount of messages stored on your phone.
You can also read backup Android calendars with it.
2. How to backup android data with FoneLab
If you would like to backup Android messages automatically, you are allowed to set it up by ticking the box next to Auto backup, and then it will backup SMS, MMS, Call log automatically.
That might sound complicated, but it isn't.
If you still think that, there are too many steps to finish the process of backing up Android phone text messages, FoneLab Android Data Backup & Restore is highly recommended to you.
FoneLab is a convenient, simple and safe tool to backup and restore Android photos, videos, contacts, messages, call logs, documents, etc.
It also enables you to encrypt Android backup file so that you can protect your personal information safely.
How to backup android data with FoneLab?
Let's break each of these down.
Step 1Run the program on your computer, and then plug the device to computer with USB cable.
Step 2Click FoneLab Android Data Backup & Restore in the interface.
Step 3Select Device Data Backup here.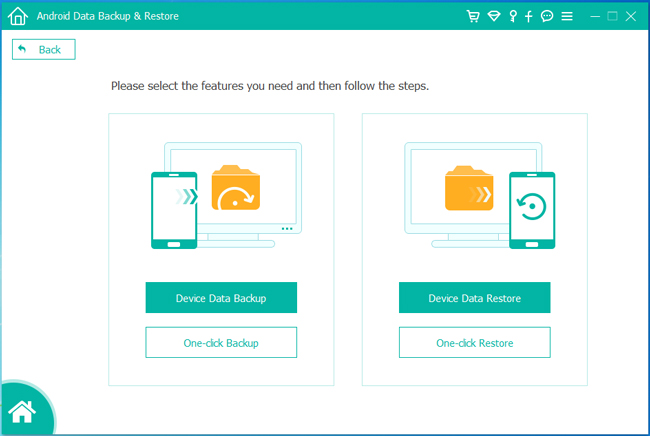 Step 4Choose the data you want to backup and tick the box next to the Encrypted Backup if you want to add a password to your backup file.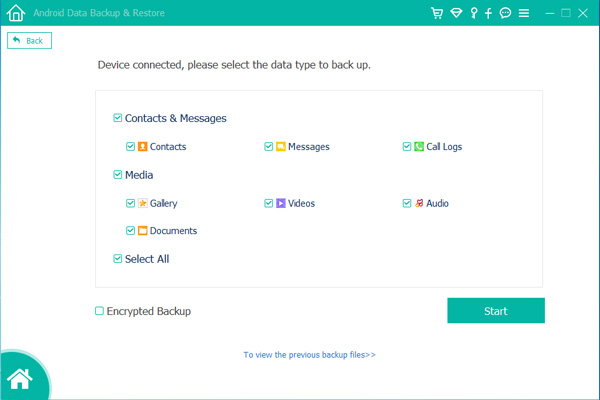 Step 4Select the data type to backup. If you want to add an password to protect your personal information, check the box next to Encrypted Backup.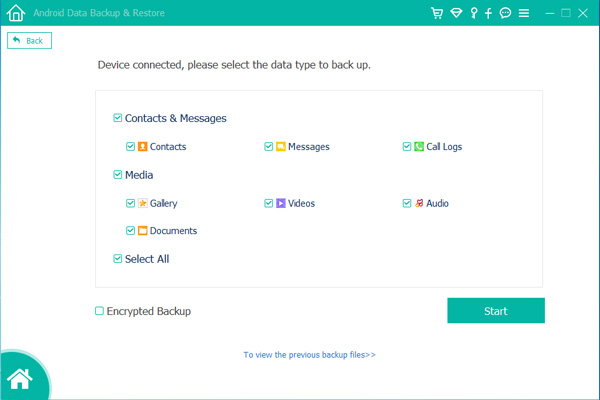 Step 5Click Start, and then click OK on the pop-up window.
After backing up Android data, you might need to know how to restore these data from backup file to Android phone.
3. Backup Android Data with Google Drive with SMS Backup+
If you have backed up Android data with Google Drive with SMS Backup+ app before, you can also restore Android data with itself.
Below is the step-by-step demonstration.
Step 1Launch the app, and then tap Connect to log in your Google account.
Step 2Tap SKIP to next step.
Step 3Tap Restore.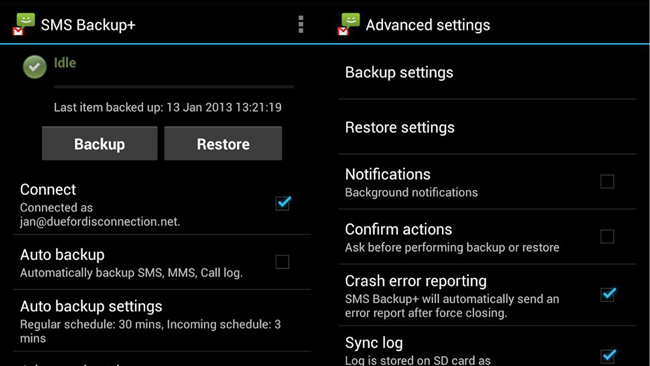 4. How to Restore WhatsApp Backup from Google Drive
FoneLab is a good Android data backup & restore tool, which also helps you to restore contacts, messages, call logs and more from backup files to devices. How can you do? Keep moving…
Step 1Click FoneLab Android Data Backup & Restore.
Step 2Select Device Data Restore here.
Step 3Choose the backup file you would like to restore from, and then click Start.
Step 4Tick the data you want to restore, and then click Restore button in the bottom right corner.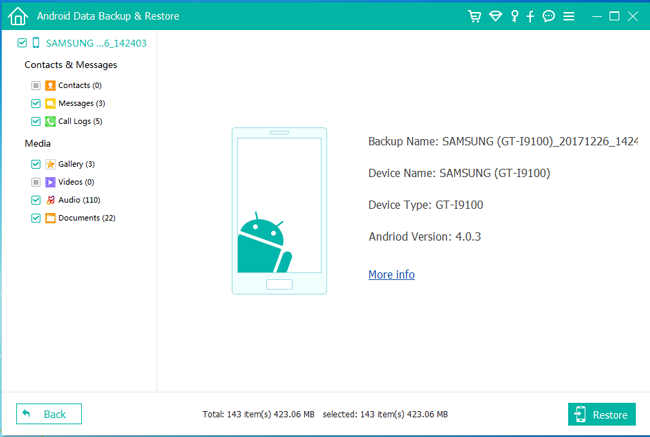 So easy, right?
Read more about How to backup call logs from Android.
FoneLab will be the best choice to help you backup and restore Android data easily and safely. Download and have a try now!