10+ Useful Tips and Tricks about How to Create and Sell Online Courses

Posted by
Lisa Ou
/ March 12, 2021 16:00
Actually, you can sell your knowledge at a good price at home. Creating online courses is a good idea. You can publish and sell your ideas all over the world. As a result, others can attend the class with the Wi-Fi connection only.
Then here comes the question, how to create and sell online courses?

If you have no experience of starting online course businesses before, you just come to the right place.
Generally speaking, you can get inspired from the following paragraphs as a beginner. Now, let's read together to see how to develop online training courses, as well as other attractive contents.
1. 8 Tips for Creating Online Courses
1) Choose the Correct Course Topic
If you do not have many interests on the topic, then you may give up the course easily. There is no need to choose a high-level topic. Just think about your experience. If you can tell others something creative or attractive, that's enough.
2) Make Sure the Market Demand
Then you need to do market researches to know the real market demand. It means a lot if you want to earn a living through online courses. Well, it is also a good way to know competitors in the related topic area. 
3) Create Compelling Learning Outcomes
You can get the right students after the clear learning outcomes. To some degree, you can reduce the refund requests and improve the satisfaction rates effectively.
4) Improve the Quality of Your Course Content
You need to provide something that others do not have. Before creating an online course, you should organize your content completely. Otherwise, the students may not catch what you are talking about.
5) Determine the Delivery Method
You need to think about the most suitable way to deliver your content. If you have no idea, you can organize materials you have first. Do you have related videos, activities, audios or other useful contents?
6) Create a Perfect Online Course
Now you need to shoot or record your online courses. Screencasting and green screen talking head videos are two popular methods. Well, the first one is easy to achieve. You can record the screen of your computer. In addition, you can also record a webcam video of yourself at the same time.
7) Sell Online Courses from Your Own Website or Other Platforms
If you have your own website, then you can promote online courses easily. However, this method does not work for most people. During this time, you need to find related online course marketplaces.
8) Make Ongoing Marketing Strategies
If you want to develop long-term online courses, you need to strategize a lot. For instance, is it going to be your primary income stream? How to price for online courses? You need to consider all details in your business model. 
2. 6 Best Online Course Platforms
1) Udemy
Udemy is a large open online course.  You can get all kinds of classes including development, design, business, IT, marketing, etc. Thus, others can take courses on the computer or smartphone with ease.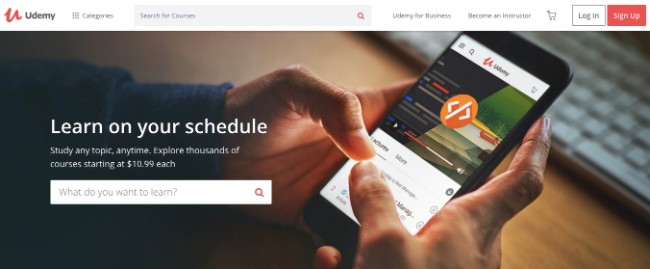 2) Skillshare
Skillshare allows everyone to share expertise and earn money by creating online courses. There are four main categories including creative, business, technology and lifestyle. You can figure out more classes below.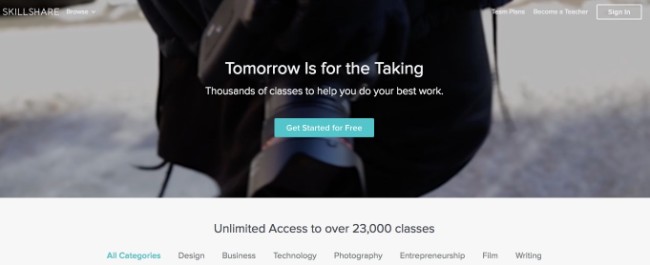 3) Eliademy
By using Eliademy, you can create and edit online courses. In addition, you can embed multimedia content into your online course directly. Well, Eliademy is a one-stop platform that allows users to create and sell online courses.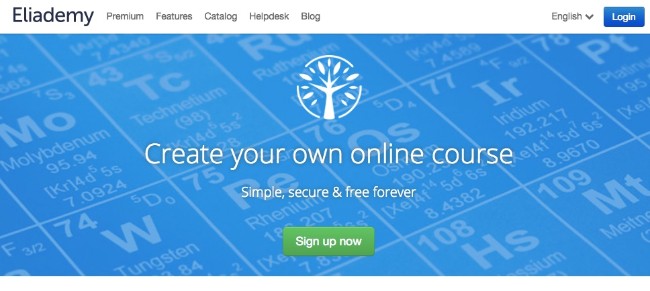 4) Teachable
You may have accessed Teachable free courses before. Actually, you can be a teacher and sell your online Teachable courses too. Teachable allows users to price online course flexible.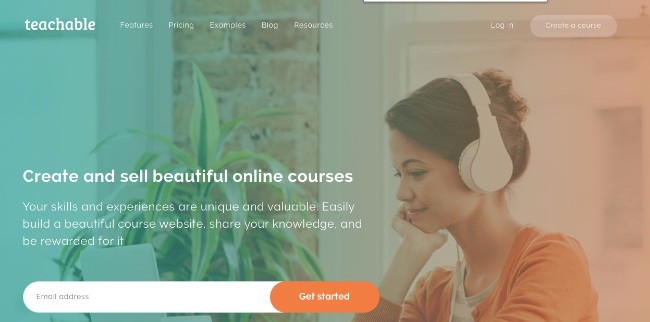 5) Podia
You can sell all profitable digital products by using Podia, as well as online courses. Podia does not charge transaction fees. Thus, once you get its plan, you do not need to purchase other fees.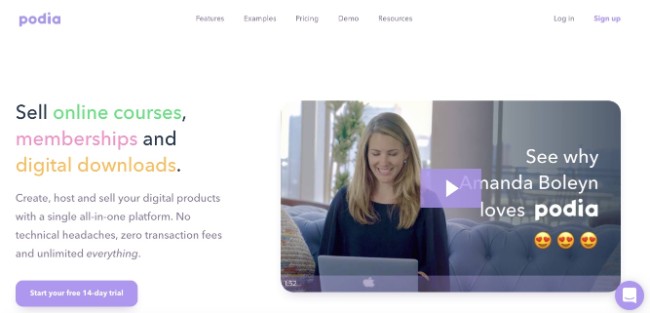 6) Thinkific
You can create, market and sell online courses on Thinkific. There are some templates you can use. In addition, you can build a full online course and create a pre-sell landing page easily.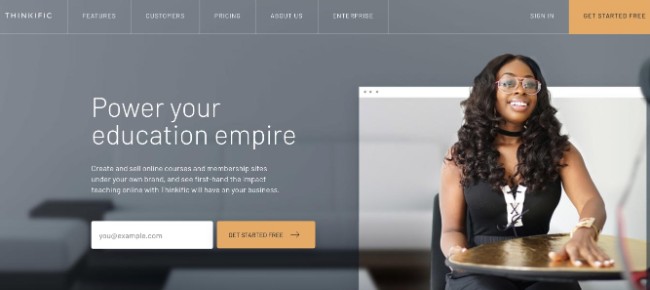 3. Easiest Way to Create an Online Course
Though you can get templates from an online course creator, you cannot get fully customizable controls.
Moreover, it is not an economical method if you want to create online courses for a long time. Some people may want to create an online course with WordPress. 
Well, it may take you a lot of time and money. To be honest, FoneLab Screen Recorder is your better choice. You can record tutorial videos without time limits.
Furthermore, you can strength key points with various drawing tools easily.
1) Main Features of FoneLab Online Course Creator
Record tutorials, gameplays, TV shows, videos and all on-screen activities in high quality.
Capture system and microphone sound on your computer simultaneously or separately.
Take snapshots during or after recording around the mouse.
Add texts, arrows, lines, stepstools in different colors on the video or screenshot.
Export the recording file in different output video or audio formats.
Offer a clean, safe and user-friendly interface.

FoneLab Screen Recorder
FoneLab Screen Recorder allows you to capture video, audio, online tutorial, etc on Windows/Mac, and you can easily customize size, edit the video or audio, and more.
Record video, audio, webcam and take screenshots on Windows/Mac.
Preview data before saving.
It is safe and easy to use.
2) How to Create an Awesome Online Course with Video and Audio
Step 1Launch FoneLab Screen Recorder
Free download and install FoneLab Screen Recorder on your computer. Then launch the program after the installation. If you want to create an online course, you can choose the Video Recorder option first.

Step 2Manage the screen recording settings
You need to set the screen area you want to capture first. Well, you can set the window with width and length accurately. It is also supported if you want to draw with your mouse.
Later, you can enable the webcam feature if necessary. Now you need to choose the input audio source. So choose System Sound or Microphone together or individually based on your need.

Step 3Start recording an online course
Click the REC icon to start creating an online course. You can add any drawing panel on your video whenever you want. In addition, it is also supported to take a screenshot while recording. Well, you can pause and resume the record without time limits.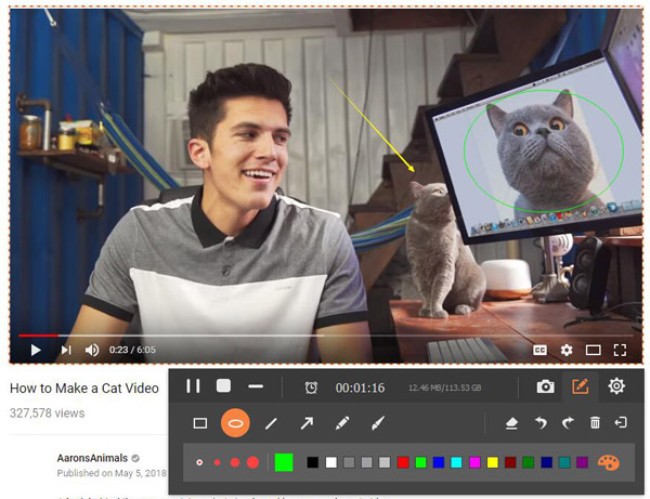 Step 4Save or share your online course
When you choose the Stop icon, you will get a popping-up window. Then you can preview the video before exporting. Then choose the Save icon on the lower right corner.
If you do not want to change the destination folder, you can choose Next to save the video directly. Later, you can share the video to YouTube, Facebook and other social media platforms by one click.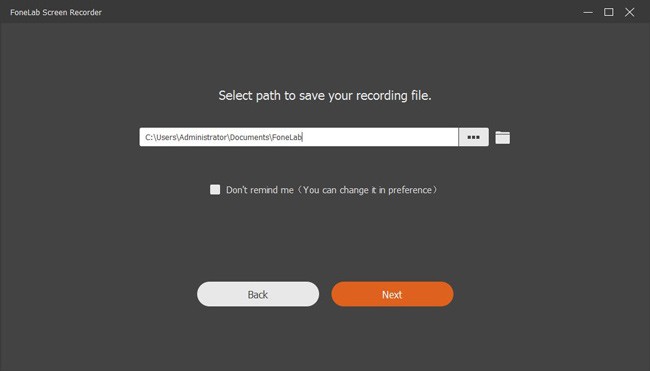 See?
You can create an online course on your Windows or Mac computer effortlessly. Both beginners and professionals can handle this screen recorder software with ease. And you can use it to record gameplay, video, audio and more.
If you are not sure, you can free download FoneLab Screen Recorder and have a try right now.