How to Record Live videos in Great Quality with Webcam Recorder
How to record some excellent live videos for Twitch? If you want to attract audiences with live broadcast, you should know how to take advantage of the webcam recorder to get videos in high quality. The article also introduces some helpful tips to make them professional.
What is most important, you need to choose suitable webcam recording software to get videos for live. FoneLab Screen Recorder is one of the most suitable webcam recorders to capture videos, record audio files, and take snapshots as a profession.
Just read on the article to get some useful information now.

1. Tips about record webcam videos that looks professional
Most of the computers come with a built-in webcam at the top of the screen now. Before taking videos for live broadcast, here are some useful tips to record webcam videos that looks professional.
Step 1 Set up audio recording from an external microphone. Usually the external microphone has a better sound quality. When you connect some professional microphones to a computer, it will greatly improve the audio quality for webcam recording.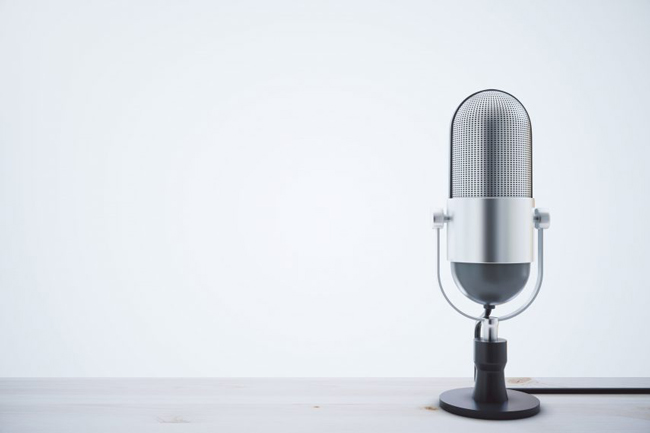 Step 2 Adjust the webcam position and light. Light should be hitting face instead of the camera. Position yourself next to the window or facing the window. If your webcam is fixed, make sure to look into the webcam and not at the recording screen for the best presentation quality.
Step 3Make a clean background for webcam recording. It is important to make sure the background is not cluttered or distracting and that nothing inappropriate shows on the screen. It is not recommended to point your camera to a bright open window, mini-blinds or other striped backgrounds.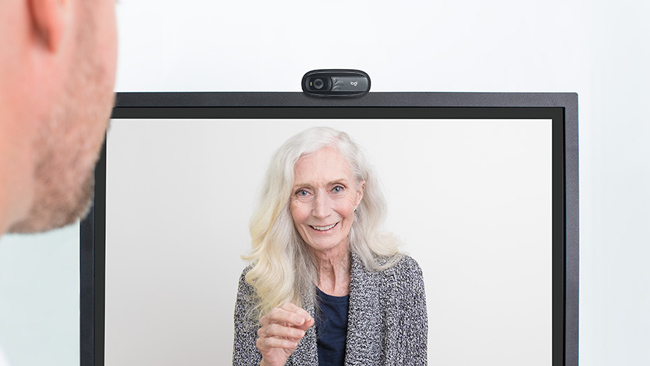 Step 4Prepare yourself well in front of the webcam. Be sure to notes up high behind the camera and hold still in front of the camera. When you rock forth and back or twirl in your chair, it will cause the picture pixelated. Especially many webcams track movement of the person in front.
Step 5 Choose a webcam recorder to take videos in high quality. Once you have everything set up, you should choose an excellent webcam to get a perfect video. FoneLab Screen Recorder should be the right choice you should take into consideration.
2. How to record live videos with webcam recorder
1. Webcam Recorder for Windows 10/8/7
FoneLab Screen Recorder is more than a screen recorder, which is able to capture all onscreen activities, including webcam videos.
As one of the best webcam recorders, it can record videos and photos with build-in webcam and any USB webcam. Here are more features of the web recorder as below.
Record webcam videos as well as computer screen for different purposes.
Edit the video files with drawing tools, such as line, arrow, text and more.
Capture audio files from both system sound and microphone audio.
Save high-quality videos, audio files and snapshot for webcam.
Schedule recording to automatically stop a recording at a specific time.
Step 1Launch the webcam recorder
Download and install the latest version of FoneLab Screen Recorder. After that launch the webcam recorder on your computer. You can go to the Video Recorder option to capture webcam activities.

Step 2 Choose a webcam camera
Select a webcam camera from the arrow down button when you have an external webcam. If you need to record webcam only, you can disable the DISPLAY option and turn on Webcam only.
Step 3 Settings for output format
Choose the location for the output files, video format, video codec, video quality, frame rates, audio format and other settings. The webcam recorder also enables you setup hotkeys to take videos for webcam.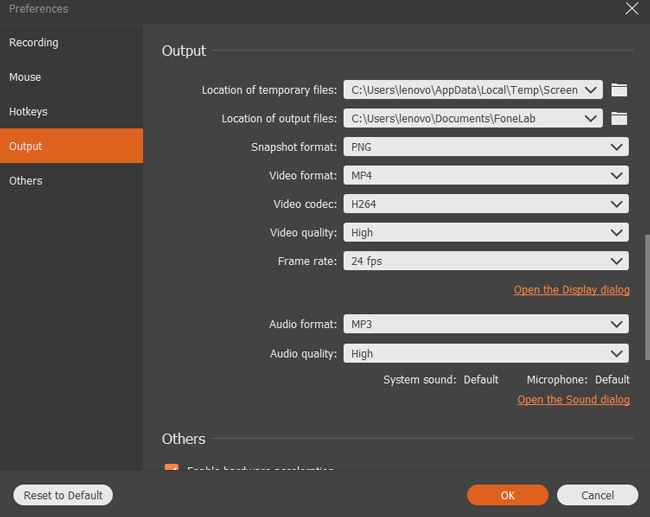 Step 4 Take a snapshot for webcam (optional)
If you need to take some snapshots for webcam, you can click the Take photo option to take important photos during the webcam recording. You can get a photo of what is in front of the webcam is captured.
Step 5 Record videos for webcam
After that you can click the REC button to record videos for webcam. Just preview the videos for the webcam before saving the files to the destination folder on your Windows 10/8/7.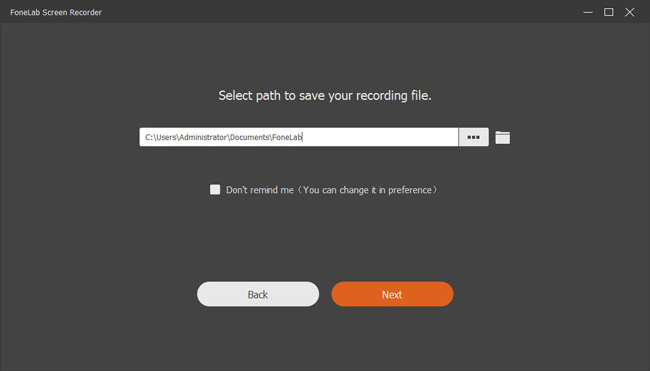 What should you do if your computer does not have an integrated webcam? When you are using a desktop without a built-in webcam, you should right-click the Windows icon and enter Camera to search for a webcam. After that the computer will activate the webcam.
Now you can use the webcam recorder to take recordings for the webcam, record game screen, music and more.
2. Webcam recorder for Mac OSX
Mac FoneLab Screen Recorder is a versatile webcam recorder to capture webcam and screen activities, record audio files from both system sound and microphone, and take a snapshot with multiple editing features.
When you need to record a live video for social media sites, it should be a handy tool you should try.
One click to enable the FaceTime webcam to record everything with ease.
Adjust Frame rate, Bitrate and other settings to get the best quality.
Setup hotkeys to manage recording webcam activities.
Countdown before recording webcam screen.
Step 1 Launch webcam recorder for Mac
Download and install the latest version of Mac FoneLab Screen Recorder, you can launch the webcam recorder. You can click the Webcam option to turn on the built-in webcam.

Step 2 Settings for Facetime recording
Choose the Recording option to set up the mouse action, countdown, frame rate, bitrate, and sample rate. In order to record webcam in high quality, you can choose 60 for Frame Rate, and 20000 kbps for Bitrate.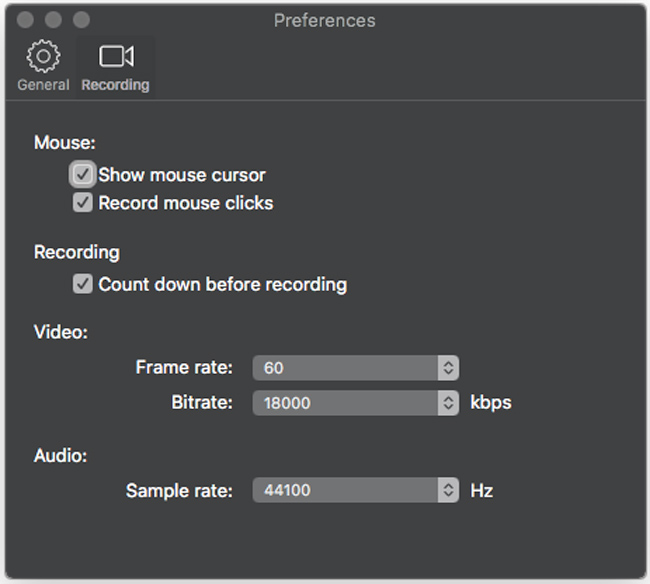 Step 3 Place the webcam position
If you need to add webcam recordings for game commentary or video meetings, you have to choose a suitable position and adjust the size of the webcam window.
Note: When you need to record webcam only, you can customize the screen of webcam only. Of course, you can use full screen for both webcam and webcam recorder.
Step 4 Record webcam activities
Click the REC button to record webcam screen. It will count down 3 seconds to start recording. Once you finish recording, you can click the red Stop option to get the videos for webcam recordings.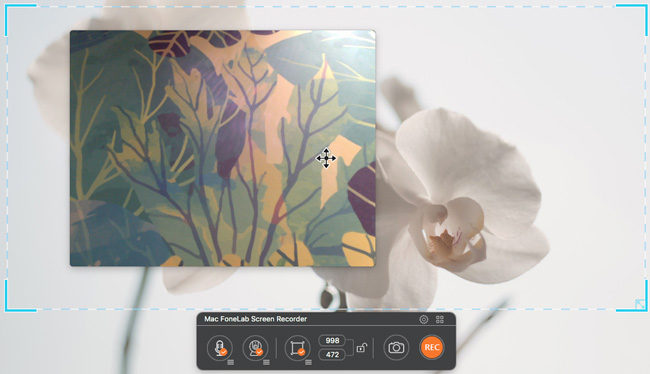 And you can use it to take screenshot on Mac now.
Conclusion
How to record a live video with a webcam recorder? It is easy to answer the question. But when you need to get some successful webcam recordings, you should pay attention to the important tips mentioned in the article.
What is more important, you have to choose a suitable webcam recorder to get everything from a webcam, FoneLab Screen Recorder is the one you should never miss.
If you have any query about the webcam recorder, you can share more information in the article.