Record Audio on Mac Using Easy Methods Professionally
Are you searching through the web on how to record audio on MacBook or Mac computer? There are numerous audio you can listen to on Mac. This includes music, calls, meetings, ringtones, and all other sorts of audio. Some of them you want to save offline. And some, you only have one chance to hear. Thus, it can be much more convenient if you are able to record these audio files to replay later.

Perhaps there is a song you keep hearing on the radio, but you don't know its title. If you can record it, it will be much easier to listen to it anytime instead of waiting for it to come up on the radio for hours. Or maybe, you are in a meeting with your co-workers through an online call, but you can't focus due to multiple reasons. Recording the call to hear it again later can save you from missing some crucial details. In that sense, audio recording can help you in a lot of ways.
Therefore, we evaluated various tools from several platforms and picked top-tier ones. In this article are the most effective tools and methods you could find to record audio on Mac. Read the guidelines below to see how they work.
Part 1. Record Audio on Mac with QuickTime
Quicktime is a multimedia player that is developed by Apple. You can use it as an audio player, image viewer, or video player. It supports various digital video formats, audio, pictures, and more. You can make use of it to record audio on your Mac.
Comply with the steps below to find out how to record computer audio on Mac with QuickTime:
Step 1Open QuickTime on your Mac computer, then click File.
Step 2Select New Audio Recording from the list of options. Click the small red button at the lower center to start recording.
Step 3To stop recording, click the same button. The audio recording will then automatically be saved as M4A, which is a high-quality audio format.
However, you should know that QuickTime will never record conversations from another side if you are making a call on Mac. It is a problem if you are not recording music or other audio from the sound card.
Part 2. Record Audio on Mac with FoneLab Screen Recorder
If you want a more straightforward process, FoneLab Screen Recorder can easily provide it for you. This tool has the capability to record all types of audio on your Mac computer. Also, this is not your ordinary recorder. Because FoneLab Screen Recorder has a microphone noise cancellation and enhancement feature that makes it produce a much higher quality than the other audio recorders out there. In addition, you can improve it further by using the software's editing features like cutting and more. And one of the best parts is that you can easily control the recording through the on-screen manager.
Comply with the steps below to find out how to record an audio file on Mac:
Step 1Access the official website of the FoneLab Screen Recorder. If you see a Free Download button with the Windows logo, click the Go to Mac version option. The Windows logo will then turn to the Apple logo. Click it to save the software file to your computer. Open it to begin the installation, then launch FoneLab Screen Recorder on your Mac afterward.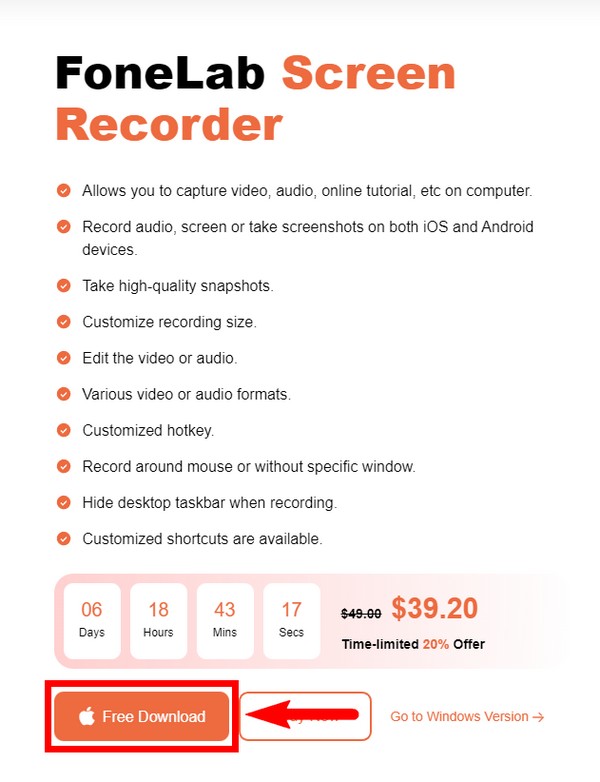 Step 2You will see the FoneLab Screen Recorder's features on the main interface. This includes the Video Recorder, Webcam Recorder, Screen Capture, and of course, the Audio Recorder. You may use the other features once you need them in the future but select the Audio Recorder for now.

Step 3To record external microphone audio on Mac, you must first change the settings on your PC. Connect the microphone to your Mac, and head to System Preferences on Settings. Open Sound, then choose your preferred audio channel.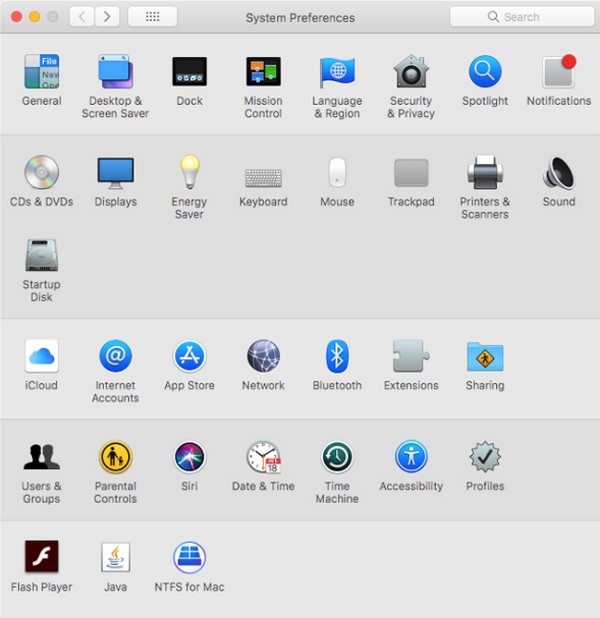 Step 4Back to FoneLab Screen Recorder, the audio recording options will appear on the next interface. You can adjust the volume of your Mac's system sound and microphone according to your liking. Then click the record button to start recording audio on Mac.

Step 5Finally, you can edit, play, etc., the recording. Once you are satisfied, you may save it on your Mac computer.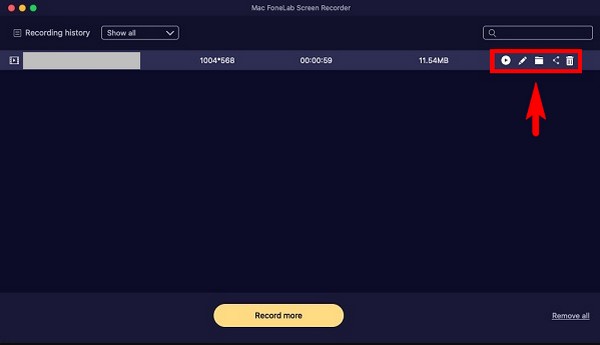 Part 3. Record Audio on Mac with Voice Memo
Voice Memo is a built-in feature on Apple devices. It lets you record audio using your Mac's built-in microphone, and you can also use a compatible headset or external microphone. If you enable this feature on your iCloud, your recording will automatically save on any of your iOS devices where your Apple ID is signed in.
Comply with the steps below to record audio on your Mac:
Step 1Launch the Voice Memos app on your computer, then click the record button.
Step 2You may pause and resume the audio recording by clicking the pause button.
Step 3Afterward, click the Done tab on the lower-right corner of the interface to stop and save the recording.
Part 4. Record Audio on Mac Using Screenshot Toolbar
The Screenshot Toolbar is another built-in feature on Mac. You only need to press a keyboard combination to enable it on your PC.
Comply with the steps below for audio recording on Mac using the Screenshot Toolbar:
Step 1Press the keyboard combination Command + Shift + 5.
Step 2Hit the Record button to begin recording audio on your Mac computer.
Step 3Afterward, your recording will be saved on your Desktop by default. You may change the file location on the options if you want.
Part 5. FAQs about Mac Audio Recorders
FoneLab Screen Recorder is the advised tool to use among the mentioned tools and methods above. Besides its excellent features, it is also very accessible to everyone due to its easy installation process and user-friendly interface. Give it a try now.