Convert Video Now
convert MPG/MPEG to MP4 with fast speed and high output image/sound quality.
Discover the Best MP4 Splitters with A Reliable Guide
How to trim MP4 video? I am currently editing a self-made music video on my computer. I want to include some clips of my favorite moments without inserting the whole video, but I don'tdon't know how to do that. Can someone please help me split the video so I can add some short clips?
The situation mentioned above is only one of the possible circumstances you may face regarding splitting videos. If you relate to this trouble or any related situation, delighted to say you have come to the right place. Splitting videos can be used in different cases. If you are editing something and want to insert short clips or remove unwanted parts, this is completely possible if you know how to trim videos. You may also post these clips as memes you can share with your friends on different social media platforms. Furthermore, splitting videos to shorten them helps you highlight your favorite parts of a certain video.

However, not all editing tools have the ability to trim videos. Meanwhile, some have a complex interface, making it hard to understand and operate the program. Hence, we explored the web to find the best tools and methods to trim or split videos. Thankfully, we found the remarkable ones who have proven their capabilities in this scenario. You can find out more about these video splitters below as you read through the entire article.
Part 1. Best MP4 Splitter - FoneLab Video Converter Ultimate
To begin, let us introduce to you the renowned MP4 splitter in many countries. The FoneLab Video Converter Ultimate is all-in-one software that lets you trim, edit, and convert videos professionally. But don't get taken aback by its excellent capabilities, as this tool doesn't require you to have professional knowledge. FoneLab Video Converter Ultimate has an easy-on-the-eyes interface that lets you perform the trimming process with only a few simple steps. It supports several video file formats, including MP4, MKV, MOV, AVI, FLV, and more.
When it comes to its outstanding features, this tool offers various video editing functions that enable you to create high-quality MVs. You can choose your preferred theme, which includes Christmas, simple, neat, happy, snowy night, romantic, business, etc. Not only that, but you may also create a collage with your chosen template. Furthermore, this program provides functions aside from a video splitter. There is also a video rotator, video merger, video cropper, and more. You can explore more of its features once you install the software on your device.
Comply with the following directions below to trim MP4 video using the best video splitter, FoneLab Video Converter Ultimate:
Step 1Download the FoneLab Video Converter Ultimate installer file from its official website for free. Grant it permission to make changes to your device, then hit the Install button on the appearing window. Finish the quick installation process before launching the program on your computer.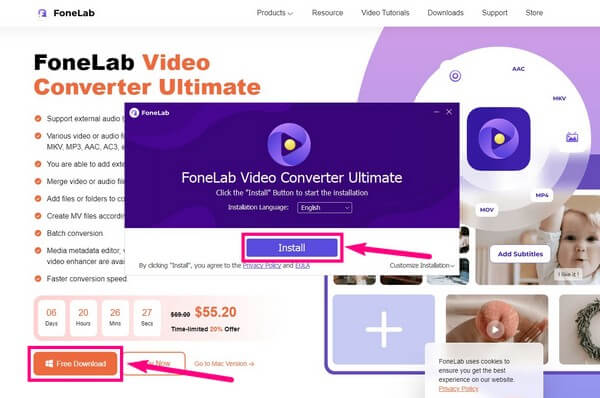 Step 2The main interface of the software will welcome you with its converting feature. Beside the Converter icon on the upper portion are the other sections of the program. This includes the MV, Collage, and Toolbox. In this case, choose the Toolbox option to see its specialized editing functions.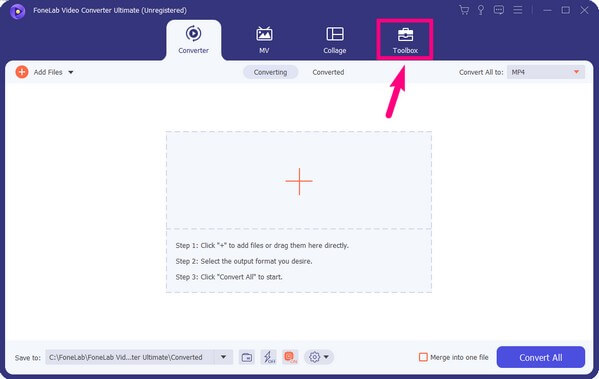 Step 3Find and click the Video Trimmer feature for splitting videos from the boxes of features under the Toolbox section. If you are having difficulty looking for the function, you may use the Search Tool bar on the upper-left part of the interface. You can easily type "trimmer" or "splitter" to locate it.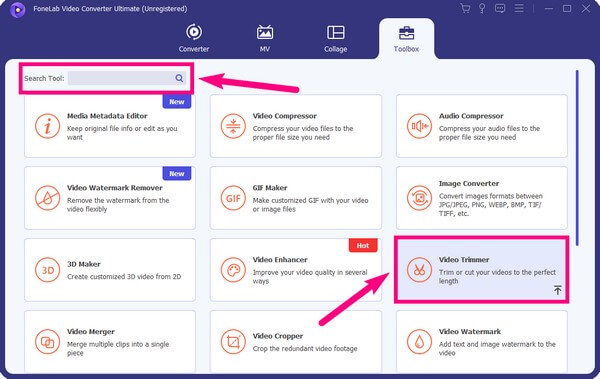 Step 4On the following interface, click the box with the plus sign at the center of the screen. Your file folder will then show up. From there, choose the MP4 video you want to split. Then select Open to import it into the program.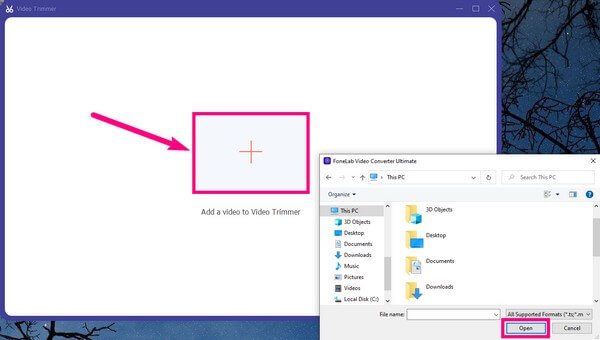 Step 5Once you're in the trimming interface, select the part of the video you want to grab using the starting and ending frames. Then you can choose the video quality by going through the Output Settings. You can pick your preferred format, resolution, frame rate, video quality and audio quality, and more.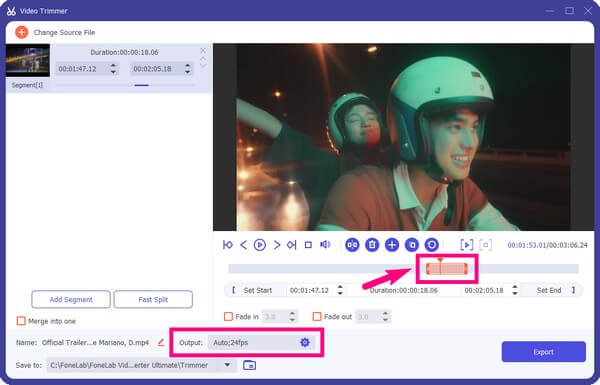 Step 6Afterward, click the Save to: drop-down menu to choose a folder where to save the file once the trimming process is done. Then you can finally hit the Export button on the down-right portion of the interface to save the final video output on your computer.
Part 2. Split MP4 Online
If you prefer using online tools to split MP4 videos, we can lay out a couple of reliable programs for you. One of them is the Clideo Video Cutter Online. This tool lets you trim and get the necessary parts of your video to save them on your device. It supports almost any video format and splits your file in only a few seconds. However, the problem with this online tool is that it is occasionally unable to capture outlines precisely. Hence, you might have a hard time getting the exact clip you want to save on your computer.
Comply with the following directions below to figure out how to trim MP4 video using the online software Clideo Video Cutter:
Step 1The initial thing you need to do is visit the official site of Clideo Video Cutter Online. On the center of its page, you will see the Choose file tab with a plus symbol. Click it, then choose and open the video you want to trim from the file folder that will show up.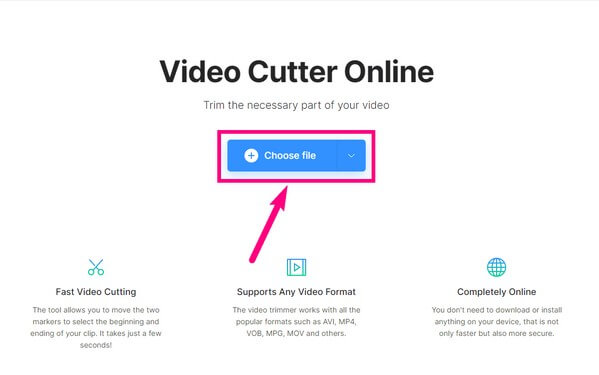 Step 2Wait for a brief second for it to be uploaded. Once done, set the starting and ending frame of the clip you want to grab or delete from the video. Make sure to choose Extract Selected or Delete Selected on the right column of the screen.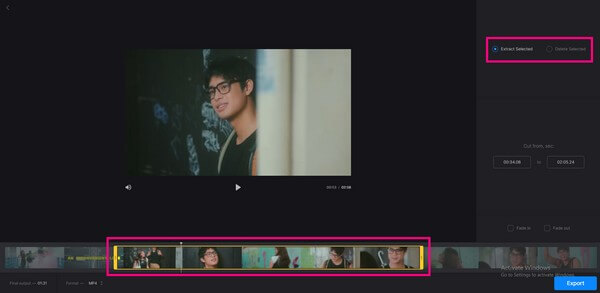 Step 3Afterward, choose the format you want to save your video in. Multiple formats are available, including MP4, MPEG, AVI, FLV, MKV, MOVE, etc. Then finally, click the Export tab on the bottom-right corner of the page to save the selected video clip on your computer.
Part 3. FAQs about MP4 Splitters
When it comes to video editing, converting, and compressing, you can always count on FoneLab Video Converter Ultimate. If you need more help with your video, install the program for free and use it anytime.