Convert Video Now
convert MPG/MPEG to MP4 with fast speed and high output image/sound quality.
Best MP4 Splitters for Trimming and Splitting MP4 Videos Simply
It can be surprisingly complex to edit videos. With a serious tool, like Adobe Premiere Pro, it may take days to master the simple task, such as split an MP4 video. It is a waste of time and money. In such a case, you just need a simple MP4 splitter. Then another problem is how to find the best software that has the capacity to split MP4 videos. That is why we share this post of top MP4 splitting applications.

1. Top 5 Free MP4 Splitters on Computer
A free MP4 splitter is able to clip your video files without asking for payment. Here we identify and share 5 best free MP4 splitting applications for Windows and Mac OS X.
Top 1: Avidemux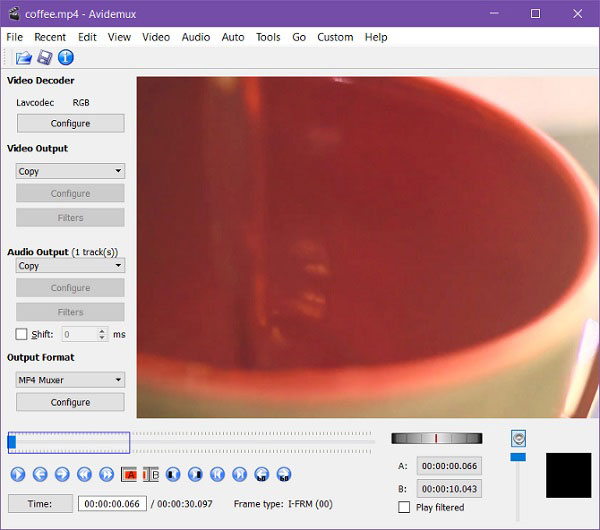 Avidemux is a typical video editor. Since the character of open-source, everyone can use this MP4 splitter for free. It is popular among tech savvy, but average people may feel the video editor a bit complex.
Pros
Free of charge without any restrictions.
Supports AVI, MP4, FLV, MPG and MKV.
Preserve video quality if you do not change output settings.
Cons
The interface is not intuitive.
The installation is a bit difficult.
Top 2: iMovie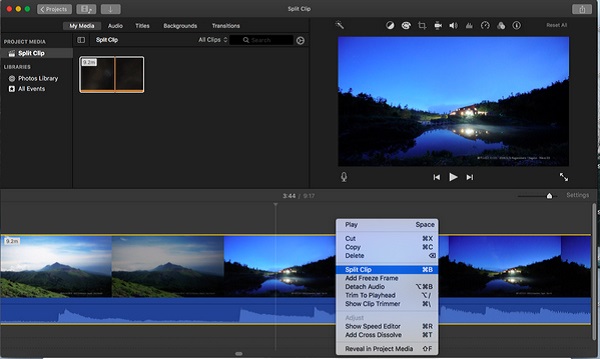 iMovie is the free MP4 splitter for MacBook Pro, iMac and other Mac machines. Since it is developed by Apple, iMovie works well on macOS and Apple apps, like QuickTime Player.
Pros
Split MP4 video files on the timeline.
Preview the video clips in real time.
Export video clips to QuickTime player directly.
Cons
It is not available to Windows.
Top 3: MP4Tools
As its name said, MP4Tools is an open-source project including two utilities, an MP4 splitter and an MP4 merger. That makes it an easy tool to split your MP4 files quickly.
Pros
Support one-click video splitting.
View each clip with the built-in media player.
No complicated settings.
Cons
It lacks rich video editing tools.
It cannot read other video formats.
Top 4: Format Factory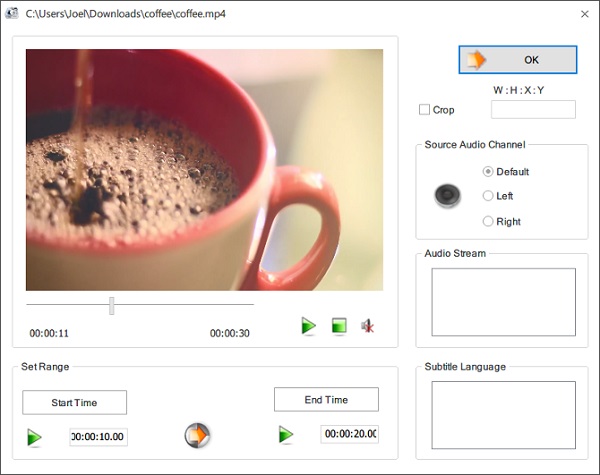 Format Factory is a popular file format converter. It can process various video formats including MP4. Plus, you can split an MP4 video into clips and then convert them.
Pros
Exchange free features with ads.
Support most popular video formats.
Build in a media player.
Cons
It is only compatible with PCs.
The output quality is poor.
Top 5: Freemake Video Converter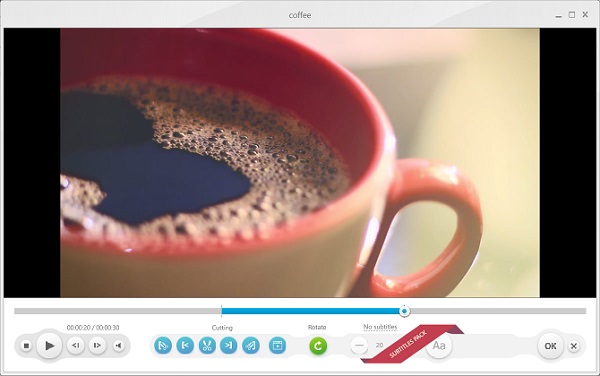 Freemake Video Converter is not only a video converting program, but also allows you to split MP4 video files. At the beginning, the MP4 splitter is a paid tool. Now, the developer has removed the purchase option.
Pros
Support over 500 media formats.
Split a video quickly.
Include extensive custom options
Cons
It will re-encode video clips.
2. The Best MP4 Splitter for Windows and Mac OS X with FoneLab
Freeware always includes some shortcomings. FoneLab Video Converter Ultimate can help you overcome these drawbacks and split MP4 videos without losing quality.
Split an MP4 video into clips or remove unwanted frames.
Protect the video and audio quality while editing MP4 videos.
Provide extensive video editing tools besides split.
Support almost all video and audio formats including MP4, AVI, etc.
Export video clips for playback on portable devices, like iPhone.
In brief, Video Converter Ultimate is the easiest way to split your MP4 video files on Windows and Mac OS X.
How to Use the Best MP4 Splitter
Step 1Import MP4 into the best MP4 splitter
When you need to split some MP4 videos, get the best MP4 editor installed on your computer. Then launch it and click the Add File menu to activate the open-file dialog. Find your long MP4 videos and open them in the program, or you can drag and drop MP4 files into the main interface directly.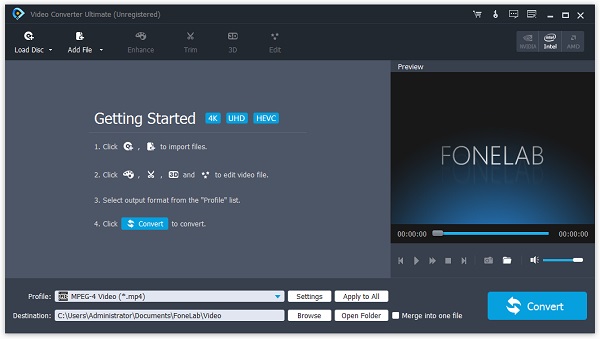 Step 2Split MP4 videos simply
After loading, click the Trim menu on the top ribbon to open the MP4 splitter window. Move the slider to the desired position on the timeline and click the Split icon to divide the MP4 into two clips. Click the OK button until the MP4 splitting is done. Then the clips will appear in the library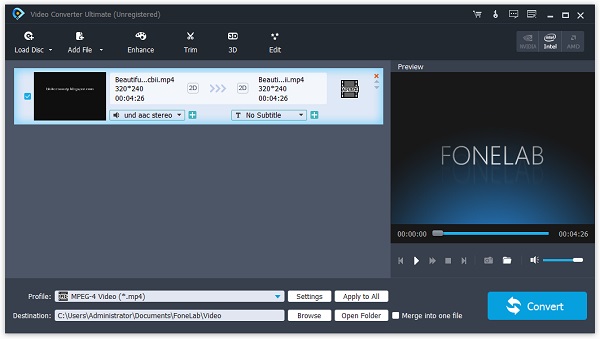 Step 3Export video clips
Make sure to check all clips that you want to save in the library panel. Click and expand the Profile drop-down, go to General Video and select a proper output format. To play the output on your mobile, select the device model from Profile directly. Then click the Browse button to set the destination folder for storing video clips. Finally, press the Convert button.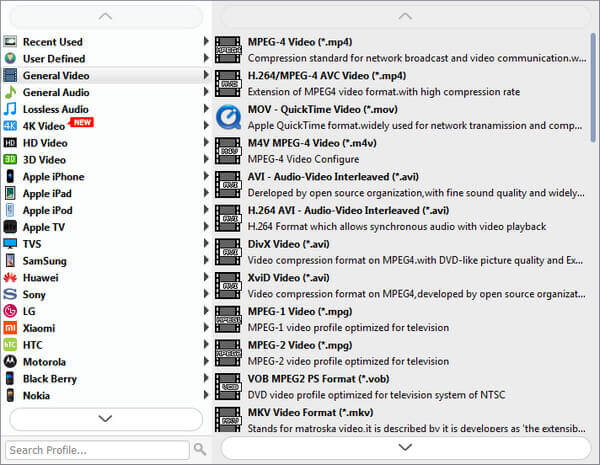 This article shared top 5 free MP4 splitter applications. With them, you can change the long video file into short clips, so that you can upload them to social media or distribute through the internet quickly. If you want to split MP4 without damaging quality, you should try FoneLab Video Converter Ultimate. Any other questions? Please leave your message below.
3. The Best MP4 Splitter on iPhone/Android
Mobile phone has became the most convenient tool to take and edit video. What to do if you want to trim video on iPhone or Android.
Trim Video on iPhone
Step 1Open Photos app and choose the video, tap the Edit button.
Step 2Move the sliders to change the start and stop time. You can preview it after that.
Step 3Tap Done and then Save as New Clip.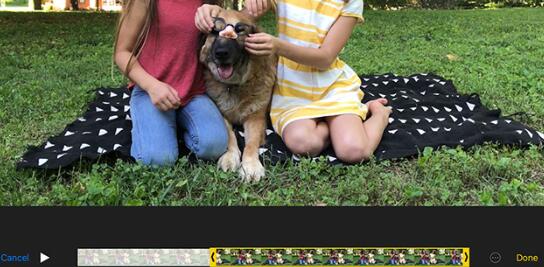 Trim Video on Android
If you are an Android user, you can easily use some MP4 trimmer or MP4 splitter apps to get what you want. You need to download the application from Google Play and then follow the instruction.
4. The MP4 Splitter on Mac/Windows
Trim Video on Mac
Step 1Open Photos app and choose the video, hover the video and then click the gear button and then Trim.
Step 2Move the sliders to change the start and stop time.
Step 3Click Trim.

Trim Video on Windows
Option 1. Using Media Player on Windows
Windows Media Player is a common player for users, so how to use it to trim videos?
Step 1If you have to use Windows Media Player to split video, you will be required to download the SolveigMM WMP Trimmer Plugin to it. And then enable it through Tools > Plug-ins > SolveigMM WMP Trimmer Plugin.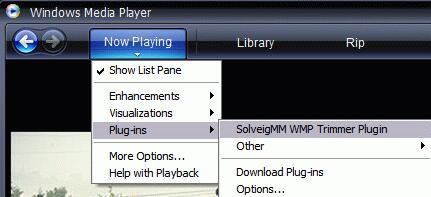 Step 2Open the video with Media Player, move the blue slider to change the timeline. You are allowed to inout the time directly.
Step 3Cut it out of the original video.
Option 2. Using Photos & Videos App on Win 10
Windows 10 has some new feature to help users handle simple issues. And Photos is one of them.
Step 1Locate the video, right-click to click Open with > Photos & Videos.
Step 2Click the Trim button on the upper-right corner, drag the white circles to change the timeline.

Step 3Click Save a copy on the upper-right corner to prevent overwritting.
Option 3. Using Movies & TV App on Win 10
Movies & TV is another function you should know to edit MP4 on Windows with ease.
Step 1Open the video through Open with >Movies & TV.
Step 2Click the pencil icon on the bottom-right corner and then clik Edit > Trim.
Step 3When the Microsoft Photos app open, trim videos with it.

Step 4Click Save a copy on the upper-right corner to prevent overwritting.
As you can see, FoneLab MP4 Splitter might be the bet choice for you. Why now download and have a try now!