Record Online Meetings – How to Record Audios, Videos and Webcam Screens
How do I record a meeting, session or event to my local computer?" It is convenient to communicate with colleagues abroad. If you need to playback videos with something important, you should record online meetings with high quality.
When you use GoToMeeting, Skype for Business, UberConference or other online meeting tools, you might find some default solutions to capture online meetings. What else can you do to record these meetings online? The article explains the best solutions you should know.

1. How to use the default solutions to record online meetings
If you search for some professional online meeting programs, you can find default solutions to record meetings with certain contents. Just find how to record online meetings with professional programs in the part.
1. Record online meetings for GoToMeeting
GoToMeeting is one of the most popular online meeting programs, which has 3 services, STARTER, PRO and PLUS. When you need to record online meetings for GoToMeeting, you have to subscribe PRO service with US$29.
Step 1Once you get everyone in the online meeting, you can go to the bottom of GoToMeeting Control Panel and click the Record this meeting to start recording the online meeting.
Step 2The recording button will turn glow and the attendees will find a notification that the online meeting is being recorded. What is more, you can share your computer screen with others during the recording.
Step 3Once the meeting is over, click the same button to end the recording. After that, you can convert recording using the Recording Manager to upload the file.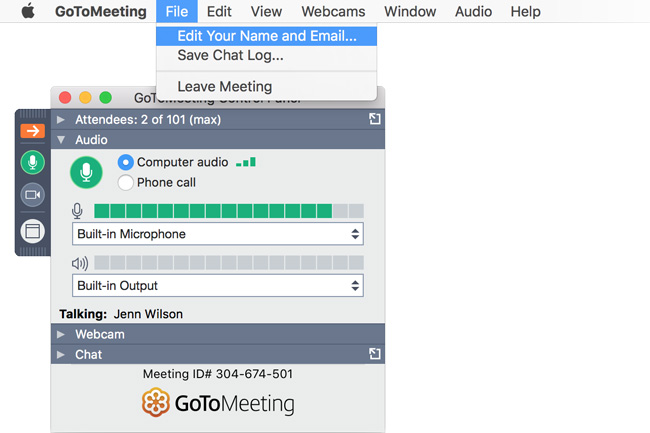 Cons:
It is difficult to save the online meetings in high quality, or worse, get a black screen for the recorded file.
In order to record online meetings, add drawing and other elements, you have to upgrade to PRO or PLUS version.
Convert the online meeting videos with additional steps before saving or sharing.
Pros:
Support screen sharing, business messaging and video with webcams.
Save the recorded online meetings in transcripts for further editing.
2. Record online meetings for Skype Business meeting
Skype for Business is another solution for most of the customers to record online meetings. When you record Skype for Business meeting, you can capture audios, videos, instant message, screen sharing and more other features.
Step 1Click the More Option button of the lower right corner and choose the Start Recording. You need to ensure the connection of microphone when the recording option is dimmed.
Step 2You can control the meeting recording with pause, resume or stop buttons. What is more, you can also check whether others are recording with the red recording button.
Step 3Click the Stop Recording to stop recording online meetings of Skype for Business. It will save to MP4 format automatically in Windows Media Player.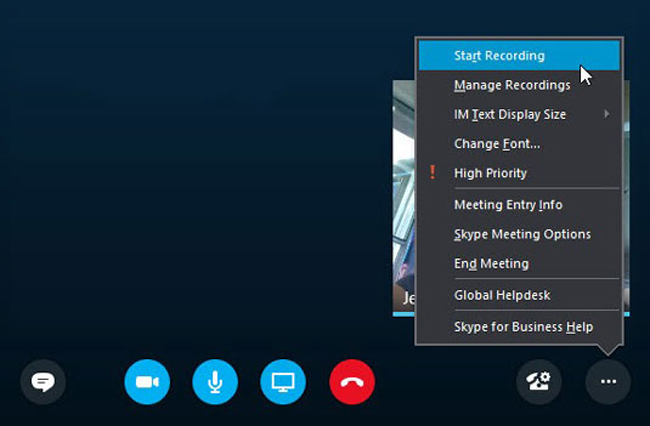 Cons:
When you turn on the screen sharing features, you can find the whole recording process lag.
Skype system randomly drop calls and refuse to connect the call.
As for group chat or voice chat, you might not able to connect the meeting.
Pros:
It is a versatile online meeting recorder with multiple features.
Integrated with Outlook and business calendars.
Of course you can also use a skype recorder to capture what you want.
3. Record online meetings for UberConference
When you need to have a web call with colleagues for business purpose, you might choose UberConference. The organizers are able to record the online meetings via web.
Step 1The organizer launch or join an active call. Send invitations or make calls for the other participants to join the call.
Step 2Organizer selects the Record from the conference control menu. It will record both the system audio from the participant and microphone.
Step 3After that, the organizer is able to record online meetings with automated message alerts Participants call is being called.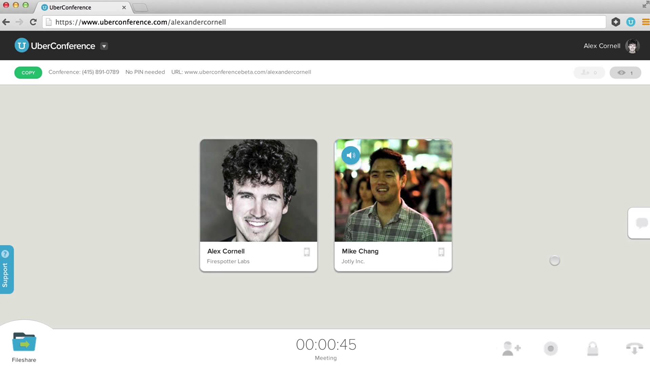 Cons:
Files can only be saved in MP3 within 10MB.
Recoding is only available to organizer for each UberConference.
Limited features to record online meetings for business purposes.
Pros:
It is free for less than 10 participants with the required PIN code.
Call LinkedIn and Google+ profiles with a virtual area code.
2. How to record online meetings audios, videos and webcam activities
1. How to record screen video for online meetings
Step 1When you need to record GoToMeeting online meetings as attendee, you can download and install the latest version of FoneLab Screen Recorder. Launch the program on your computer to record online meetings.

Step 2Choose the Video Recorder to custom screen for GoToMeeting. In order to record audio files of the online meeting, you can turn on System Sound and Microphone.
Step 3 Go to Preference to choose the desired video codec, video quality, frame rate, audio format and audio quality for the online meeting video. You can also choose the mouse action and other settings.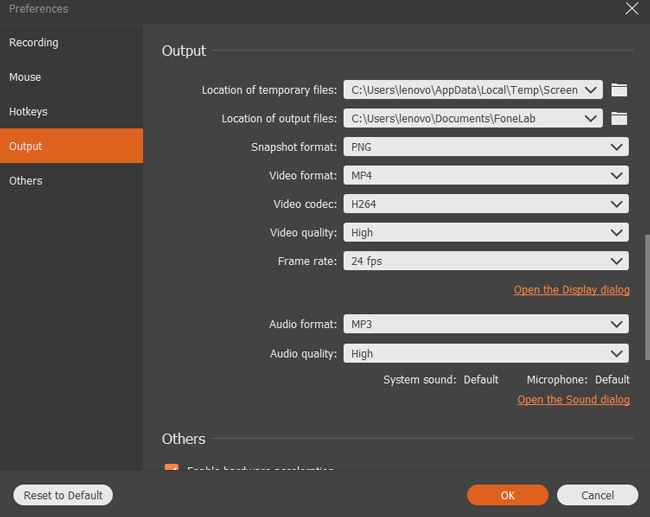 Step 4Click the REC button to record GoToMeeting as attendee. What is more, you can also add some annotations to highlight the important point during the recording process.
2. How to record web calls of online meetings
Step 1Take UberConference for example; when you need to record a web call live meeting, you only need to use the same program to get the desired audio files. Launch the program before starting the web call live meeting.

Step 2Disable the Video Recorder. After that you can click the Audio Recorder option to choose both System Audio and Microphone in order to capture audio for the conversation.

Step 3Click the REC button to save the files in MP3. If you need to adjust the settings for the output file, you can also go to Preference to get the desired format and quality.
As you can see, it can be both video recorder and audio recorder on Windows or Mac.
3. How to record online webcam meetings
Step 1If you just have an ordinary online meeting with your colleagues via webcam, you can also take advantage of the webcam features of FoneLab Screen Recorder. Launch the program on your computer.

Step 2Click the Webcam option to enable the feature. You can also share the computer screen in the video if there is additional information you want to add in the video.

Step 3After that you can click the REC button to record webcam meetings via the program. You can save the meetings in the desired video format or share to social media directly. It can be the best webcam recorder for you.
Conclusion
If you want to record and playback online meeting video, you can use the default solutions of the online meeting program.
Moreover, the article also lists the cons and pros for these online meeting recorders. The online meeting programs might be professional in meeting features, but as for recordings, you should turn to FoneLab Screen Recorder for help. It is also very useful when you just need to have a meeting occasionally.
If you have any other query about how to record online meeting videos, you can share more detailed information in the comments.