Best Ways to Record Audio on Windows 7/8/10

Posted by
Lisa Ou
/ Dec 23, 2020 16:00
I like listening to music, and my favorite singer just released a new album. It is unfortunate that I am not allowed to download the music yet. Is there any perfect way to record them? I don't like the noise at all. Thanks in advanced!
Do you love to record audio into MP3/WMA/WAV formats? Do you want to record skype sound when you're chatting with someone? Are you engaged in making audio tutorials for games?

All you need is an audio recording tool.
There are a lot of audio recording tools available on the market. However, if you cannot find a right audio recorder, a number of things like noise or air may come in the path of a decent sound and affect recording quality.
In the following, I will introduce 2 audio recorders on Windows.
1. How to Record Audio on Computer
Windows has a default feature for users to record audio on computer. If you don't know how to use it, you should read below tutorial carefully.
To do this follow these steps, as appropriate for the version of Windows that you're running.
How to Record Audio on Windows 7/8
Step 1 Plug the microphone to your computer. If you don't have a microphone, you should go to method 2.
Step 2 Launch Sound Recorder on Windows.
In Windows 7, you can go to Start > All programs > Accessories, then click Sound Recorder.
In Windows 8, just go to the Start > All Apps > Windows Accessories, then find out Sound Recorder and click it.
Note: Alternatively, you can just go to Start menu, and type Sound Recorder in the search box, then press the Enter on your keyboard. Click Sound Recorder in the search result.
Step 3 Click the Start Recording button.

Step 4 If you want to finish it, just click Stop Recording to stop.

The audio recording can only be saved as the format with .wma extension.
How to Record Audio on PC Windows 10
As the latest release of Windows operating system, Windows 10 comes with many functional built-in features and programs. One of them is Voice Recorder, which can help you to record sounds, lectures, or any other events.
Let's show you how to do that.
Step 1 Launch Voice Recorder.
Step 2 Click the Record button in the left panel.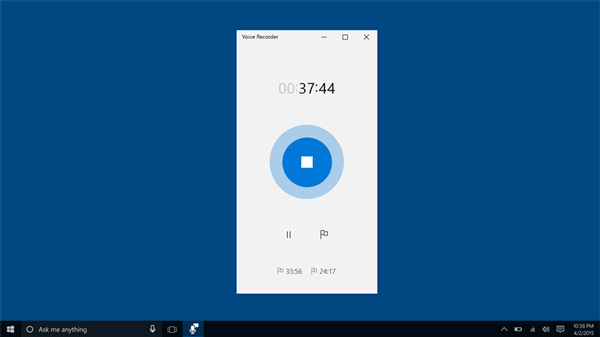 Step 3 Click the Stop button to finish the recording. Then this audio will appear in the left panel under the Today item.
Select the recording file, you are allowed to play it back to check if it meets your need.
Disadvantages of Windows Sound Recorder
You will need a microphone connected to computer to begin the procedure.
You can save the audio file into .wma format only.
The recorded sound has a poor quality.
You can not record webcam, video and more at once.
What if you don't have a microphone? Or do you want to save the file into other formats?
Please keep moving to figure out another solution.
2. How to Record Windows Audio without Microphone
FoneLab Screen Recorder is a powerful tool, which you can use to record video, capture screenshot and more on computer. In addition, it is easy to use, just need to launch it, and then start and stop the recording.
If you want to record the screen of gameplay, online course, TV show on computer, or others, FoneLab can help you do what you want easily.
Below is how to record window audio.
How to Record Windows Audio with FoneLab
Step 1 Install Screen Recorder on your computer and launch it.

FoneLab Screen Recorder
FoneLab Screen Recorder allows you to capture video, audio, online tutorial, etc on Windows/Mac, and you can easily customize size, edit the video or audio, and more.
Record video, audio, webcam and take screenshots on Windows/Mac.
Preview data before saving.
It is safe and easy to use.
Step 2 Click Audio Recorder, then you will go to the audio recording interface.

Step 3 Set recording audio from system audio or microphone voice as you want, then click REC button to start audio recording.
If you also want to record the screen on Windows, FoneLab helps you to do it easily.
How to Record Screen on Windows
As you might know, Windows 10 has a new feature to record videos with its default tool, which you don't have on Windows 7 or 8.
Well,
Here we will introduce the best screen recorder for Windows 7/8/10 – FoneLab Screen Recorder.
Below is how to use it.
Step 1 Choose Video Recorder on the interface.

Step 2 Adjust the recording area through dragging the dots of the box. You can modify the number in it, too. You are allowed to enable webcam, sound, microphone recording at the same time if you want.
Step 3 Click the orange REC button to begin.
Step 4 Click the stop button and then Save on the pop-up window.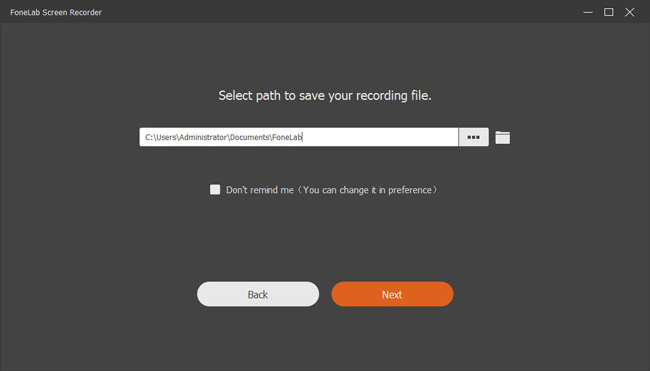 Advantages of FoneLab Screen Recorder
You can record audio without a microphone.
There are different formats, quality and more output specifications for options.
You can select hotkeys.
Windows and Mac versions are available.
It is easy to record a video, gameplay and more with a few clicks.
FoneLab Screen Recorder is a powerful screen recorder, which allows you to record sound, screen webcam, microphone at once. So, it can be your best audio recorder.
With the trial version, you can record and playback as much as you like, but you can only save a 3-minute sample every time.
Why not download and try to record screen on Windows now!