How to Record a PowerPoint Presentation with Video and Audio
"- How to add my voice to PowerPoint?
- Is there any way to record a live PowerPoint presentation?
- I need to capture a video of the presenter and a live PowerPoint presentation. What is the best method of capturing presentations off a laptop screen?
- I want to capture a webcam PowerPoint presentation..."
It is known to all that you can create slide shows with PowerPoint. If you want to prepare for an important meeting or lecture, PPT is always the top choice. But what if you cannot be in the same room with audiences? Actually, you can add commentary to your PowerPoint slide show to solve the problem.

To be more specific, you can record a PowerPoint presentation with narration. Thus, listeners can understand the key point better than before. From this article, you can learn how to record a video of your presentation with PowerPoint and a third-party program. Well, if you want to record voice clearly, you had better prepare a good sound card, microphone and speakers first.
1. How Do I Record Narration in a PowerPoint Presentation with PowerPoint 2019
You can add your voice to the PowerPoint presentation directly. Be aware that PowerPoint online does not allow users to record narration. Thus, you need to run PowerPoint desktop program to record PowerPoint presentations. Remember that PowerPoint does not record narration during transitions. So you need to leave enough silence at the beginning and end of each slide.  This section will take PowerPoint 2019 as an example.
Manage the PowerPoint recording preferences
Open the presentation. Choose Record Slide Show under the Slide Show section. You will get a popping-up notification. Check or uncheck the options of Slide and animation timings and Narrations, ink, and laser pointer. If you want to record narration in a PowerPoint presentation, you need the mark the latter option at least. Then choose the Start Recording option to exit the notification.
Start recording
Sooner, Microsoft PowerPoint will start recording a PowerPoint presentation automatically. There is a recording toolbar. You can go to the next slide, pause the recording and re-record the current slide by using those icons. If you want to use ink, eraser or laser pointer, you can choose Pointer Options from the right-click menu. You can even change the  of the ink color from the submenu of Ink Color.
Embed narration to each slide show
When you want to stop recording, you can right click on the final slide. Later, choose the End Show option. You can find a small Sound icon on the lower right corner of each slide. If you want to view the slide show timing, you can head to the Slide Sorter on the lower right corner of each slide. Now, you can preview the PowerPoint presentation from beginning or current slide.

Note: If you want to delete narration, you can choose the Clear option from the Record Slide Show drop-down menu. Then you can choose Delete The Narration on The Currently Selected Slide or Delete The Narration on All Slides at Once to complete the process.
If you want to record narration in PowerPoint on Mac, you can do the same operations as above mentioned. When the process ends, choose Yes to save the recording file. Well, if you are not satisfied with the work, you can choose No to re-record a PowerPoint presentation.
2. How Do I Record a PowerPoint Presentation with Video and Audio
Sadly, PowerPoint does not allow users to record a PowerPoint presentation to make a powerpoint into a video. Thus, if you want to record video and PowerPoint at the same time, you can turn to FoneLab Screen Recorder for help. Generally speaking, you can run the software to record a PowerPoint presentation with audio freely. There are also drawing tools you can get. As a result, you can strength the importance on the video or screenshot quickly.
It's OK if you want to record a PowerPoint presentation with webcam. Well, you can add system sound and microphone voice to the presentation too. If you want to show someone how to use new software, you can record a tutorial video with FoneLab Screen Recorder effortlessly.
Main Features of the Presentation Recorder Software
Record online YouTube videos, tutorials, gameplays, calls and all on-screen activities.
Capture audios coming from your computer or microphone in high quality.
Take snapshots around the mouse with customized screen size.
Use hotkeys to start or stop the record.
Add texts, arrows, lines, steps tools and other drawing panels on the video or snapshot.
Provide a safe, clean and user-friendly interface.
How to Record Yourself Presenting a PowerPoint
Supported OS: Windows 10/8.1/8/7/Vista/XP, OS X 10.6 or above (macOS X Sierra and macOS High Sierra included)
Run the screen recorder software
Free download FoneLab Screen Recorder on your computer. When you install the video recorder, you can activate the account with the registration code and email address. Later, choose the Video Recorder option on the main interface. If you want to capture your voice and then insert it to the PowerPoint presentation, you can choose Audio Recorder.

Prepare for video recording
Set the screen area you want to capture first. You can set the width and length accurately. Of course, it is also supported to draw with your mouse. In addition, you can click the Lock icon besides to lock the screen. If you want to record Narration for a PowerPoint presentation, you can turn on the Webcam option too. Later, turn on Microphone and adjust its volume.  
Record a PowerPoint presentation
You can open PowerPoint on your computer first. When you click the REC icon, FoneLab Screen Recorder will start recording quickly. Thus, you need to locate the page you want to capture within the 3-second countd at, you can draw on the video with different colors.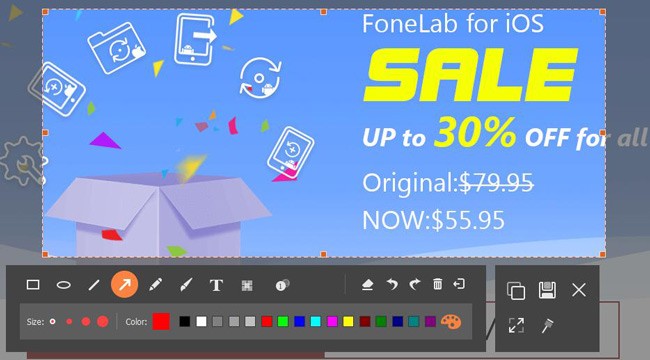 Save or share the PowerPoint presentation
You can pause and resume the recording process without time restriction. When you click the Stop icon, the preview window will pop up automatically. During this time, you can check the presentation. Then choose the Save icon on the lower right corner of the window. You can also change a new destination folder. Later, click the Next icon to move on. Share the PowerPoint recording video to YouTube, Facebook and other sites if necessary.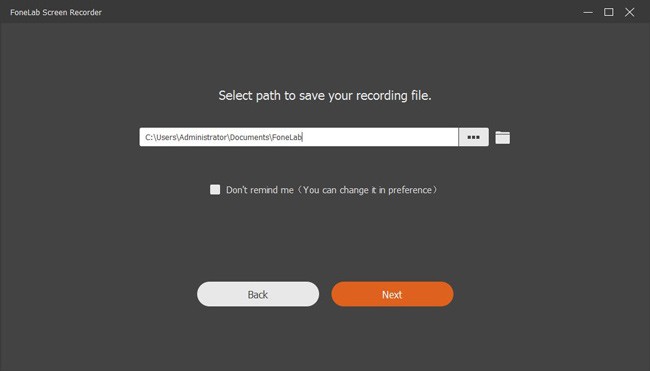 Note: The default output video format is MP4. You can choose "More settings" to change the format, manage the video quality and do other customizations before recording.
By using above two methods, you can record a PowerPoint presentation with audio and video on Mac and Windows PC with ease. Both beginners and professionals can record a PowerPoint video easily and quickly. If you encounter any problem while recording, just feel free to contact us. Of course, you can also share your experience in the comments below. 
Related Articles:

Leave your comment and join our discussion