Firefox Screen Recorder or Browser Add-on? What is the Best Method to Record on Firefox
How to download or record some interesting video clips from Firefox? You might find the video downloaders are restricted to YouTube, Vimeo or other popular online streaming sites. Record on Firefox is an easy solution to capture all files with ease.

Firefox is one of the most widely used Internet browsers. As for the reason, you can find multiple Firefox add-ons to capture videos and record audios.
The article explains 5 most popular Firefox screen recorder add-ons to capture browser activities, streaming video and more. Moreover, you can find the best alternative method to record on Firefox from the article.
1. Best Method to Record on Firefox
When you need to record Firefox activities in different formats, save them in a high quality or even have a stable recording process, the Firefox screen recorder add-ons might not work.
As for the case, FoneLab Screen Recorder should be one of the best solutions you can take into consideration.
Record online video sites, 4K UHD video formats and 4K UHD encoding.
Multiple annotations and editing tools to highlight important part of video.
Save the Firefox browser activities in various formats and qualities.
Easy to capture videos, record audios and take snapshots.
It also can be a Google chrome screen recorder for you.
Custom the video screen for Firefox
Download and install Firefox Screen Recorder on your computer. After that you can launch the program to record on Firefox. When you click the Video Recorder icon, the record screen will follow your mouse to capture the whole webpage or the video area only.

Choose the output file format
If you need to export some high-quality videos for video tutorial or save the movies from Firefox, it is recommended to go to Settings to choose the best quality for output format. When you need to add audio files, you can also adjust quality for the output file.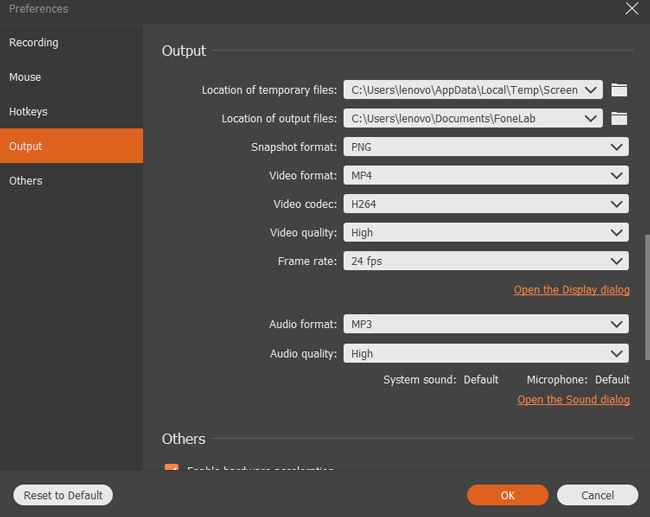 Record videos on Firefox
After that you can click the REC button to record video on Firefox, when you record the video files, you can add some annotation to highlight the important section or record images on Firefox. Just click the Stop button to save the video to computer or share to social media websites.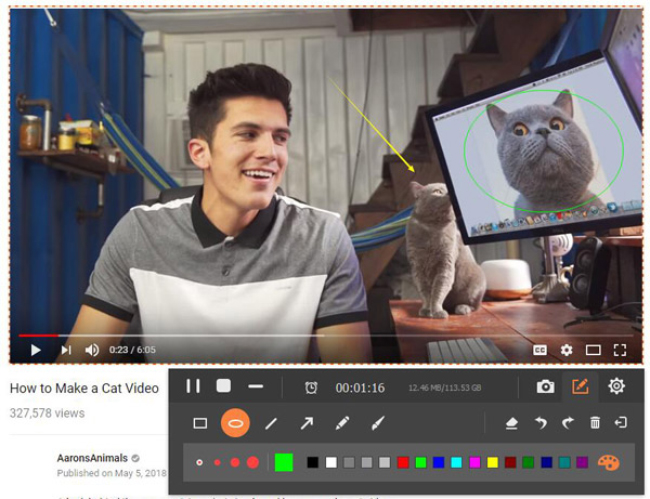 You can also record pokemon gameplay, roblox gameplay and use it as a chrome recorder.
2. Top 5 Firefox Screen Recorders
1. Screengrab
If you just need to get some screenshots for your Firefox webpage, Screengrab is a nice solution to save or upload webpages as images. It has 3 different modes to capture screen of Firefox, then the entire webpage, a selection, or a particular frame. It saves the files to clipboard or uploads to Internet directly
Cons:
There is no option to enable or disable the advertising settings.
Security issues that post your captured files to others.
Do not work properly with the latest version of Firefox.
Pros:
Save the screen with the name of the date, hour, minute and seconds.
Auto selection of frame under mouse for selection regime.

2. Nimbus Screen Capture
Nimbus Screen Capture is a versatile Firefox screen recorder add-on to take screen for Firefox web pages, which you can select regions, upload slack and edit screenshots with annotation tools. You can save the file to your computer or upload to Google Drive directly. It supports horizontal scrolling, which you can capture the whole webpage.
Cons:
The Firefox screen recorder has lots of stability issues.
Do not compatible with the latest Firefox Quantum.
The Select and Scroll feature does not work well.
Pros:
1. Capture the whole web page or a desired section of the browser window.
Paste different patterns and text boxes to your screenshot.
3. Screencastify
Screencastify is not only a Firefox screen recorder add-on, but also designed for Chrome users. Just simply click the Record button to start recording. When you export the video files, you can share them on different platforms, such as Chrome Books and Chrome box. Moreover, you can use the program for Mac, Windows and Linux.
Cons:
Crash or do not work frequently when recording on Firefox.
Cannot work with Firefox Quantum and other Firefox versions.
It is difficult to upload files to Twitter or other social media sites with MP4.
Pros:
Convert and save the captured files in webM, GIF or MP4 format.
Upload will resume after the connection is available after interruption.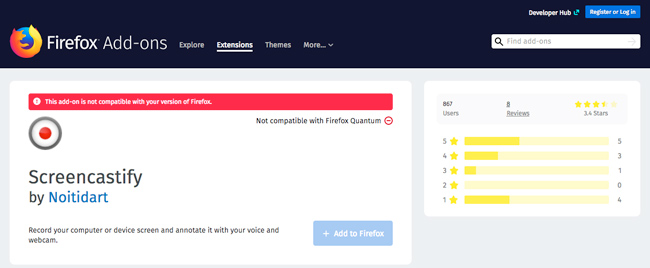 4. MakeGIF Video Capture
When you need some video files in GIF format, MakeGIF Video Capture is a Firefox screen recorder you can take into consideration. It enables you to capture HTML5 videos from YouTube and popular websites in your browser and turn them into GIF animation. Once you install the Firefox screen recorder add-on, you can click the Convert to GIF to convert video to GIF.
Cons:
Cannot detect the videos or fail to save the HTML5 video files frequently.
Compatibility issues with the latest Firefox Quantum.
Difficult to manage the captured video, even change the name of the video.
Pros:
Save the video from different online streaming sites to GIF directly.
Edit and adjust the GIF files in a simple method.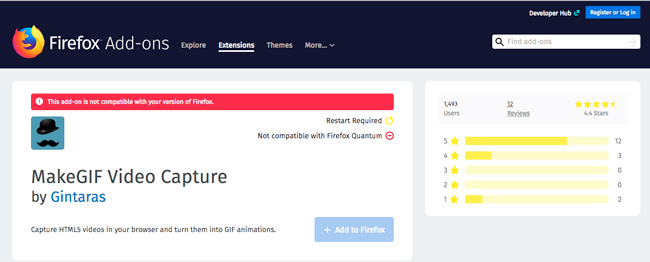 5. Capture Fox
Capture Fox is another Firefox screen recorder extension for free. Once you install the Mozilla add-on, you can find a small record button on the status bar to capture Firefox browser activities.
But the program only works with limited Firefox versions; you can go to the add-on page to find the compatibility versions for the browser first.
Cons:
Export poor output video quality, which you can get video with 5FPS.
Compatibility issues when you upgrade the Firefox version.
The plugin does not work or even does not appear on the browser.
Pros:
Capture Firefox windows or the whole screen and make screenshot videos.
Simple methods to capture video and record audio files with ease.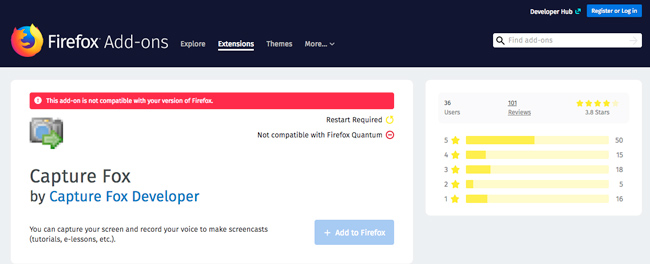 3. Other Ways to Record Screen on Firefox
Apart from using third-party programs, you can also use some built-in features on computer to record screen or take screenshots on firefox.
Windows and Mac have different operations, please check below clear instruction.
Windows:
Option 1. Default Method
Click Windows icon > Settings > Gaming.
Under Game bar section, turn on the button under Record game clips, screenshots and broadcast using Game bar.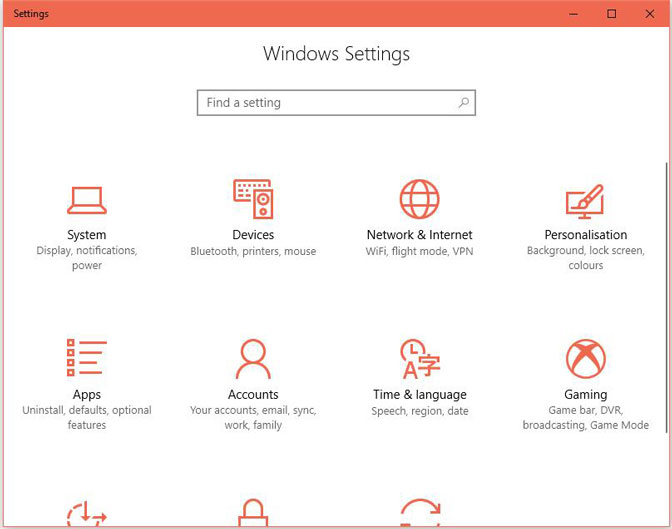 Press Win and G keys at the same time after you run the game on computer, check the box next to Yes, this is a game. Finally, press Win + Alt + R.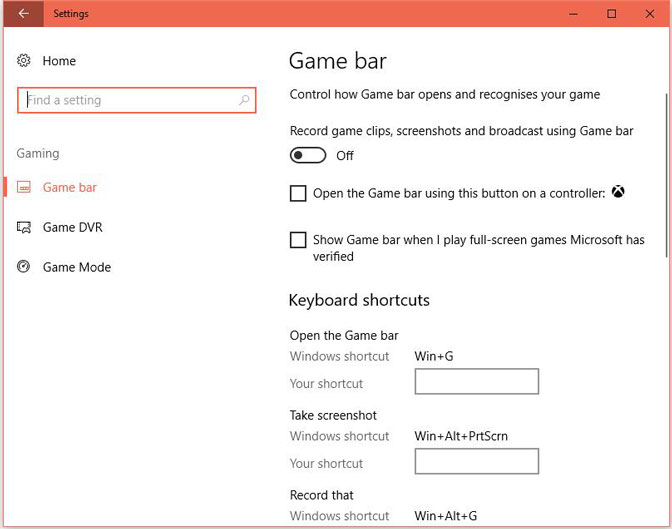 Option 2. Powerpoint
Run Powerpoint on computer, click Insert > Screen Recording > Select Area.

Choose where you want to capture and click Record.

Mac:
Option 1. Default Method
Press Command + Shift + 5.
elect where you want to record and click Capture.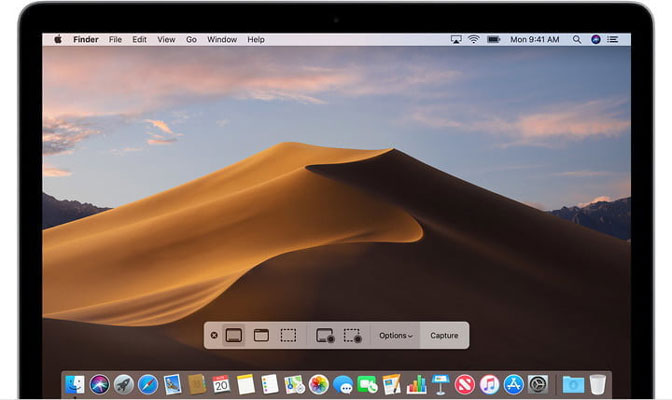 Option 2. QuickTime
Launch Quick Time.
Click File > New Screen Recording.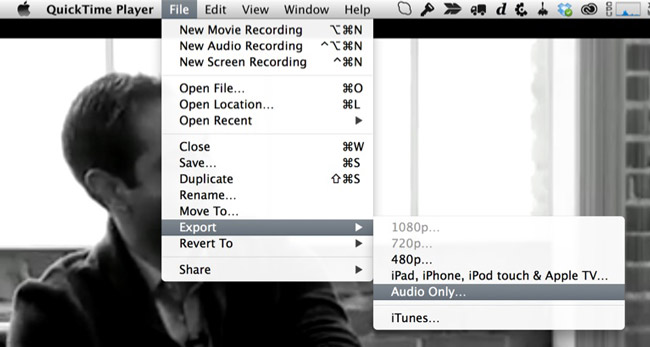 Conclusion
When you need to capture screen on Firefox, you might search for some Firefox screen recorder add-ons. The stability issues for these programs should always be a big problem, especially when you need to record some videos with high importance.
What is more, you might fail to record videos on Firefox in high quality. If you want to find some alternatives, just free download FoneLab Screen Recorder to get more excellent features now, it also can be a good chrome screen recorder for you.
Related Articles:

Leave your comment and join our discussion