Record Screen Now
Capture video, audio, online tutorial, etc on Windows/Mac, and you can easily customize size, edit the video or audio, and more.
How to Record FaceTime on iPad/iPhone or Mac
When you use FaceTime with friends you haven't seen for a long time, do you want to save this FaceTime video? Recording FaceTime on iPad is not a difficult task. Just use the Screen recording function that comes with the iPad/iPhone.
iOS Screen Recording: A screen-recording feature was added to Control Center after iOS 11. This feature has been deliberately designed to capture video.
In addition to recording FaceTime on iPad/iPhone, we can also record FaceTime on Mac. Fortunately, we can use QuickTime Recorder to record our Mac's screen.

1. Recording FaceTime on iPad/iPhone
When we want to record FaceTime on iPad/iPhone, we need to enable the screen recording function of iPad/iPhone first, which can be completed in a few steps.
Step 1Go to Settings > Control Center > Customize Controls.
Step 2Scroll down and tap the green plus sign next to Screen Recording.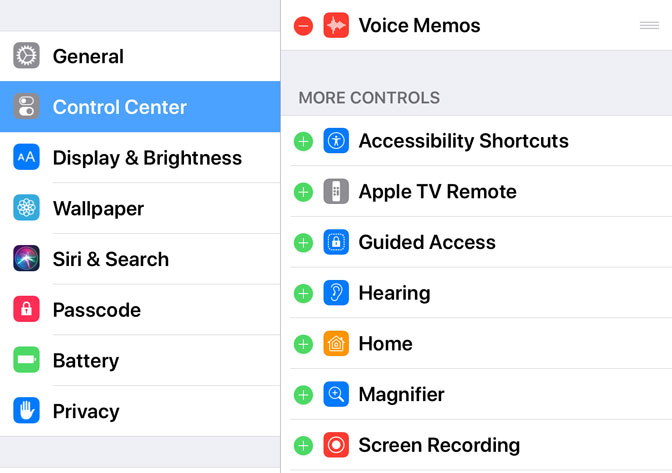 Step 3Go back to the Home screen, bring up Control Center, tap the Screen Recorder icon, you'll see a three-second countdown, then a red bar at the top of the screen to indicate it's being recorded. Then start recording.
Step 4When you finish recording, swipe up to get Control Center back and tap Screen Recorder icon one last time, and your video will be saved to Photos.
Recording FaceTime on iPad/iPhone is also very simple, but note that when we want to record video and audio, we need to hold down the screen recorder button, then click the microphone icon in the pop-up page to turn the microphone on.
Steps to record FaceTime :
Step 1Bring up the Control Center by swiping up from the bottom of the screen. Have a look to see if the screen recording icon is there. The screen recording icon is a small white circle with a larger white annulus around it.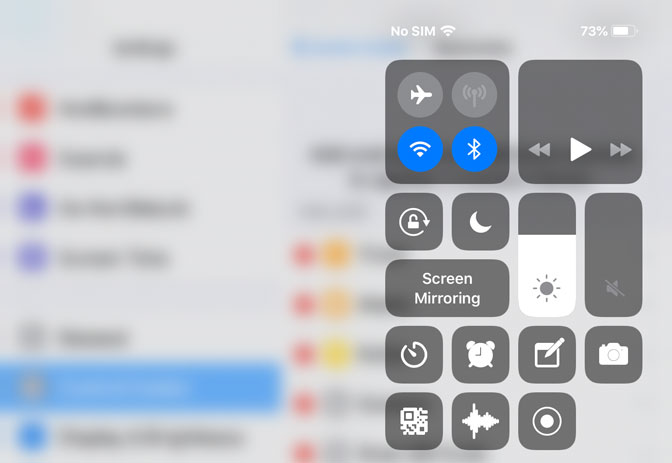 Step 2During the whole recording process, you will see the status bar at the top of your screen becomes red.
Step 3When you want to stop the recording, simply tap on the red status bar at the top and then tap Stop button at the confirmation dialog. Alternatively, you can also bring up the Control Center and tap on Screen Recorder again to stop the recording.
Tips: By default, voice recording is disabled. If you want to record FaceTime Call with audio on iPad, long-press on Screen Recorder in the Control Center, and turn on Microphone. Since it simply captures audio from your iPad's microphone, thus you need to increase or even maximize volume on iPad/iPhone.
The screen recordings will be saved to the Photos app on your iPad. Screen Recorder can not only be used to record FaceTime calls, but also be used to record Skype calls, WhatsApp calls, etc.
2. Recording FaceTime on Mac
When you need to record FaceTime on Mac, QuickTime Recorder is one of the simple solutions you should take into consideration.
QuickTime Recorder is more than just a media player, it can also be used to record your Mac's screen. Recording FaceTime on Mac with QuickTime is the most convenient way.
Step 1Go to File menu > New Screen Recording.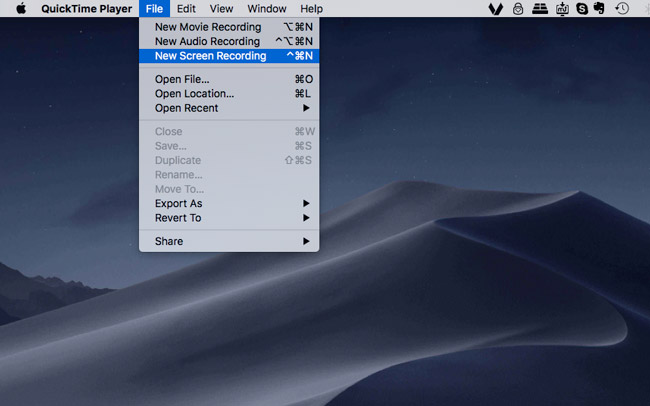 Step 2Click the red recording button to record screen on Mac. If you want to record iPhone screen, external audio and more, you can click the drop-down list to access multiple other solutions.
Step 3QuickTime Recorder will record the full screen of your Mac by default, we can change the size of the recording screen by dragging the border. After you select the desired frame for recording FaceTime, QuickTime Recorder will begin recording a specific portion of the Mac screen.
Step 4Click the Start Recording button to start recording your Mac's screen and sound. Then just open your FaceTime and talk to your friends.
Step 5End the recording by clicking the Stop button in the menu bar. After that, you can save and preview the video of the QuickTime player.
Step 6You should note that QuickTime will never record your friends' sound from the other side. If you want to record system sound on Mac, you should use a third-party screen recorder.
3. Recording FaceTime with FoneLab Screen Recorder
Apart from QuickTime Recorder, what is the best screen recorder tool or the best alternative to QuickTime Recorder? When you need to record on-screen activities, FoneLab Screen Recorder is a versatile program to record screen, capture audio and take snapshots for both Windows and Mac.
Below is the demonstration.
Step 1Download and install FoneLab Screen Recorder on computer, then double-click to launch it if it doesn't be lauched automatically.
Step 2Choose Video Recorder and enable System sound on the interface, begin FaceTime chat with your friends and then click REC button to starting recording.

Step 3Click the stop button when the communication is done.
Tips:
If you want to know more about PC/Mac screen recording, you can refer to the article of recording both screen and sound on PC/Mac.