3 Ways to Recover Deleted Videos and Audio from Android
"I am a big fan for Celine Dion who is one of the most famous singers all over the world. I always recorded some fabulous concert footage every time I went to watch her Live concert. These videos are the most precious wealth that I have. But nightmare happened without preparation that my nephew deleted the latest videos that I haven't created a backup yet while he was playing with my Samsung phone. I blame on myself forgetting to make backups of the deleted videos before giving the phone to my nephew for playing. Please could you tell me how to recover deleted videos from Android phone? Thanks in advance."
Android phones have become a vital part of the modern human beings' everyday life.
Please move on...
What' more,
The internal storage space of Android smart phones is expanding to 4G, 8G, 16G, 32G, or even 64G which means people can store more and more videos, movies, TV series, audio or larger media files for entertaining in their leisure time. It will bring some inconvenience or even unhappiness if you lose your media files unexpectedly.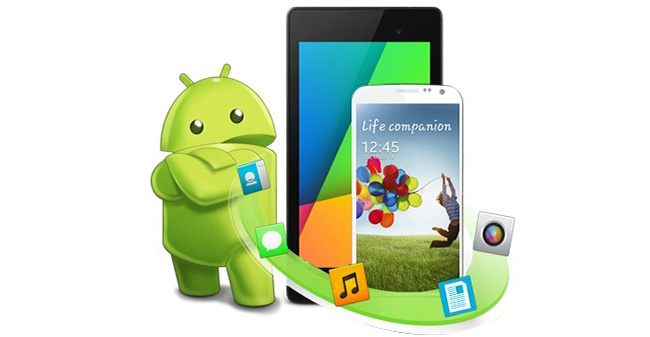 Don't freak out, you can easily get them back if you have save them to computer or cloud services.
1. How to Recover Android Video or Audio from Computer
As you might know, you can simply transfer Android files with USB cable between device and computer. It won't be complicated like Apple devices.
Below is how to restore Android video or audio from computer.
Connect your Android phone to computer with USB cable, and then allow connection on your device screen.
Locate the video or audio on your computer you want to get back, and open the folder of your Android phone that you want to save the video or audio.
Drag and drop the data between the folders.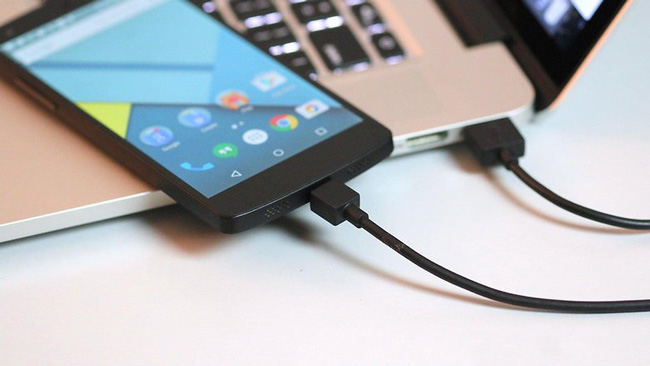 2. How to Recover Android Video or Audio from Cloud Service
Another option to backup and restore Android video and audio is using a cloud service, such as OneDrive, Google Drive, and more.
It is a convenient way to access data as you don't need a computer at all.
Below is a tutorial on how to get Android data back from Google Drive.
Option 1.
Download Google Drive on Android phone and log in the account you used to backup Android data.
Then you can see a list of all your backups, choose one you want to restore from, tap RESTORE.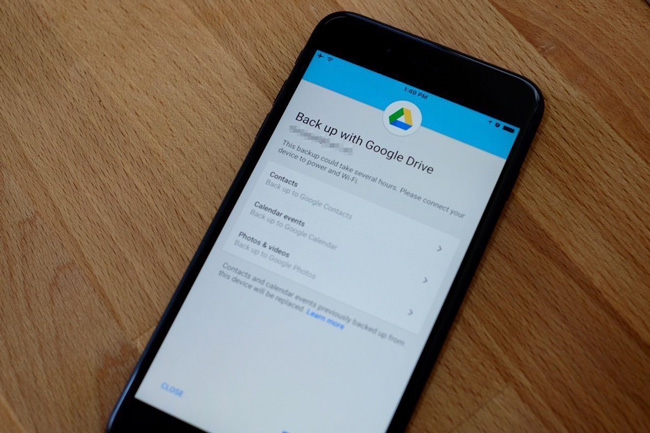 Option 2.
Log in the Google account you want to restore from.
Access the video or audio you want to recover, and then download them on your device.
3. Recover Videos and Audio with FoneLab Android Data Recovery
What if you don't have a backup file at all?
Take a deep breath and be informed that you are still able to recover deleted media files on Android as long as installing a powerful Android data recovery app on your computer.
This android recovery app is called FoneLab Android Data Recovery which helps you in restoring your favorite collections of songs, music, videos, Live shows and so on. Users will get back their beloved media without damaging its original quality.
The outstanding feature about this software is that it allows you to recover Android files from both internal and external memory of your phone and tablet.
For more details on how to recover digital media files including videos and audio, download the free trial version of this Android data recovery software and follow below steps to scan deleted or lost files which can be saved later by activating full version.
Launch the program after installation. And then connect your Android device to your computer with a USB cable. And then choose Android Data Recovery on the interface.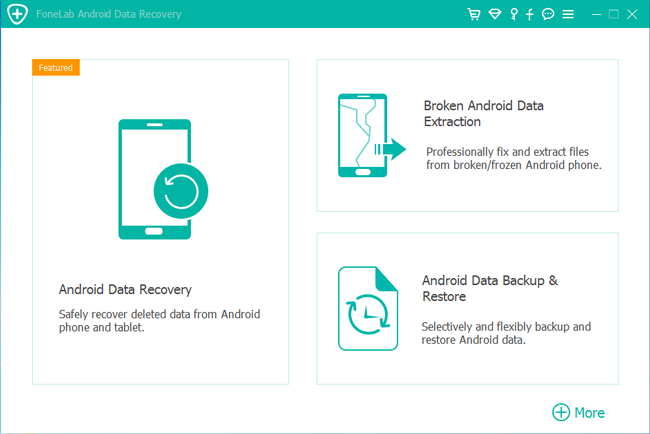 You have to enable USB debugging on your phone in advance so that it can be detected by the program. If you don't know how to enable USB debugging mode, you can follow the onscreen instruction from the program. It just takes a few tap to open it. After that click OK on your computer.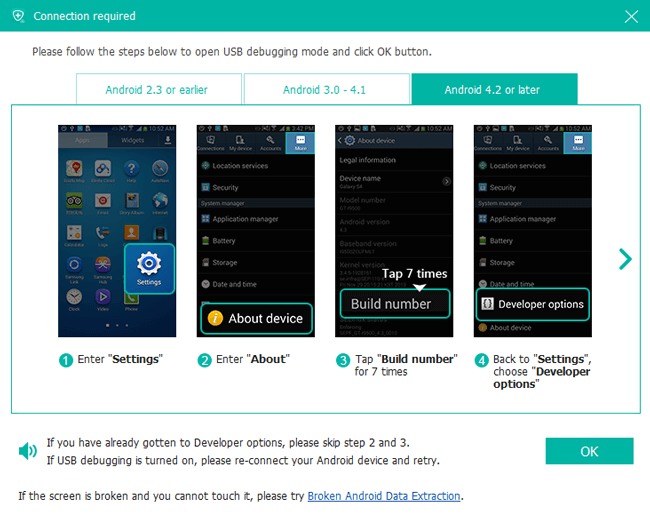 Choose the recoverable contents. If you want to only recover videos and audio, then tick beside Videos and Audio in order to save your time.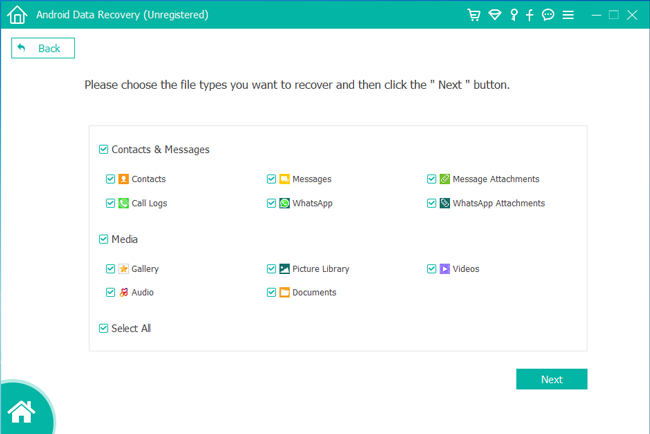 In this step, requires your device being rooted. If not root yet, then the program will automatically install an app assisting you to root your device.
After that you should tap Allow/Grant/Authorized when the permission request shows up on your phone screen. If still no respond, you can click Retry to try again.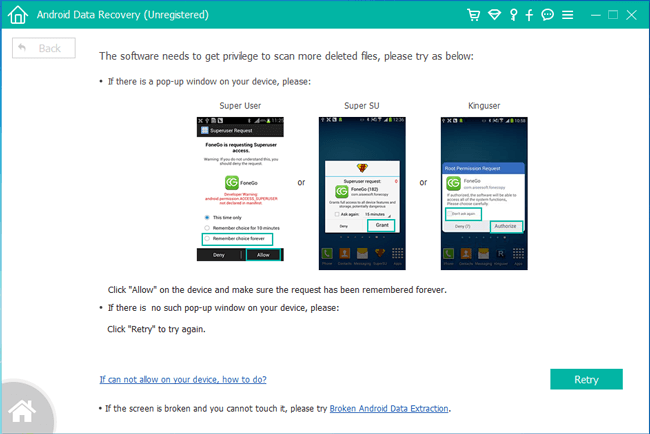 The scanning result will display in groups by contents on the left pane. Click Videos and Audio, then you can preview details and identify whether these recoverable media files are the ones you want to bring back or not.
Select and click Recover to save them to your computer.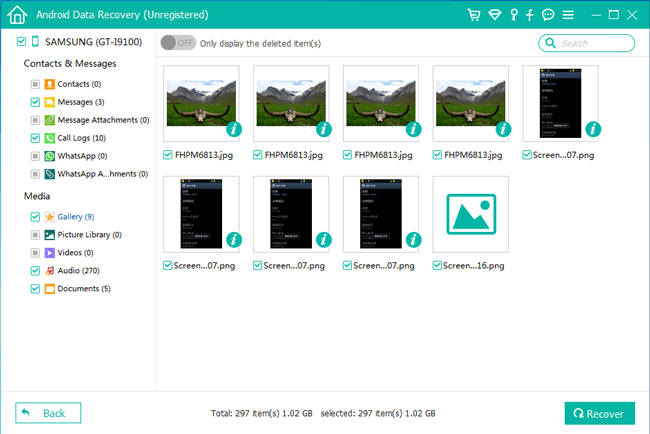 With all these simple steps, I am sure that you have all the deleted videos and audio back to your device.
This data recovery for Android is a worth recommended program which enables you to retrieve deleted phone number from Android, Recover deleted call history on Android phone any other Android data.
Related Articles: