Huawei WhatsApp Chat Recovery - Recover WhatsApp for Android
"The WhatsApp messages and attachments were deleted in my Huawei due to the restore to factory settings. I realized that they were of great importance to me, please help!"
Almost every Android device users including Huawei phone users have WhatsApp app installed in their phones.
Because it is the most convinient way to communicate with friends, family and other people.

With this app, you are allowed to send and receive text messages, images and videos worldwide for no charge at all.
But the downside is that WhatsApp history is not stored in carrier's servers, they are not able to recover deleted messages on Android or iPhone for any user.
1. Recover Huawei WhatsApp with FoneLab
Thanks to many WhatsApp recovery tools are available online which makes it possible and easier to restore WhatsApp messages and attachments from Android phones and tablets.
Among these tools, FoneLab Android Data Recovery is the best one that has been proved by many users.
What makes it so outstanding? Let's take a look.
The software is so compatible that supports many Android models like Huawei, Samsung, HTC, LG, Motorola, Sony, Google, Blackberry, OnePlus and many more.
It is able to help you get back erased data from the factory reset device.
It can retrieve Android photos, SMS, WhatsApp, contacts, videos, audio files, call logs, documents etc.
Allow you to preview the found contents before recovery.
Will not erase or modify any data from your device while recovering WhatsApp messages.
Provide both Windows and Mac versions.
Very easy and safe to use. You can download its free trial version to have a try.
Download and Install the program on your PC or Mac with the above link accordingly. Once it is completed, it will automatically open. Connect your Huawei phone to the computer via a USB cable afterwards.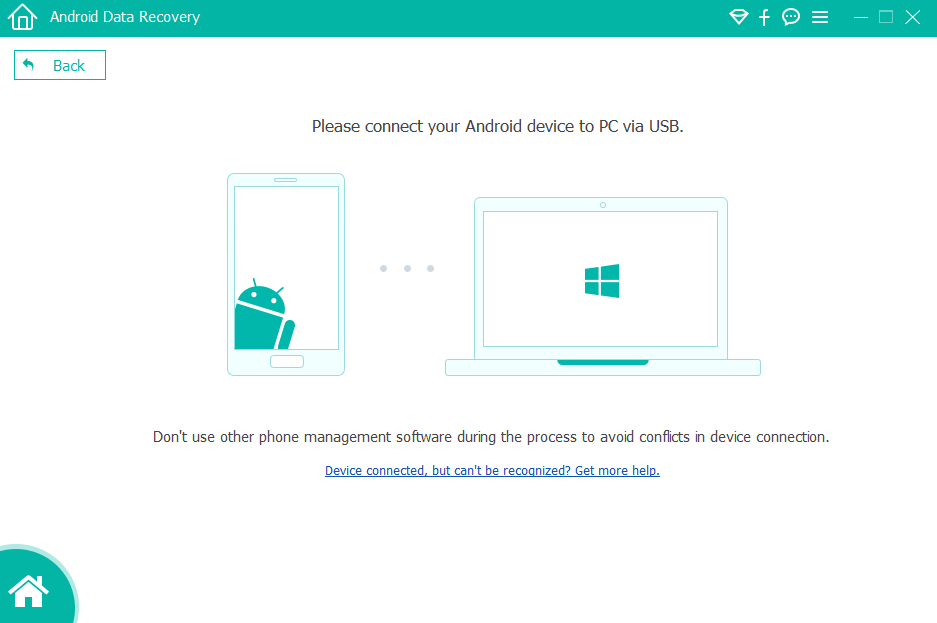 This step requires the USB debugging mode has been enabled on your phone in advance. If you have never enabled it before, you can follow the on-screen instruction to open it. And then click OK to authorize the connection.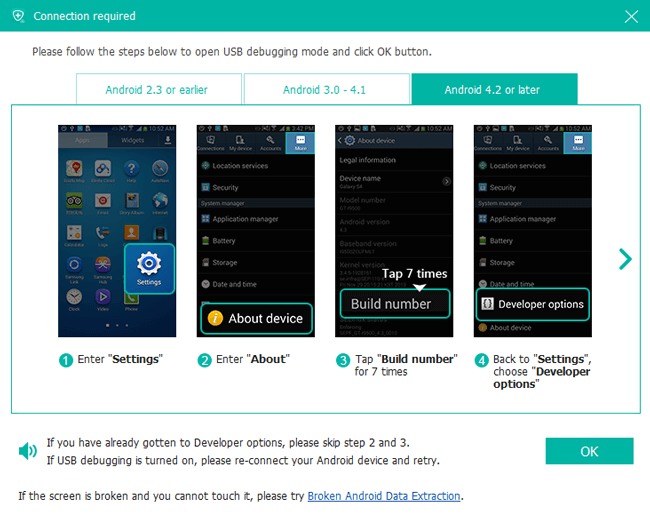 Select WhatsApp and WhatsApp Attachments to scan WhatsApp chat history only. And then click Next to move forward.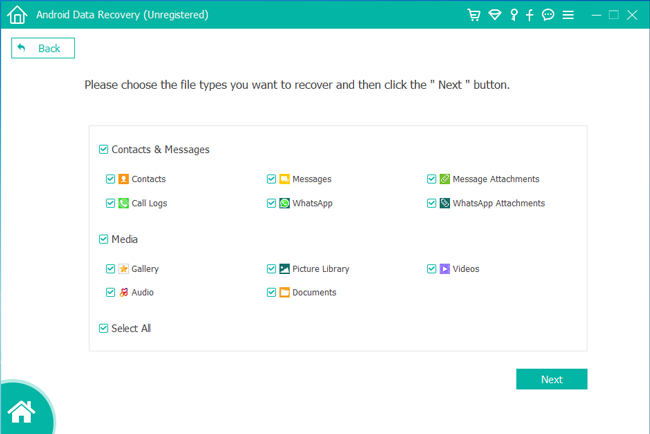 The program needs to get privilege to scan data from your phone. So you should Allow/Authorize/Grant when it prompts on your phone screen. If there is still no such pop-up window, please click Retry and the program will ask you to install an app to help get access to your phone.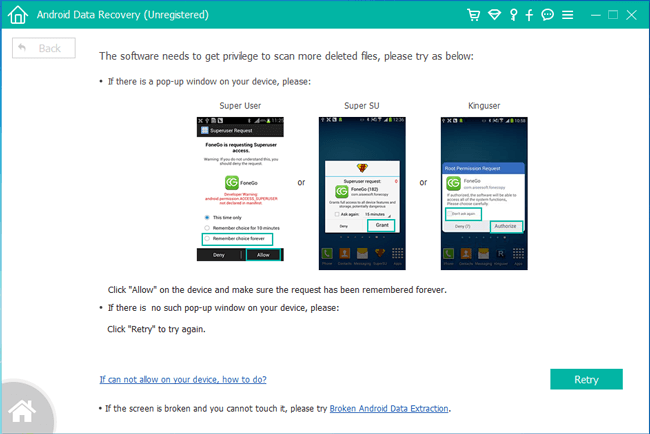 You may need to wait a few minute depending on how large your data is and the network condition. Once it is finished, the recoverable files will display in the left column sorted by different contents. To preview the details, click WhatsApp and WhatsApp Attachments. Click Recover to save the ones you want on your computer.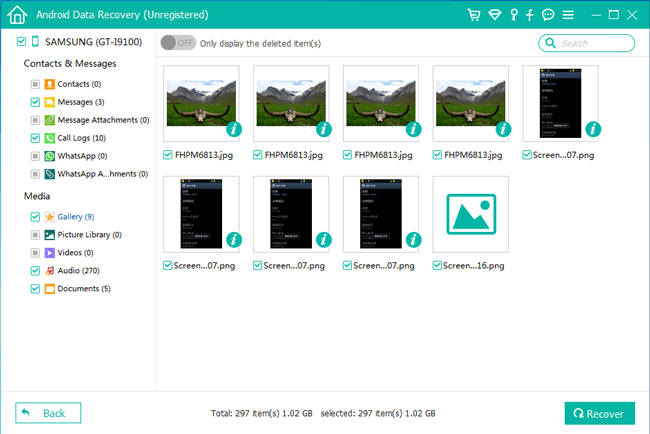 That's all.
If you also want to recover deleted WhatsApp images from Samsung, or retrieve text messages from Samsung Galaxy, the software can be applied up to five different devices.
Don't hesitate to contact us if you still have any question and share this post to others if you think it useful.
You can also learn how to recover deleted WhatsApp messages on iPhone if you want.
2. Backup & Restore Android WhatsApp to Google Drive
There are other methods to restore WhatsApp from backup file. WhatsApp has a feature which is designed for backing up and restore WhatsApp data between device and computer. It can be a convenient tool to save the WhatsApp chat history and attachments, and then you can restore them from backup file with ease.
1. How to Backup WhatsApp to Google Drive
Launch WhatsApp on your Android phone home screen.
Go to Menu Button > Settings > Chats > Chat Backup.
Tap Account to log in your Google account.
Tap Back up over to select the network you want to use for backing up.
Tap BACK UP to make a WhatsApp backup file now. You can Tap Back up to Google Drive to choose backup frequency.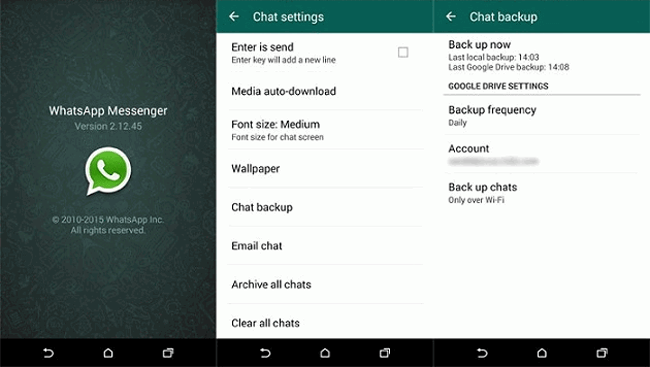 2. How to Restore WhatsApp to Computer
If you have backup files, you can follow below tutorial to restore WhatsApp data from backup.
Uninstall WhatsApp app on your phone.
Reinstall WhatsApp again.
Log in with the same number and Google account you used to back up WhatsApp data you want to restore from.
You will be prompted to restore your history, tap Restore.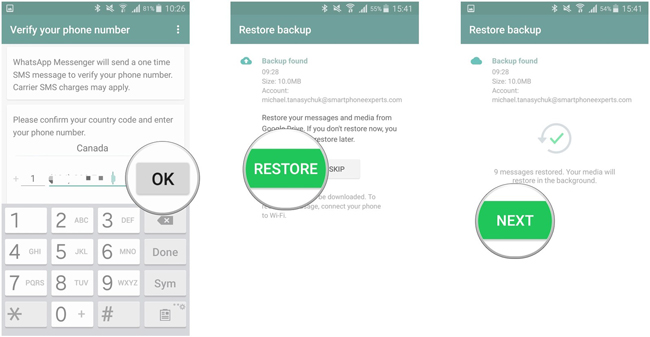 Please keep in mind that only data less thatn seven datas old will be restored.
3. Backup & Restore Android WhatsApp with Email
If you don't want to save all WhatsApp data, you can choose to use Email to save Backup Android WhatsApp data to computer.
Open WhatsApp on your Android phone. Go to Settings > Chats Settings > Chat History > Email Chat.
Choose the chat history you would like to send and select you want to send them with media file or not.
Enter the email address and send it out. Receive the email and save the data on computer folder which you can find easily.
Reinstall WhatsApp on your Android phone but don't start the app. And then connect the device to computer with USB cable.
Access the folder WhatsApp / Databases, Create a new Databases folder in the WhatsApp folder.
Copy WhatsApp conversations backup file into this folder.
Start WhatsApp on your Android phone and verify your phone number, tap Restore when you get a notification that a message backup was found.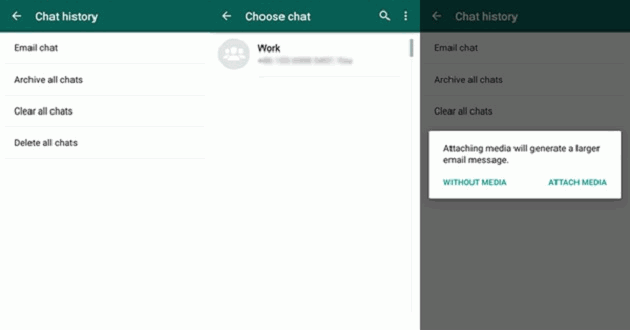 You can choose one of them according to whether you have a backup file or not, and each of them can be helpful as they can get data back with ease. Why not have a try now?
Related Articles: