Android File Recovery - How to Recover Deleted or Lost Files on Android
"I am getting used to saving amount of data on Samsung phone as an external hard drive. And there are many messages, photos, music and more saved on it. Some of my messages and photos are gone this morning after I restarted my phone because it crashed suddenly. Can anyone help as I don't know how to recover deleted photos from Android phone? As well as my messages, thanks!"
In daily life,
Have you ever deleted your text messages accidentally before reading them on your Samsung Galaxy S6?
Have you ever been bothered by the lost contacts and photos after a drowned HTC One (M8)?
Have you been crazy for the disappeared data after an upgrading for your Sony Xperia Z3?

There are many different reasons to cause data loss, such as app crashes, Android phone keeps restarting, virus infected, water damaged, etc.
Suffering from such unpleasant accidents, you must get eager to recover Android file.
If you have backed up Android phone data before, it is easy for you to get deleted data backup from Android backup. While it will be a disaster for you.
Below is a demonstration of backing up and restore Android data with Google account.
1. Backup & Restore Android Data with Google Account
Google releases a feature that allows you to log in on your Android phone and then backup data on Android. It won't require connection between device and computer, what you need to prepare are device, Google account and interwork connection.
Below is a demonstration to backup and restore Android data.
Open Settings app on your home screen.
Go to Backup and reset.
Tick the boxes near Backup my data and Automatic restore.
Go to Settings > Account & Sync > Your Google account.
Select the data you want to sync and check the boxes.
It will automatically restore data your saved when you log in your Google account which used to backup data on a formatted or new device.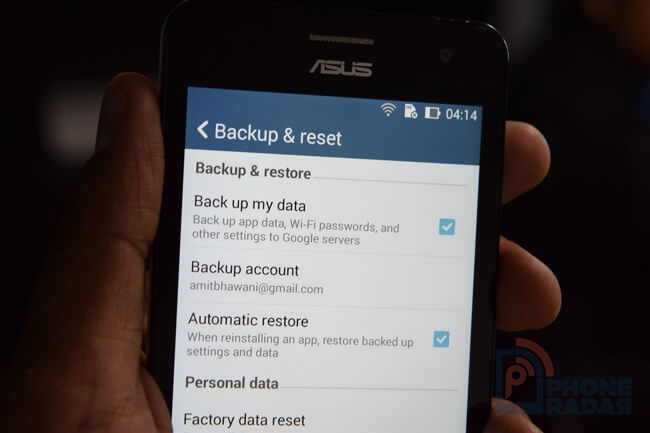 Below is what Google account can back up or restore your Android data.
Apps
Call History
Device Settings
Contacts
Calendar
SMS (Pixel phones only)
Photos & videos (Pixel phones only)
As you see, above-mentioned way supports Pixel phones to backup or recover Android SMS, photos and videos only. You can not recover these data even you have backup file for Samsung, HTC, LG or other models.
So,
How can you recover data from Android phones?
FoneLab Android Data Recovery will be a good alternative for you.
2. Backup & Restore Android Data with FoneLab
No matter you want to recover SMS from Android phone, or restore Android contacts, or retrieve deleted Android WhatsApp on Android, you can find the way in this post.
We will use a multifunctional Android recovery tool, FoneLab Android Data Recovery, to help to recover deleted or lost files on Android.
So you need to download and install it on your computer. The following steps will show you the way in details.
Four Steps to recover deleted text messages on Android
Connect and run program
Connect your Android phone to computer with USB cable while running this software on your PC. Wait seconds for the software to detect your phone automatically.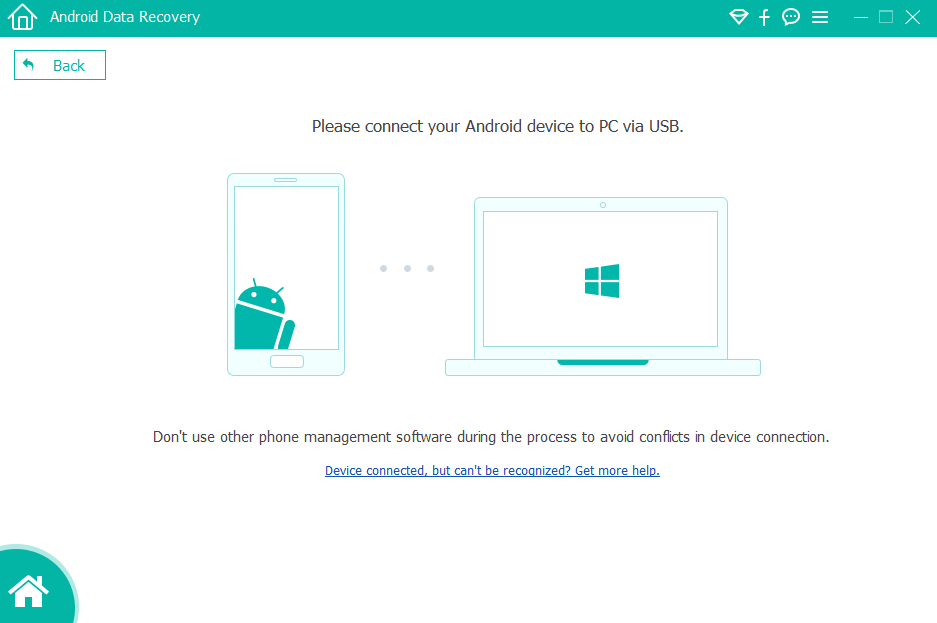 At this step, you need to choose one of three connection modes, MTP, PTP and USB Mass Storage.
But if succeeding in selecting one mode, your device still fails to be showed in this software, then you can try the following suggestions to debug USB mode;
Unplug the USB cable and reconnect it.
Open your device, go to Settings - Developer options – Uncheck the USB debugging mode and then click it back again.
If you still failed to connect it, please change another USB cable or USB port.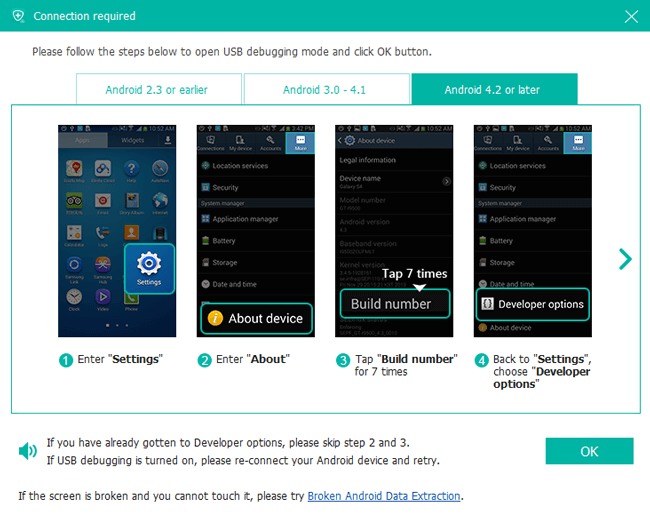 Get privilege
After connecting device successfully, click Next to prepare to scan your device files. For scanning more deleted files, the software needs to get privilege.
There is a clear guide in the pop-up window to direct you to operate on your device.
Do not worry, this step is necessary and safe enough to keep your Android data private.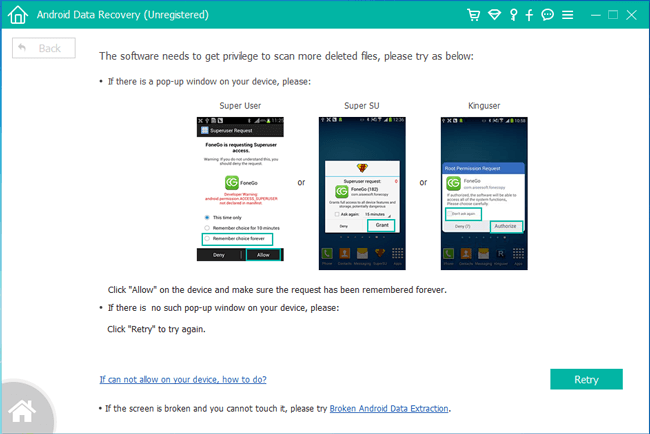 Scan Android device
After completing getting privilege, this software will scan all your deleted or lost files on Android. It will take minutes to finish the whole scanning process.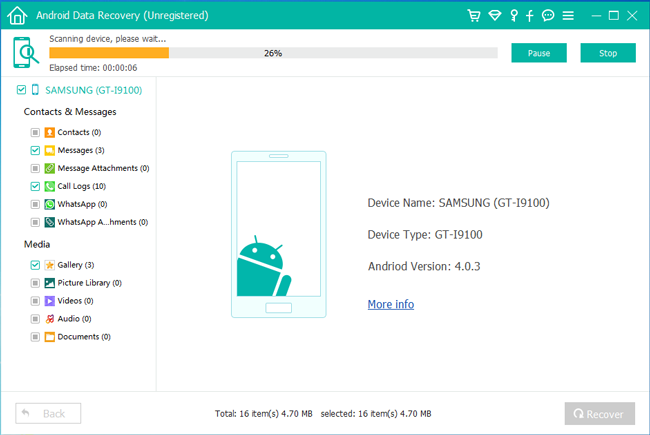 View and recover data
You can click the category file on the left side, and all the details about it will show on the right window.
Before you start to recover the deleted Android files, you can view them by clicking the category file.
Then click the Recover button to retrieve the deleted Android files you want.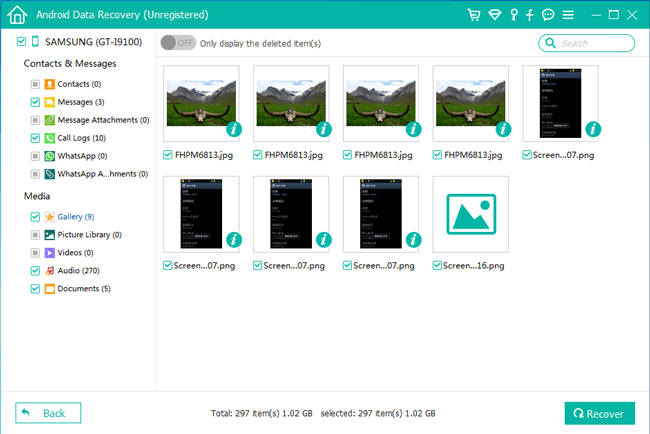 After you click the Recover button, then a pop-up window will direct you to save your recovery files on target folder. You can keep this downloaded file on your computer for backup.
Features of FoneLab Android Data Recovery
You are allowed to get back those deleted or lost Android files selectively by ticking them as you like.
The recovery files marked red in the list are those files that were deleted or lost before. And the black implies the files are the existing files on your Android phone now.
Supports LG, HTC, Sony, Samsung, XiaoMi and different models.
It has both Windows and Mac versions.
You can preview and recover data selectively.
By now, the whole process of recovering deleted or lost files on Android is completed successfully.
You can follow the way to recover photos from Android easily by yourself.
3. Backup & Restore Android Photos & Videos with Google Photos
Google Photos is a Google's application which allows you log in and sync your photos and videos through Menu icon > Settings icon > Back up & sync, and then enable Back up & sync.
So,
It will upload, search, organize, edit & share your photos from any device.
When you want to restore saved photos or videos from Google Photos, you can follow below steps to get them back.
Launch Google Photos app on your Android phone.
Tap Photos or Albums on the bottom of the interface to find the photos or videos you want to recover.
Tap the items, and then tap share button on the bottom.
Choose save to phone from the options.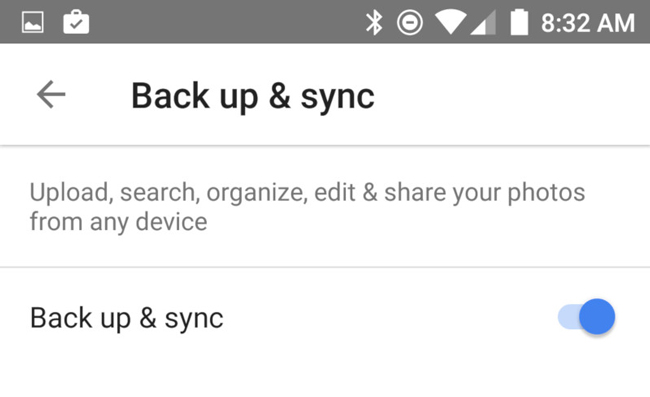 Google Photos appl also allows you to show Google Drive photos and videos in your Photos Library.
That's all.
There are different ways to backup and restore Android data to computer or cloud service. You need to choose a suitable method to save your data, and then you can recover Android data with ease.
It is an outstanding feature that FoneLab allows you to backup and restore Android photos, videos, audio and other data from device selectively, then you need neither nor big storage to backup Android phone data, and you can restore data without backup files.
Related Articles