Recover iOS Data Now
Recover your data from iPhone to computer easily.
iTunes and iCloud Password Reset: How to Change iTunes and iCloud Password

Updated by
Lisa Ou
/ Jan 27, 2021 09:15
I have two different accounts on my iPhone, one is iCloud, another one is iTunes. I am confused that what is Apple ID exactly. I forgot both passwords now, so I can do nothing with my phone. Is there any way to help me get them back? Or can I get a new password? Thanks in advanced!
iTunes is a convenient way to enjoy entertainment and manage data. It is a media player, internet radio broadcaster and mobile device management application.
It helps Apple users solve most of the problems during using Apple devices.
As you know, it promotes you to enter iCloud or iTunes password when you are using Apple devices or when you restore iPhone from iCloud or iTunes because of its high-security design.
But,
Can you imagine that you forgot iTunes password?

Forgetting password can happen in many different situations, and it can be an absolute disaster for Apple user because they can do few of thing on their iPhone without iTunes password. Such as watching a TV show, downloading an app, and listening to music…
So,
How can you do when you are facing up this situation?
Is it possible to reset the iTunes password?
Of course, you can!
Let's walk through the detailed steps to change iTunes password.
1. iTunes Password Reset without Password on iPhone
Apple enables you to reset iTunes password and encrypt iTunes backups and on Apple device or webpage, both of them requires you to complete the authentication to continue.
Note: You can learn how to turn off iTunes backup encryption.
Following is the method you can use to change iTunes password on iPhone device directly.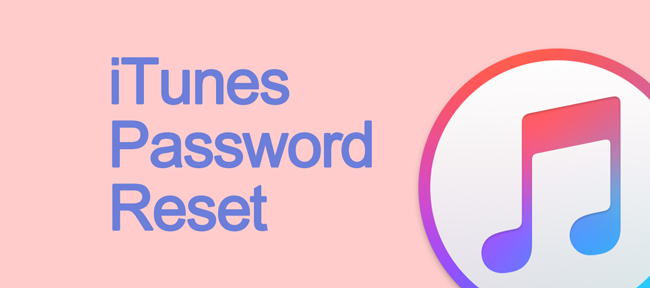 You can follow below steps to reset iTunes password.
Step 1Go to Settings > [Your name] > iTunes & App Store > Apple ID

Step 2Tap iForgot in the pop-up window.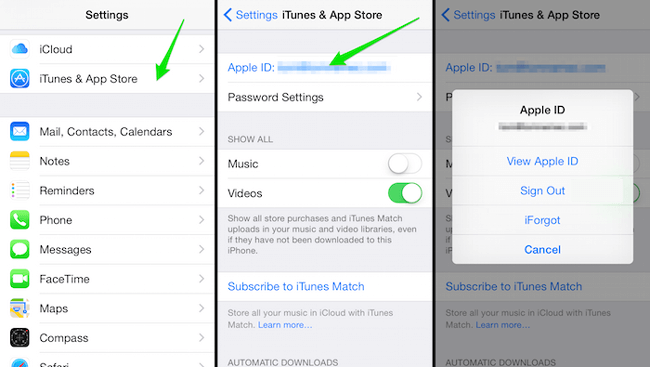 Step 3Confirm the correct iTunes account on the interface and tap Next in the upper-right corner.
Step 4There are 2 choices you can choose to reset your password. Tap the one you would like to use.
Step 5If you choose Reset by Email, follow the directions in the email to reset your password. Otherwise, choose and enter the correct answers in the instruction.
Step 6Enter your new password and tap Next. Please remember that your password must be at least 8 characters long and different to one of the passwords that you have used in the last year.
Above-mentioned is a method helps you change iTunes password if you don't remember current one.
Well, is there another way to change it without current password?
Please confirm if you are using the same account to log in both iCloud and iTunes on your device. If you did, there are two options to change your iCloud password, and then the iTunes will be reset at the same time.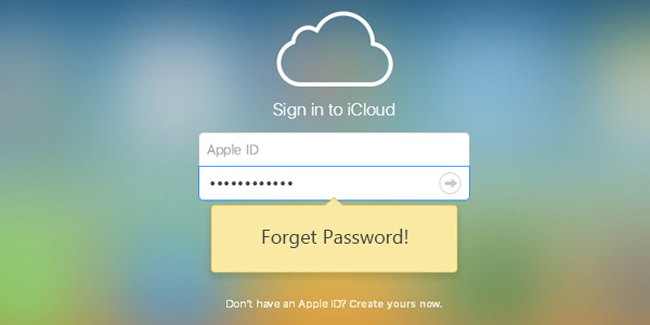 Most of Apple users will use the same Apple ID to log in all Apple services so that the accounts and passwords will not be muddled easily.
What's more,
You can remember only one account to sign in to all Apple services, such as iTunes, iCloud, iWork, App Store, etc. It is convenient that you don't need to note down so many accounts and passwords carefully.
Generally speaking,
iCloud is the account you use as your Apple ID, if it also is your iTunes account, you can reset Apple ID password to change iTunes password.
You can go to Settings app on iPhone to change Apple ID password easily if you remember it.
2. Apple ID Reset with Current Password
Option 1. How to Reset Apple ID Password on iPhone
Change Apple ID password on iPhone is a really nice design if you remember the current password. It can be finished in few steps.
Below is the instruction:
Step 1Go to Settings > [Your name] > Password & Security > Change Password.
Step 2Enter the correct answers to your security questions to verify your identity.
Step 3Enter current password and new password to change iTunes password. If you forgot Apple ID password, tap Forgot Password? in the bottom.
Step 4Tap Change on the upper-right corner.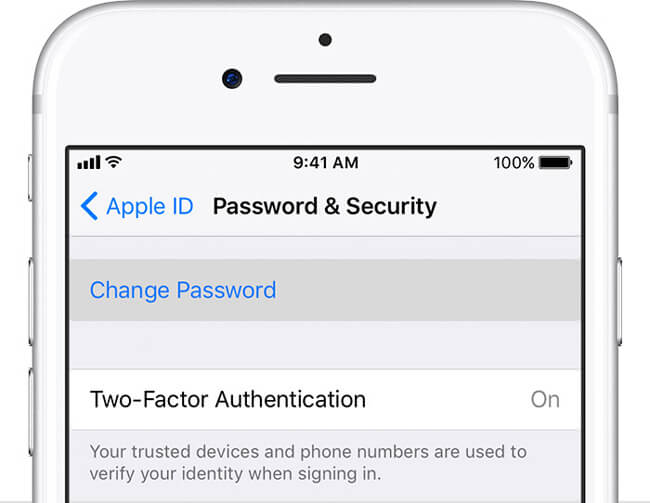 Option 2. How to Reset iCloud Password on Apple ID Account page
Apple ID account page allows you to check which devices you are currently signed in on, change your account passwords, and remove a device and more.
You can choose to operate it on your iPhone directly or a webpage on computer.
Step 1Go to Apple ID Account page on your iPhone or webpage.
Step 2Enter the correct answers to the security questions.
Step 3Click Change Password in the Security section.
Step 4Type current password and new password, and then click Change Password.
Above-mentioned is a method help you change Apple ID password if you remember current one.
So, what you can do if you forgot the iTunes password?
3. Change iCloud Password on Apple ID Account Page without Current password
Step 1Go to Apple ID Account page and click Forgot Apple ID or password on the bottom.
Step 2Enter your Apple ID and type the characters in the image, and then click Continue.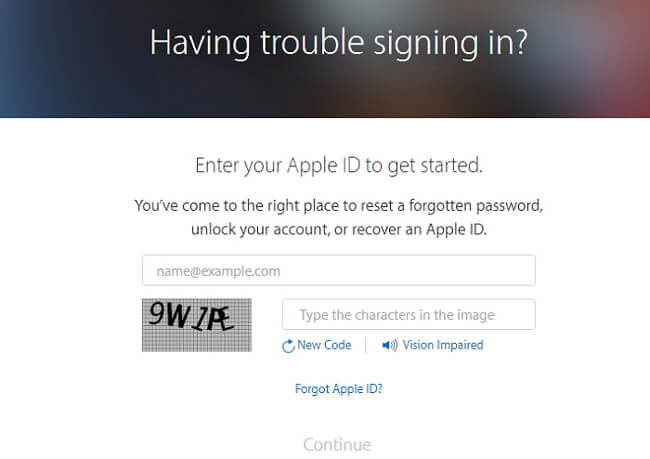 Step 3Choose Get an email or Answer security questions, and click Continue.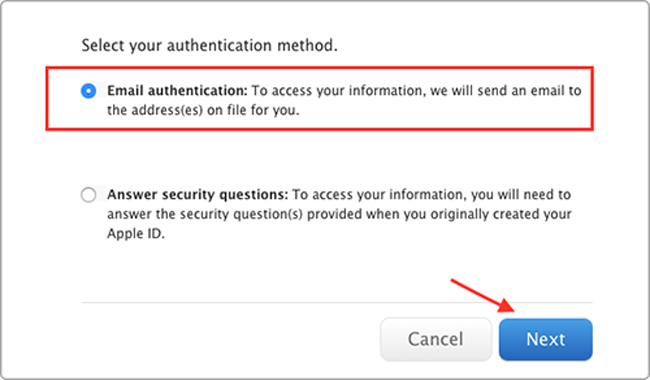 Step 4If you choose Email authentication, just follow the instruction in the email. Or just answer the on-screen questions.
Step 5Enter new password after the authentication process is done.
Step 6Log in your Apple ID account and new password.
Please keep in mind that,
You need to re-login your account after the process was done.
Apple ID is important for Apple user to protect the personal information and verify your identity. You should enter a reliable rescue email and all security questions seriously in Security section so that you can recover your Apple ID information without difficulties. (What to do when Apple verification failed?)
If there is no way to reset the iTunes or iCloud password, you can recover iPhone data with FoneLab for iOS easily. It allows you to recover deleted contacts from iPhone, get iPhone videos back, etc. Have a try now!

FoneLab for iOS
With FoneLab for iOS, you will recover the lost/deleted iPhone data including photos, contacts, videos, files, WhatsApp, Kik, Snapchat, WeChat and more data from your iCloud or iTunes backup or device.
Recover photos, videos, contacts, WhatsApp, and more data with ease.
Preview data before recovery.
iPhone, iPad and iPod touch are available.
You can also use the software to restore iPad from iCloud backup or extract iTunes backup for iOS device. The most advantage is that you have an option to recover only what you want, comparing with common recovery way via iTunes or iCloud. And you will not lose your existing data. Certainly, it is achievable to restore bookmarks in safari or other iOS data.