Get Data Recovery Now
Recover the lost/deleted data from computer, hard drive, flash drive, memory card, digital camera and more.
[Solved] Detection and Recover Corrupted or Deleted WAV Files on Windows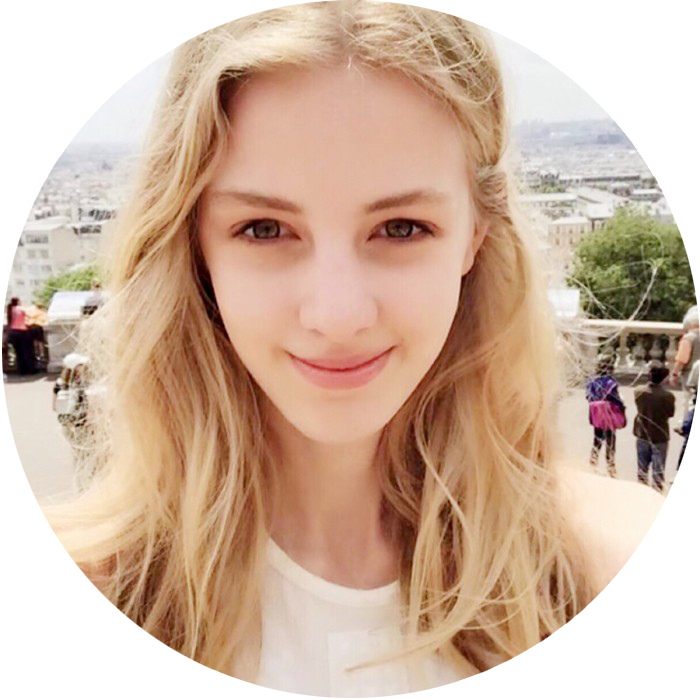 Updated by
Somei Liam
/ Jan 29, 2021 09:00
WAVE (*.WAV) is a sound file format developed by Microsoft Corporation. It is the main format used on Microsoft Windows systems for raw and typically uncompressed audio. It conforms to the PIFFResource Interchange File Format file specification and is used to store audio information resources of the WINDOWS platform and is supported by the WINDOWS platform and its applications. The usual bitstream encoding is the linear pulse-code modulation (LPCM) format.
The *.WAV format supports various compression algorithms such as MSADPCM and CCITT A LAW. It supports multiple audio bits, sampling frequency and channel. The standard format WAV file is the same as the CD format. It is also a 44.1K sampling frequency with a rate of 1411K/sec, 16-bit quantized bits, see it, WAV format sound file quality and CD are almost the same, is also a popular sound file format on PC, almost all audio editing software know WAV format.

However, sometimes audio files stored on PCs, hard drives, USB drives, SD cards, music players may be mishandled, formatted, virus attacked, failed in data transfer, reinstalled, or other accidents. Deleted, damaged or lost.
If you have encountered this situation and don't have a file recovery solution, you can continue reading, this article will show you how to detection and recover corrupted or deleted WAV files on Windows. Or if you want to know how to transfer wav files to iOS devices, you can refer to transfer music from CD to my iPhone.
1. Recover Deleted or Lost WAV Files from Windows Backup
If you have enabled backup option you can recover WAV files from Windows backup.
Step 1 Press the Windows button and click Control Panel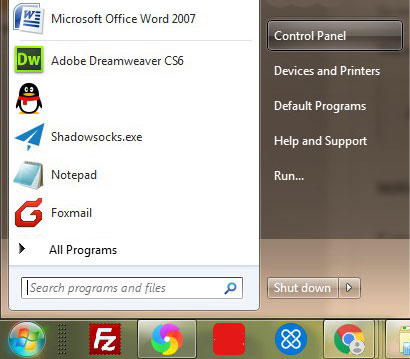 Step 2 Select System and Security option.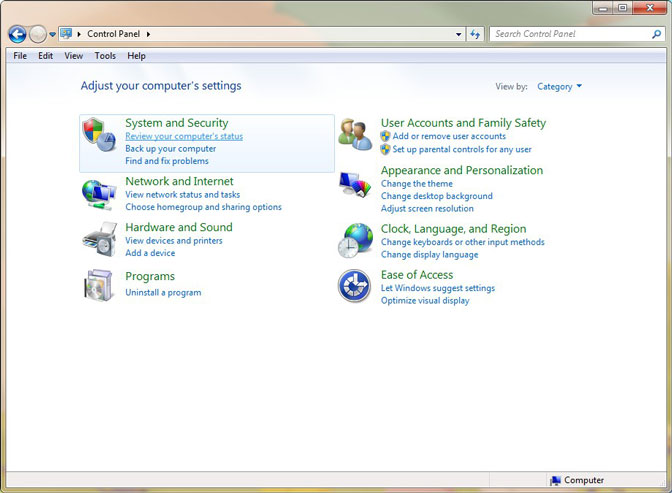 Step 3 Choose Backup and Restore, then select Restore my files, Browse the folders where you had stored your WAV audio files. You can restore all the WAV audio files that are saved before the last backup.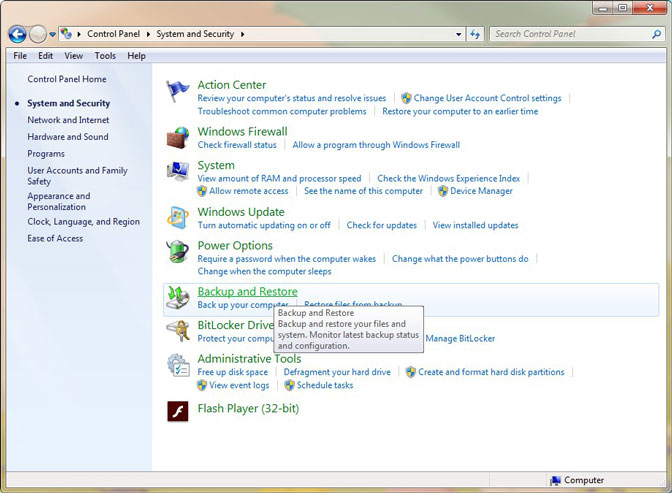 2. Recover Deleted or Lost WAV Files by Using FoneLab Data Retriever
If you are unable to recover the WAV files from Windows Backup, then you can choose FoneLab Data Retriever software. This software is the ideal solution to solve the problem of WAV files recovery in your computer.
With just a few steps, the user can recover files from computer. In addition, the software's user interface is very simple, technicians and non-technical staff can easily solve the problem of how to easily recover the WAV files.
Step 1Download and Install FoneLab Data Retriever.
After we download and install the WAV file recovery tool, launch the program, which is able to retrieve the WAV files and many kinds of files.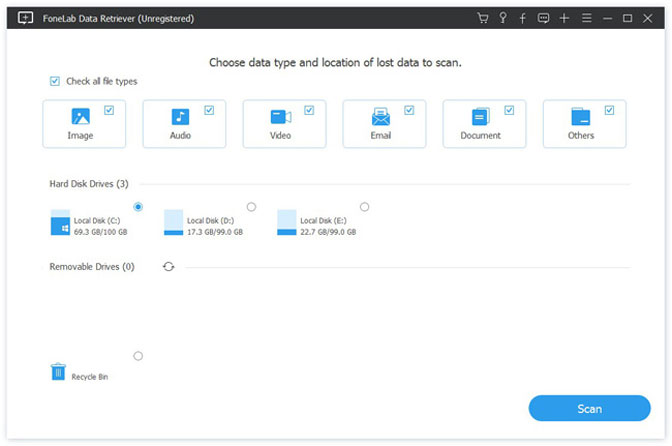 Step 2Scan and Retrieve the Deleted WAV Files
On the home page of the software, we can select the Audio file type that wav belongs to, and then select the location, then click Scan.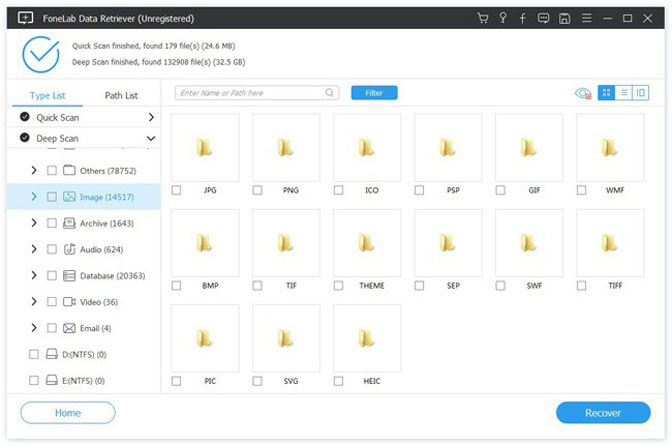 Step 3 Filter the Files You Want to Restore
Just enter the path for the deleted or damaged WAV in order to retrieve the files within a shorter period. You can also enter the Created Date, Modified Date and other information to filter the files you want to restore.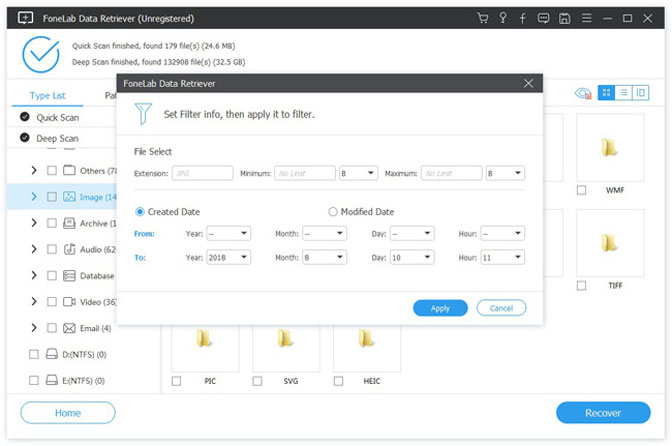 Step 4 Recover WAV Files on Windows with Ease
Once you locate files within the program, you can click the Recover button to recover WAV files on computer.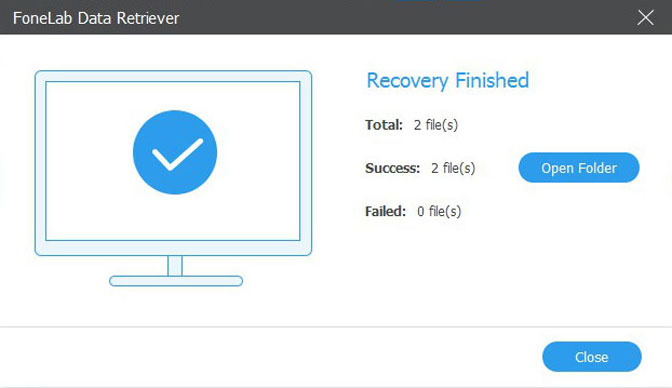 Besides the Quick Scan, you can also choose the Deep Scan mode to retrieve WAV files with the excellent WAV files recovery. Whether the files are deleted, corrupted or overwritten within computer, it should be the first choice you have to take into consideration.
3. How to Detect If the WAV File is Corrupted
When we use FoneLab Data Retriever to recover lost or deleted wav file, you may want to detect if the restored wav file is damaged. Here we will show a simple way to detect if your restored wav file is damaged.
Step 1 Locate and right-click the unplayable WAV files. Then, select Properties.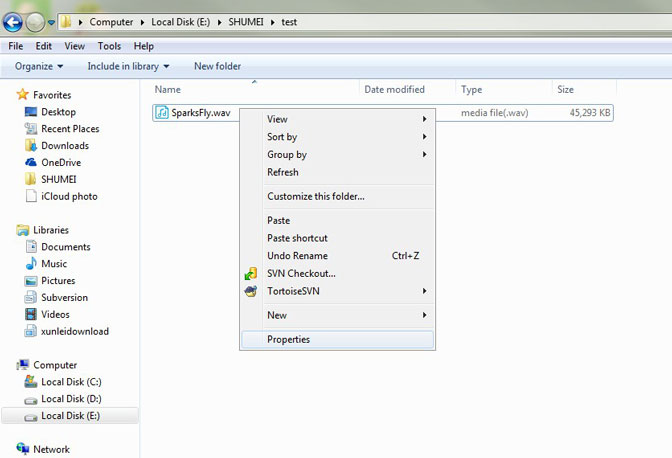 Step 2 Click on Details tab. If the information in the Details tab is missing that means your WAV file is corrupted.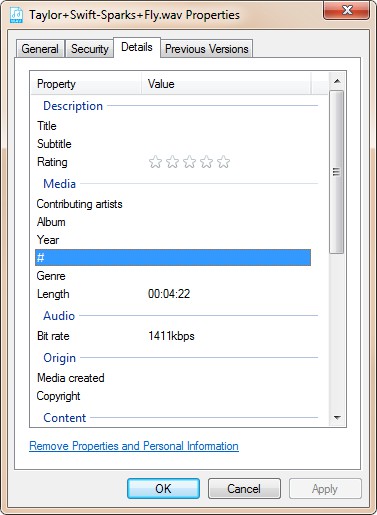 If your WAV file is corrupted you can either repair it or recover it using professional WAV audio recovery software.
Conclusion
Using FoneLab Data Retriever to recover deleted or lost WAV files is a simple and convenient method. In addition, FoneLab Data Retriever can also recover many other kinds of files, such as recover unsaved excel files, document, image, video and so on.
If you want to restore other kinds of audio files, you can refer to this article: recover lost audio files on windows.
Many things can be done by the software, why not download it and use it?

FoneLab Data Retriever
FoneLab Data Retriever - recover the lost/deleted data from computer, hard drive, flash drive, memory card, digital camera and more.
Recover photos, videos, documents and more data with ease.
Preview data before recovery.