Get Data Recovery Now
Recover the lost/deleted data from computer, hard drive, flash drive, memory card, digital camera and more.
How to Recover Deleted Files from Recycle Bin after Empty on PC
I deleted a folder on my computer last night and then emptied the recycle bin. However, this morning, I just realized many documents deleted were very important. How to recover permanently deleted files from recycle bin in windows 10? Any help will be appreciated.
Everyone knows the essential part that the computer plays in our daily lives and work. In order to free up space and manage data, it is necessary to clear up some useless files. But in the process, people may accidentally delete some important files from their computers.
As long as you haven't emptied the Recycle Bin, it's easy to restore files from the Recycle Bin in Windows. This is a very important reason why Microsoft call this tool as Recycle Bin instead of Shredder.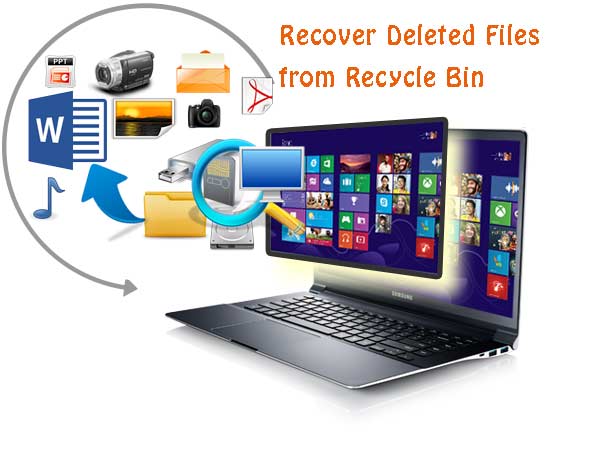 However,
Most people have the habit of regularly emptying the Recycle Bin. In general, these files cleared from the Recycle bin are gone for good. Then people will have difficulty in recovering deleted files when they realize that they have deleted a wrong file.
Luckily, it is still possible to recover permanently deleted files.
1. How to Recover Deleted Files from Recycle Bin
The Recycling Bin allows users to recover files that have been deleted in Windows. When a file or folder is deleted, it will remain in the Recycle Bin until you empty the Recycle Bin.
Here is the detailed guide.
Step 1 Open the Recycle Bin by double-clicking on its icon on the Desktop.
Step 2 Locate and then select a single file or multiple files you need to restore.
Step 3 Right-click the selected items and then choose Restore.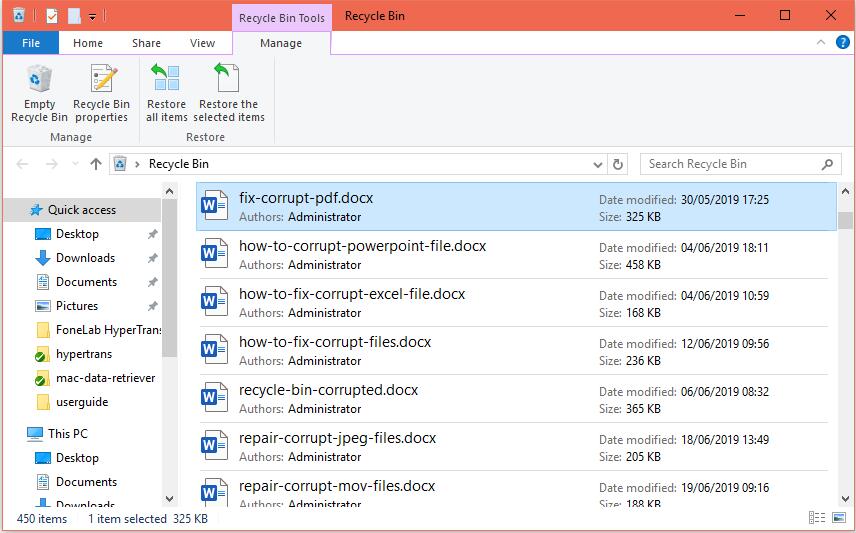 All files will be restored to their own respective original locations. In other words, you can restore all of the files at once, but that doesn't mean that they'll go to the same folder unless, of course, they were deleted from the same folder.
Or you can restore a file by dragging it out of the Recycle Bin window into a folder of your choice.
2. How to Show the Recycle Bin Icon on The Desktop
Recycle Bin doesn't have to be placed on the desktop all the time. While it can't be uninstalled, it can be hidden. You may have done this to keep the desktop a bit cleaner. That certainly makes it hard to restore deleted files.
Here is how to show the Recycle Bin icon again on the desktop if it has been hidden.
Step 1 Right-click anywhere on the desktop and select Personalization.
Step 2 On the left sidebar, click on Change Desktop Icons and then the Desktop Icon Settings box will pop up.
Step 3 Select the Recycle Bin check-box and click Apply. It will restore Recycle Bin icon and show the icon on your Windows desktop.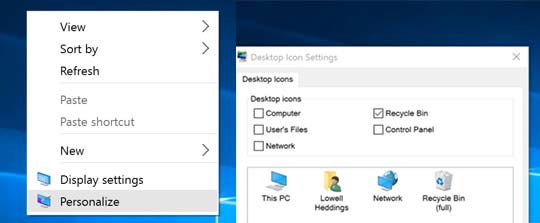 3. How to Recover Permanently Deleted Files from Recycle Bin
For average users with a little technical background, it is almost impossible to recover permanently deleted files. In fact, these files are still recoverable with the help of a data recovery tool.
FoneLab Data Retriever is designed to recover these files that have been cleared out from the recycle bin. It can help you recover various types of data in windows such as photos, documents, audio, video and more from the recycle bin.
Let's see how it works.
Step 1Launch FoneLab Data Retriever
Download and install this data retrieve software on your computer. Then the software will launch automatically.
Step 2Scan Data
When entering the main interface, you should choose the data types you want to recover first. Then mark Recycle Bin on the bottom and click Scan.
Two scanning modes are offered, Quick Scan and Deep Scan. Clicking Scan button will give you a quick scan on the Recycle Bin.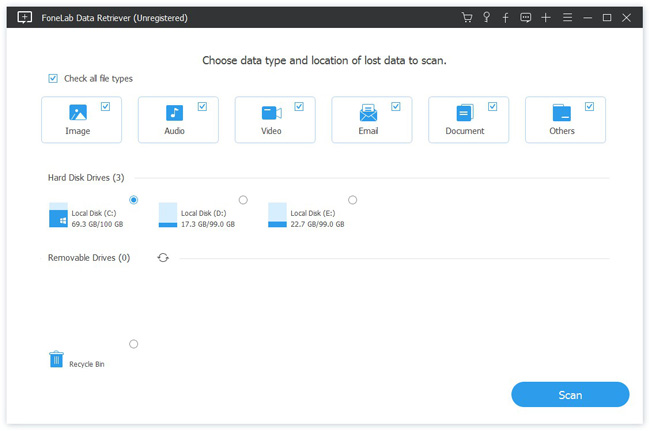 Step 3Choose data
After scanning, all the deleted or lost files will be listed in the interface. You can use Filter feature to quickly locate the files you want to recover.
Note: If you can't find your missing data, you can click Deep Scan to try again. Deep Scan will take more time to complete the whole scanning process, but it will offer you all possible results which can be restored.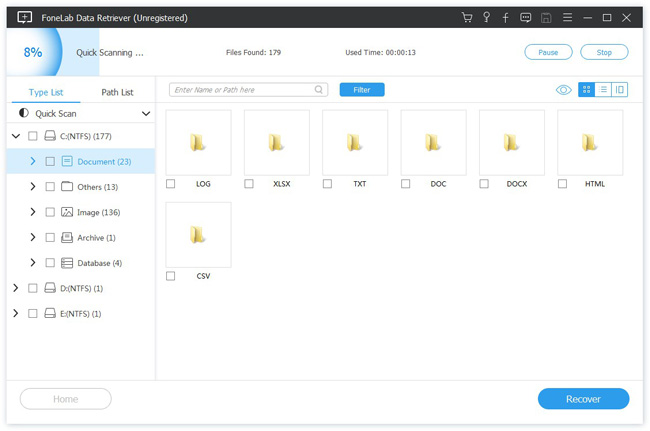 Step 4Recover data
With just one click on Recover button, you can handily get all the selected files back to your computer.
In addition to the recycle bin, the local disks can also be scanned by this software.
Besides,
It is able to recover almost lost data from flash drive, memory card, digital camera and more with ease.
Anyway, it offers a 30-day trial. Before purchasing it, you can use it to see if your deleted files are restorable.
Now, free download it for a try.