Recover PC Data Now
Recover the lost/deleted data from computer, hard drive, flash drive, memory card, digital camera and more.
Document Recovery – Recover Lost Documents in Windows
Is it possible to recover permanently deleted documents? I deleted a folder, and also removed it from Recycle Bin. How can I recover deleted documents from my computer?"
We need to use various types and formats of documents in our daily work such as Word, Excel, TXT, LOG, HTML, CSV, etc.
Have you ever deleted an important document only to discover later that you wished you hadn't? Have you ever experienced a system failure while you were working on a document so you lost your hours of work?
Of course, the first place you should look is the Recycle Bin when you want to find deleted documents. If you are lucky enough and the Recycle Bin have caught your lost documents, they are certainly still kept in the Recycle Bin until you manually remove them.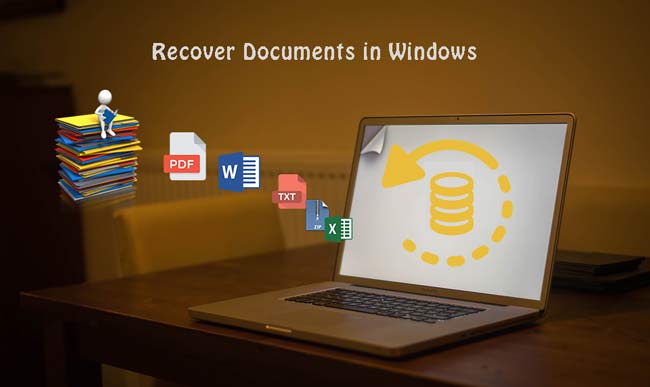 If you don't find the missing documents in the Recycle Bin, the second thing you should do is to search the computer database: Go to Start menu and type the document name or at least a part of it in the Search for Files or Folders named box. Maybe this document is stored somewhere else.
What if they were deleted completely and permanently? There is no problem if you have a backup. Windows has a built-in utility to back up all content and settings on the computer, giving users a chance to recover lost documents at any time.
But sometimes, we don't have backups and we are not lucky enough. Can't these missing documents be recovered by any chance? Not really.
Here, I will share 2 ways to restore lost documents.
1. Restore Deleted Documents from Previous Versions
As long as System Protection is enabled, Windows has an automatic file and folder backup called Previous Versions built in. The only catch is that you have to remember the name of the file you deleted and what folder it was in.
At first, let's learn the steps to turn on System Protection.
Step 1Click Start menu on the computer.
Step 2Choose Control Panel > System and Security > System.
Step 3Click System Protection on the left panel.
Step 4Look at the Protection Settings section, ensure the Protection is set to On for the system drive. If not, select the System Drive and click the Configure button.
Step 5In the new window, check Restore System Settings and Previous Versions of Files and click Ok.

To restore deleted documents from previous versions, do the following.
Step 1Create a dummy document with the same name and extension as the lost file and place it in the original folder where the lost file resided. The contents of the file are irrelevant.
Step 2Right-click the document and select Restore Previous Version. A list of available previous versions of the document will appear.
Step 3Choose previous versions and then click Open to view it to make sure it's the version you want.
Step 4Select the copy you want (probably the most recent one), and then click Restore.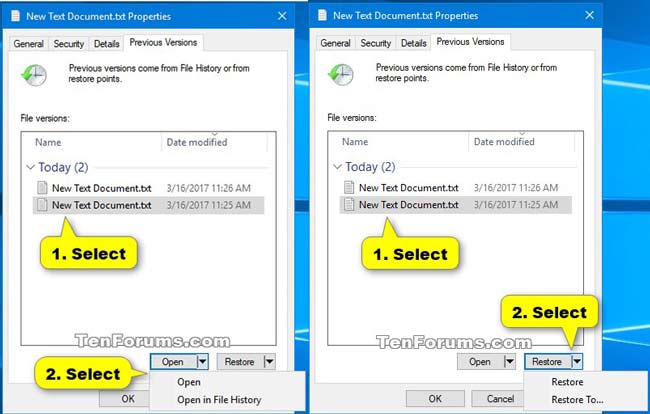 2. Recover Deleted Documents with FoneLab
You may not have succeeded in recovery your documents.
What then? Maybe it is time to take advantage of a data recovery software program.
FoneLab Data Retriever is a powerful and technologically advanced document recovery tool, which has a capability to recover almost all lost documents by scanning the Disks and the Recycle Bin of your computer.
It is able to recover documents lost for any kind of reasons such as system crash, non-responding, unsaved, deletion, corruption, overwritten, etc.
Let's see how to use it.
Step 1Run This Software
Firstly, you need to download and install this software with the above link. Then the software will get launched automatically.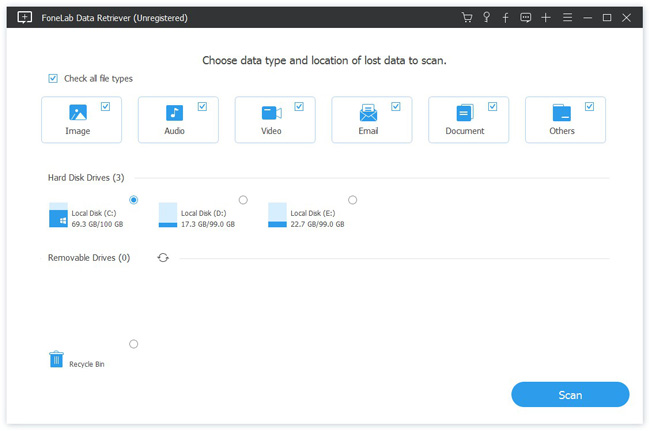 Step 2Scan Data
In the main menu, choose the data types you want to recover - here you should choose Document. And select the location where you lost the document. If you are not sure of the location, you can choose to recover deleted files from the Recycle Bin by scanning the Recycle Bin. Then click the Scan button to start the quick scan process.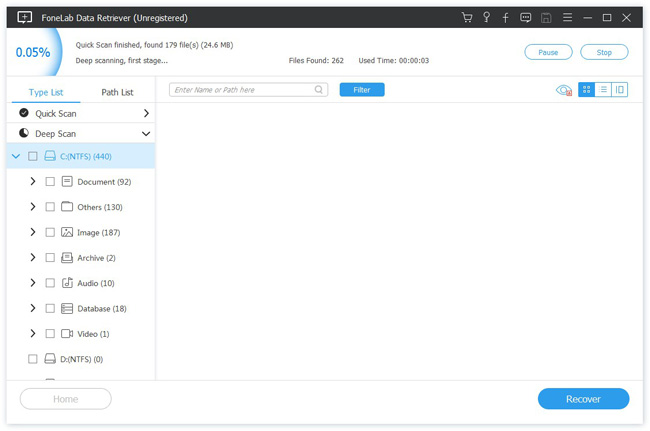 Step 3Choose data
After finishing the scan process, all the deleted or lost documents will be listed in the interface. Choose the data type on left to look for your needed document. Alternatively, you can use Filter feature to quickly locate the files you want to recover. If quick scan can't bring the desired result, you can click Deep Scan in the top right corner to try again.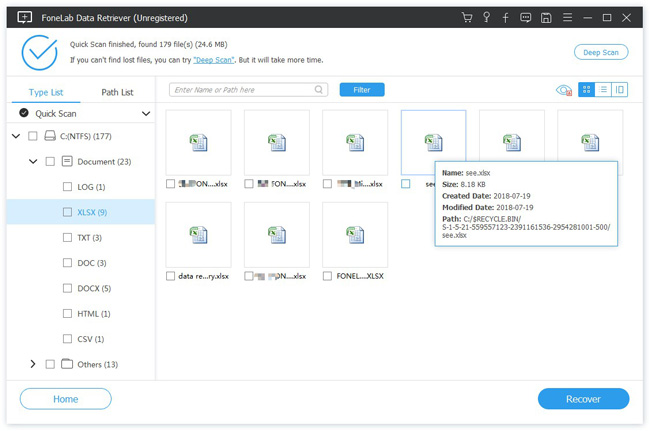 Step 4Recover data
Mark the document you want to recover and click the Recover button. The selected document will be saved back to your computer.
In addition to restoring Word, Excel and other documents, this software can also recover audio files, images, videos and other types of data.
Moreover,
It can help you recover data from flash drive, memory card, digital camera, removable drive, etc.
Why not download it and give it a shot?