Get Data Recovery Now
Recover the lost/deleted data from computer, hard drive, flash drive, memory card, digital camera and more.
3 Ways on How to Restore Database from Disk/Backup in Windows

Updated by
Valyn Hua
/ Feb 26, 2021 09:00
When I worked on my computer, the Windows happened to crash. Then the whole database in a disk disappeared. Is there a way to restore a database?
Have you ever done it – deleted files when you didn't mean to?
Certainly, when you want to access your lost data, the first place you should look is the Recycle Bin. It may seem a little obvious, but this back-up facility is usually overlooked. If you are lucky enough and the Recycle Bin have caught your lost file, you can right-click it and select Restore from the menu.
Another little trick worth a try is to search for the deleted file across the whole database. There is a good chance that the missing data are still kept in another disk. Do yourself a favor, go to Start on your computer and type the file or folder name in the Start Search.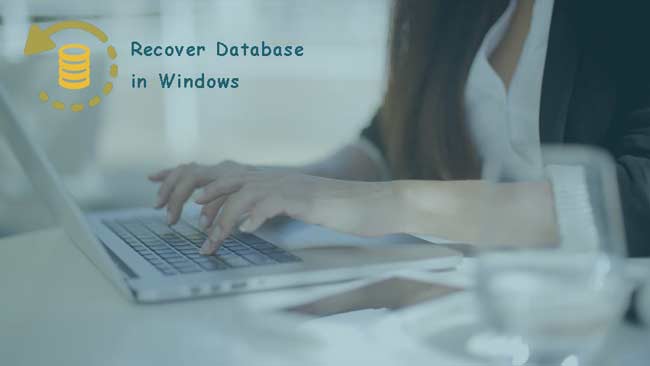 However, it's very rare that some important data are completely deleted for good.
Whether it's accidentally dropping them in the Recycle Bin and then erasing them or deleting something by pressing Shift + Delete button without thinking thing through first, we've experienced the jaw-dropping realization that we've lost work. And you may have experienced even more horror at a hard-drive crash.
You think those files have been deleted forever, but they can be rescued.
In case you're trying to recover a deleted database, there are solutions to fix it.
1. How to Restore Database from Backup
The nightmare of data loss can be avoided altogether if you make regular backups.
Follow these steps to restore database from backup.
Step 1Go to Start on your computer.
Step 2Select Control Panel > System and Security > Backup and Restore.
Step 3To restore your files, choose Restore My Files or Restore All Users' files.
Step 4Select Browse for Files or Browse for Folders to look through the content of the backup. Or you can select Search and type the file name to find your needed backup file. Then click Ok.
Step 5Choose the location to which you want the files restored and then follow the steps in the wizard.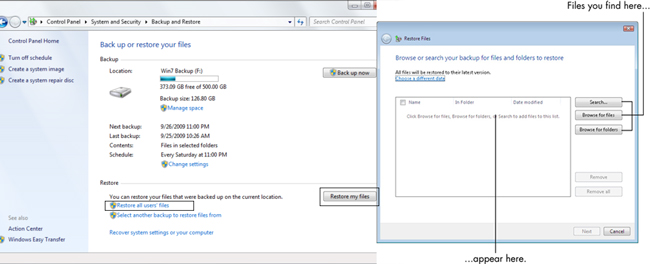 2. How to Restore Database to Previous Versions
If system protection is turned on, copies of a database will be created by Windows as a restoration point before the database was modified.
In order to use this feature to restore files and folders, turn on system protection.
Step 1Click Start > Control Panel > System and Security > System.
Step 2Click System Protection on the left panel.
Step 3Select the Drive and click Configure.
Step 4In the new window, check Restore System Settings and Previous Versions of Files and click Ok.

To restore files and folders to previous versions, do the following.
Step 1Go to the folder that contained the deleted database.
Step 2Right-click the file and select Restore Previous Version. A list of available previous versions of the folder will be shown.
Step 3Select the previous version, and then click Open to view it to make sure it's the version you want.
Step 4To restore a previous version, select the previous version, and then click Restore.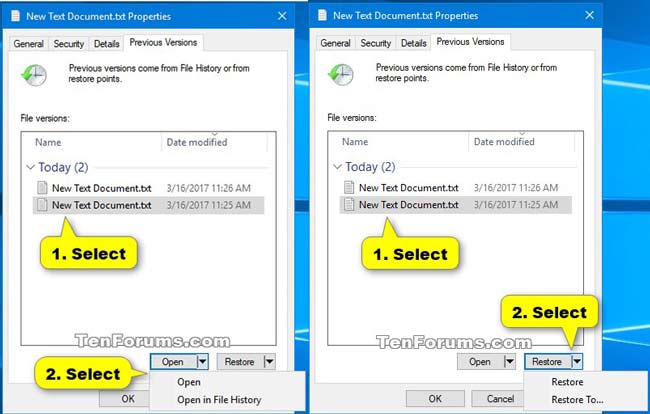 3. How to Recover Database with FoneLab
What if the database doesn't have any backups or copies?
At this point, you definitely need a powerful and safe data recovery software to help you recover the deleted database.
FoneLab Data Retriever is the reliable one, which has a capability of recovering almost all lost data like photos, documents, emails, audio, videos and more by scanning the whole database on your computer.
It is able to recover data lost for various reasons such as system crash, non-responding, unsaved, deletion, corruption, overwritten, etc.

FoneLab Data Retriever
FoneLab Data Retriever - recover the lost/deleted data from computer, hard drive, flash drive, memory card, digital camera and more.
Recover photos, videos, documents and more data with ease.
Preview data before recovery.
Let's see how it works.
Step 1Download and install this software on your computer. Once the installation is done, the software will get launched automatically.
Step 2On the homepage, choose the data types you want to recover. Then select the location where you lost the files.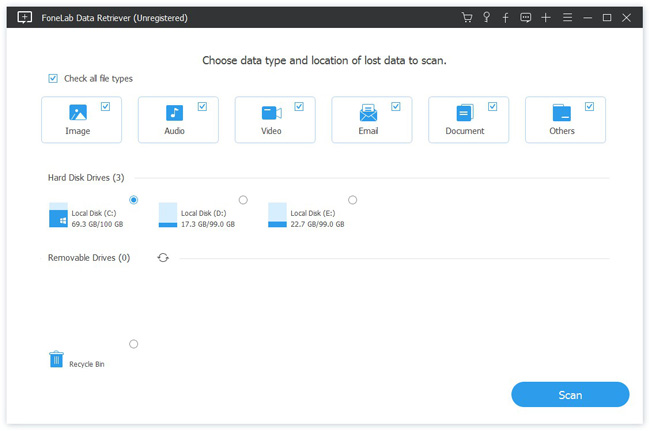 Step 3Click Scan button to start the quick scan process. After finishing the scan process, all files will be cataloged on the left sidebar. On this page, you can click Deep Scan in the top right corner to get more scan results.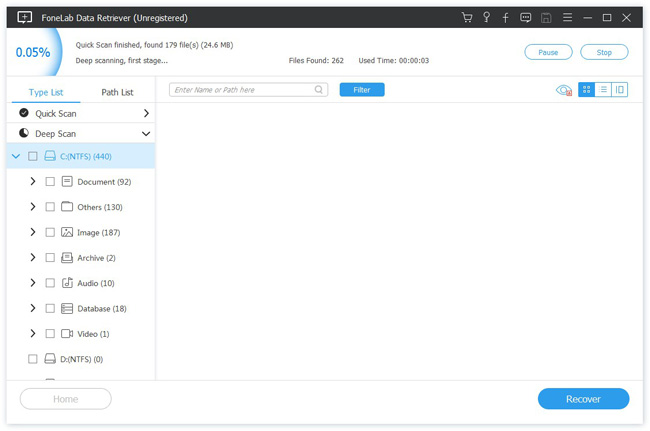 Step 4Click data types on the left and the files will be displayed on the right. You can also take advantage of Filter feature to quickly locate the files you want to recover.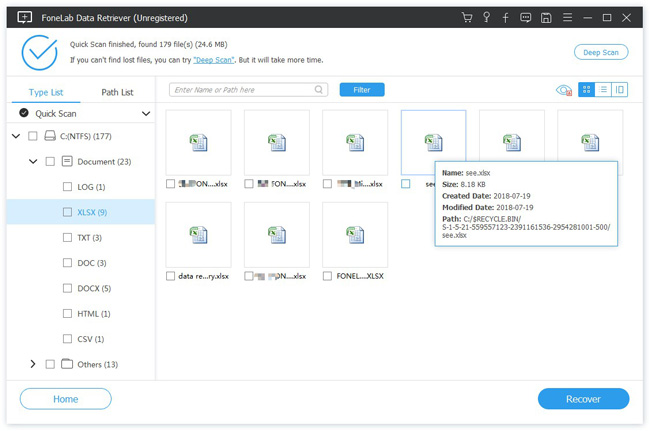 Step 5Mark the items and click Recover. The selected data will be saved back to your computer.
Besides, this software can also recover Word document, restore Excel file, retrieve audio files and more from computers, memory card, flash drive, digital camera camcorder, etc..
Just click below links to free download it and get a 30-day trial.