Get Data Recovery Now
Recover the lost/deleted data from computer, hard drive, flash drive, memory card, digital camera and more.
PDF Recovery – 3 Ways to Recover PDF Files in Windows
Is there a way to recover a lost PDF file after a crash? Are these files still stored somewhere and therefore recoverable? Any help will be highly appreciated!
What is a PDF file?
PDF - short for Portable Document Format - is a file format developed by Adobe for file exchange. PDF file preserves all the fonts, formatting, graphics, and color of any source document, which makes them more shareable and helps them look the same on any device. Today, it becomes the one of most commonly used file formats in our daily life and work.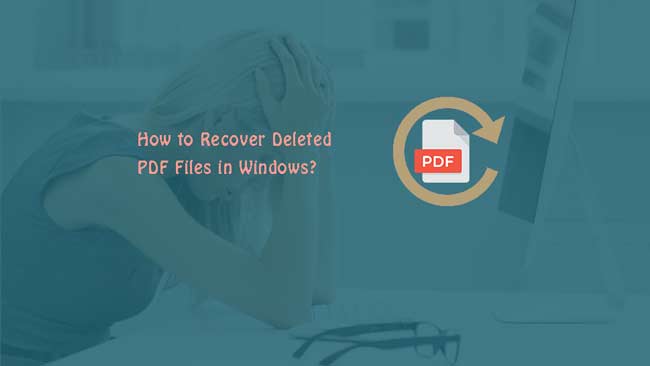 We all have done it - deleted an important file when we didn't mean to.
If you just drop a PDF file in the Recycle Bin, you can easily get it back: go to the Recycle Bin, right-click the PDF file and choose Restore.
What if PDF files are lost by emptying the Recycle Bin or system crash? You think these files are completely deleted for good, but they can be rescued.
In fact, the PDF files will not be lost permanently on the computer, even if we empty the recycle bin or Shift + Delete the PDF files, as the computer just hides the data by removing information that points to the location of the file and marks the space as free. In this case, when the file is accessed, the program is unable to locate it.
With a bit of technique, you can recover lost PDF document.
1. Restore PDF Files by Searching for Temporary Files
A temporary file or temp file is a file created to hold information temporarily while a file is being created. After the program has been closed, the temporary file should be deleted.
However, if you quit Windows in an irregular way, the files are not closed or deleted. These files are used to help recover lost data if the program or computer is abnormally halted.
Temporary file names end with the .tmp extension. To find these files and recover your needed PDF files, please follow the steps.
Step 1 Click Start button on your computer.
Step 2 In the Search for Files or Folders Named box, type .tmp.
Step 3 On the Show Only Toolbar, click Other.
Step 4 Scroll through the files and search for files depending on the last modified date and time.
Step 5 If you find the file that you're looking for, drag it to the desktop and change the extension .tmp to .pdf.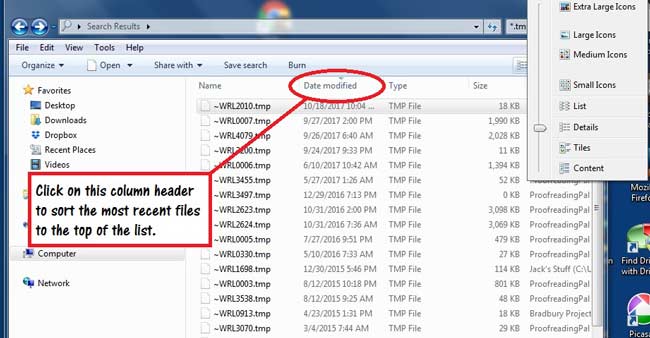 2. Recover Corrupted Text File from Previous Versions
Backing up your files is one of the most important things you can do to safeguard the data you create and store on your computer. To this end, Microsoft included a full backup and restore function with Windows.
Windows Backup contains all files in the libraries, folders, and drives you choose or let Windows choose.
After you create backups, you will be able to restore files from these backups.
To restore deleted PDF files from backup, do the following.
Step 1 Open the Start menu on your computer.
Step 2 In the Search for Files or Folders Named box, type backup.
Step 3 Choose Backup and Restore from the resulting list.
Step 4 Click Restore My Files or Restore All Users' files.
Step 5 In the Restore Backup dialog box, look through the content of the backup and locate the files or folders you intend to restore. You can use Search, Browse for File, Browse for Folders functions to find your files.
Step 6 Choose the location to which you want the files restored and then follow the steps in the wizard.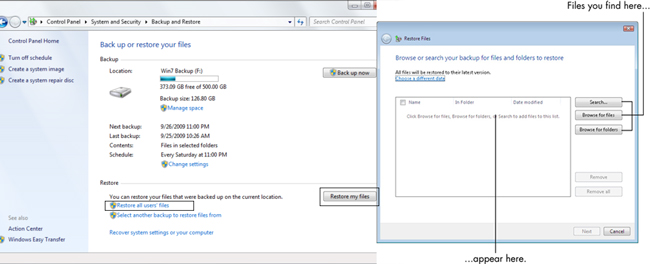 3. Recover Lost PDF Files with FoneLab
FoneLab Data Retriever is a powerful and technologically advanced PDF recovery tool, which has a capability to recover almost all lost PDF files by deep scanning the disks and the Recycle Bin of your computer.
It is able to recover PDF files lost for system crash, non-responding, unsaved, deletion, corruption, overwritten, etc.
Let's see how to use it.
Step 1 Run This Software
Download and install this data recovery software on your computer. Then the software will get launched automatically.
Step 2 Select Data Type and Disk Drive
In the main menu, choose the data types you want to recover first. Here you should choose Document. Then select the location where you lost the PDF file. If you are not sure the location, you can recover deleted files from the Recycle Bin by scanning the Recycle Bin.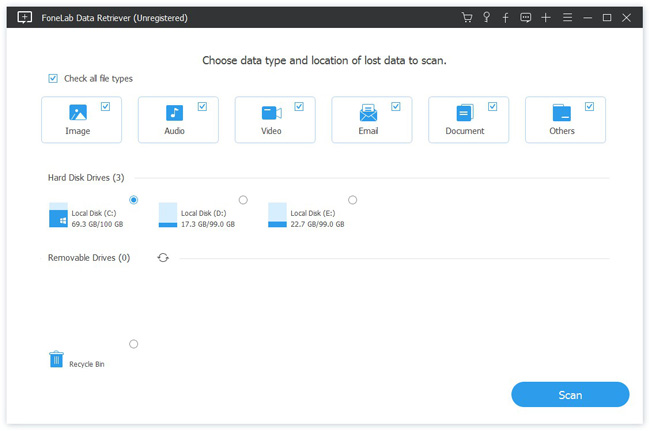 Step 3Scan Data
Click Scan button to start the quick scan process. After finishing the scan process, all files will be cataloged on the left sidebar. If quick scan can't bring the desired result, you can click Deep Scan in the top right corner to try again.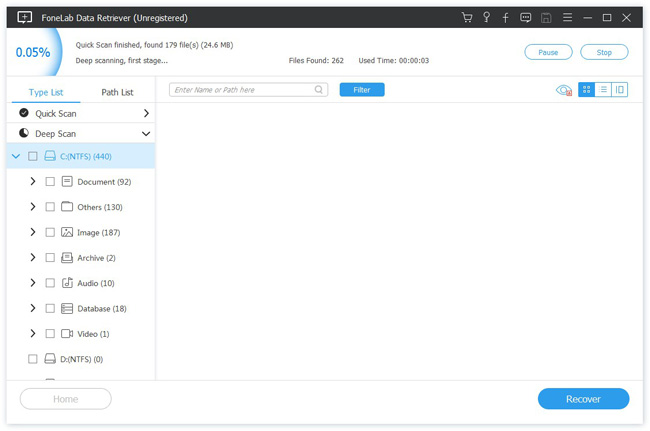 Step 4Choose Data
All the deleted or lost files will be listed in the interface. You can preview the relevant information of each file to find your needed file. Alternatively, you can use Filter feature to quickly locate the files you want to recover.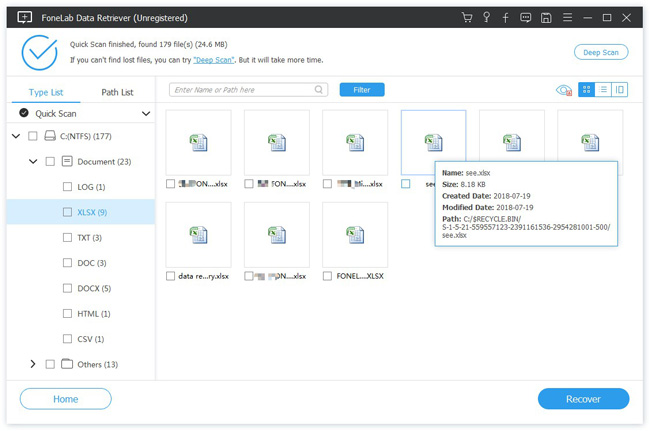 Step 5Recover Data
Mark the files and click Recover. The selected files will be saved back to your computer.
Besides PDF files, this software can also recover Excel files, Word documents and other types of files.
Moreover,
It can help you recover data from hard drive, flash drive, memory card, digital camera, removable drive, etc.
Now, click below link to download this software on your computer and get a 30-day trial.