Recover PC Data Now
Recover the lost/deleted data from computer, hard drive, flash drive, memory card, digital camera and more.
Portable Drive Partition Recovery – How to Recover Lost Partition on External Hard Drive
External hard drive is convenient and useful. It is able to backup sensitive files, transfer data between different devices, and extend internal storage capacity. How to recover lost partition on external hard drive if you cannot locate the files?
When you need to retrieve some important files from portable drive partition, you should know the reasons for the lost or deleted partition of the external hard drive. What is the most important, you can also get the best portable drive partition recovery to get the files back with ease.
1. Why External Hard Drive Partition Get Lost or Deleted
Virus and malware. The biggest benefit of external hard drive is portable. It means that we can use it anywhere and on any computer. That makes it easy to expose to unsafe environment. Once virus infects and attacks your external hard drive, the partition on it may be deleted.
Incorrect removal. It is suggested that we should click the Safely Remove Hardware icon before disconnecting an external drive from a computer. But many people even have not heard of the option, not mention to use it. Removing a portable drive directly could lead to partition corruption and other serious problems.
Hardware conflicts. External hard drive includes a variety of types for different uses and machines. If you insert one into an incompatible machine, the filesystem may crash and partitions may corrupt.
Change filesystem frequently. FAT 32 and NTFS are the commonly used file systems for external drive. If you switch the file system on your portable drive, the partition will be corrupted.
Resize partitions on your external hard drive improperly. Some people create multiple partitions on portable drive to save different data. When resizing an existing partition, other partitions may be deleted.
As you can see, the factors that lead to external hard drive partition lost are complicated. The good news is that some developers have released recovery tools available to external hard drive.
In other word, there is third-party software that has the capacity to recover corrupted partition on external hard drive and get back your data.
2. How to Recover Lost Partition on External Hard Drive
Compared to hard disks, external hard drives are more vulnerable. However, you can do something to enhance the opportunity for data recovery.
Firstly, you should stop what you are doing immediately. Your files stay on the hard drive before they are overwritten by new data. More importantly, you should select a proper tool to recover lost partition on your external hard drive.
FoneLab Data Retriever is the simplest way of partition recovery to get back the deleted files from portable drive partition.
Retrieve data from corrupted partition on external hard drive simply.
Support a variety of data types, like photos, videos, documents, audio, etc.
Get back lost data through both Quick Scan and Deep Scan modes.
Preview deleted files organizing by data types and formats.
Available to all external hard drives, including HHD and SSD.
All in all, it is the best option to recover corrupted or lost partition on external hard drive.
How to Recover Lost Partition on Portable Drive
Step 1Get Data Retriever on your computer
Download and install Data Retriever on your PC. There is another version for Mac OS X. Plug your external hard drive into your computer and then launch the application. There are three parts on the main interface, data types, Hard Disk Drives and Removal Drives
Tip: Make sure that the cable and ports are working well when connecting external drive to your machine.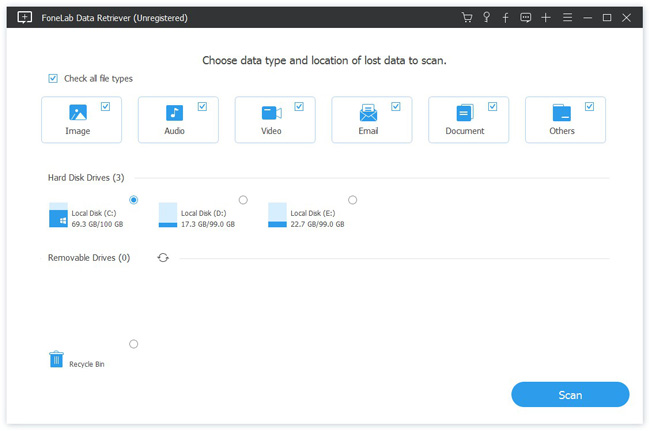 Step 2Preview lost data on external hard drive
Select the data types you'd like to recover, like Image, Audio, Video, Document, and more. Or tick the checkbox next to Check all types. Locate the Removal Drives and select your external hard drive. Click the Scan button to start searching for lost files of external hard drive. When it is done, you can look at your files by types.
Cannot find your desired files? Perform the Deep Scan mode, which will retrieve more data. But it will spend more time than the Quick Scan mode.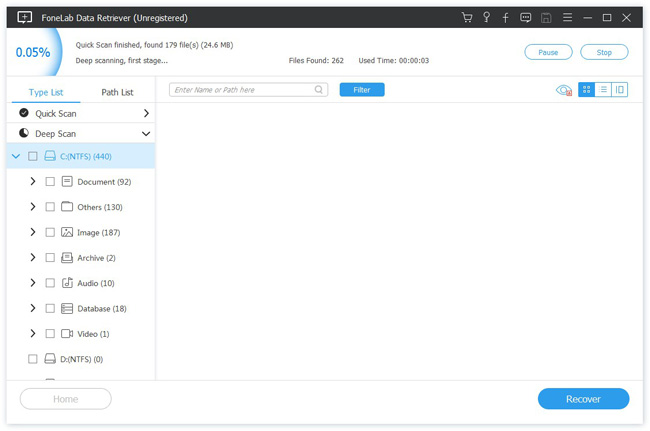 Step 3Recover files from external hard drive
There are several ways to help users quickly locate files. The search bar on top of the window is used to seek files by keyword. Moreover, the Filter function next to the search bar allows users to filter files by extension, size and date.
Select all desired files and then click the Recover button. According to our testing, it takes only a few minutes to recover all data from portable hard drive.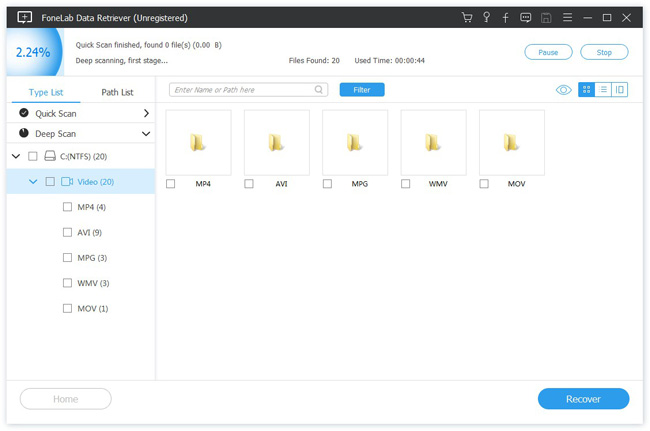 Note: The portable drive partition recovery will restore lost files to another location, like hard disk. After the process, you can access and modify your files normally.
Conclusion
The article shares the best way to recover lost partition on external hard drive. Now, you should understand what you should do when discovering partition is corrupted or lost. FoneLab Data Retriever is not only easy to use, but also able to effectively get back your partition on removable hard drive.
Plus, you can also find the most common reasons that lead to the problem, like virus and improper operations. In order to avoid these mistakes to protect your hardware and data when unfortunate happens, just follow the guide to get back your data.