Recover PC Data Now
Recover the lost/deleted data from computer, hard drive, flash drive, memory card, digital camera and more.
Hard Drive Partition Recovery – Best Method to Recover Data from Hard Drive Partition without Losing Data
It is important to know how to recover data from hard drive partition without losing data. You might experience the feeling of dread when an important document or folder is not where you expect it to be.
Generally speaking, the problems might be caused by various errors on hard drive partition. You need to partition a hard disk into one or more partitions before it can be used to store data.
And when you cannot find a certain partition on your computer, it means you encounter partition loss issue. Fortunately, you have more than one solution to recover deleted hard drive partition. And this post will tell you the best methods to get back your data.

1. Reasons for Hard Drive Partition Lost
The number of potential causes for missing drive partition is almost endless. It is impossible to cover all of them in one article. Instead, you identify the most commonly reasons for partition loss. Check out the reasons before you select a hard drive partition recovery to get back the files.
Bad sectors. It is not as vulnerable as removable devices, bad sectors may happen. If there are too many bad sectors or it occurs on important location, your computer may not recognize the partition.
Partition table is corrupted. The partition table may be damaged or corrupted due to various factors.
Virus attack. Sometimes, the download files from websites or transfer data from other devices. There are chances that virus or malware infects your computer. It may delete hard drive partitions and personal files too.
Loss of volume label, drive letter or partition name. When you reinstall or upgrade operating system, the hard drive may be changed. In result, the partitions will be lost along with other information.
Power failure. In some cases, a sudden power failure or surge can damage the drive and make a partition inaccessible.
2. How to Perform Hard Drive Partition Recovery
The good news is that if you act properly after finding a partition is missing, you are able to recover data from hard drive partition. First of all, a partition is corrupted, but your data is still on the location.
Of course, you cannot see it without third-party software. Another important thing is that you should stop using your hard drive immediately. Once the location is overwritten by new data, you files will be gone forever.
Last but not least, you should select a powerful recovery tool if you really want to get back your data. FoneLab Data Retriever is a good choice and it has extensive useful features:
Recover data from hard drive partitions with a single click.
Support a variety of data types, like photos, videos, audio, document, etc.
Search for lost data using Quick Scan and Deep Scan modes.
Preview deleted files for selective data recovery.
Available to hard drive, flash drive, SD card, memory card, and more.
How to Get Hard Drive Partition Recovery Simply
Step 1Install Data Retriever on your machine
Data Retriever is compatible with Windows and Mac OS X. So, download and install it on your computer. Then launch it from your desktop.
There are three sections in the main interface. Go to the data type area and check the data types you want to get back, such as Documents. Move to the Hard Disk Drive section and select where you stored the lost files.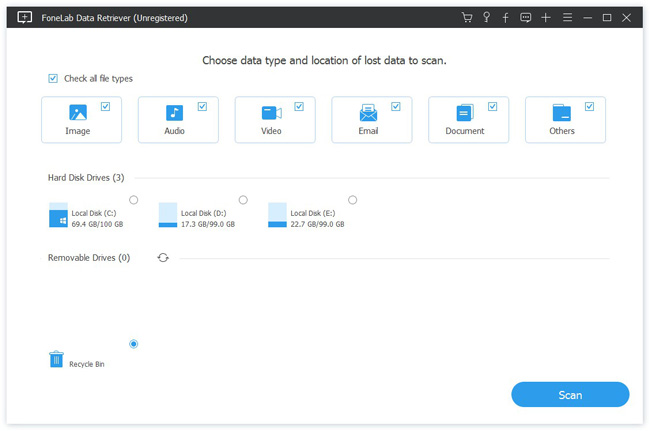 Step 2Scan your hard drive to look for lost files
Click on the Scan button and wait for the scanning process to complete. Then you will be taken to the result window. Go to Quick Scan > Documents on the left sidebar.
Next, click the Filter button to activate the File Select dialog. Here you can search for certain documents based on file extension, size, and modified date. Moreover, the Deep Scan feature will help you to find more data.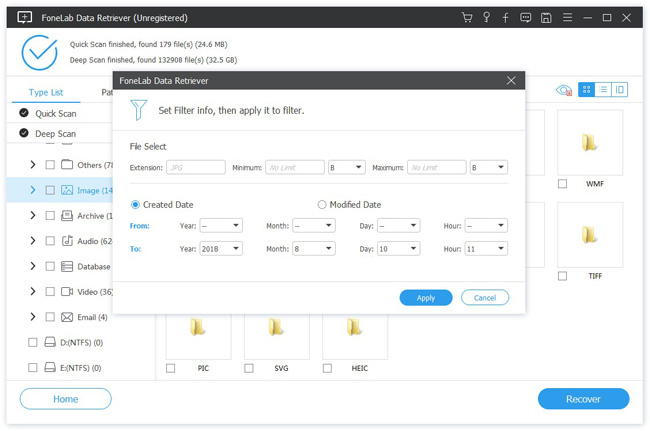 Step 3Recover deleted files from hard drive partition
Finally, select your desired documents and click the Recover button. A few minutes later, you can find the recovered document and access it normally.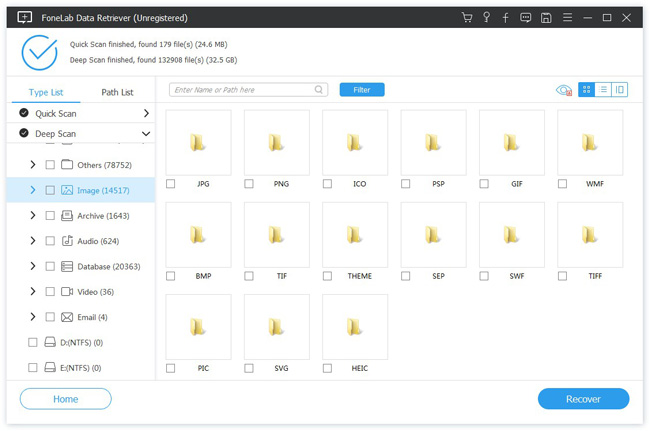 3. How to Recover Deleted Partition Using CMD
CMD is another way to recover deleted drive partition. Given it is a bit complex, we will share the guide below.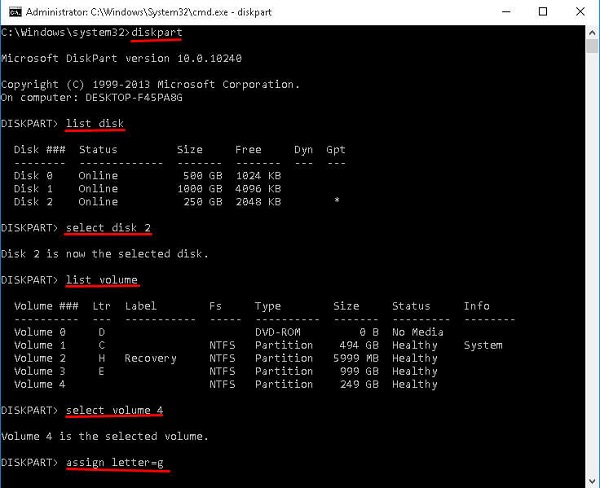 Step 1Hold down Win + R to open the Run dialog. Enter diskmgmt.msc in the box and click OK to open Disk Management window. After a partition is lost, the location will be marked as Unallocated. To continue, you need to remember the partition size.
Step 2Run command prompt as administrator. You can find it in Search dialog or Start menu.
Step 3Input diskpart and press Enter key, and then type in List Disk and hit Enter. Now, all disks on your computer will show up.
Step 4Next, input Select disk [drive letter that contains the lost partition] and hit Enter key. Then type in List Volume and press Enter.
Step 5To locate the deleted partition, input Select volume [the number of deleted partition] and hit Enter. Type in Assign letter=[an available drive letter] and press Enter key.
Step 6Quit the command prompt window, open a Windows Explorer and try to access the partition. It should be accessible now.
Note: This way is completely free of charge, but you should be carefully. Any mistake could lead to data loss further.
Conclusion
As this post introduced, you still have opportunity to access your data, even though a hard drive partition is corrupted, damaged or lost. First of all, Microsoft has integrated commands into Windows to perform hard drive partition recovery. The downside is that users have to accurately perform the commands.
If you are looking for a better approach, we recommend FoneLab Data Retriever, which is easy to use. Moreover, you can enjoy the selective data recovery and other features. We wish that our suggestions and guides were helpful to you.