FoneLab Data Recovery for Mac Series Key for Full Version
If you are looking for methods to retrieve data from Mac hard drive, memory card, SD card and more other devices, you might search the Mac data recovery series key or even the cracked version instead. But it will take your Mac into risk that you might not know.
How to get a full series key for the Mac data recovery? FoneLab Data Retriever and best method to retrieve the files on Mac hard drive with ease? Just read on the article and find the solution now.

1. Why a Cracked Version without Series Key Risky
When you find a cracked version available on Internet, it is not recommended to download. Why? Here are several reasons you should know before you download the cracked version.
It is impossible to update a cracked version, which you have to crack a new version in order to access to new features of the Mac data recovery. As for the case, you are not able to use the program in the future.
Security is another important reason that you should use the Mac Data Recovery series key instead of the cracked version. Most of the cracked versions are associated with viruses to obtain some private information.
Lose the chance to retrieve the important files on Mac. If you are searching for the cracking methods to downloading extra files, you might overwrite the original files that you are not able to retrieve.
2. How to Get a Mac Data Recovery Series Key for FoneLab Data Retriever
FoneLab Data Retriever is a competitive Mac data recovery to recover lost or deleted data on Mac, hard drive, flash drive, memory card, digital camera, and more other devices. It has both Quick Scan mode and Deep Scan modes to retrieve all files on Mac with ease. You can get the full version series key for the Mac Data Recovery for the same deleted or lost files on Mac with a competitive price, compared to other Mac data recovery programs.
1. Retrieve most of file formats
You can get back the deleted images, audio, video, email, document and others. Moreover, there are dozens of formats for each file format to ensure you can get the desired file with ease.
2. Restore files from different device
Besides the basic features to retrieve files from Mac hard drive, it also enables you to get back the deleted and lost files from hard drive, flash drive, memory card, SD card, digital camera and more removable devices.
3. Recover deleted files in different scenarios
Whether you deleted the files by accident, lost the whole hard drive on Mac, missing some partition due to wrong operation, or crashed your computer with viruses, you can take the versatile Mac data recovery to get back the files.
4. Keep the recovered data in original status
Different from the online data recovery or other program, FoneLab Data Retriever for Mac keep the recovered data without storing or modifying, you do not have to worry about the private for these important files.
Once you registered the full version of Mac Data Recovery with series key, you can take advantage of the excellent features of the program. Moreover, it also enables you to have a free upgrade when the new features are available and free technical support.
3. How to Recover Data With the Registered Mac Data Retriever
Download and install the Mac data recovery on Mac. If you have already purchased the series key, you can activate the program in order to recover the data from Mac or connected devices smoothly.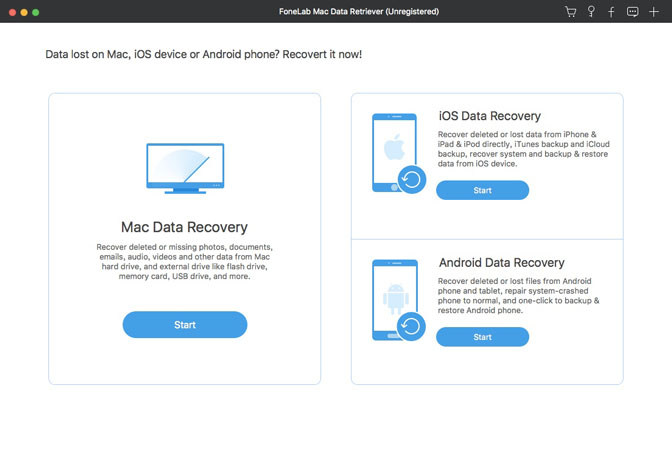 Choose the file formats and desired hard drive. You can choose all Image, Audio, Video, Document, Others options, or select the desired file format only. Select the hard drive for the deleted or lost files.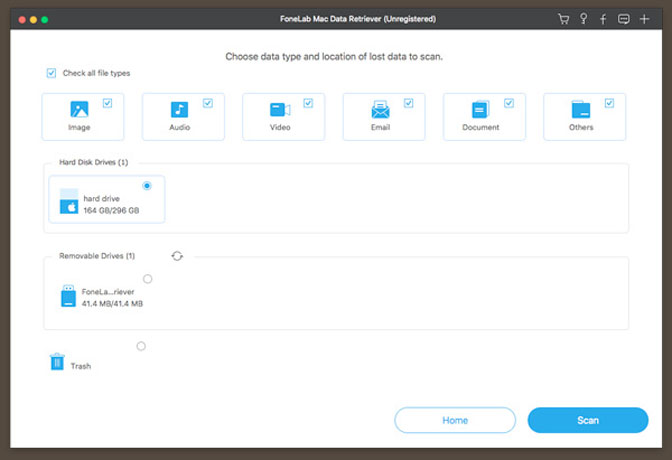 In order to save the time for scanning the whole hard drive, you can also enter a specific file format, such as HEIC for images from iPhone. It also enables you to search for files with created data and modified data.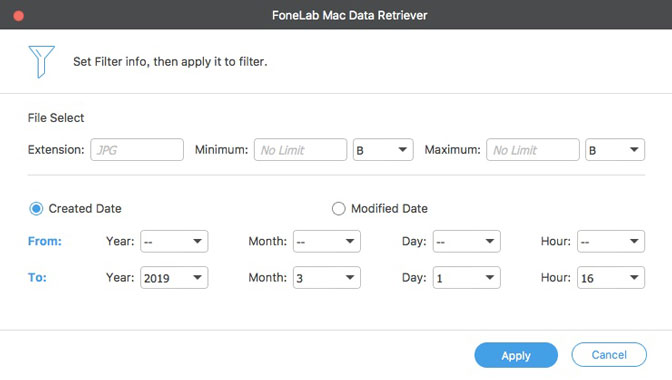 Click the Scan button to perform a quick scan for the lost files. As for the overwritten files or lost files, you can also use the Deep Scan mode to retrieve all the files from Mac or external devices.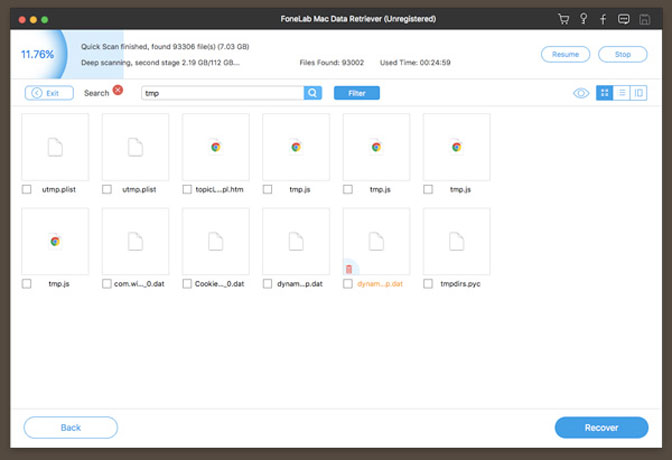 Just preview the desired files beforehand. If you have already registered the Mac Data Recovery with series key, you can click the Recover button to restore the desired files back to your Mac.
Conclusion
Why do you need a Mac Data Recovery? It should be a simple question. You have to recover the deleted or lost files from Mac.
A cracked version, even if there is no security issue is not a nice option. Just try the FoneLab Mac Data Recovery with series key to get back the files with Quick Scan and Deep Scan, you will get the desired files without problem.
Related Articles:

Leave your comment and join our discussion