Recover PC Data Now
Recover the lost/deleted data from computer, hard drive, flash drive, memory card, digital camera and more.
Repair Corrupted Image Online – JPG Repair and Recovery
Each type of file can be corrupted for a variety of reasons. The cause of the corrupted is sometimes difficult to find. When the picture is corrupted, people want to fix it. But now most of the repair tools need to be downloaded and installed, and they also cost a lot of money, so how useful is it to save money on a website that repairs corrupted images online for free.
In addition, if you want to know more about how to repair corrupted files, you can refer to the following article.
For the method of repairing corrupted video files, you can refer to how to fix a corrupt video.
About the method of repairing corrupted PDF files, you can refer to how to fix corrupt PDF files.
If you want to know how to corrupt a word file, you can refer to corrupt and recover a Word file.

1. Free Online Website of Corrupted JPG Repair
Office Recovery Online : A free website that can repair corrupted images online, although the number of batch fixes is limited. If you are looking for a freely available online solution to repair your photos, then you can give Office Recovery Online a try.
Website link: https://online.officerecovery.com/
Just visit its website, load the corrupted image, and start the repair process. Yes, it's that simple, if you want to perform batch recovery, you can simply download the Office Offline Recovery Suite. Also, if you want to fix multiple photos, then you need to purchase a paid subscription for it.
The online JPG repair tool supports leading platforms like JPEG, JPG, GIF, TIFF, PNG, BMP, and RAW.
Users can load photos from a system's internal storage or connected external media.
No additional charges are applied to repair photos.
You would have to upload one photo at a time.
If you cross the limit or would like to perform a batch recovery, then you can buy its subscription. For instance, it costs $59 for 30 jobs, $99 for 100 jobs, and so on.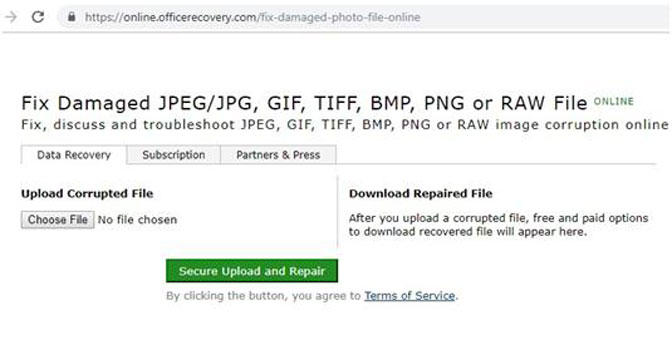 Pros
The JPEG repair tool online is available for free and doesn't have any hidden charge.
It is extremely easy to use.
It supports JPEG, JPG, PNG, and other common photo formats.
Cons
If the user wants to perform a bulk repair, the user needs to get their paid subscription.
In the free version, there is no ability to upload multiple photos, so users can only fix one photo at a time.
The image repairing algorithm doesn't have an impressive success rate.
The paid subscription fee is expensive
Using Office Recovery Online is extremely easy. It doesn't matter if you have a Mac, Windows, or even a smartphone – the process is same for every device. Since it is a web-based solution, it works on all the platforms and can be accessed via a web browser. To use it, just follow these simple steps:
Step 1Just go to the official Office Recovery image repair page right here. Click on the Choose File button to upload any photo.
Step 2This will launch a browser window so that you can visit the location where the respective photo is saved. Select any JPEG file and load it. Remember, you can only open one file at a time.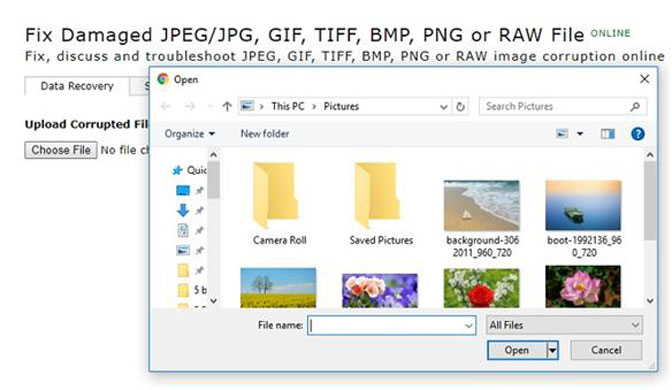 Step 3Simply wait for a while as your image would be loaded by the application. It will start repairing the corrupt image by applying its sophisticated algorithm.

2. Recover Lost image by Using FoneLab Data Retriever
FoneLab Data Retriever is an image recovery you should try to get back the lost files with ease.
In addition to image files, you can also recover audio, video, documents, and other types of files.
There are two scanning modes: Quick Scan and Deep Scan.
You can restore files to where you want them to be.
You can use the Filter function screening to file.
In order to help you recover images from Windows, here are the detailed steps you should follow:
Step 1Get the image recovery software.
You can download and install FoneLab Data Retriever on your computer. If you want to recover images from SD Card, make sure to plug your SD card into your computer. Next, launch the application to continue.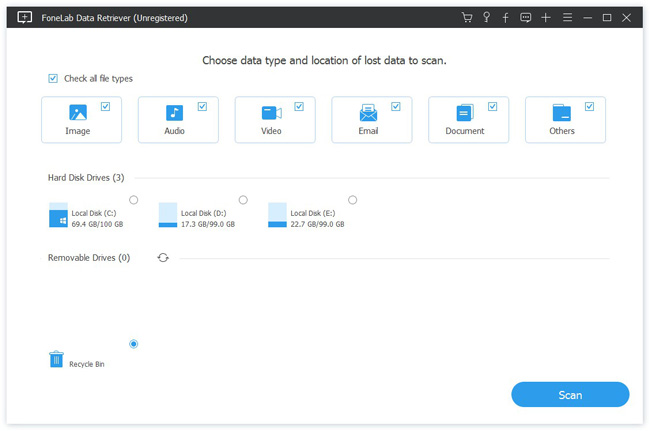 Step 2Check the desired files on your Windows.
Select what data types that you want to recover. Here we select Image. If you are not sure, tick the checkbox next to Check All File Types. Then locate the Removable Drives area and select the name of your Windows or SD card. Click the Scan button to start recovering deleted files.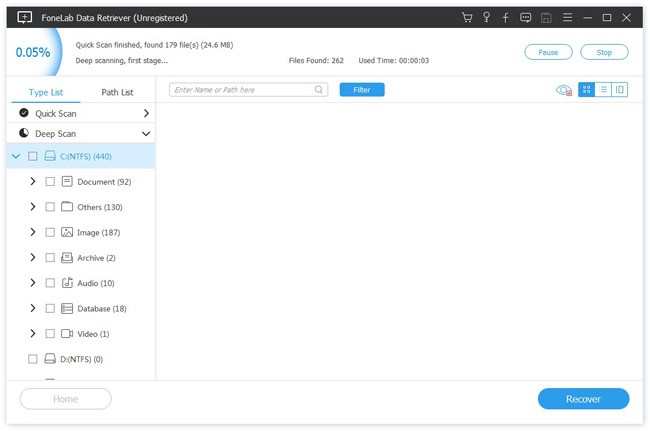 Step 3Retrieve images from Windows.
After the scanning result window shows up, move to the left-hand column, and go to the Image tab. All the deleted pictures are organized by formats on the right pane. Find and choose the pictures you'd like to get back, and then click on the Recover button.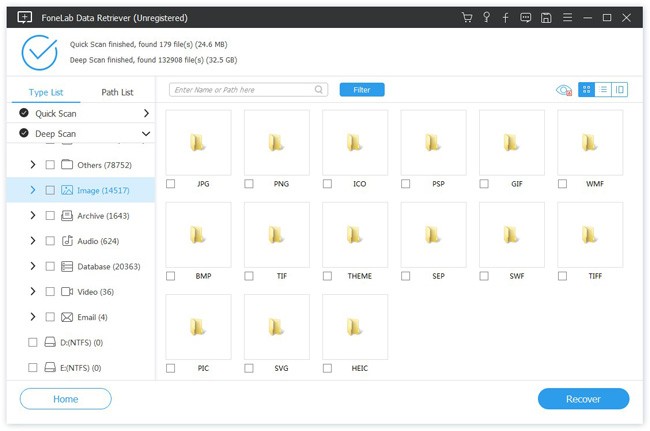 Conclusion
If you want to know more about formatted image on Windows, you can refer to formatted image recovery on Windows.
FoneLab Data Retriever is a powerful and easy-to-use data recovery software. In addition to restoring various file data, it has a 30-day free trial. Download it now and try it out.
If you have any questions, wishes or you would like to share your experience in repairing image and recovering data, don't hesitate to leave a comment we will answer it for sure.