Record Screen Now
Capture video, audio, online tutorial, etc on Windows/Mac, and you can easily customize size, edit the video or audio, and more.
[Tutorial] How to Capture, Edit and Share a ScreenShot on iPad

Updated by
Lisa Ou
/ February 23, 2021 12:20
By taking a screenshot, you can save and share the current viewing content with others. For instance, you can report the problem and bug you met with related screenshots. You can also record video on iPad with achievements in your gameplay and other funny moments. Actually, it is a good way to capture the visible part on your iPad. You can also use an iPad screen recorder app to record on-screen activities.
Later, you can edit the screenshot with basic editing tools. It is supported to open a third-party photo editor or use the built-in drawing labels. After that, you can share the screenshot to Facebook, Twitter, Snapchat, Instagram and other social media platforms. Of course, you can transfer and upload iPad recording videos and audios as well.
1. How to Take a ScreenShot on iPad (2 Methods)
Just as above mentioned, you can record on iPad to describe things in detail. In addition, you can also record iPad audio as references. Just make sure you can get your best voice recorder app for iPad. As for taking iPad screenshots, you can follow steps below. 
Method 1. Take a ScreenShot on iPad with Sleep/Wake and Home Buttons
Step 1Locate the screen or app you want to capture on an iPad.
Step 2 Hold and Press the Sleep/Wake button first.  
Step 3 Quickly press the Home button.
Step 4 Release Sleep/Wake and Home buttons together.
Step 5 Tap the screenshot on the lower left corner of the iPad screen.
Step 6 Choose Done followed by Save to Photos.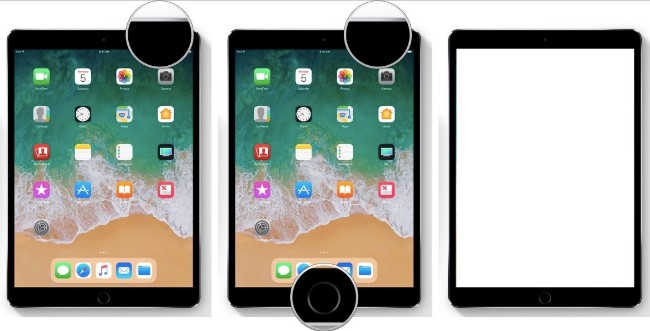 Note:
If your audio is enabled, you can hear the camera shutter and see a white flash while taking a screenshot on iPad.
You can use Sleep/Wake and Home buttons to take a screenshot on iPhone X/8 Plus/8.
For the new Apple iPad Pro 2018 model, you need to use the Sleep/Wake and Volume Up shortcut keys simultaneously instead.
Method 2. Take a ScreenShot on iPad Using AssistiveTouch
Step 1Open Settings app. Choose General followed by Accessibility. Then turn on AssistiveTouch.
Step 2 Choose Customize Top Level Menu…. Then tap the + icon.
Step 3 Scroll down and choose Screenshots. Choose Done to save the change.
Step 4 Tap the AssistiveTouch button. Choose Device and More options.
Step 5 Choose Screenshot to take a screenshot on iPad. You can head to Photos app to find your screenshot image.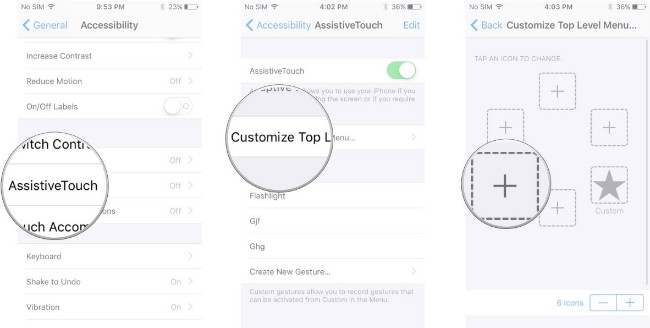 2. How to Edit ScreenShot on iPad
After taking an iPad screenshot, you can use four editing tools within Instant Markup. Just choose the More option on the top right corner of the screen. Well, what are functions of those screenshot editing tools?
Text: You can add a text layer to your screenshot.
Signature: If you have created a signature already, you can add the signature from Preview to it quickly.
Magnifier: By using this tool, you can enlarge the selected area with different borders and sizes.
Shapes: You can add square, circle, arrow, speech bubble and other drawing tools with solid or outlined shape.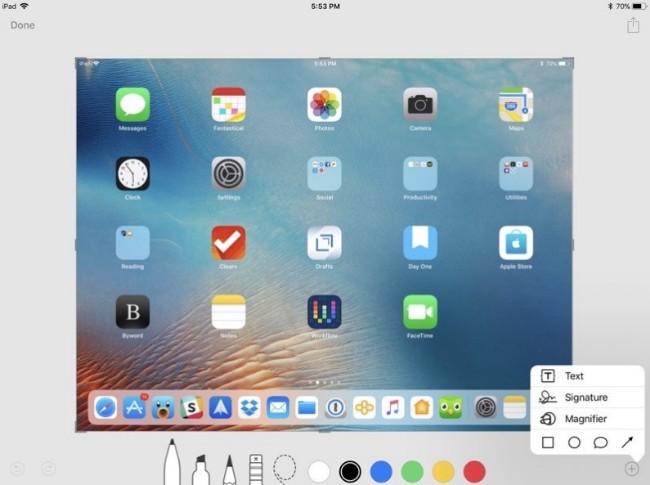 3. How to Share Screen Shot on iPad
You can share your iPad screenshot to friends or social media platforms. No matter why you need to share iPad screenshot, you can do as the following steps.
Step 1Open Photos app, choose Albums and find your Screenshots.
Step 2 Tap the Share icon on the lower right corner of your iPad.
Step 3 Select from Facebook, Twitter, Flickr, Email, AirDrop, etc.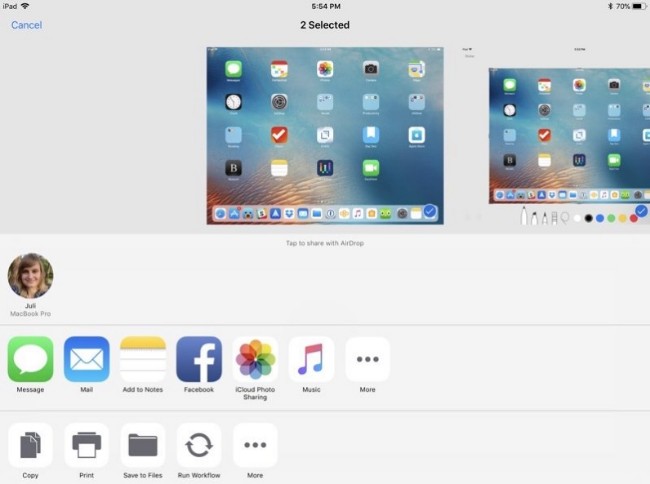 4. Recommendation: Take a Screen Shot with Drawing Labels on iPad
However, you can take full-screen screenshots only by using iPad built-in features. It does not support to set the custom or fixed region before taking snapshots. Furthermore, the iOS 11 screen recording feature does not allow users to record video with customized screen size. Fortunately, you can record video with audio, screenshot on alcatel phone and take screenshot on iPad freely with FoneLab Screen Recorder. Just mirror your iPad screen with AirPlay and other iOS simulators before using the free iPad screenshot app.
It is the best screenshotting app for iPad. You can pause and resume screenshot.
Record tutorials, gameplays, movies, calls and other videos without lag.
Capture audio and microphone voice on your iPad, iPod, iPhone, etc.
Take snapshots with customized widths and lengths while recording.
Set hotkey, change output path, adjust video/audio settings and manage other preferences before recording.
Actually, FoneLab is also an ultimate screen recorder for iPod. You can record iPod screen with audio in high quality. All in all, if you want to record video and audio with more customizable features, you should not miss FoneLab. What's more, you can get the larger display after mirroring iPad to your Windows or Mac computer.

FoneLab Screen Recorder
FoneLab Screen Recorder allows you to capture video, audio, online tutorial, etc on Windows/Mac, and you can easily customize size, edit the video or audio, and more.
Record video, audio, webcam and take screenshots on Windows/Mac.
Preview data before saving.
It is safe and easy to use.